Michael Vick is a former NFL quarterback whose career was filled with lots of ups and downs. But, his wife Kijafa Vick never left his side.
Michael had an astonishing career with Atlanta Falcons, Philadelphia Eagles, and Pittsburgh Steelers. But due to his involvement in some shady works, Michael was suspended from NFL. Michael's wife Kijafa was beside him when he was sent to prison for a year.
Kijafa Vick is not only the wife of a famous NFL player, but she is also an entrepreneur and TV producer. In addition, she is a working mom who is raising four kids alongside a supportive wife.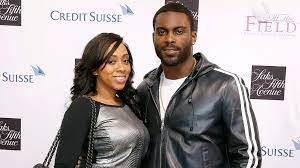 Michael Vick's love story with his wife Kijafa started at a club in Virginia in 2002. She was so in love with Michael that she dropped out of college to support him.
Even when Michael was still in prison, Kijafa waited for him instead of ending the relationship and resumed her study to get a college degree.
Kijafa Vick is a solid lady and proved that women indeed are great creatures in the world. Furthermore, she proved when someone loves with their heart, they can do anything for that person.
In this write, we will explore the interesting life of Kijafa Vick's life, her four kids, her business, net worth, and others. But before that, let us take a look at some quick facts about her.
Michael Vick's Wife: Quick Facts
| | |
| --- | --- |
| Full Name | Kijafa Frink Vick |
| Nick Name | Kijafa |
| Date of Birth | December 15, 1980 |
| Birth Place | Philadelphia, Pennsylvania, United States |
| Residence | Unknown |
| Age | 41 Years Old |
| Gender | Female |
| Sexual Orientation | Straight |
| Height | 1.65m |
| Weight | 62 kg |
| University Name | Hampton University, Hampton, Virginia |
| Religion | Christian |
| Nationality | American |
| Ethnicity | Black |
| Father's Name | Unknown |
| Mother's Name | Unknown |
| Siblings | Unknown |
| Hair Colour | Black |
| Eye Colour | Black |
| Skin Colour | Black Complexion |
| Known For | Wife of former NFL player Michael Vick |
| Profession | Executive producer, Entrepreneur |
| Associations/Brands | VH1, PnkElephant (accessory brand), My Hair Closet |
| Partner | Michael Vick |
| Marriage Date | 2012 |
| Children | Three (1 son, 2 Daughters) |
| Step-son | Mitez (from Michael's previous relationship) |
| Michael's Merch | Finally, Free (Hardcover) |
| Net Worth | $5 Million |
| Social Media | Instagram |
| Last Update | November, 2022 |
Michael Vick's Wife: Early Life & Education
Kijafa Frink Vick was born on December 15, 1980, in Philadelphia, Pennsylvania, United States. Information about her parents and sibling is not disclosed yet, but it is known that she grew up in Philadelphia.
She attended Hampton University in Hampton, Virginia. Hampton University is a historically black private University which is located near the Chesapeake Bay.
But, she dropped out of college before completing her degree to be with Michael Vick. After, five years she went back to college to finish her education.
Kijafa Vick: Age, Height & Weight
Kijafa recently entered her forties, but she is still a charming and sexy lady. She has a curvy body that stands 1.65 meters tall, and her body weighs around 62 kg.
Her natural hair color is black, but she keeps dying her hair according to the trend. She has got black eyes.
Most NFL Playoffs Wins Since 2015>>
Kijafa Vick: Husband & Children
Kijafa met Michael in 2002 at a club. They exchange numbers, but somehow Michael loses her number. Finally, he got a number from one of his friends. Finally, they started talking over the phone and developed a bond like a friendship that later turned into love.
Back then, Michael had finished college and was attending Virginia Tech in Blacksburg, Virginia. He was playing quarterback with the Hokies. And Kijafa was in college, but she left college to be with Michael.
Before Michael's encounter with Kijafa, he already had a son Mitez Vick with his former high school girlfriend, Tameka Taylor. But Kijafa bonded with Mitez also and maintained a good relationship with him.
The duo welcomed their first daughter on October 12, 2004, named Jada Vick. On October 19, 2007, they welcomed their second daughter London Vick.
But, in 2007, Vick had to go to prison for a year. At, that time Kijafa realized she needed to complete her education.
Michael Vick's Controversy
Atlanta Falcons star was at the peak of his NFL career. But, due to his involvement in the dogfighting ring case, he was sentenced to jail. He was playing with Atlanta Falcons during the time of controversy.
But Michael missed the 2007 and 2008 seasons because of a violation of the league's conduct policy.
After serving his jail time, he came back and signed a contract extension of $100 million with the Philadelphia Eagles.
Then, in 2014, Michael became a free agent and joined the New York Jets, and retired from the football league a year later by making a deal with Pittsburgh Steelers.
Kijafa's Life During Michael's Jail Time
When Michael was in Prison, Kijafa realized she needed to complete her education and set an excellent example for her daughters. Yet, in her relationship with Michael, she somehow was in his shadow and blinded in love.
But, when Michael was away, there was a massive void in her life. So, it was a good opportunity for Kijafa to find herself and stop living behind him.
To find her life outside of Michael, she returned to her former University, Hampton, and finished her degree.
10 Strongest NFL Players in the Worlds>>
Kijafa and Michael: Wedding
Michael was released from prison in 2009, and Kijafa was still waiting for him. He decided to propose to Kijafa on her 29th birthday and arranged the elaborate setup.
Vick organized a surprise party and brought Kijafa by saying for dinner. He took Kijafa to the party downstairs, telling one of his teammates who was attending the party to meet him downstairs.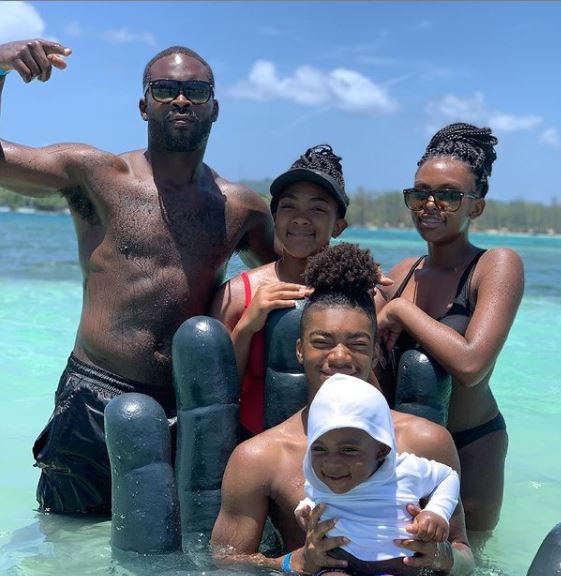 When Kijafa opened the door, everyone shouted "Surprise," and a slow song played in the background. Both danced on the floor, and at that time, Michael was sweating because he had to propose to her. Finally, he asked Kijafa to marry him, and she said yes.
Before the marriage or even before his imprisonment, the couple was blessed with two daughters.
Kijafa and Michael exchanged vows in June 2012.
Michael, after marriage, shared that Kijafa is that one person in life who he never wanted to leave. Not because they had daughters together, but because of their friendship over the years and their ability to unconditionally love and respect each other.
They were blessed with a son on November 20, 2017, and named him Michael Vick Jr.
Kijafa Vick: Career
After realizing she had to stop depending on Michael completely, Kijafa began saving money and making investments here and there, which paid off for her.
She decided to do something on her own after being pregnant with her daughter.
Now, Kijafa has established herself as a successful entrepreneur. Though it is sometimes hard for her to split time between family and business, she is happy and satisfied.
Career as an Executive Producer
Kijafa was an executive producer for a documentary of her husband called "The Michael Vick Project," which covered his NFL fame to his downfall in career after a dogfighting conviction and jail time, and life after release from prison.
Vick was also an executive producer for the VH1 show Baller Wives in 2017. This show starred the wives of several NFL players and their families.
The cast was: Kijafa herself with Michael, Stacey and Chris Chambers, Jeniva and Asante Samuel, Aja and Channing Crowder, Kelly and Julius Jones, and Miko and Brent Grimes.
It was a kind of reality show, and there were some drama and fights. But, through the show, the NFL player's wives developed a bond and became a big family.
Who is Ben Simmons's girlfriend? 76ers guard Ben may miss on the court, but he sure has luck with gorgeous ladies around him off-court.
Career as an Entrepreneur
Alongside the television shows, Kijafa started her own accessory business. She named her business PnkElephant, and it was her first venture.
Since she had immense love for accessories and was desperate to do something, thus, Vick gave a shot which turned out well. She also owns My Hair Closet.
Michael Vick's Wife: Net Worth
Kijafa is a successful entrepreneur, businesswoman, and television program producer. Thus, she is making quite a lot of money and judging from her lifestyle, as seen on Instagram, she is living a lavish lifestyle.
Her net worth is estimated to be around $5 million. However, since her husband Michael has an estimated net worth of $20 million, she must also share a significant part of his wealth.
Michael Vick's Wife: Social Media Presence
Kijafa is an active Instagram user and has an impressive number of followers on the platform.
Her Insta feed is filled with her stunning picture, alongside her children, friends, and family. She seems to be a fun-loving person.
Judging from the picture, Kijafa is so into fashion and is seen rocking any look. Also, she embraces her curvy figure in the photos.
Frequently Asked Questions ( FAQs)
Does Kijafa Vick have any relationship before Michael Vick?
It is believed that Kijafa had one relationship before meeting Michael Vick.
Is Kijafa Vick a designer?
Kijafa Vick owns a fashion website and a hair extension brand also.