While many are familiar with the TV personality's professional achievements and on-screen charisma, fewer might be acquainted with Mike Greenberg parents Harriet and Arnold Greenberg.
Mike Greenberg is a prominent figure in sports journalism known for his insightful commentary and engaging personality.
In this article, we delve into the lives of Harriet and Arnold Greenberg, shedding light on their influence on their son, Mike.
Mike Greenberg is a renowned American news personality. He is a television anchor, show host and former radio host for ESPN and ABC.
Greenberg was born on August 6, 1967, in New York City. He graduated from Stuyvesant High School in 1985.
After finishing high school, Mike enrolled at Northwestern University's Medill School of Journalism.
Mike stayed in the Chicago region following graduation in 1989 and has worked for several sports media.
He was a sportscaster for SportsChannel Chicago, a columnist for the Copley News Service, and a radio and TV news anchor for WSCR and WMAQ.
Mike joined ESPN in 1996 and has anchored ESPN's morning show "Get Up" since 2018.
The host recently stepped down as the anchor of the NBA coverage on ESPN's NBA Countdown.
Who Are Harriet And Arnold Greenberg?
Harriet and Arnold Greenberg are Mike Greenberg's parents, who welcomed him into the world as their first child.
The New York native was born to a Jewish family. Further, he spent his formative years exploring the world with his literary parents.
Meet Mike Greenberg Father: Arnold Greenberg
Arnold Greenberg was born in the Bronx on February 16, 1932, to Samuel and Sarah Greenberg.
Similarly, Arnold attended public schools in the Bronx and graduated from the City College of New York.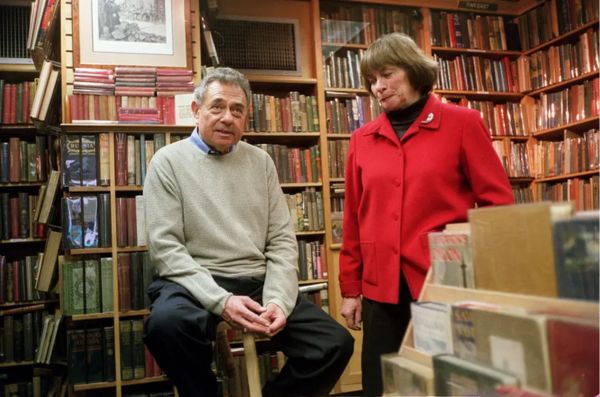 Furthermore, he received a law degree from New York University School of Law.
Arnold then started a law firm by the name of Greenberg & Tuchman. He worked in the firm until he left to focus on a bookstore in Manhattan.
The lawyer-turned-travel writer passed away on 2016 January 22, at 83.
Meet Mike Greenberg Mother: Harriet Greenberg
Harriet, the matriarch of the Greenberg family, has been a cornerstone of support and strength throughout Mike's life.
Harriet Greenberg (nee Pinchoff) got married to Arnold in 1960. She was a Manhattan public school teacher.
Like her husband, the teacher was also a travel writer in addition to her day job.
Harriet traversed the world alongside her husband and wrote about many of their trips in travel guides.
The teachings of the knowledgeably equipped parents have undeniably played a significant role in shaping Mike's career and personality.
It is reflected in his ability to connect with audiences personally. He's also a successful novelist in his own right.
Harriet And Arnold Greenberg Owned The Complete Traveller
The Greenburg couple began their side careers as travel writers in 1965. It commenced with a six-week trip to South America.
They published their first work, "South America on $5 a Day", in 1967. As of now, it has had 16 editions.
Albeit most of their work was published in the "Alive" series by Hunter Publishing since the late 1970s.
The series includes several guides about South American and Caribbean destinations.
Eventually, they became owners of the Complete Traveller in the early 1980s. It is an antiquarian bookstore in Manhattan.
After two years of part ownership, they finally bought the store in 1984.
The store closed in January 2015, having been owned by the pair for over three decades.