James Michael Scott, known as Mike Scott, is an American professional basketball player. Scott is a veteran player with over ten years of playing experience on the court.
Scott was drafted into NBA in 2012 by Atlanta Hawks, and from then, there has been no stopping him on the court and showcasing excellent game skills and performances.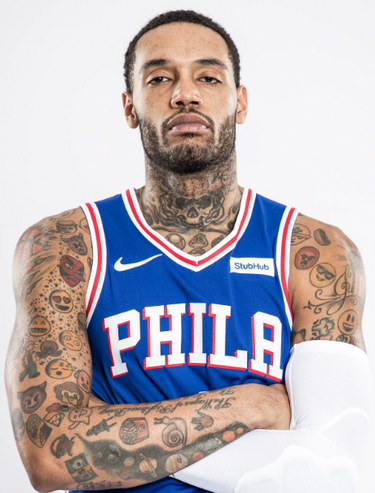 There is much more information to learn about the player and his journey to becoming a professional basketball player. Please read the full article below to know more about his personal and professional life.
Now let us look into some quick facts related to him.
Quick Facts
Full Name
James Michael Scott
Birth Date
July 16, 1988
Birth Place
Chesapeake, Virginia
Age

34 years old

Known As
Mike Scott
Religion
Christian
Nationality
American
Education

Deep Creek
Hargrave Military Academy
Virginia

Horoscope
Cancer
Father's Name
Michael Scott
Mother's Name
Lisa Mackall
Siblings
Antonn Scott and Derrick Mackall
Height
6'7″ (2.01 m)
Weight
237 lb (108 kg)
Build
Athletic
Shoe Size
N/A
Hair Color
Black
Eye Color
Dark Brown
League
NBA
Active Years
2012 – present
Marital Status
Engaged
Spouse
Mommyess
Children
Jeremiah and Nori
Profession
Basketball Player
Position
Power forward
Currently Playing For
Not active
Net Worth
$10 million
Salary

$5,275,211

NBA Draft
2012 Round: 2 / Pick: 43rd overall
Awards and Achievements

2012- Third-team All-American
2012- First-team All-ACC

Social Media
Instagram, Twitter
Merch
Cards
Last Update

May 2023
Mike Scott: Early Life, Family & Education
On July 16, 1988, Scott was born in Chesapeake, Virginia, to Michael Scott and Lisa Mackall. He has two younger brothers, Antonn Scott and Derrick Mackall. Scott's ethnicity belongs to Afro-American society as his parents were from Africa.
Scott's father, Michael, was an officer in marine services and worked in marine for nearly two decades. Scoot has a good relationship with his parents. And they were always supportive of his passion for basketball from a young age.
Scott developed his passion from his childhood days as he used to play basketball in his elementary school.
The athlete attended Deep creek school in Virginia and later went to Hargrave Military Academy, Chatham, Virginia, for his high school studies. Scott was active as a basketball player during his high school days.
After graduating from high school, Scott went to the University of Virginia for his college studies. He played college basketball during his college days and sharpened his skills to be a professional basketball player.
Mike Scott: Age, Height & Weight
Scott is 34 years old. He has an amazing physique at 6 ft 7 in (2.01 m) and weighs around 237 lb (108 kg).
To maintain such an athletic figure, he has to go through a healthy lifestyle and a balanced diet. A player needs to have the specific discipline for exercises and meals to maintain a healthy body and move with ease on the court.
Josh Richardson is an American basketball player. To know more about him, click here.
Tattoos
Many basketball players have some form of body art and tattoos engraved on their bodies. They like to get inked with different shapes like quotes, pictures, or art forms, and Scott is also one of them. He has both his arms covered with tattoos.
It seems like the player has some liking towards emojis as both his arms are engraved with the emoticons like a smiley face, devil face, and fire. He also has engraved a tattoo of a basketball on his right arm.
Scott has all these emojis over his arms and goes up to his neck. The reason behind such tattoos on his body is not revealed yet.
Mike Scott: Drug Case
On July 30, 2015, Scott was arrested for the charge of carrying marijuana and MDMA in an SUV with his brother Antonn Scott. He and his brother admitted to the possession of drugs.
The authority reported 35.3 grams of marijuana and 10.9 grams of MDMA in the vehicle. Antonn drove the car, and Scott was in the passenger seat. The speed of the vehicle was 98mph, and the police reported that they had to chase for over two miles before finally, the SUV pulled over.
Scott admitted that all the drugs belonged to him and that his brother was innocent in the case. He was expected to serve about 25 years in prison following the charges and incident.
Scott was not allowed to play during the trial period. The Atlanta Hawks maintained silence during the whole process and did not give any updates on the incident. No NBA teams signed him when the case was pending, and he was kept in the back by the Atlanta Hawks.
On May 2, 2017, Georgia Superior Court suppressed the charge against Scott, suggesting that the evidence and the suspicion of stopping the vehicle followed the pattern of racial profiling by law enforcement. Finally, Scott was released from the pending case.
Mike Scott: Career
Scott played professional basketball from his high school days and was good at it. He ranked 33rd in the position of power forward and 115th player in the whole country in 2007.
After graduating from high school, he went to the University of Virginia and played for Virginia Cavaliers. At the of his sophomore year, Scott suffered from ankle surgery and had to undergo surgery. Because of the injury, he was suspended and was given the fifth year of eligibility by the officials.
Scott participated in the Atlantic Coast Conference and was selected as the top player by the officials. Under his leadership, the Virginia Cavaliers participated in the NCAA tournament.
The athlete was honored with the second-leading position for the All-ACC team and national recognition as an All-American by the Sporting News and the Associated Press.
NBA Career
Scott was drafted into NBA by the Atlanta Hawks in 2012. He was selected in round 2 and was the 43rd pick of the Hawks. In September 2012, he officially signed a contract with the team.
Scott was traded to the Bakersfield Jam on December 1, 2012, but he was back with the Hawks after ten days.
Scott extended his contract with the Hawks on August 26, 2014. He played well with the team and also improved a lot of his skills and performance.
Scott suffered a massive left toe injury on March 14, 2015, while playing against the Denver Nuggets. He had to miss out on 11 games following the injury. On April 4, 2015, he was back in action and played against the Brooklyn Nets.
Atlanta gave him the chance to play in the 2015-16 season despite the trial of his drug case. On October 31, 2016, he complained about his left knee soreness and was ruled out of the game for four weeks following the necessary procedures.
On February 23, 2017, Scott was traded to the Phoenix Suns but was released by the Suns the next day.
The Washington Wizards selected Scott on July 9, 2017. He played for a year with the club.
On July 9, 2018, Scott signed a one-year contract with the Los Angeles Clippers.
Philadelphia 76ers
On February 6, 2019, Scott was exchanged to the Philadelphia 76ers. On July 11, Scott extended the contract with the 76ers for two years worth $9.8 million.
Scott's contract with the 76ers came to an end in June 2021. He played well during all his seasons with the team. Though he never really announced his departure from the team, as the 76ers did not resign him for the next season, it was known to all that he had left the group. He is a free agent and has not signed with any team yet.
Don't miss about excellent basketball player Jonathan Isaac playing for Orlando Magic.
Mike Scott: Girlfriend & Kids
Scott got engaged to his longtime time girlfriend on 14th September 2019.
The real name of his girlfriend is not revealed yet, while her user name on Instagram is Mommyess. The couple has been dating each other for an extended period.
Though the couple had started parenthood together long before their engagement, they have two kids. Their first son, Jeremiah, was born on March 10, 2016, and their daughter, Nori, was born on January 1, 2018.
Mike Scott: Net Worth
Scott's net worth is around $10 million, including his previous earnings from the contracts with different clubs and games during his professional basketball career.
Lastly, Scott played basketball for the Philadelphia 76ers, where his annual salary was $5,275,211.
He lives a lavish lifestyle with his family with all the hard-earned money he has accumulated throughout his career.
Mike Scott: Social Media Presence
Scott has verified Instagram and Twitter accounts. He enjoys enormous followings on his social media handles.
He is often seen sharing posts related to his professional life and some glimpse of his personal life by sharing his moments with his children.
Though he is not active in basketball nowadays, his fans can connect with him through his social media handles. And also, they can send their wishes and message to the players personally and encourage them to do better.
Mike Scott: Awards & Achievements
2012- Third-team All-American
2012- First-team All-ACC
You may also like to read about the former basketball player, Jason Collins. He retired on November 19, 2014, after playing for 14 years.
FAQs
Where is Mike Scott now?
Scott lastly played for the Philadelphia in June 2021. He has not signed with any of the clubs at present.
What is Mike Scott's salary?
Scott played basketball for the Philadelphia 76ers, where his annual salary was $5,275,211.
How many children does Scott have?
Scoot has one son Jeremiah and one daughter Nori.