We are talking about a thirteen-year NBA veteran, a man of unique thoughts, Jason Collins. Being a widely received athlete, Jason only gained much attention after publicly appearing gay.
Indeed, as he had always said, a moment of truth can instantly turn your world.
Jason Collins stands as the second openly gay athlete to play in any major professional sports leagues in the United States & Canada.
Well, today, Collins is one of the most influential athletes.
Jason has played for the teams; the New Jersey Nets, Memphis Grizzlies, Minnesota Timberwolves, Atlanta Hawks, Boston Celtics, Washington Wizards, and Brooklyn Nets.
Here are some quick facts about him before getting into details about the basketball player's life and career.
Quick Facts
Full Name
Jason Paul Collins
Date of Birth
December 2, 1978
Birth Place
Los Angeles, California
Nick Name
Dr. Dunk
Religion
Christianity
Nationality
American
Ethnicity
Afro-American
Zodiac Sign
Sagittarius
Age
44 years old
Height
7 feet (2.13 m)
Weight
255 lb (116 kg)
Hair Color
Black
Eye Color
Black
Build
Athletic
Father's Name
Paul Collins
Mother's Name
Portia Collins
Siblings
A twin brother, Jarron Collins
Education
Harvard-Westlake
(Los Angeles, California)
Stanford (1997–2001)
Marital Status
Unmarried
Fiance
Brunson Green
Profession
Former basketball player
Profession
Former sprinter
Position
Center
Affiliations
Naw Jersey Nets, Memphis Grizzlies, Minnesota Timberwolves, B

oston Celtics, Atlanta Hawks, Washington Wizards, Brooklyn Nets

Retirement Date
November 19, 2014
Active Years
2001–2014
Net Worth
$16 million
Social Media
Instagram, Twitter
Merch
Signed Framed, Adidas Jersey
Last Update
February, 2023
Jason Collins | Body Measurements
Collins is a sturdy man at the height of 6-11½. However, he is listed at 7 feet 0 inches (2.13 meters) when he stated that he wanted 7 feet.
As for his weight, Jason is 255 lb (116 kg). Well, he has chocolate-colored skin with a rectangular-shaped face. In the meantime, he has black hair and eyes of similar color. Still, his hair is quite thin.
As a fun fact, Jason Collins has always been taller than his age. Even as a third-grader, he was taller than any other kids of his age.
He was 5 feet 7 inches when he was just a fourth-grader, and later, he was already 6 feet 6 inches when he was in grade eight.
Of course, Jon was often teased for his height; however, he later started loving it and discovered basketball. By seventeen, he had also maxed out his shoe size.
Click to read about the ten top richest basketball players of all time.
Food Habits
Growing up, Jason Collins ate almost everything. Looking back at his childhood days, he would often have grits and eggs with bacon, sausage, or ham for breakfast.
Likewise, lunch would often consist of sandwiches, chips, fruits, and juice. Lastly, the meal would end with chicken, greens, mac 'n cheese, cornbread, etc.
Coming back to the present, Collins is quite conscious of what he eats. During games, he doesn't allow himself to eat desserts.
Also, as he opened up, Jason's favorite food includes all Japanese foods, especially sushi. Well, he also has sushi two to three times a week.
Workout Routine
As a man with impeccable height, it's easier for Jason Collins to burn more calories than other shorter people. As for his workout schedule, he doesn't go easy on himself and follows an intense schedule.
Some of the areas he focused more on were CrossFit exercises, cardio, and running on the treadmill. To be in shape, he needed for the game; he did a lot of conditioning and strength training.
Furthermore, his warmup exercise before the games didn't just limit to jogging or basic stretching. In fact, he would go for detailed abdominal exercises.
On a similar note, his regular exercises comprised numerous core exercises. Altogether, he often ended his training with yoga.
Jason Collins | Early Life
Collins (fully named Jason Paul Collins) was born on December 2, 1978, under Sagittarius' sun sign. He was born to Portia Collins and Paul Collins in Los Angeles, California.
Also, he is the bigger twin brother of Jarron Collins as he was born eight minutes ahead of him.
Growing up in the Northridge neighborhood, Jason describes his childhood as protected. Not to mention, he grew up around arts and culture.
Jason's Brother, Jarron Collins
As a matter of fact, Jason's brother, Jarron Collins, is also a part of the NBA. In fact, he is the assistant coach for the Golden State Warriors and a former player.
Apparently, he had devoted ten years to the NBA field. During his tenure, he played for the Utah Jazz, Phoenix Suns, Los Angeles Clippers, and Portland Trail Blazers.
High School
Jason Collins attended the Harvard-Westlake School in Los Angeles. He was in high school alongside his twin brother and actor, Jason Segel.
Hence, Jason played basketball on the high school team for four years. Also, during his high school days, he was nicknamed "Dr. Dunk" and had Segel as his backup.
Additionally, Jason also contributed to two California Interscholastic Federation state titles. Back then, he had a career rebounding record of 1,500, which stood as a record in California.
College
After high school graduation, Jason Collins attended Stanford University. Back then, he starred for the Cardinal in the Pacific-10 Conference (Pac-10).
As a college player, Collins maintained 25 goals and an average of 6.8 points, 3.8 rebounds, and 1.2 assists.
By the end of his career, he stood first in field goal percentage (.608) and third in blocked shots (89).
You might be interested to read about some of the motivating quotes from legendary basketball player LeBron James.
Jason Collins | Professional Career
Collins made NBA averages of 3.6 points, 3.7 rebounds, and 0.5 blocks throughout his career. For a single season, he averaged just seven points or rebounds.
Initially, Houston Rockets selected him in the 2001 NBA Draft as the 18th overall pick in the first round.
NBA Teams
With the New Jersey Nets, Jason Collins spent seven years, and as a rookie, he played a crucial role in their first-ever NBA Finals berth in 2002. In the 2002-03 season, he starred in the starting center role.
In 2008, Jason Collins moved to Memphis Grizzlies for cash considerations in exchange for Stromile Swift.
However, he didn't stay long with the Grizzlies and moved to Minnesota Timberwolves in an eight-player deal.
He signed with the Atlanta Hawks the next year and stayed with them till the 2010 offseason. Then Orlando coach Stan Van Gundy titled him "the best defense on all year during the tenure."
Afterward, they traded him to the Boston Celtics, and a year later, he was traded to the Washington Wizards. He stood as a free agent and started his intention to join the NBA team again.
In February 2014, Jason rejoined the Nets on a ten-day contract, which was later extended for the end of the year. Nearing the end of 2014 in November, Jason announced his retirement.
Awards and Achievements
Overall, Jason has played 735 games in the regular season and 95 games in the playoffs. He depicts a free throw percentage of .647 and 3 point % of .206 in the regular season.
Likewise, his 3-point % of .677 in the playoff games. Altogether, his career statistics stand with 2,621 points (3.6 PPG), 2,706 rebounds (3.7 RPG), and 626 (0.9 APG).
Some of Jason Collins' major achievements to date are listed below.
National Gay & Lesbian Sports Hall of Fame – 2013
Third-team All-American – NABC (2001)
Pete Newell Big Man Award (2001)
First-team All-Pac-10 (2001)
Fourth-team Parade All-American (1997)
Jason Collins | Career Stats
Jason Collins Comes Out as a Gay
As we all know, Jason Collins is the first publicly gay athlete to star in any of the four major North American leagues. Although Jason knew he was different from other boys, he only openly talked about it in 2013.
Since he was small, he held onto his secret without telling a single soul about it. Indeed, he talks about how he was always walking on a thin line with the secret.
Back in his days, he would date girls thinking it would keep things straight, and whenever the talks about girls would pop, he would dodge them.
Well, he did date girls for a while but later stopped. And when his friends asked about his girlfriend, he would say that she was in another city.
On one such event, Collins dated former WNBA center Carolyn Moos for an eight-year relationship. Actually, they were even engaged and fixed for a wedding in 2009. However, Collins eventually called it off.
You can click to learn about the athletes who are also strong advocates of the LGBTQ community.
First Unsaid Move
In 2011, Jason Collins made a small step towards his identity silently. The 2011 NBA lockout made him revise his thoughts, and hence, marking the beginning, he chose the jersey number '98.'
This jersey number represented the murder of gay college student Matthew Shepard in 1998 for him. Most basketball athletes don't wear a jersey number greater than 55, but Collins had chosen the number '98.'
Hence, of course, the Celtics manager did ask for its reason. However, Collins just made up a lie for it.
Therefore, he allows states this number to be his "a statement to myself, my family, and my friends."
Coming Out in Public
Before opening up to anyone, Jason Collins initially cracked the news to his aunt. Indeed, her immense support gave him the courage to open up to his family and brother.
He called his agent Arn Tellem and prepared for their announcement only after it. Following it, he talked with John Amaechi, who came out as gay in 2009.
Among all the announcement ways to choose from either TV or news, he chose the first-person narrative with Sports Illustrated. He had an interview for three hours and 45 minutes which was made into a story.
Appraisals And Supports
After his announcement went public, Jason Collins received immense support and praise. From his teammates to legendary players on the field, everyone tweeted to support him.
Not to mention, Collins also gained back-to-back congratulatory calls from Oprah Winfrey, then-first lady Michelle Obama, and then-President Barack Obama.
Similarly, numerous top-ranked sites wrote about his brave act to come out as gay.
The same day when Sports Illustrated posted Jason Collins' story, it drew 3.7 million visitors to the magazine's website, SI.com.
Post Announcement
Indeed, it was all smiles and happiness until he wasn't sure if he would land any contract with any team. Also, he was a free agent then, and he intended to sign a contract; however, not even a single team reached out to him.
In 2014, Collins rejoined Nets on a ten-day contract and then for the rest of the season.
"When I was younger, I dated women. I even got engaged. I thought I had to live a certain way. And I needed to marry a woman and raise kids with her. I kept telling myself the sky was red, but I always knew it was blue. I didn't set out to be the first openly gay athlete playing in a major American team sport. But since I am, I'm happy to start the conversation." -Jason Collins.
Read more about inspiring quotes from late basketball player Kobe Bryant.
Jason Collins | Net Worth
At present, Jason Collins depicts a net worth of $16 million, and his estimated career earnings are $34,341,007.
At the entry level, Collins signed a four-year contract worth $5,330,184 that earned him an annual salary of $1,332,546.
Following it, his contract was worth $23,600,000 for four years, and his annual salary was $5,900,000.
For a year contract, Jason earned an average of $1,352,181 while earning $82,324 for a ten-day contract.
On the other hand, Jason Collins portrayed a big endorsement deal with Nike. Also, he stands as the brand ambassador for the NBA Cares.
Charity
Jason Collins has worked for numerous causes like LGBTQ support, adoption, orphans, education, children, and equality. Not to mention, he has also raised his voice for equality and civil rights.
Additionally, he has supported organizations like Los Angeles Police Memorial Foundation, Point Foundation, Human Rights Campaign, Alliance for a Healthier Generation, and GLSEN.
He has been awarded Courage Award from GLSEN, LOGO TV's inaugural Trailblazer Award, and the Making A Difference Award to honor his works.
Not to mention, his jerseys have been a top sale after he came out as a gay.
As these jerseys stood on the top-earning spot, the collected amount benefitted the Matthew Shepard Foundation and the Gay, Lesbian & Straight Education Network (GLSEN).
Jason Collins | Boyfriend
As we all know, Collins was initially in a relationship with Carolyn and had even asked her to marry him. Later, he called their wedding off; however, they have no 'bad blood.'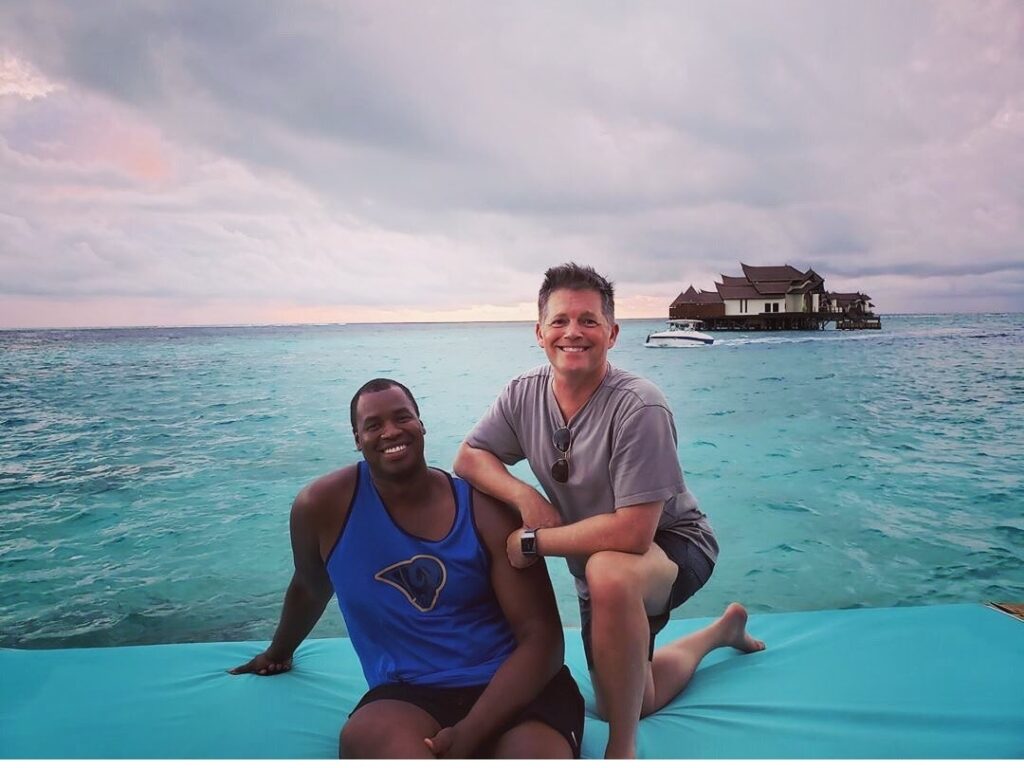 Following it, he was reported to be in a relationship with LA & Austin-based TV and film producer Brunson Green.
Still, the news was only made official in 2017, and together they attended the 2017 Sundance Film Festival.
Social Media
Instagram: 6k Followers
Twitter: 92.4k Followers
Click to read about the top ten best NBA players of all time.
Jason Collins | FAQs
What is the jersey number of Jason Collins?
Jason Collins features jersey number 34 for the Atlanta Hawks and 98 for the Boston Celtics, Brooklyn Nets, and Washington Wizards.
What happened to Jason Collins?
While playing with the Hawks, Collins suffered from a right foot strain injury. After suffering from the injury, he missed the last five games.
Did Collins test positive for Covid-19?
Collins and his partner Brunson Green tested positive for covid-19. He believed that he contracted the coronavirus while traveling to New York City for the Brooklyn Nets Pride Night.