It's been quite a week for the NBA star Zion Williamson! Amidst the celebration of a surprise gender-reveal video with his new girlfriend, Ahkeema, he faces a cheating allegation from a lady named Moriah Mills.
Moriah, 31, took to Twitter to claim that she & Zion Williamson were in a relationship. In fact, they reportedly had intimate encounters just a week before the basketball star made headlines with his baby mama.
Mills is an adult film star, Onlyfans model & social media influencer. In her outburst to Williamson, she even stated that she was loyal to him when the NBA player was unfaithful.
The relationship between Zion & Moriah was never in the limelight until now.
Rather, the New Orleans Pelicans power forward's most-known relationship was with his then-girlfriend, Tiana White, before they broke up in 2021.
Afterward, he began dating Ahkeema & is set for fatherhood with a baby girl due in November 2023.
So, it is evident that the one actually to get cheated is Ahkeema, if whatever Moriah is telling is true.
Zion Williamson Alleged Girlfriend: Moriah Mills Age
Moriah Mills was born on October 17, 1991, to African-American parents in Queens, New York, United States. As of September 2023, she is 31 years old.
Besides, she has not revealed anything about her early life, parents, and schooling to the public.
Mills began appearing in adult films around 2017 and soon went viral. Following her success, she worked with numerous popular adult industries, including Evil Angels and Brazzers.
She has also worked with Alex Coal, Mia Milano, and Katie Kush, famous faces of the adult film industry.
Aside from that, the adult movie actress has a Youtube channel named Moriah M.
She started it on May 23, 2018, & has around 63.6k subscribers where she mainly uploads makeup tutorial videos, music videos, and vlogs.
Moriah is active on Instagram, where she has about 380k followers. She mostly posts reels and photos, promoting her OnlyFans.
Bashed Out Zion Williamson, Calling Him A Cheater
On Wednesday, June 7, Zion Williamson had a typical day when an adult film star suddenly called out to him for cheating on her.
The woman was none other than Moriah Mills. She took to her Twitter account, revealing her association with the Pelicans player through a series of tweets.
Mills said that the NBA player, who is already on the way to fatherhood with his former stripper girlfriend, Ahkeema, told her that he didn't have a "girlfriend."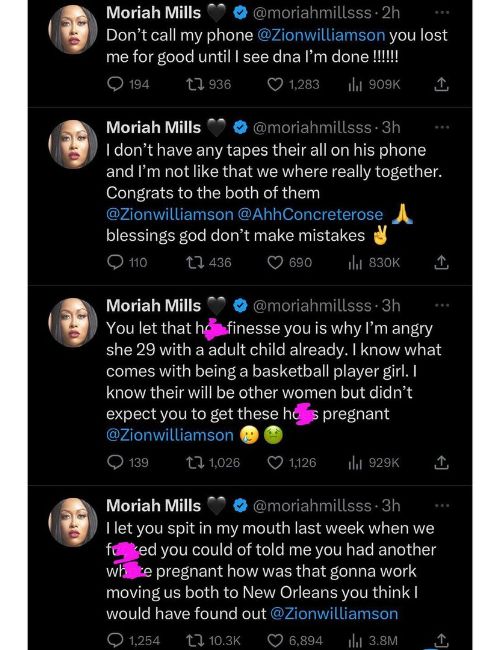 Mills also posted a Snapchat conversation with Zion and wrote that she hates him for being a liar and a cheater. She also added that he better hope she was not pregnant.
After the incident, Zion's girlfriend, Akheema, was the first to break the silence. She wrote on her handle, "Happy hoes ain't hating and hating hoes ain't happy," and seems unbothered.
While the American basketball fraternity is following the news with great interest, Zion has not made any remarks yet.