Zion Williamson and his girlfriend Ahkeema announced their baby on board this early June. The New Orleans Pelicans player is set to slide from the courtside to the cradle side.
News of Williamson's wait for fatherhood came after two years of his split from his then-girlfriend Tiana White. They were Spartanburg Day High School sweethearts but broke up around 2021.
Along with showers of congratulations, it gathered a whirlpool of mixed emotions from the fans.
Some netizens accused Zion's baby mama Ahkeema of being a gold digger.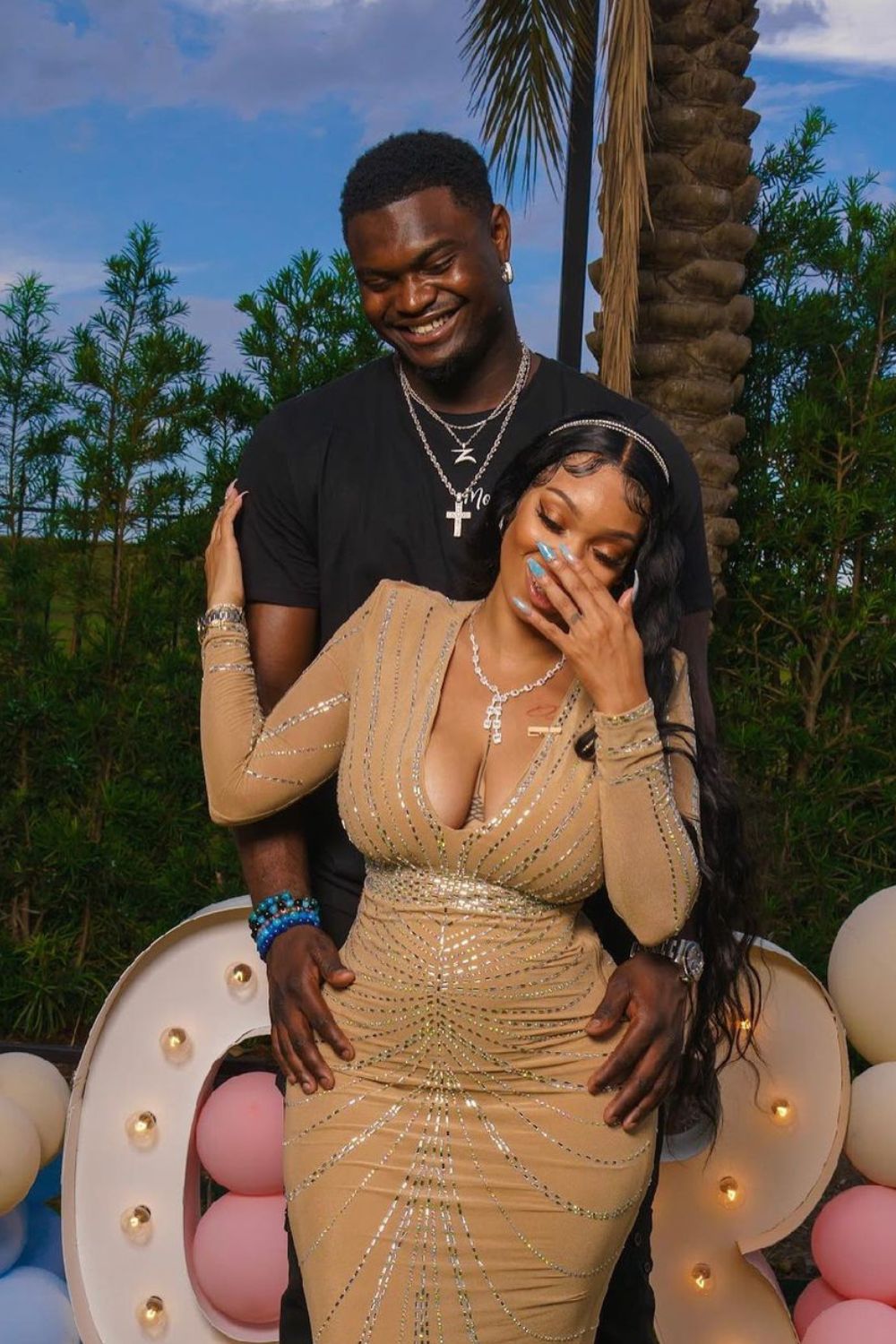 Moreover, some even claimed that Zion Williamson is getting trapped by a stripper who sold CPN on her Instagram handle.
This aspect became problematic as CPN is illegal and can lead to supposedly identity theft, fraud, or worse.
Amidst all the hullabaloo, some people saw the silver lining, defended them from the online backlash, and congratulated them on their baby news with happiness.
Zion Williamson And Ahkeema Baby Bliss: Gender Reveal
Zion Williamson & his baby mama were social media buzzers after they did a gender reveal on June 6, 2023.
The announcement came through Ahkeema's YouTube channel & was the first video uploaded on the channel.
In the gender reveal video, the family members were in joy with tears & excitement as the "pink" confetti suggested a baby girl was on the way.
The theme setting was tropical, with palm trees outside a mansion with a pool and a blue and pink theme setting with golden butterflies.
Ahkeema aligned her outfit with the ambiance as she wore a golden bodycon sequin dress.
Likewise, Zion was wearing a basic black t-shirt with a quirky quote on the back saying, "I'm here because I don't want to get yelled at.."
One of Ahkeema's Instagram posts also included a tissue paper with the due date of the baby Williamson, i.e. 11.13.2023.
The couple is overwhelmed with the new addition to the family.
Ahkeema said, "Thank you, God, for blessing my family with an addition; we will give her unconditional love, guidance, protection & a family we are so grateful for #babywilliamson."
Zion Williamson Girlfriend Is A Stripper- Real Name?
Being in a relationship with a famous NBA player makes one the center of attention & fans try to dig out all the possible info.
Many online sources & fan comments suggest that Zion's new girl's name is Akheema. As reported, she is a stripper & now in her late 20s.
Some fans even commented on her IG posts with the mention of @lovie_monroe, which happens to be her former social media handle (Instagram & Twitter).
And speculations of the posts on the platform do indicate that she used to be a stripper & went by the name Monroe Rose.
Even now, Zion's baby mama wears a diamond chain with the name "Rose" on it.
Backlash For Allegedly Selling CPN
At the moment, Williamson's girlfriend seems to have a clean sheet & is a video creator, according to her Instagram handle @ahh_concreterose.
She also runs a YouTube channel @AhhRoseGarden.
Well, it won't keep her from controversies & critics since some claim that she promoted & sold CPNs on her social media posts earlier.
Although those posts seemingly have been deleted, screenshots of that & debate among netizens are still circulating.
Step Son Of Zion
The New Orleans Pelicans power forward Zion Williamson never got married. Also, he didn't share any kids with his former flame Tiana White.
But the NBA star now embraces the fatherhood of two; a stepson & the to-be-born baby girl due in November 2023, both with his new girlfriend, Ms. Rose.
Zion's baby mama is yet to open up further about her son (his name) & her previous relationships.
She posts pictures of her son on her Instagram. Moreover, her social media posts include her mother & elder sister.
A New Chapter For Akheema
Despite her past, Ahkeema, aka Ms. Rose, has boldly declared no shame or regret.
Instead, she has posted on Twitter stating,
"Yup, that's me I'm not ashamed of my past, are you?"
Everyone deserves an opportunity for redemption and a fresh start, including her.
Considering the challenges and influences surrounding her, expecting anyone to be flawless is unrealistic.
Now that she has embarked on a new chapter with her NBA boyfriend, we wish her happiness and success.