An American football running back for the Cleveland Browns of the National Football League (NFL), Nick Chubb career earnings sit at $34.10 million.
In addition to NFL earnings, Chubb earns well from his brand endorsement deals, which have helped him amass $15 million in net worth.
In a Week 2 match against the Pittsburgh Steelers, Chubb endured what initially seemed to be a severe knee injury, the same knee that had been injured back in 2015.
This unfortunate incident forced him to be carted off the field, and he was subsequently ruled out for the remainder of the game.
Head coach Kevin Stefanski, after the game, sadly confirmed that Chubb would be sidelined for the entire season.
Chubb, a standout in college football at the University of Georgia, was selected by the Cleveland Browns in the second round of the 2018 NFL Draft.
Throughout his impressive NFL career, Chubb has been named to the Pro Bowl on four occasions.
Nick Chubb Career Earnings, Net Worth, Contracts & More
As of 2023, Cleveland Browns running back Nick Chubb career earnings sit at $34.10 million.
This substantial sum breaks down as follows: $15.42 million from salaries, $15.44 million from signing bonuses, $3 million from option bonuses, and $230,190 in incentives.
Impressively, despite only being in the league for six seasons, Chubb has already amassed a considerable fortune.
His NFL journey began when the Browns selected him 35th overall in the second round of the 2018 NFL Draft.
He then inked a lucrative 4-year, $7.38 million contract with Cleveland on June 4 of the same year.
This contract featured a $3.44 million signing bonus, $5.89 million guaranteed, and an average annual salary of $1.84 million.
Chubb's financial success continued to soar when, on June 31, 2021, he secured a substantial 3-year, $36 million contract extension with the Browns.
This extension included an impressive $12 million signing bonus, $20 million guaranteed, and an average annual salary of $12.2 million.
As of 2023, Nick Chubb's estimated net worth stands at approximately $15 million, a testament to his skill and success in the NFL.
Nick Chubb Is Done For The Season
In his sixth NFL season, the four-time Pro Bowler faced a premature end to the game during the second quarter's early moments.
The Steelers' safety, Minkah Fitzpatrick, initiated a low tackle at the end of a five-yard run, delivering a hit to Chubb's leg that caused his knee to buckle underneath him.
In the play's aftermath, a concerned teammate extended a hand to help Chubb back on his feet.
However, he shook his head while firmly clutching his left knee, subsequently undoing his chinstrap and rolling over onto his side.
Following the game, Cleveland's head coach, Kevin Stefanski, expressed uncertainty regarding the full extent of Chubb's injury but sadly anticipated that he would be sidelined for the remainder of the season.
Chubb's recent injury was all the more distressing given his history of a significant knee injury back in 2015 during his college days at Georgia.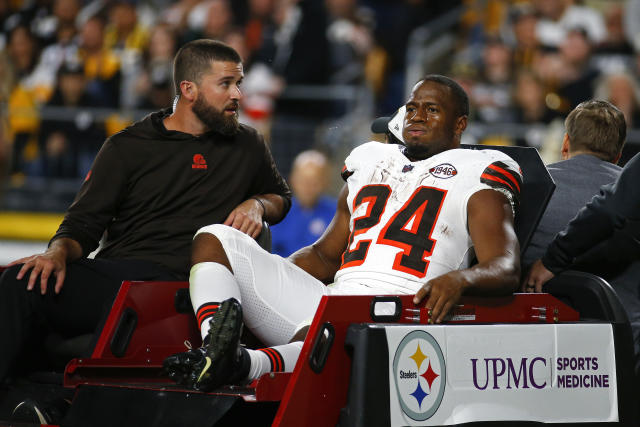 That earlier injury involved a dislocation with three torn ligaments.
The nature of the injury on Monday night was equally painful to witness, with ESPN opting not to air replays of the unfortunate play.
Chubb remained sprawled on the ground for several agonizing minutes, with his teammates gathering nearby in prayerful concern.
Eventually, he had to be carted off the field and was transported to a local hospital as a precautionary measure.
However, by the time the Browns were wrapping up after their 20th consecutive regular-season loss, Chubb was already on his way back to Cleveland.
Notable figures like NBA star LeBron James, who hails from Ohio, and Baltimore Ravens quarterback Lamar Jackson were among those offering their support and well-wishes to Chubb via social media, highlighting the widespread concern and empathy for the talented athlete.