Nick Chubb is a well-known running back for the Cleveland Browns in NFL. Browns picked him in NFL Draft 2018 as a second-round draft pick. He played college football for the University of Georgia.
Chubb has earned his household name as a renowned and skillful running back. He's one of the Browns' most valued players and has remained loyal to the team throughout his career.
Furthermore, he has received several honors for his remarkable performance, including First Team PFWA All-Pro, three times Pro Bowl, and First Team All-SEC recognition.
In addition to his football career, Chubb has also earned a name for himself through his involvement in a number of business ventures and endorsements.
This article will explore Nick Chubbs's early life, wealth, career, business ventures, and personal life. But before that, let's start with his basic facts.
Quick Facts
Full Name
Nicholas Jamaal Chubb
Name

Nick Chubbs

Nick Name

Cheeks Chubb

Date of Birth
December 27, 1995
Age

27 years old

Birth Place
Cedartown, Georgia
Nationality

American

Ethnicity
Black
Zodiac Sign

Capricon

Height

5 ft 11 in (1.80 m)

Weight

227 lb (103 kg)

Hair Color
Black
Eye Color

Brown

Father's Name
Henry Chubb
Mother's Name
Lavelle Chubb
Siblings
Two elder brothers: Zachary Chubb and Henry Chubb Jr., and one younger brother, Neidra Chubb
High School
Cedartown High School
Education

Graduate

University
Georgia University
Marital Status

Unmarried

Profession

NFL Player

Position
Running back
Leagues

National Football League (NFL)

NFL Draft
35th overall selection in 2018 NFL Draft by Cleveland Browns.
Debut Year

2018

Playing Teams
Cleveland Browns (2018 – Present)
Jersey Number
24
Awards and achievements

First-team PFWA All-Pro (2021)
Three times Pro Bowl (2019–2021)
First-team All-SEC (2014)
Second-team All-SEC (2017)
SEC Freshman of the Year (2014)

Net Worth
$20 million
Social Media
Merch
Chubb crunch
Last Update

March 2023
Nick Chubb | Early Life
Nicholas Jamaal Chubb was born on December 27, 1995, in Cedartown, Georgia. He was the youngest child to parents Henry Chubb (Father) and Lavelle Chubb (Mother).
Furthermore, Chubb has two elder brothers: Zachary Chubb and Henry Chubb Jr., and one younger brother, Neidra Chubb.
Unfortunately, Chubb's parents divorced when he was four. He moved in with his mother in Cedartown. However, his parents had joint custody. So, he would end up in Chubbtown while he remained with his father.
There is an interesting story behind the family name of Nick Chubbs. Nick's great-grandfather was one of the eight brothers that built a chubb town in northwest Georgia in 1864.
Chubbtown prospered as a self-maintained, all-black village with a variety of marketplaces. It survived the American Civil War and the slavery system blacks had to undergo through.
Talking about Nick's family, his family is full of footballers. His father, Henry, played college football for Valdosta State University. His older brother, Henry Jr., played for Troy University, and Zach played as a defender for the Air Force Academy.
Aaron Chubb, his uncle, was a member of the Georgia team. His older cousin Bradley Chubb was picked fifth overall in 2018, while his younger cousin Brandon Chubb signed as an undrafted free agent and has been on numerous NFL teams since.
Education
Nick Chubb attended Cedartown High School in Cedartown, Georgia. Later, after graduating from high school, he attended Georgia University from 2014 to 2017. He was supposed to enroll in the 2017 NFL draft but returned to the University and played for the senior season instead.
Age, Height & Weight
Nick Chubb was born in 1995, which makes him 27 years old. People born in December are Capricon.
Furthermore, Nick was born in Cedartown, Georgia, and identifies as an American of black ethnicity.
Also, Chubb is 5 ft 11 in (1.80 m) tall and weighs around 227 lb (103 kg). He has an arm length of 32 inches (0.81 m) and a handspan of 9 inches (0.24 m).
NFL player Jalen Hurts, is a rising star in the football world. He plays quarterback for Philadelphia Eagles and has astonished everyone with his outstanding skills despite being a rookie. Know more!
Nick Chubb | Early Career
Nick Chubb was an all-around standout at Cedartown High School. He was an active player for the school football and track teams and also the leading rusher in the state of Georgia.
Furthermore, he was a star track and field athlete. At the 2014 Class AAAA state championships, he won the shot put state title with a throw of 16.77 meters (55 ft).
After graduating high school, he enrolled at Georgia University and played for the college football team. Chubb had expected to declare for the 2017 NFL Draft but chose to stay at Georgia for his senior season instead.
Nick Chubb | Professional Career
The Cleveland Browns selected Chubb in the second round of the 2018 NFL Draft with the 35th overall selection.
Chubbs signed a four-year rookie contract with Cleveland Browns on June 4, 2018. Chubb was already making his name in the industry despite being a rookie.
It took Chubb only three runs to become the fourth player in NFL history to carry for over 100 yards on just three attempts. He also won the AFC Offensive Player of the Week award.
Chubb was a valuable player for the Browns. Thus, he signed a three-year contract extension on July 31, 2021. He was one of five Cleveland Browns players for the NFL Pro Bowl.
NFL player Darwin Thompson plays as running back for the Kansas City Chiefs. He is the ace player and was regarded as an offensive weapon for the team. Know more!
Nick Chubb | Injuries and Setbacks
In 2015, Nick Chubb suffered a severe knee injury during a game against Tennessee. He quickly had to undergo surgery to repair multiple torn ligaments. Due to the injury, he had to miss the entire 2015 season.
Furthermore, Nick also suffered from a calf injury and a rib injury. But, his strong spirit and determination have him going strong in the game despite the injuries.
Nick Chubb | Awards and Achievements
Nick Chubb has won several awards and achievements in his career. Some of them are as follows:
First-team PFWA All-Pro (2021)
Three times Pro Bowl (2019–2021)
First-team All-SEC (2014)
Second-team All-SEC (2017)
SEC Freshman of the Year (2014)
Nick Chubb | Relationship
Chubb was in a relationship with a beautiful girl named Laci Shaw. Nick had dated Laci Shaw for more than five years.
The love story had started back in his college days. Laci was a cheerleader, and Nick was on the college football team. The pair had known each other from high school days but never talked to one another.
But, Nick had a crush on Laci from his school days. He was smitten by her ethereal beauty and finally took the initiative to ask her for a date. They finally started dating, and Nick was open about his relationship with the public.
They were like the couple goals, always supporting each other. When Nick had a severe injury, Laci was beside him and gave him all the support he needed most.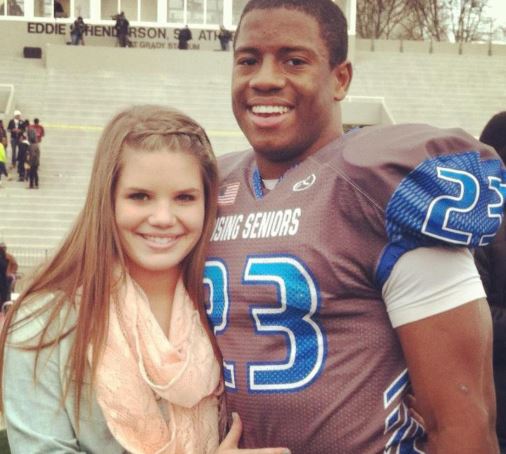 Unfortunately, the couple announced publicly that they had broken up. Though the exact reason behind the breakup hasn't been disclosed, it is known that they are still connected on social media.
The couple now remains friends. There has been no update on his current relationship status of Nick. But stay tuned. We'll update you if we hear anything.
Nick Chubb | Chubb Crunch
It's not uncommon for NFL players to put their hands on business ventures, and Nick Chubb has done the same.
Nick Chubb launched a new cereal in the market, "Chubb Crunch." It is not an ordinary cereal but cereal with a cause and can be purchased online and at local Heinen's grocery shops in Cleveland.
He has established a charity, First Candle, and for every box of Cinnamon Toast Squares sold, it receives a share of the revenues.
The charity uses the revenue to fund its education efforts to combat SIDS and other sleep-related newborn fatalities and comfort bereaved families who have lost a child to the syndrome.
In addition, Chubb Crunch was established in partnership with PLB Sports and Entertainment, a business that specializes in creating distinctive brands for athletes and celebrities.
Stefon Diggs is widely recognized as one of the finest wide receivers in the history of American football. He plays for the Buffalo Bills and has racked up a slew of impressive statistics in the NFL. Know more!
Social Media Presence
The popularity of Nick Chubb can be seen on his social media, where thousands of his fans and admirers follow him. You can join the fandom by following him on the social media platform below:
Nick Chubbs | Net Worth and Salary
The net worth of Nick Chubb is estimated to be $20 million. His net worth is derived from his primary profession as an NFL player.
Chubb signed a four-year rookie contract for a whopping 7.4 million with a $3.4 million signing bonus. Furthermore, He extended his contract for three years worth $36.6 million.
Apart from this, he also earns handsome money from sponsorships, endorsements, and business ventures.
Nick Chubb | Lifestyle
Nick Chubb is a millionaire and lives a lavish lifestyle. Since Nick's forbears were the founders of Chubb town, his family owns acres of land there.
Also, Nick drives a Mercedes Benz GLC 63S AMG and has a mansion in Cleveland, Ohio. But, despite the lavish lifestyle, Nick believes in giving back to the community and is actively involved in charity and social work.
Frequently Asked Questions (FAQS)
What are the overall NFL statistics for Nick Chubb?
In his NFL career, Nick Chubbs played 58 games with 4,816 rushing yards, 5.3 rushing average, 36 rushing touchdowns, 92 receptions, 751 receiving yards, and three receiving touchdowns.
Are Bradley Chubb and Nick Chubb related?
Yes, Bradley Chubb and Nick Chubb are cousins. Both are NFL stars and were drafted the same year as the 5th and 35th overall picks, respectively. Bradley plays for the Denver Broncos, whereas Nick plays for Cleveland Browns.