Nicole Pechanec is a former American Gymnast, Sportsperson, and Associate Producer for NBC Sports and ESPN. But, she is famous as the long-time girlfriend and wife of Andrew Luck.
If you don't know, Andrew Luck is a former American Football player for the National Football League (NFL). Moreover, Luck is one of the most talented quarterbacks of the Indianapolis Colts.
Aside from being the wife of a famous football player, Andrew, there is so much that we don't know about Nicole.
Hence, Today we will be discussing all information about this beautiful personality from her professional life to her personal life.
Before getting into details about the former NFL player's wife's life and career, let's start with some quick facts about her.
Quick Facts
Full Name
Nicole Pechanec
Birth Date
August 18, 1990
Birth Place
Newark, New Jersey, the United States
Nick Name
Nicole
Religion
Unknown
Nationality
Czechoslovakian-American
Ethnicity
White
Education
Stanford University
Indiana University
Horoscope
Leo
Father's Name
Tomas Pechanec
Mother's Name
Yvette Pechanec
Siblings
Yes (Monica Pechanec)
Age
32 Years Old
Height
5 feet 5 inches (1.65m)
Weight
55 kg (121 lbs)
Shoe Size
6(US)
Hair Color
Light Brown
Eye Color
Brown
Body Measurement
33-28-35
Figure
Slim
Married
Yes
Husband
Andrew Luck
Children
Lucy Luck
Profession
Architecture, Gymnast
Net Worth
$2 million
Salary
Unknown
Currently Works At
Associate Producer for NBC Sports and ESPN
Affiliations
NBC, ESPN, NASA
Active Since
2013
Social Media
Twitter
Merch of Andrew Luck
Jersey, Posters, Funko Pop
Last Update
March, 2023
Nicole Pechanec | Early life and Education
Nicole Pechanec was born on August 18, 1990, in New Jersey, United States of America. She completed her school education at the Local High School.
After that, Pechanec enrolled at Stanford University, located in Stanford, California, and majored in Architectural Engineering.
Not to mention, Andrew luck also attended the same university and majored in the same Architecture degree. Later, both graduated in the same year, in 2012.
While at Stanford, Nicole used to be captain of the Cardinal gymnastics team, and her team was the only one to compete on the floor in every meet.
Also, she became the only freshman to compete twice in the NCAA Championships.
Furthermore, along with her team, Nicole won the championship finishing fourth worldwide in 2010 and 2012. Pechanec was a star athlete in college.
Similarly, after graduating from Stanford, the gymnast enrolled at the prestigious Indiana University to pursue her master's degree in Business Administration. Nicole completed her master's degree in 2017.
Nicole Pechanec | Family and Nationality
Pechanec was born to Tomas Pechanec and Yvette Pechanec, who were local citizens from the Czech Republic.
Moreover, Nicole's mother was a gymnast for the Czech National gymnastics team. She was Pechanec's biggest inspiration and served her as a gymnastic coach all over the years. Nicole said,
"She has been there whenever I needed something and has also confirmed my theory that moms are always right. Having made it to the all-around finals, I was able to fulfill not only my dream but hers, too. I don't consider it as athletic success whatsoever, but as pursuing dreams and living life to the fullest."
Likewise, her father was a sailor for the Czech Republic and competitively for several countries.
Aside from her parents, Pechanec grew up with her sister Monica Pechanec. As for her nationality, Nicole is Czechoslovakian-American, while her ethnic background belongs to white.
Nicole Pechanec | Age, Weight, And Body Measurements
Young and Pretty, Nicole is [calculate years datestring="08/18/1990″] Years Old as of 2023.
As mentioned, her zodiac sign is Leo, and they are known to be charming, ambitious, hard-working, and passionate at the same time.
Pechanec stands at 5 feet 5 inches(1.65 m) and weighs around 52 kgs(121 lbs). As a gymnast since her college days, Nicole was always fit; she has a stunning figure measuring 33-24-34 inches, and her shoe size is 6(US).
Likewise, the gymnast has a pair of brown-colored eyes and has long light brown lustrous hair that matches well with her fair skin complexion.
Nicole Pechanec | Professional Career
Gymnastic Career
After successfully graduating from Stanford University, Pechanec actively participated in various Tournaments and European Championships. Similarly, she has also won multiple awards as a gymnast.
Likewise, she competed in international gymnastics competitions as the representative of the Czech Republic.
Also, as a professional gymnast, she has worked as a Program Coordinator in the USA gymnastics.
Design Career
In 2013, Nicole worked as an intern at NASA's Johnson Space Center in Houston. Similarly, she did CAD development, research, and design at the Mars-Transit Deep Space Habitat.
On the other hand, she also worked as a design intern at a California-based company that provided online textbook rentals.
Besides that, she worked as a website and graphic designer at a fast-paced, high-energy company in Silicon Valley.
Instantly, Nicole also worked as an internal design team in a new headquarters. She created an open-concept and collaborative space in her project.
Furthermore, in September 2011, Pechanec collaborated with the marketing department and worked on user-based advertisements and designs.
Likewise, In 2012, Nicole worked as a junior designer in Portola Valley, CA. Similarly, she collaborated with the different social organizations to preserve various craftwork.
NBC and ESPN
Nichole always had a passion for sports reporting. In 2014, she started working as a television broadcaster in NBC Sports and ESPN.
Likewise, She broadcasted a live sporting event following all the procedures and rules as a broadcaster.
Moreover, Pechanec's presentation skills smoothed the viewing experience of sports, and she got highly praised for her work. Along with that, she also started covering for NBC Olympics and USA Gymnastics.
Currently, she is working as a Field Producer for NBC and ESPN Sports.
Social Entrepreneur
In 2016 Pechanec worked as an expert in statistics for NBA Olympics at the Rio De Janeiro Games in Brazil.
Likewise, she also researched and prepared biographies and talking points for the gymnastics commentators.
Not to mention Nichole is also a Social Entrepreneur. She is currently working as an advocate for a non-profit organization called Nest.
The organization aims to provide advanced, healthy, genuine, and organic products.
Career: Who is Nicole Pechanec Husband ?-Andrew Luck
Andrew Luck is an American football quarterback for the Indianapolis Colts of the National Football league. While pursuing his degree at Stanford University, he started playing college football.
Simultaneously he started participating in different championships and won the Maxwell Award, Walter Camp Award as a college football player of the year. Also, Luck got awarded the Heisman Trophy in both 2010 and 2011.
Notably, the footballer was recognized in all America and was named the offensive player of the year.
Eventually, Andrew got selected in the 2012 NFL draft. In the final NFL playoffs, he led the Colts to the second-largest playoffs in history.
Not to mention, Luck has been the NFL Rookie of the Week multiple times since he began his NFL career.
Furthermore, the footballer also established himself as an elite running quarterback in the NFL. He also won his second AFC Offensive Player of the Week for his fantastic performance in 2013.
Moreover, In 2014 Luck played his first home playoff against the Kansas City Chiefs and made a historic by capping the game with a 64-yard touchdown pass.
Similarly, he was also named the second Pro Bowl on January 19, 2014, replacing Russell Wilson.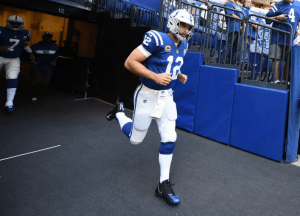 Additionally, in 2015 Luck was ranked 92nd in the NFL's top 100 players. Similarly, he also received the AFC Offensive Player of the Week award for passing 278 yards and four touchdowns in 2016.
Unfortunately, in 2017 the footballer couldn't play the regular season's games due to his right shoulder surgery. But he made a comeback in the 2018 final season and completed the game.
Not to mention, He was honored with the NFL comeback player of the year award by the Pro Football Writers Association. Sadly the footballer announced his retirement due to his recurrent injuries in 2019.
Nicole Pechanec | Net worth And Salary
The former gymnast, Nicole, later pursued her career as an architectural designer and Sportsperson. From what we know, Pechanec has accumulated a net worth of $2 million so far.
At the same time, her husband, Andrew Luck, has an impressive net worth of $40 million. Not to mention, Luck's yearly salary comes to a staggering $9 million.
Furthermore, the NFL player has earned $97 million in salary alone during his Career till August 24, 2019. Also, he makes most of his income from contracts.
According to sources, Luck has signed a five-year contract with Russell Wilson-Esque contract that would pay him $225 million in total.
Nevertheless, Luck has gained a hefty amount of wealth throughout his flourishing career as a footballer. Hence, money does not seem to be lacking for this lovely couple, and they are undoubtedly living luxurious life.
Nicole Pechanec | Personal Life and Marriage
As we all know, Nicole and Andrew have been married for over a decade now. So when did their love story begin?
Well, it all started back in their college days; they met as college students while majoring in Architectural degree at Stanford University and have been together ever since.
Afterward, as time passed on, they fell in love with each other. And finally, after many years of dating, the college sweethearts tied the knot on March 31, 2019.
Similarly, the wedding was a private ceremony in Prague, and only close friends and family attended the wedding.
Later, on November 9, 2019, Nicole and Andrew welcomed their first child. It was a beautiful baby girl, and they named her Lucy Luck.
All in all, the small family of three currently resides in Houston and is living a blissful and happy life.
Nicole Pechanec | Social Media Presence
Luck's long-time girlfriend is not active on many social media platforms. Hence, she does not have an Instagram handle or a Facebook account.
Nevertheless, she is occasionally active on Twitter. The gymnast has 755 followers and follows less than 100 people.
Pechanec is a very supportive wife and has supported her husband throughout his NFL career. Besides that, she often shares Andrew's NFL-related news, events, and highlights.
Furthermore, she tweets and retweets several sports-related articles and stories.
The former Stanford Cardinal recently tweeted how much she missed her college's gymnastics team. She also has a Linkedin account with over 500 connections.
Common Queries:
Where is Nicole Pechanec from?
Nicole is from Newark, New Jersey, the United States. Moreover, she grew up there before moving to California to pursue Architectural Engineering at Stanford University.
Besides that, Pechanec was also a part of the Stanford Cardinals gymnastic team.
Furthermore, she continued her education at Indiana University to achieve her master's degree in Business Administration.
What does Nicole Pechanec do?
The former Cardinal is a Field Producer for NBC and ESPN Sports. Besides that, she has also worked as a Designer and Social Entrepreneur.
Besides that, the former gymnast has worked as a Program Coordinator in the USA gymnastics.
Who is Nicole Pechanec?
Nicole Pechanec is a former American Gymnast, Sportsperson, and Associate Producer for NBC Sports and ESPN. Furthermore, she is famous as the wife of NFL quarterback Andrew Luck.