Andrew Luck is a former NFL quarterback who played for the Indianapolis Colts for seven seasons. Throughout his professional career, he amassed quite an honor for his gameplay, including the Maxwell, Walter Camp, and Johnny Unitas Golden Arm Awards.
In 2022, he was inducted into the College Football Hall of Fame.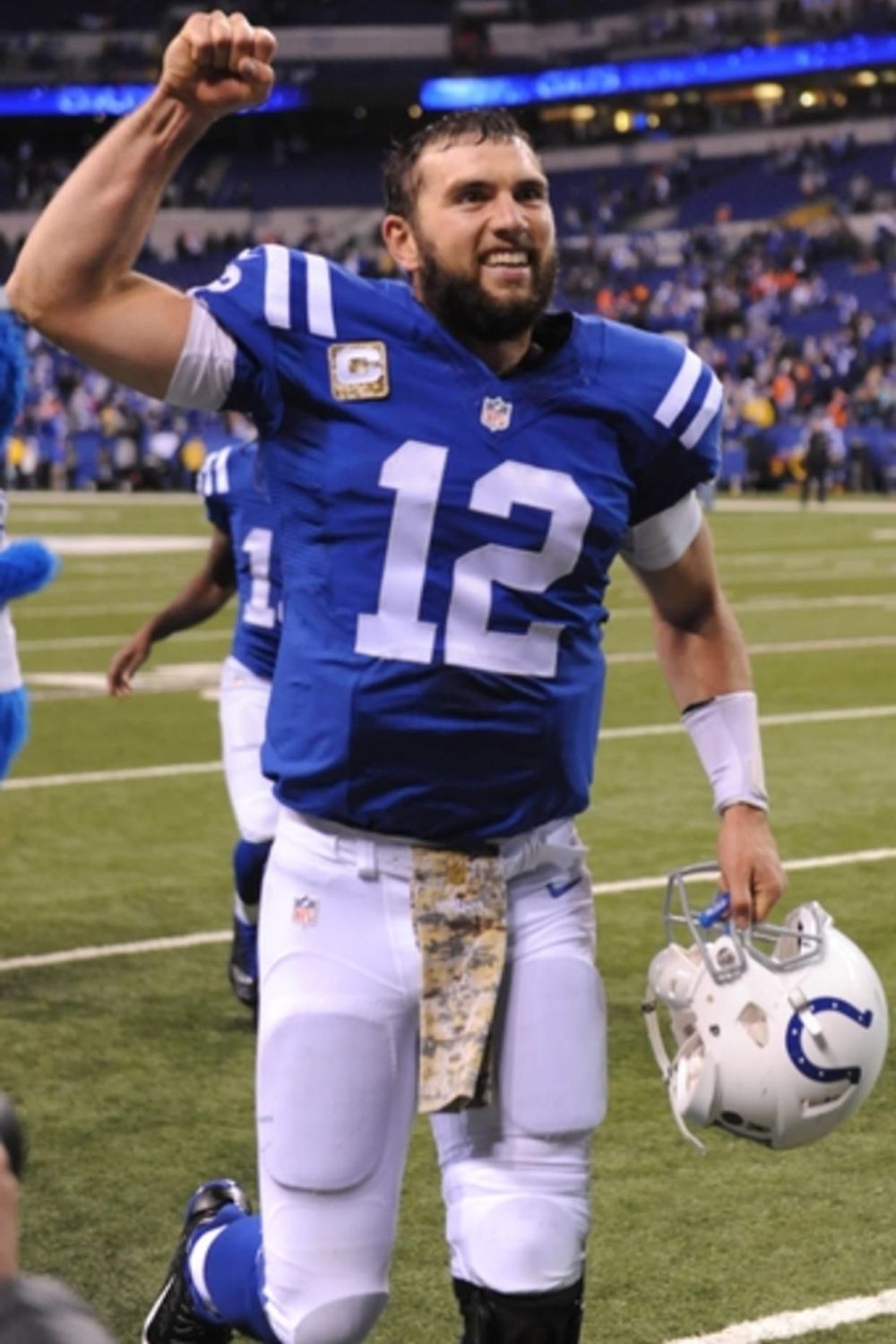 There is a saying, "Health is wealth," which relates to none other than Andrew himself, as he retired when he was at the top of his career due to health issues.
Not only was he famous and a receiver of several awards, but Andrew was also the highest-paid player in the NFL.
What made him announce retirement from football all of a sudden?
Let's jump to the article below to know this and every personal detail of Andrew, including his net worth. But first, why not go through the quick facts?
Quick Facts
Full Name
Andrew Austen Luck
Nick Name
Wolverine
Age
34 Years Old
Height
6 ft 4 in / 1.93 m / 193 cm
Weight
240 lb / 109 kg
Horoscope
Virgo
Date Of Birth
September 12, 1989
Birth Place
Washington, D.C.
Religion
Unknown
Nationality
American
Ethnicity
Unknown
Hair Colour
Dark Brown
Eye Colour
Hazel
Skin Colour
Fair
Sexual Orientation
Straight
Marital Status
Married
Wife
Nicole Pechanec
Kids
One Daughter, Lucy Luck
Father's Name
Oliver Luck
Mother's Name
Kathy Luck
Siblings
Two Sisters (Mary Ellen Luck And Emily Luck)
One Brother (Addison Luck)
High School
Stratford High School
University
University Of Stanford
Graduated Year
2012
Profession
Former Football Quarterback
Jersey Number
#12 (Indianapolis Colts), #12 ( Stanford Cardinals)
Active Years
2012-2019
Position
Quarterback
Former Team
Indianapolis Colts
Total passing yards
23,671
Total Rushing Yards
1,590
Completion Percentage
60.8
Total Rushing Touchdowns
14
Net Worth
$40 Million
Social Media
Facebook
Merch
Paperback, T-Shirts, Football Card
Last Update
November 2023
Early Life, Family & Education
Andrew was born on September 12, 1989, in Washington, DC. He is the oldest son of his former NFL quarterback father, Oliver Luck, and his mother, Kathy Luck.
The former quarterback spent half his childhood in London and Frankfurt, Germany. Besides his parents, Andrew has three siblings; two sisters named Mary Ellen and Emily and a brother named Addison.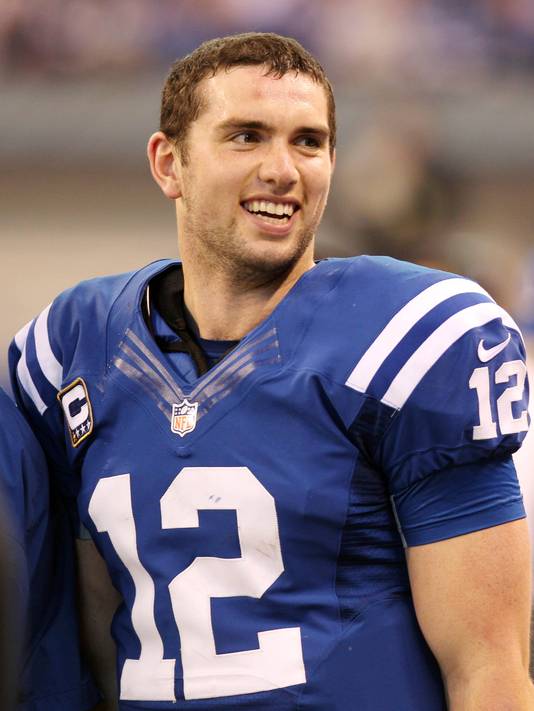 As for education, the former quarterback went to Stratford High School. Later, in 2008, he attended the University of Stanford and graduated with a degree in Architectural Design.
Andrew Luck's Father
Andrew's father, Oliver, is known for his active NFL participation as a Houston Oilers quarterback. He played five seasons with the team from 1982–1986.
During his tenure as a quarterback, he recorded 2,544 passing yards with a passing rate of 64.1. He gained experience as an executive and director at Houston Sports Authority (2001–2005).
Oliver is known to be the first president and general manager of the Houston Dynamo of Major League Soccer (MLS) and was also the Director of Intercollegiate Athletes at West Virginia University (WVU) from 2010–2014.
Besides, he was also the executive vice president for regulatory affairs at NCAA (2014–2018). Before COVID-19, Andrew's father, Oliver, served as the XFL CEO and Commissioner (2018-2020).
Age, Height & Weight
Andrew is 34 years old as of 2023. He stands at the height of 1.93 meters.
Talking about Andrew's weight, he weighs about 240 lbs.
High School & College
During high school, Andrew recorded 7,139 yards and 53 touchdowns. While in high school, Rivals.com regarded him as a four-star recruit.
After graduating high school, the former quarterback got many scholarships offers from top universities like Northwestern, Oklahoma State, Purdue, Rice, University of Stanford, and Virginia.
However, he decided to play for the University of Stanford. While in college, the coaches, Jim Harbaugh and David Shaw coached him from 2008 till 2011.
During his first year in 2008, he earned the starting quarterback for the 2009 season.
Likewise, in the 2009 season, Andrew recorded 2,575 passing yards.
He set a record of 3,338 passing yards in 2010. In the final season, 2011, the former quarterback made 3,517 passing yards, 404 attempts, and 37 touchdowns.
Stanford and David Shaw divulged that Luck would return to Stanford, his alma mater, as a graduate student to continue his master's degree in education in August 2022.
Professional Career
From 2012-2016
Andrew commenced his journey as a professional player after being drafted in the first round by the Colts in the 2012 NFL Draft.
Altogether, he played 70 games from the year 2012 to 2016.
2017 Season
The former quarterback had to miss the whole season because of his shoulder injury during Week 3 of the 2015 season.
Luck also had to undergo surgery; as a result, he was held out of the entire training camp.
2018 Season
After resting for almost one year, Andrew returned on September 9, 2018.
He played against Cincinnati Bengals, recorded 319 passing yards, two touchdowns, and an interception, and set a career-high in completions with 39.
Likewise, Luck competed in 16 games and set a record for making 4,593 passing yards, 639 passing attempts, and 39 touchdowns.
Career Highlights, Awards, & Stats
2010-2011: Maxwell Award, Walter Camp Award, Johnny Unitas Golden Arm Award
2012-2014: 4× Pro Bowl (2012–2014), NFL Passing Touchdowns Leader

2× Pac-12 Offensive Player Of The Year

2× First-Team All-Pac-12
2018: NFL Comeback Player Of The Year
2× First-Team All-American
Summary Career Stats
Also, have a look at the summary career stats of Andrew Luck.
| | | | | | | | | | |
| --- | --- | --- | --- | --- | --- | --- | --- | --- | --- |
| SUMMARY | G | AV | QBrec | Cmp% | Yds | Y/A | TD | Int | FantPt |
| Career | 86 | 80 | 55-33-0 | 60.8 | 23671 | 7.2 | 171 | 83 | 1686.2 |
Early Retirement Period
After completing the 2018 season, Andrew announced his retirement from football on August 24, 2019.
During one of his interviews with ESPN, he disclosed the reason behind his retirement. Saying,
"I've been stuck in this process," Luck said, stopping several times to gather his emotions. "I haven't been able to live the life I want to live. It's taken the joy out of this game. The only way forward for me is to remove myself from football."
Andrew added that it was the hardest decision of his life, but it was the right decision for him. Colts fans did not like him leaving the NFL career at an early age.
In a few public appearances and with no interviews after his retirement, an article by Seth Wickersham from ESPN in December 2022 disclosed details on Luck's decision.
Luck chose to save his marriage as injuries played a role.
Comeback Rumors
Retired Colts punter-turned-sports media celebrity Pat McAfee was not convinced of the Andrew Luck comeback rumors and broke down in great detail why he thought the story was bogus.
The story began with a since-deleted tweet from a guy named Mike Austin (@kareemjumpman), who says his wife knows someone close to the Luck family.
"@RicardonSports, my wife has a mutual friend with Nicole's best friend, who is the wife of Andrew. I think this answers a lot of our questions. I'm not sure this was Sunday or yesterday," Austin wrote.
The tweet circulated along a screenshot that Austin claims was a text swap between his wife's friend and "Nicole P," or Nicole Luck, implying Luck might be coming out of retirement.
The thread started with Nicole, who revealed that Luck's 1-year-old daughter Lucy spoke a full sentence.
"Okay, massive moment, right? Your baby spoke a sentence," McAfee said on "The Pat McAfee Show" on Wednesday. "This is how tight Mike Austin's wife's mutual friend is with Nicole, okay? Very tight."
Nicole invited her friend to go shopping at Sak's while Andrew had "a meeting with Jim around noon-ish."
This whole thing created a huge fuss. However, Andrew himself clarified all of these to be nothing but rumors.
Net Worth & Income
Talking about Andrew's net worth, it is obvious that he has accumulated millions of dollars.
He used to earn millions of dollars signing a deal with the teams during his playing career. As of 2023, Andrew Luck has a total net worth of $40 million.
The Colt's former quarterback earned a guaranteed $14.518 million signing bonus with the Indianapolis Colts in 2012.
In 2016, Andrew extended his contract with Indianapolis Colts for another five years and earned $123 million, including a $32 million signing bonus.
Luck used to make vast money as a base salary; he collected $50 million between June 2016 and June 2017.
However, the former quarterback gave up $58.125 million by announcing retirement. Plus, he lost a $9 million salary and a $6 million roster bonus for the 2019 season.
He also gave up a $22 million salary for 2020 and a $21 million salary for 2021.
Wife, Wedding & Kids
The former NFL quarterback has been living a merry life with his wife, Nicole Pechanec, since March 2019.
Andrew and his sweetheart met for the first time at Stanford, where they were both enrolled to pursue an education in Architectural Design.
Further, the former NFL quarterback and Nicole started dating each other somewhere between 2012-2013.
After being in a relationship for almost seven years, both took their romantic life to the next level. They exchanged their vows on March 31 in Prague in the Czech Republic.
Andrew and Nicole are fortunate to have a daughter, Lucy Luck. Their daughter was born in November 2019.
Luck lived with his family in Indianapolis, but they relocated to the Bay Area in 2022. He is a private person who enjoys cycling and still uses a flip phone.
Details On Andrew Luck's Wife
Andrew's girlfriend-turned-wife, Nicole, is famous as a former gymnast. She works as a field producer for N.B.C. Sports and ESPN.
Previously, she worked for N.B.C. Olympics as a Statistician and Gymnastics. Moreover, Nicole also served as a T&T Program Coordinator for almost one year for USA Gymnastics.
As a degree holder from Stanford University, she has also fulfilled her duties as a design architect.
She has worked as a junior designer, senior designer, and project manager for several companies.
Popularity Graph
Andrew Luck, a former NFL quarterback, was establishing himself as a dual-threat quarterback by leading Indianapolis to consecutive division titles, but he retired from NFL at his peak.
The above graph shows Luck's popularity over the past twelve months.
Frequently Asked Questions (FAQS)
Will Andrew Luck play again?
Since Andrew announced his retirement on August 24, 2019, his fans have been hoping for his return to the field. But, sadly, it is clear that Andrew won't come back to play football.
Did Andrew Luck have a knee injury?
No, the former NFL player did not have a knee injury. However, he sustained injuries to his calf and ankle.
What is Andrew Luck's current team?
Andrew Luck retired from football in the 2019 NFL season. So, he has not signed a contract to play for any team, but Luck played his last game with the Indianapolis Colts.
How much is Andrew Luck's rookie card worth?
Andrew Luck's rookie card price ranges from $1.73-$45.16. You can find his merchandise on Amazon.
Has Andrew Luck been inducted into the NFL Hall of Fame?
No, the former footballer has not yet been inducted into the Hall of Fame. Nevertheless, he was inducted into the College Football Hall of Fame in 2022.