Jonah Arenado is a first and third baseman with the Class-A San Jose Giants, like his elder brother Nolan Arenado. Jonah Arenado was drafted in 2013 by San Francisco Giants in round 16. In addition, he was named the most valuable player and offensive player of the year with San Jose.
Nolan Arenado, aka Nado, is an American professional baseball third baseman for the St. Louis Cardinals of MLB. Nolan had made his MLB debut in the 2013 season with the Colorado Rockies. He became the first NL rookie to win a Rawling Gold Glove Award at 3rd base in his debut year.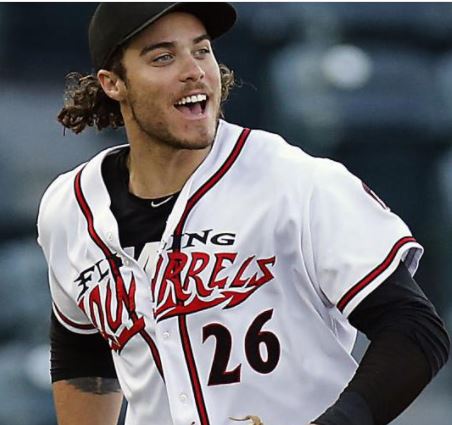 Nolan Arenado has made a name in baseball for his defensive range, arm strength, and contribution as a hitter for power and average.
Similarly, his brother Jonah Arenado is also on the way to making his secure position in this field with a solid infield glove, strong arm, and professional frame.
Today's article will provide in-depth information about Nolan Arenado's brother, Jonah Arenado, and how the brothers react when facing each other in the fields.
But before that, let's take a glance at quick facts about Jonah Arenado.
Jonah Arenado: Quick Facts
| | |
| --- | --- |
| Full Name | Jonah Arenado |
| Birth Date | February 3, 1995 |
| Birth Place | Lake Forest, California |
| Nick Name | None |
| Birth Sign | Aquarius |
| Religion | Christian |
| Nationality | American |
| Ethnicity | Mixed ( Cuban & Puerto Rican ancestry) |
| High School | El Toro High School, Lake Forest, California |
| Horoscope | Sagittarius |
| Father's Name | Fernando Arenado |
| Mother's Name | Millie Arenado |
| Siblings | Nolan Arenado & Fernando Jr. (brothers) |
| Age | 28 years old |
| Height | 6'3″ (190cm) |
| Weight | 108 kg (240 lb) |
| Hair Color | Brown |
| Eye Color | Brown |
| Build | Athletic |
| Marital Status | Unmarried |
| Draft | Drafted by the San Francisco Giants |
| Profession | Baseball Player |
| Positions | Third Baseman, First Baseman, and left fielder |
| Net Worth | N/A |
| Social Media | Instagram, Twitter |
| Nolan Arenado Merch | MLB Jerseys, Rookie Card |
| Status | Released |
| Last Update | November, 2023 |
Jonah Arenado: Early Life, Family & Education
Jonah Arenado was born in Newport Beach, California but grew up in nearby Lakeforest on February 3, 1995. His parent's name is Fernando Arenado and Millie Arenado.
Jonah is of mixed ethnicity; his father is of Cuban nationality, and his mother, a native of Queens, New York, is of Cuban and Puerto Rican descent. Since he was born in the USA, the player holds American citizenship.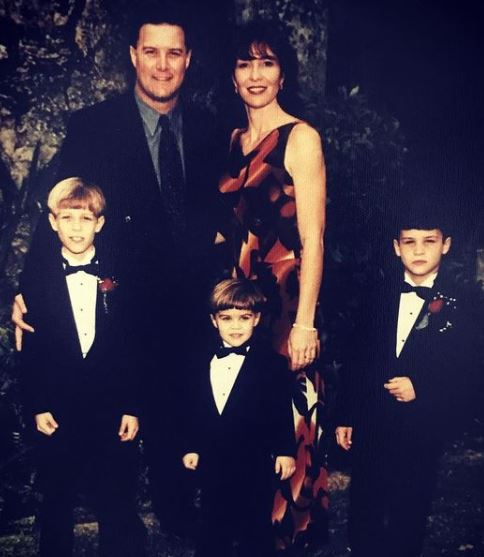 Furthermore, Jonah grew up with his two big brothers, Nolan Arenado and Fernando Jr.
Also, Nolan Arenando is a six times MLB All-Star. At the same time, the profession of Fernando is not disclosed.
Who are Jonah's parents?
Nolan's and Jonah's dad, Fernando, gets all the credit for inspiring the hard work and love needed to make a pro baseball player.
Fernando pushed his sons to play baseball from the early days but never forced them against their will. Nolan and Jonah loved baseball, and their dad ensured they had good coaches & trainers.
Fernando pushed his sons in the right direction, and eventually, Nolan and Jonah's love for baseball became stronger. Also, the family's Cuban heritage added more elements to it.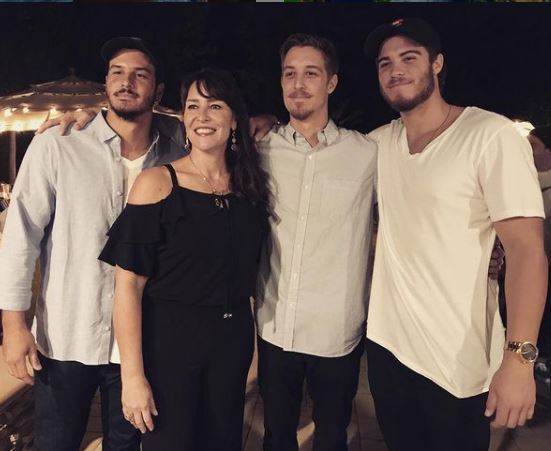 Likewise, the brothers tried baseball from childhood but tried multiple sports like soccer and basketball.
Education
Jonah Arenado attended the same school as his big brother Nolan, El Toro High School. It is a public high school located in Lake Forest, California.
His high school baseball career led him towards a professional baseball career when he got drafted by the Giants in the 16th round of the 2013 amateur draft.
Jonah Arenado: Age, Height & Weight
Jonah has turned 28 years old when compiling these facts about him. He was born on February 3, 1995.
Similarly, Arenado is a handsome hunk with perfect height and attractive physic.
As for his height, Jonah stands at 6 feet 3 inches tall and weighs around 103 kg.
Nolan Arenado and Jonah Arenado's Bond
Since the brothers are in the same profession, there are bound to be some comparisons. For example, in one of the interviews, Jonah mentioned that Nolan is an elite and outstanding player, but it has never bothered him.
Similarly, Nolan is always there to help his little brother. Another advantage of having an All-Star as a brother is picking his strategies, something Jonah did a lot after Nolan's championship run with Team USA in the World Baseball Classic.
In World Baseball Classic, Nolan got to play with some of the best players in the world and learn their hitting, catching, and defense techniques. The game, in turn, helped Jonah since his brother shared everything.
Jonah is also associated with teams like the giants, who have developed homegrown players over the past decade.
And Jonah is practicing hard to do well in every match as he knows that hard work is the only option to get promoted to be well known as his brother.
Both brothers met on the field for the first time in 2018 as pros during spring training. Likewise, Giants had put Jonah into a big league game against the Rockies. But Jonah found that quite incredible.
Jonah's interview with FRS Sports talks about advice given by Nolan Arenado.
Jonah also wished for opportunities like this in the future because of how cool he felt and the incredible competitive atmosphere.
Jonah Arenado: Professional Career
With his professional fame, strength, and hope of developing some power, monster hack Jonah Arenado was picked in the 2013 MLB Draft by the San Francisco Giants from El Toro High School.
He later began his career that same year with AZL Giants, a professional baseball team competing as a rookie-level affiliate of the San Francisco Giants. Brad Cameron scouted Jonah.
Furthermore, he hit .211 in only 12 games, but the following season, in 2014, he played 50 games as the team's regular third baseman and hit .250/.340/.304.
In 2015, Arenado moved up to the Augusta Green Jackets of the South Atlantic League, where he hit .264/.293/.367 in 134 games. Significantly his power picked up with 25 doubles and nine homers.
But his walk rate dropped after he went from 21 walks in 184 at-bats to 24 in 523. Once again, Jonah was the team's regular at third base.
In 2016 Jonah was named CAL player of the week.
On August 10, 2019, he was released by the Giants, and the same year he was named EAS Mid-Season All-Star. He played for the team Richmond Flying Squirrels at that time.
The Popularity Graph of Jonah Arenado
We can see and observe in the popularity graph of Jonah Arenado how people search for this player pretty often.

A look Into Nolan Arenado Life
The baseball star Nolan attended El Toro High School in Lake Forest and got scouted by the Colorado Rockies in the second round of the 2009 MLB draft. He was born on April 16, 1991.
Later he attended Arizona State University (ASU) after getting a baseball scholarship.
Nolan is also the only infielder to win the Rawlings Gold Glove Award in his first eight MLB seasons.
Similarly, Nolan is eight times Gold Glove Award winner, four times Silver Slugger Award winner, and four times All-Star Award winner. He even got Wilson Defensive Player of the Year at the base thrice.
In 2016, Nolan became the youngest player in Colorado to hit 100 home runs.
Besides these, he has won numerous awards and titles. Nolan's technics, strength, and endurance make him stand out among other players, and all his coaches have a positive approach toward him.
Then in 2019, Nolan agreed to an eight-year contract with the Rockies with a whopping $260 million.
Ahead of the 2021 season, Nolan was traded by Colorado Rockies to the Cardinals for an enormous sum of $50 million.
Nolan is married to his school sweetheart Laura Kwan. They both attended the same high school. The couple was blessed with one daughter August Jo Arenado in 2019.
By compiling all the facts about Nolan, his Net Worth is estimated to be approximately $40 Million.
Also, Arenado's base salary for the 2023 season is an enormous sum of $35,000,000.
Jonah Arenado: Net Worth
Jonah played with San Francisco Giants until 2019, and after that, he was released.
An annual salary of a baseball player under the San Francisco Giants is approximately $4.88 million.
Since Jonah played with the team for nearly 6 years, he must have earned good fortune for himself.
Currently, Jonah is busy with Arenado Baseball Camp, where he provides training in fielding, hitting, and pitching to kids ages 6 to 13.
Moreover, he is helping the next generation by providing necessary coaching, opportunity, and area to the kids.
From the camp, Jonah sure is making a good amount of money.
Career highlights and awards
7× All-Star (2015–2019, 2021, 2022)
9× Gold Glove Award (2013–2021)
5× Platinum Glove Award (2017–2021)
4× Silver Slugger Award (2015–2018)
3× Wilson Defensive Player of the Year Award (2015–2017)
3× NL home run leader (2015, 2016, 2018)
2× NL RBI leader (2015, 2016)
4× Fielding Bible Award (2015–2017, 2020)
2× Hit for the cycle (2017, 2022)
Jonah Arenado: Social Media Presence
Jonah Arenado is quite active on Social media. His Instagram content is full of pictures with his family, friends, and baseball-related stuff.
His Instagram now has 4.8k followers. However, he has never posted anything related to his romantic relationship.
Jonah is also active on Twitter, with 1,212 followers.
Players Card
To avail of this player card of Jonah Arenado, you can go to Ubuy as it is available on Ubuy; you can purchase it from there at a reasonable price to add it to your collection.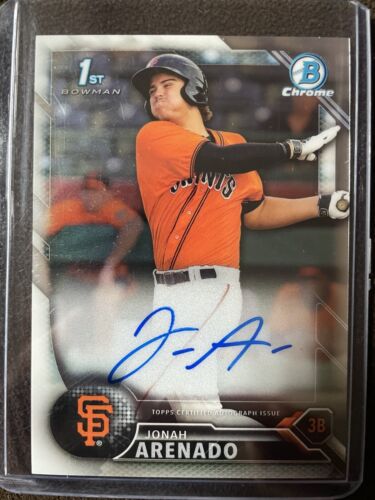 Frequently Asked Questions ( FAQs)
Who is Jonah Arenado's girlfriend?
Jonah has never shared anything about his girlfriend on social media or in person.
So, information about his girlfriend is not disclosed, and she is most probably a single eligible bachelor.
What is Jonah Arenado's Mother's Profession?
Jonah Arenado's mother, Millie Arenado, is a commercial agent/broker working for BBIS corporation.
Is Jonah Arenado Mexican?
Jonah Arenado's father is from Cuba, and his mother is of Puerto Rican ancestry.
Thus Jonah is of mixed Cuban and Puerto Rican.