Olivier Rioux credits his parents as part of his success, as they have been his biggest motivation and are always there to support him.
Olivier Rioux, recognized as the tallest teenager globally, recently declared his commitment to Florida.
With his shift to college basketball, the world is eager to learn about his family and personal life.
This article will give all the details about his father and mother!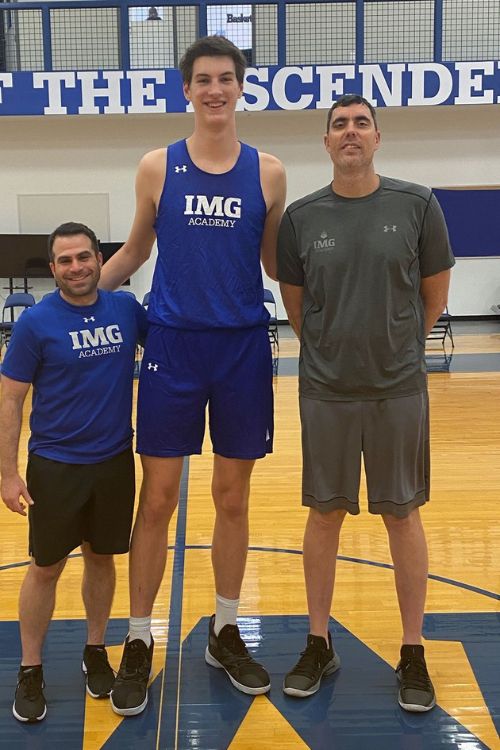 Olivier plays basketball at IMG Academy in Florida and has been involved in the sport since the age of five.
He gained internet fame at the age of 12 when a highlight video showcasing his skills went viral in 2018.
Standing at 6'10" back then, he easily dominated on the court, scoring effortlessly against opponents.
Olivier Rioux Parents: Are They Also Tall?
Olivier Rioux was born to his parents, Jean-Francois Rioux and Anne Gariépy, on February 2, 2006, in Terrebonne, Canada.
His father, Jean-Francois, standing at 6'8″, is a former volleyball player.
He is presently dedicated to photography as he has been actively pursuing his passion for visual projects at "Jeff Photo," located in Anjou, Quebec, Canada, since May 13, 2019.
Talking about his education, he completed his education in printing management at Cegep Ahunstic, graduating in 1996.
In response to questions about the secret behind his son's remarkable height, Jean-François humorously mentioned, "Normal breakfast would be two big cereal bowls, two toasts, yogurt, bananas."
Similarly, his mother, Anne Gariépy, with a height of 6'1″, has been employed at RBC in Montreal, Quebec, since April 2004.
Anne attended Ecole Bonnier High School, graduating in 1986. Subsequently, she pursued studies at College Sainte-Anne de Lachine and later at Université du Québec à Montréal.
Furthermore, height runs in the family, as brother Emile, who also plays basketball, is 6'9″.
Olivier Rioux Chooses Florida
Last week, Rioux revealed his decision to join the men's basketball team at the University of Florida.
In an Instagram post, he expressed his pride in committing to the Florida Gators for the 2024 season, signaling a new addition to the team that existing players may need to watch out for—or, rather, look up to.
Rioux's remarkable height has propelled him to significant achievements in the realm of basketball.
Despite various recruiting services unofficially listing the 17-year-old at 7-6, Olivier asserts he is even taller, stating 7-7 on his Instagram, and mentions his shoe size as 20.
In December 2020, he officially gained the title of the world's tallest teenager, measuring just over 7-foot-5, according to Guinness World Records.
Having been at IMG Academy since 2021, a renowned basketball prep school, Rioux has had the opportunity to develop his skills alongside other talented athletes, with the institution boasting a track record of producing numerous NBA players.
Beyond his academic and athletic pursuits, the teenager represented Canada in international competitions.
In fact, this summer, he played for Canada at the U19 FIBA World Cup, contributing in 31 minutes over five games and averaging 3.2 points and 3.4 rebounds per game.