Pardeep Narwal is one of the well-known players in Pro Kabaddi and the league's all-time leading raid-point scorer. He captained the Patna Pirates to three consecutive VIVO Pro Kabaddi titles and owned a slew of raiding records in the competition.
Narwal is an Indian kabaddi player who represents UP Yoddha in VIVO Pro Kabaddi League and the Indian National Kabaddi team.
After being signed by 'UP Yoddha' for Rs 1.65 crore, talismanic raider Pardeep Narwal broke a record by being the highest-ever bought kabaddi athlete in the ProKabaddi League history.
Narwal has cemented his reputation as one of the all-time best Kabaddi players through hard work and dedication.
Keep reading to find out more about Narwal!
Quick Facts
Let's check quick facts to know more about him and his career.
Full Name
Pardeep Narwal
Birth Date
February 16, 1996
Birth Place
Sonipat District, Haryana
Nick Name
Dubki King
Religion
Hinduism
Nationality
Indian
Ethnicity
Asian
Education
High School Graduate
Horoscope
Aquarius
Father's Name
Dhramveer Narwal
Mother's Name
Birmati Narwal
Siblings
Not Available
Age

27 Years Old

Height
5 ft 10 in (178 cm)
Weight
80 Kg (176lb)
Hair Color
Black
Eye Color
Black
Career Highlights & Awards

Kabaddi World Cup in 2016
VIVO Pro Kabaddi in 2016 and 2017
Asian Kabaddi Championship in 2017
Kabaddi Masters Dubai in 2018
Best Raider Award in 2017 and 2018
VIVO Pro Kabaddi Most Valuable Player

Build
Slim
Marital Status
Married
Wife
Swati Beniwal
Position
Raider
Profession
Kabaddi player
Net Worth
Rs. 20 Crore
Salary
Around 60-90 lakhs
Currently Plays for
Patna Pirates, UP Yoddha
League
Pro Kabbadi league
Active Since
2015
Social Media
Instagram, Twitter
Merch of Kabaddi
T-Shirts and Notebook
Last Update

December, 2023
Early Life, Family, and Education
Pardeep Narwal is one of the famous kabaddi players from India. On February 16, 1997, he was born in Rindhana village of Sonipat District, Haryana.
Narwal was born into a Hindu Jat family. In Haryana, Kabaddi is a part of the culture, and many people enjoy it. Pardeep was also fascinated by the game and dreamed of making a career.
He comes from a family of farmers. His father's name is Mr. Dharmveer Narwal, and his mother's name is Mrs. Birmati Narwal.
Ravindra Narwal, his uncle, introduced him to Kabaddi when he was seven years old. His uncle was also a revered circle kabaddi player. He was quite successful, which earned him the "Vijender."
Pardeep's father wanted him to focus on academics but, Pardeep was passionate about Kabaddi from a young age. He had his share of struggles growing up, but he never gave up.
Narwal played Kabaddi for his school's under-11 kabaddi team when he was 8. At 12, Pardeep joined Haryana Kabaddi Academy under the guidance of Manpreet Singh and Naresh Narwal.
Gradually, he started learning all the basics of Kabaddi from his coaches, especially 'Dubki.' Hence the nickname dubki king as he started mastering from an early age.
He was too shy to play Kabaddi as a child, but he rose to become one of the most aggressive raiders in the Pro Kabaddi League.
Pardeep Narwal is a high school graduate. However, he could not attend university because of his passion for Kabaddi.
Age, Height, and Body Measurement
Celebrated Indian Kabaddi player Pardeep Narwal is right now living in his mid-20s. He celebrates his birthday on February 16.
He falls beneath the zodiac sign of Aquarius, which speaks to his identity as imaginative, compassionate, and an individual with an extraordinary sense of humor.
Talking about his physical appearance, he has a normal body stature of 5 ft 10 inches, i.e., 178 cm.
Read about Ajay Thakur: Children, Wife, PKL & Net Worth.
The Indian athlete weighs around 80kg, i.e., 176 pounds. Hence, as a competitor, he has a great physical body with an athletic construct.
He has kept up his body with culminating estimations of 42-32-14 inches, with a day-by-day workout to maintain the physique of his chest measure, abdomen measure, and biceps measure, respectively.
Pardeep Narwal: Professional Career
The 5 ft 10 in athlete started his career by participating in local tournaments in his district. After seeing Pardeep's performance Ram Mehar Singh, the Services and Air Force Team's head coach guided him to play in the nationals.
He represented the Air Force in the national tournament and won the championship. In 2015 he debuted in the second season of the Pro Kabaddi League with the Bengaluru Bulls as a raider against Patna Pirates. He was featured six times and scored a total of nine raid points.
First VIVO Pro Kabaddi Title with Patna Pirates
However, he joined Patna Pirates in season 3 of the VIVO Pro Kabaddi League as a raider. After joining Patna Pirates, Narwal showed his skills, and his perfect "dubki" was a threat to the opposite teams.
His agility and moves were unpredictable and became the reason for the team's victory. Soon he became one of the best raiders in the league.
He scored his first career Super 10 in the Pirates' 29-25 opposite Puneri Paltan in Kolkata. The combined raid points of the league were 194, and Narwal alone made 92 raid points in 14 matches for the team.
Narwal scored his fifth Super 10 season against Puneri Paltan in the semi-final but could not play because of injury. However, the Patna Pirates won the VIVO Pro Kabaddi Title, defeating U Mumba with a 31-28.
After Rohit Kumar, the former captain of Patna Pirates moved to the Bengaluru Bulls, Pardeep took over being the Pirates' lead raider.
He got to show his fantastic game by scoring 107 raid points in 14 league stage matches with four Super 10s. Narwal led the team to victory, defeating U Mumba 36-34 in Jaipur, scoring 18 points.
Pardeep continued to show his game in the playoffs leading to victory over Puneri Paltan and taking the team to their second consecutive VIVO Pro Kabaddi final.
More Victories in a Row
Narwal brought his raider spirit to full form in the finals by 16 points leading the Pirates to their second VIVO Pro Kabaddi title with a 37-29 victory against Jaipur Pink Panthers. It was their second VIVO Pro Kabaddi title in a row.
Narwal was even better in the next season as he made 19 Super 10s in only 26 matches. He played eight straight matches with a Super 10, which the Tamil Thalaivas broke, and the Pirates ended up second in Zone B.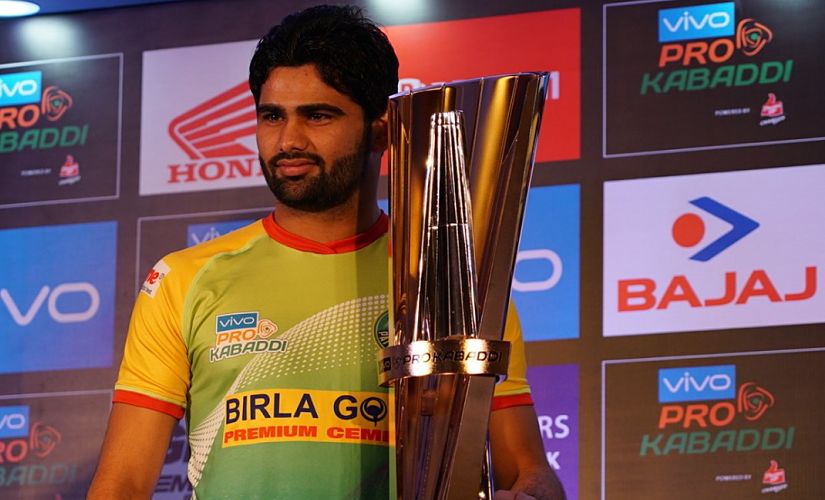 Pirates faced Haryana Steelers and won 69-30 in VIVO Pro Kabaddi League. In the Pirates' victory against Puneri Paltan, Narwal made 19 raid points.
In their victory over Bengal Warriors, he made 23 raid points and reached their third straight VIVO Pro Kabbadi final. On the other hand, Patna Pirates won their third consecutive finals against Gujarat Fortunegiants 55-38.
Downfall
After three consecutive Super 10s, his team fell against the Telugu Titans. Again often, against Titans, he scored another three straight Super 10s before falling against the same Titans.
During season seven of the VIVO Pro Kabbadi, the Patna Pirates failed to qualify in the league stage. Although it was a tough start, Pardeep became the first player to reach 1000 points in the PKL.
International Career
Narwal was promoted to the Indian kabaddi team in 2016 and played four tournaments in his international career. He bagged three gold medals while he was on the Indian Kabaddi team.
In 2016 India won Kabaddi World Cup, which was held in Ahmadabad. India defeated Iran in the final to lift the trophy.
At the end of the tournament, Pradeep became the fifth top raider with 47 points.
Enjoy the write about 13 Famous Indian Athletes!
Awards and Achievements
VIVO Pro Kabaddi (2015, 2016, 2017)
Kabaddi World Cup (2016)
The youngest player in the national kabaddi team (2016)
Asian kabaddi championship (2017)
VIVO Pro Kabaddi Most Valuable Player (2016, 2017)
Kabaddi Masters Dubai (2018)
Best Raider Award (2017, 2018)
The first player to score 1000 raid points in 99 matches in PKL history
Most super raids in a season 6 touchpoint in a single raid
Wife and Kid of Narwal
On November 9, 2019, Pardeep, Narwal, married Swati Beniwal. Information related to Beniwal is still undercover.
His wife gave birth to his son in June 2021. His son's name is Garvit Narwal.
Pardeep Narwal: Net Worth
Narwal has a net worth of Rs. 20 Crore. His earnings come through the contract with the team.
His earnings change from 4% to 35% every three to four years. It depends on the consistency of the athlete or winning any title.
When he was playing for Patna Pirates, his salary was around 60 to 90 lakhs. Recently he became the highest-ever bought kabaddi player in the Pro Kabaddi League history after being signed by 'UP Yoddha' for Rs 1.65 crore.
The Kabaddi player is one of the richest Pro Kabaddi players in India.
Don't forget to read about: Top 10 Amazing Indoor Sports in The World
Pardeep Narwal: Social Media Presence
He has a verified Instagram account where he posts about his professional and personal life. Comparatively, he is less active on Twitter.
Frequently Asked Questions (FAQs)
Why is Pradeep Narwal called dubki king?
Narwal started learning all the basics of Kabaddi from his coaches, especially 'Dubki.' He was good at it. Hence the nickname dubki king was given as he started mastering from an early age.
What is Pardeep Narwal 2021 auction price?
He fetched the biggest bid in the history of the Pro Kabaddi League at ₹1.65 crores. UP Yoddha signed him for a huge price.
Which team is Pardeep Narwal in 2021?
Pardeep moved from Patna Pirates to UP Yoddha after the team signed him with the highest auction price in the Pro Kabaddi league history.