Ronald Jerome "Popeye" Jones is an American former professional basketballer who serves as an assistant coach for the Denver Nuggets.
Some people like to explore more than they already have achieved. The former NBA player and assistant coach Popeye Jones is a perfect example of an overachiever.
After spending 11 seasons in NBA as a player, he pursued his career as a basketball coach because Jones knew he had more to offer to sports.
Popeye Jones is a professional basketball coach and a former basketball player. Currently, Popeye serves as an assistant coach for the Denver Nuggets.
Jones has almost 11 years of experience as a professional basketball player and now adding coaching experience to his list.
The power forward Popeye was drafted by the Houston Rockets in the second round of the 1992 NBA draft, but he was traded to the Dallas Mavericks.
He started his NBA career with the Dallas Mavericks in 1993. Moreover, Jones played for other NBA teams, such as Toronto Raptors, Boston Celtics, Denver Nuggets, Washington Wizards, and the Golden State Warriors.
When Jones transitioned his career from playing to coaching, he started assisting with New Jersey/Brooklyn Nets.
Then Jones professionally worked as an assistant coach for Indiana Pacers, the Philadelphia 76ers, and now for the Denver Nuggets.
Jones got his first win as a head coach against the Rockets on January 2, 2022.
Before going deeper into Jones's early life and career, let's check some quick facts about the unique person
Quick Facts
Full Name
Ronald Jerome "Popeye" Jones
Birth Date
June 17, 1970
Birth Place
Dresden, Tennessee, USA
Nick Name
Popeye
Religion
Christian
Nationality
American
Ethnicity
African- American
Education
Murray State University
Horoscope
Gemini
Father's Name
Not Available
Mother's Name
Not Available
Siblings
Not Available
Age
52 Years Old
Weight
265 lb/120 kg
Height
6'8″/2.03 m/ 203 cm
Build
Athletic
Married/ Wife
Divorced/ Amy Jones
Merchandise
Rookie Card
Profession
Basketball Coach, Former Basketball Player
Team
(As A Coach)

New Jersey / Brooklyn Nets (Assistant) (2010–2013)

Indiana Pacers (Assistant) (2013–2020)
Philadelphia 76ers (Assistant) (2020-2021)
Denver Nuggets (Assistant) (2021-Present)

Children
Seth Jones, Caleb Jones, And Justin Jones
Net Worth (2023)
$1 Million – $5 Million
Retirement
Active As A Coach, Retired As A Player In 2004
Social Media
Not Available
Last Update
June, 2023
Popeye Jones | Early Life & Parents
Popeye, named Ronald Jerome Popeye Jones, was born and raised in Dresden, Tennessee, USA. He grew up playing baseball, basketball, and football.
He once admitted that baseball was his first passion, but something about basketball stuck with him.
Jones got his name Popeye from his mother. She chose Popeye from a cartoon character because it was on TV when they returned home from the hospital after Jone's birth.
There is not much written about Jones's parents. But after observing Popeye, it is apparent that he had supportive parents.
Popeye Jones | Age, Height, & Body Measurements
The former basketballer, Jones, was born on June 17, 1970, which makes him 52 years old. Even in his fifties, he is driven to help and see other basketball players succeed.
Moreover, the motivational coach weighs around 265 lb and stands 2.03 m tall.
His right height must have suited his basketball career as a player, and as well as a coach.
Jones is a man with perspective who falls under the sign of Gemini. Gemini people are quick-witted and gifted with intelligent minds and kind hearts.
As they have various passions burning inside them, they can quickly pursue them and succeed, unlike other signs with their high energy.
Player To Coach
As A Player In High School, College, & The NBA
Popeye liked to play baseball, basketball, and football.
Among the three, baseball was his favorite, he loved the pitch, but Jones continued his college career in basketball.
He got a scholarship to go to Murray State University in Kentucky.
In his college career, he was awarded many honors. He was a three-time All-Ohio Valley Conference selection and was mentioned twice in All-America.
Moreover, he was named OVC Player of the Year in 1990 and 1991. He also got the OVC's Athlete of the Year in 1991 and 1992.
Moreover, the 76ers coach was ranked fourth on Murray State's all-time scoring list with 2,057 points.
He became the only player to record more than 2000 points and 1000 rebounds in MSU history.
The MSU basketball star Jones was drafted in the 2nd round in the 1992 NBA draft by the Houston Rockets.
Soon he was traded to the Dallas Mavericks in exchange for Eric Riley.
Before starting his NBA season, Popeye played one season in Europe. Then he played for the Mavericks from 1993 to 1996.
After three seasons with the Dallas Mavericks, Jones was traded to the Toronto Raptors.
In addition to his time with the Mavericks and the Raptors, he had brief stints with the Boston Celtics, Denver Nuggets, the Washington Wizards, and the Golden State Warriors.
He had the best time in 1995-96 with the Mavericks after an average point of 11.3 and 10.8 rebounds per game.
College Stats
| | | | | | | | | |
| --- | --- | --- | --- | --- | --- | --- | --- | --- |
| Year | G | PTS | TRB | AST | FG% | FG3% | FT% | eFG% |
| Career | 123 | 16.7 | 11.2 | 1.8 | 49.3 | 34.5 | 75.1 | 50.2 |
Highlights & Achievements
NCAA rebounding leader in the year 1992
Two-time OVC Player of the Year in 1990 and 1991
Three-time first-team All-OVC from 1989 to 1991
No. 54 retired by Murray State Racers
Ronald "Popeye" Jones (2007) – Hall of Fame – Murray State University Athletics.
As A Coach
The basketball star Jones was not content with his 11 seasons of playing career in the NBA; he wanted to pursue coaching professionally.
Therefore, he started as a player development coach for the Dallas Mavericks. After three seasons (2007-10) as a player development coach, Jones got a real job as a coach with Brooklyn Nets.
Moreover, in 2013 Jones got a job with the Indiana Pacers as an assistant coach. He served the Pacers from 2013 to 2020.
Finally, last November 2020, Jones got an assistant coach job offer from the Philadelphia 76ers.
Even after so many years, Popeye still looks excited to serve different players to build their careers.
At last, he got hired by the Denver Nuggets on August 23, 2021, as an assistant coach.
After joining the coaching staff of Denver in August 2021. Jones got his first win as a head coach of 124-111 victory against the Rockets on January 2, 2022.
Popeyes Jones| Family
Wife
Until 2009, Popeye's wife was Amy Jones, the mother of his three sons.
Popeye revealed in an interview that he had remarried. The identity of his second wife has not yet been made public.
Children
The basketball coach, Popeye, has three sons, Seth, Caleb, and Justin, from his ex-wife Amy Jones.
All his kids love basketball, but they chose hockey for their professional careers. They decided early on that they would play hockey.
In one of Popeye's interviews, he said that his oldest son Justin came home from school and met a kid who told him he played ice hockey.
Moreover, Jones admitted that he came from a small town of about 5000 people who knew nothing about ice hockey.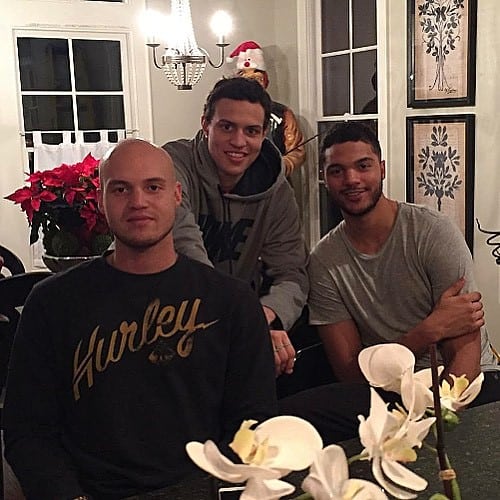 So he took Justin to the store to get the ice hockey equipment.
Popeye also said that he never forced his kids to play basketball but wished they would play. Not only Justin but also his other sons were equally interested in hockey.
Therefore Jones approached Joe Sakic, an Avalanche star, for advice. Sakic told Popeye that his sons needed to learn how to skate first.
Jones and Amy did everything possible so their sons could skate and play hockey.
Who Is Seth Jones?
Son of a former basketball player, Popeye Jones, Seth Jones is a hockey player who plays as a defenseman and is playing Chicago Blackhawks.
Seth has two brothers, Justin and Caleb, who also are involved in ice hockey.
The 28-year-old hockey player was first drafted in the 2013 NHL Entry Draft by the Nashville Predators as the fourth overall pick.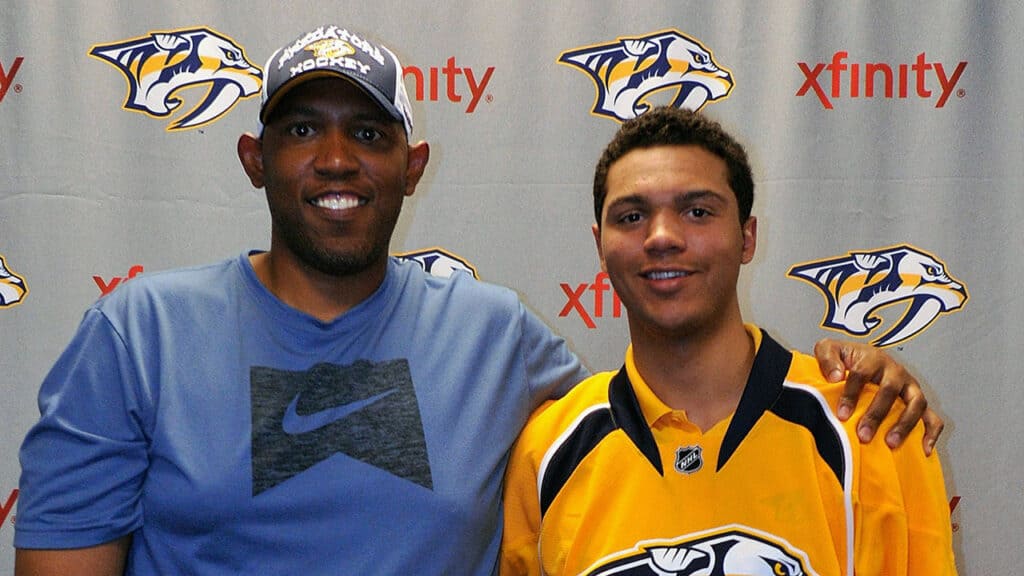 Seth is an interracial kid who finds himself mostly among white kids.
Moreover, Seth and his brothers said they have never faced racial discrimination in the game and outside, but they know it. They find themselves lucky in that matter.
Seth Jones signed an 8 years contract of $76,000,000 with the Chicago Blackhawks for a $40,250,000 signing bonus, $76,000,000 guaranteed, and an annual average salary of $9,500,000.
For 2022-2023, Seth will earn a base salary of $750,000 and a signing bonus of $9,250,000.
Jones | Net Worth & Salary
The NBA player and coach, Popeye, has spent 11 years in the NBA as a player and some seven years as a coach.
He earned approximately $14 million during his playing career and a fair amount as a coach.
On average, NBA assistant coaches earn from $50,000 to more than $1 million a season.
After calculating Jones's years spent in the NBA, he has an estimated net worth of $1 million to $5 million.
With increasing experience, Popeye's value will likely grow as a coach in the upcoming years. And who knows what new venture he will be heading toward in the future?
Popeye Jones | Racial Justice
During the pandemic, Jones was asked a question by an interviewer:
You mentioned previously shielding your sons from racism when they were kids. How did you go about doing that?
Popeye answered, "I think how I went about doing it is I have Black friends, and I have white friends, and when they first went into a hockey rink, I went ahead of them.
And, you know, it's an excellent question because they could have easily encountered that experience in the locker room or on the ice when I wasn't around them.
But it never happened because I think it was always about, you're both and you embrace both races.
Also, to treat people how you want to be treated, and you just hope it works out.
But, do they know about Black history? Yes. Do they know about white history? Yes. They understand what happened to Black people during slavery, and they know their whole history."
The Search Graph
The Denver Nuggets coach is still quite popular, as his graph is illustrating.
His fans from his playing years must search for him, including the admirers from his coaching career.
Frequently Asked Questions (FAQS)
Is Jones still married?
Yes. Popeye was married to Amy Jones until 2009. With Amy, he has three sons. Popeye remarried, which he confessed in one of his interviews. Details about his second wife are not disclosed yet.
How many sons does Popeye have?
Three. Popeye has three sons, Justin Jones, Seth Jones, and Caleb Jones. All of them are involved in ice hockey.
Did Popeye Jones sustain any significant injury during his playing career?
The former basketballer did not sustain any significant injuries during his playing career. However, he suffered many minor injuries during the 1996 season.
Did Popeye have a second stint with the Mavericks?
Yes. The multi-talented player and coach Jones was first drafted by the Rockets but was traded to the Dallas Mavericks. Therefore he played his first NBA game for the Mavericks in 1993. After three seasons from 1993-96 with the Mavericks, he was traded to the Toronto Raptors. Again Jones got another chance with the Mavericks for the 2002-03 seasons, but it was a brief stint.