Rafer Alston is a former professional basketball player who played in the National Basketball League. Furthermore, he has also played in the NBA G-League.
Moreover, he started his NBA journey with a G-League team called Idaho Stampede, now known as Salt Lake City Stars. Besides that, the NBA team Milwaukee Bucks drafted him in the 1998 NBA Draft as their 39th pick.
Since then, Alston has played for many teams like Toronto Raptors, Miami Heats, Houston Rockets, Orlando Magic, New Jersey Nets, etc.
Not to mention, the basketballer has also played in the Chinese Basketball Association for Zhejiang Guangsha Lions.
Alston's fondness for basketball started when he used to play streetball in his neighborhood. Likewise, his skills developed accordingly.
The athlete was well-known for his untraditional ballhandling moves, helter-skelter crossover, and dribble moves. Similarly, he gained a lot of attention and appreciation from the media and basketball lovers.
Rafer's moves were so impressive that he was featured in American Footwear, AND1's Mixtape Tour. He is also considered the source of inspiration that encouraged AND1 to start the tour featuring well-known streetballers.
Thereafter, Alston went on to play college basketball for three different colleges, namely Ventura College, Fresno City College, and Fresno State.
Before getting into details about the former streetballer's life and career, here are some quick facts about him.
Quick Facts
Full Name
Rafer Vanilla Wafer Alston
Birth Date
July 24, 1976
Birth Place
South Jamaica, Queens, New York
Nick Name
Skip to My Lou
Religion
Christian
Nationality
American
Ethnicity
African American
Education
Ventura College, Fresno City College, and Fresno State
Horoscope
Leo
Father's Name
Richard Alston
Mother's Name
Geraldine Alston
Siblings
Two
Age
46 years old
Height
6'2″(1.88 m)
Weight
190 lb(86 kg)
Wingspan
6'4"
Hair Color
Black
Eye Color
Brown
Build
Athletic
Profession
NBA Player
Last Team
Los Angeles D-Fenders
Position
Point Guard
Active Years
1998-2012
Marital Status
Married
Wife
Ashley Walker
Kids
Three;

Jourdan Alston, Reese Alston, and Stella Rose Alston

Net Worth
$24 million
Social Media
Instagram
Merchandise
Autographed Raptors Card, NBA Basketball Trading Card
Jersey Number
11, 24, 12, 1
Last Updated
February, 2023
Rafer Alston | Early Life, Family, And Education
Early Life And Family
Rafer Alston was born in South Jamaica, Queens, New York, the United States. His parents are Richard Alston and Geraldine Alston.
The basketballer didn't have the easiest start in life. His father was a drug addict and chose to habitat his addiction than fulfilling his duties as a father.
Hence, Richard was not a present figure in his son's life. Nevertheless, they had time with each other to bond over their love for Georgetown Hoyas men's basketball team and head coach John Thompson.
Furthermore, the athlete's parents were divorced. However, they got back together once again after the divorce.
Although their kids weren't much happy with the decision, they never questioned or talked about it. Nonetheless, it didn't take long for things to fall apart.
As a high school sophomore, the point guard had stopped attending classes and would sleep till noon. Ramar, his older brother, ended up in jail at a young age on weapon charges, while his twin sister, Racine, became pregnant as a teenager.
For the cherry on top, the NBA player's father had relapsed and was in constant need of money to keep up his drug habits. Richard sold young Rafer's Michael Jordan rookie card and other possessions for drug money.
The former Raptors player would get very angry with his life, parents, and family. He was reportedly furious over his mom being unable to leave his dad.
As an act of rebellion or crying out for help, he stopped going to school and developed a gambling habit. He used to roll dice and became a pro at a gambling game called C-lo.
Geraldine was studying to become a nurse at the time, so she rarely had time to look into her children's personal lives. Moreover, she had to move because of her studies.
Education
Before his father moved back in, Rafer mostly stayed with Catholic Youth Organization's basketball coach Mike Bell. The coach spotted Alston's potential when he was only nine years old.
Bell used to show Isiah Thomas's videos and highlights to the streetballer. Furthermore, Mike served as a strong fatherly figure in young Rafer's life.
Besides that, the basketballer had two more people looking out for him; head coach Ron Naclerio and assistant coach Billy Medley. They were coaches at Alston's high school named Benjamin Cardozo High School.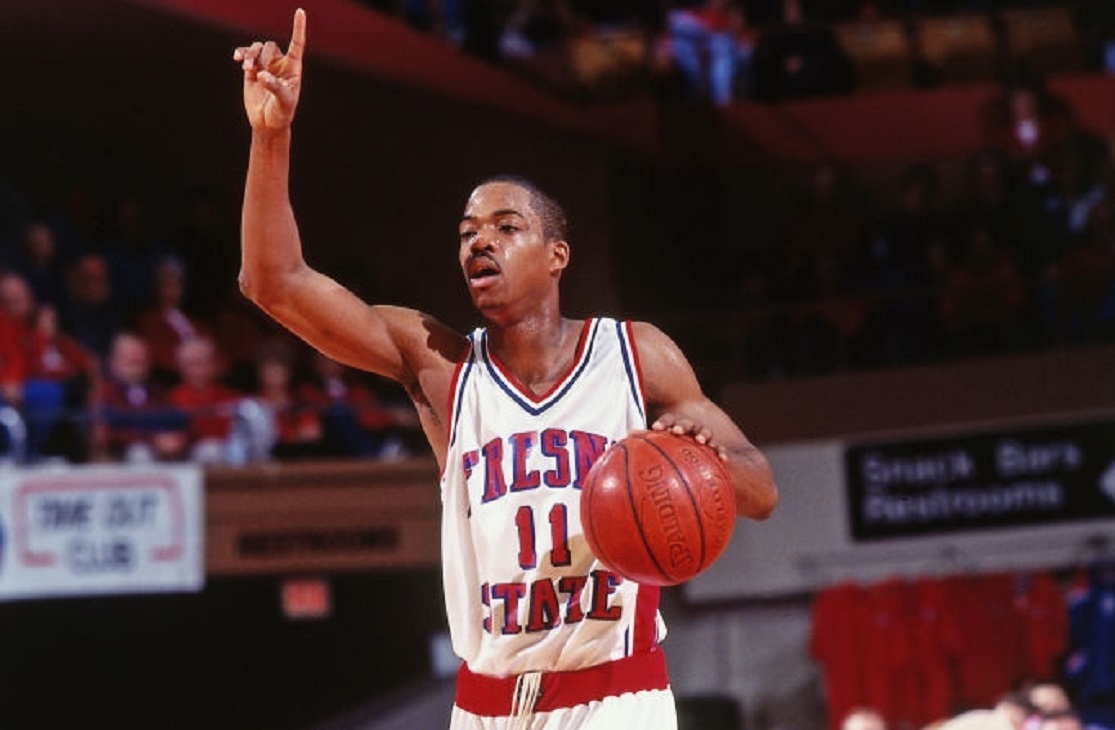 The NBA player couldn't play many games in high school as he had missed many classes that he became ineligible to play. However, he pulled through in his senior year but didn't have an SAT score or a GED to attend college.
Nevertheless, he went to junior college at Ventura College and became serious about his education and basketball career. The athlete rarely missed a practice or a class.
In an interview, Rafer said, "I took high school for granted." Thereafter, the point guard transferred to Fresno City College, where he stayed for two years before transferring to Fresno State.
Don't Forget To Check Out Nets' Point Guard, Kyrie Irving Bio: Wife, Children, Jersey & Net Worth >>
Rafer Alston | Age, Height, And Weight
Since the former Raptors' point guard was born on July 24, 1976, he is 46 years old as of 2023. As a former athlete, Rafer is in great shape because he maintains a good diet and workout routine.
Furthermore, the basketballer is 6 ft 2 inches tall and weighs 190 lb, i.e., 86 kg.
Rafer Alston | Basketball Career
Early Career In The NBA
After his collegiate career, Alston entered the 1998 NBA Draft. Milwaukee Bucks selected him in the second round as the 39th pick overall.
Initially, his transition from streetball to NBA games was difficult, but he slowly started to conquer the game. With the Bucks, he mostly played off the bench.
Thereafter, he was traded to the Raptors, who traded him to the Miami Heat after his contract. In 2004, the point guard served as a starter for the Heats and amazed everyone with his skills.
Rafer played alongside Dwayne Wade while playing with the Miami Heat. That year, the two led the Miami team to the Eastern Conference Semi-Finals.
After that, he signed a multi-year contract with the Raptors in 2004. However, he ended up playing only a season with the Canadian team.
Houston Rockets And Orlando Magic
Following the 2004-05 NBA season, the Raptors traded the athlete to the Rockets. While playing for the Raptors, many players and officials complained about Rafer's attitude.
Then Rockets head coach Jeff Van Gundy was well known for his toughness and ability to break players' bad attitudes and utilize their potential to the maximum capacity.
Jeff also had a talk about Alston with his brother Stan Van Gundy who coached Rafer while playing for Miami Heat.
Under Gundy's watch, the point guard performed quite well. In 2008, he was suspended for two games to a fight involving Matt Barnes and Steve Nash.
After playing for three seasons, the Rockets traded the streetballer to the Orlando Magic.
With the Orlando team, he made it to the 2009 NBA finals. However, they lost the NBA title to the Los Angeles Lakers.
New Jersey Nets And Miami Heats
During the 2009 season, the Orlando Magic traded Rafer to the New Jersey Nets. However, he didn't stick there for too long.
The Nets let the former Rockets player go at the beginning of the 2010 season. Shortly after that, he signed a contract to play with the Heats again.
In the 2010 NBA season, the athlete started 25 games for the Miami team. However, he was immediately suspended by the Heat officials for missing practice and a game.
A few days after that, Miami Heat announced that his suspension would be carried out for the rest of the 2010 season.
Learn More About Heat's Former Small Forward, LeBron James Bio: Early Life, Basketball Career & Net Worth >>
Career In The CBA And NBA D-League
For the 2011 season, he joined the Chinese Basketball Association to play for Zhejiang Guangsha. However, in February, Alston had returned to America to attend a friend's funeral.
At the time, the player was also injured and was refusing to consult a doctor. As a result, his team let him go and notified him not to return.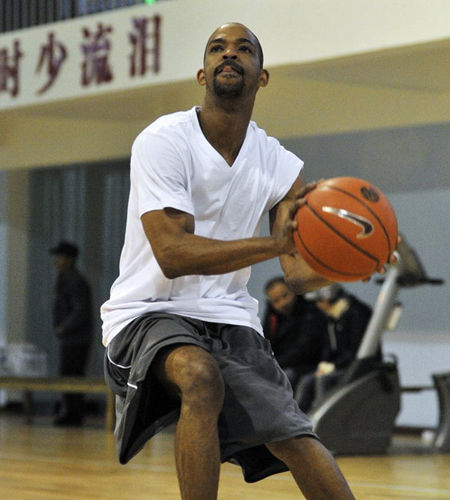 Thereafter, he joined the D-League, where he played for the Los Angeles D-Fenders for the 2012 season. It was Rafer's last season as a professional basketball player.
Career Stats
| | | | | | | | | | |
| --- | --- | --- | --- | --- | --- | --- | --- | --- | --- |
| Year | GP | GS | MPG | FG% | 3P% | FT% | RPG | APG | SPG |
| Career | 671 | 452 | 28.9 | .383 | .354 | .729 | 2.8 | 4.8 | 1.2 |
Rafer Alston | Girlfriend, Wife, And Kids
The NBA veteran is married to Ashely Walker. The two dated for a while before tying the knots in 2012.
Walker is a former teacher who taught at Fort Bend Independent School District. Likewise, she currently serves as a substitute teacher for her district.
Ashely is an Integrative Nutrition Health Coach there and promotes holistic learning and training. Alongside being a health coach, the teacher is a motivational speaker and a personal trainer too.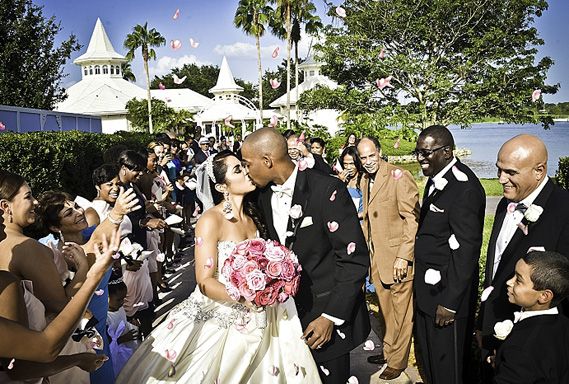 Furthermore, the wife of the NBA player owns a Christian Health Ministry called Joy. Peace. Be You!. Similarly, she is the founder of Ashley Walker's Mission of Love, a foundation.
Aside from that, Walker starred in Basketball Wives Miami when she was engaged to Alston. She is very active in her neighborhood and loves volunteering for charity work.
Moreover, the motivational speaker is quite active on her Instagram handle, where she posts messages of hope, positivity, empowerment, and love to her followers. She also loves giving a glimpse of her life, children, and cooking skills via her social media platform.
Ashley and Rafer together have three kids; two sons and a daughter. Their names are Jourdan Alston, Reese Alston, and Stella Rose Alston.
The athlete lives in a beautiful house in Queens, New York City, with his kids and wife. Besides that, he also has a house in Missouri, Texas.
You Might Be Interested In Former Houston Rockets' Center, Von Wafer Bio: Stats, Dunk, College & Net Worth >>
Rafer Alston | Net Worth, Salary, and Career Earnings
The former Rockets player has earned most of his wealth through his career in the National Basketball League.
Alston's net worth is reportedly estimated to be around $24 million.
However, his career earnings from his entire time in the NBA amount to $28,129,531.
Furthermore, his salary with Nets and Heats in 2009 was over $4 million. Besides that, he makes a decent amount serving as an NBA scout for the Minnesota Timberwolves.
Similarly, well-known brands and companies sponsored and endorsed him. Currently, he also runs a basketball program called RA Elite Basketball 2027.
>> Vincent Poirier Bio: Family, Draft, Trade, Wife & Net Worth <<
Rafer Alston | Social Media Presence
The athlete is not active on various social media platforms. However, he has an Instagram account with 36.5 thousand followers.
The former NBA player mostly shares basketball-related news, events, and highlights on his social media handle. He can be seen with many basketball teams talking and guiding them.
Moreover, he runs a basketball program called Rafer Alston's Elite Basketball program. The program is best known as RA Elite.
The basketballer often promotes the program on his Instagram account. Besides that, the hands-on dad can be seen beaming with pride while posing alongside his children.
Likewise, he has beautiful photos of his parents and siblings. Furthermore, Alston has posted a few workout videos and training sessions with his players.
Aside from that, the former Heats player does not have a Facebook or Twitter account.
Rafer Alston | FAQs