The winner of the Wells Fargo Championship, Wyndham Clark, was born to his parents, father Randall Clark and his mother, Lisa Clark.
Wyndham Clark is an American professional golfer who plays on the PGA Tour was born on December 9, 1993, and began his golf career at a very young age.
Clark studied at Valor Christian High School in Highlands Ranch, Colorado, where he won the Colorado State Championships twice and was named "Player of the Year" in 2011.
After his high school graduation, Wyndham Clark enrolled at Oklahoma State University in 2012 and finished ninth place in the 2012 U.S. Amateur.
However, he was transferred to the University of Oregon in 2016, where he won the Pac-12 Conference championship and was named the Golfweek Player of the Year.
Wyndham Clark made his professional golf debut in 2017 and had his PGA Tour debut at the Honda Classic in March 2019.
In addition, he reached the final round and held the lead before falling back to finish in 7th place.
Clark achieved his first victory on the PGA Tour on May 7, 2023, at the Elevated Event Wells Fargo Championship and earned $3.6 million.
Wyndham Clark Parents: Randall And Lisa Clark
Wyndham Clark was born to his parents, Randall and Lisa Clark, in a loving environment.
He grew up with two siblings, one brother Brendan and one sister Kaitlin.
Wyndham's father, Randall, was also a professional tennis player who played tennis professionally but left the sport due to various injuries.
Later, to support his family, he pursued a career in real estate and is now a well-known agent.
While on the other hand, Wyndham's mother, Lisa, was a national sales director for Mary Kay. In addition, she also won the title of Miss New Mexico USA in 1981.
However, Lisa passed away on August 2, 2013, due to breast cancer at the age of 55 when Wyndham was at Oklahoma State University.
According to Wyndham, his mother was the one who introduced him to golf at a young age.
Moreover, she is the main reason he plays the sport and is the main driving force behind his golfing career, encouraging him to keep pursuing it.
Wyndham Clark Wife
Wyndham Clark's marital status is unclear, but according to various sources, he is in a relationship with Julia Kemmling, with whom he rarely shares pictures on social media.
There is no precise information about the beginning of their romantic relationship, but it is believed that they started dating in 2017.
The specifics of their love story might be unknown, but it's clear that they have been in a happy and committed relationship for a significant amount of time.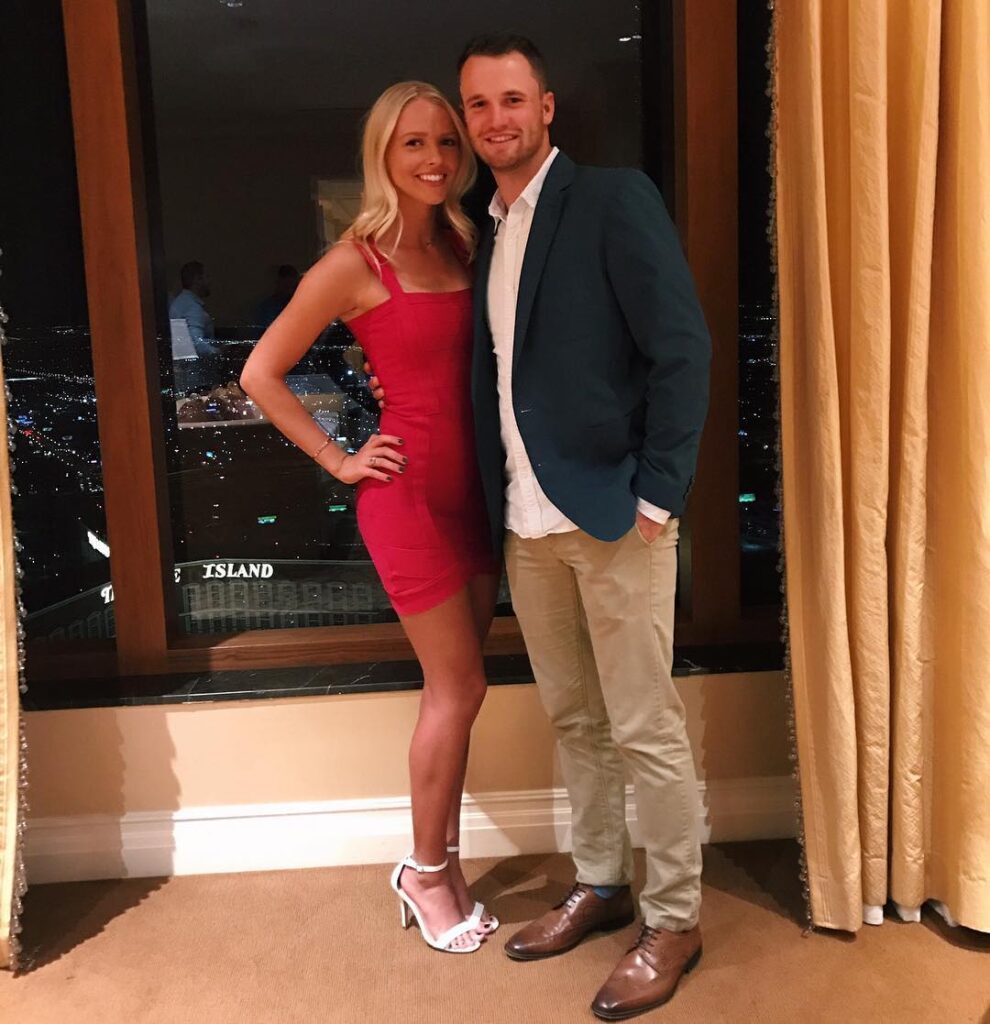 Julia served as a golf coach in the past, although she later switched her profession to become a digital account supervisor.
It seems like Julia is a private individual who does not share her personal details with the public, so not much is known about her.
It is also reported that Julia Kemmling supports Wyndham Clark and enjoys his passion for golf.