Reggie Bush, an American retired football running back, now works as an on-air analyst for Fox Sports. Bush is a former USC standout, Heisman Trophy winner, and is way too crazy about football.
Bush earned consensus All-American honors twice. Moreover, Reggie won the Heisman Trophy as the most exceptional player in the country during his college time at USC. However, the trophy was forfeited later.
The award was seized because he was accused of receiving improper benefits while in school. This was a painful experience for Reggie but a lesson to many.
The New Orleans Saints drafted him second overall in the 2006 NFL Draft. He spent two years with the Miami Dolphins before joining the Detroit Lions in 2013.
Mr. Bush has also played for other NFL teams like Buffalo Bills and San Francisco 49ers. He played college football at the University of Southern California.
Reggie won Super Bowl XLIV in 2010 as part of the New Orleans Saints over the Indianapolis Colts. He was named an All-Pro punt returner in 2008.
The former running back inspired players and was always adored by USC fans. Reggie announced his retirement in 2017 after playing 11 years in NFL.
The New Orleans Saints legend was one of the 18 players inducted into the 2023 College Football Hall of Fame Class. He set the NCCA record with an astonishing 7.3 per carry during his career.
Let us know about Reggie's bio, early life, career, college, high school, net worth, awards, wife, and more.
But before that, let's go through some of his quick facts.
Quick Facts
Full Name
Reginald Alfred Bush Jr.
Birth Date
March 2, 1985
Birth Place
Spring Valley, California
Celebrated Name
Reggie Bush
Religion
Christianity
Nationality
American
Ethnicity
African-American
Education
University of Southern California

Helix High School

Zodiac Sign
Pisces
Father's Name
Reggie Bush Sr.
Mother's Name
Denise Griffin
Siblings
Javon Griffin (Step-Brother)
Age
37 Years Old
Height
6'0″/1.83 m/183 cm
Weight
93 kg/205 kg
Shoe Size
11 (US)
Hair Color
Black
Eye Color
Dark Brown
Build
Athletic
Married
Yes
Spouse
Lilit Avagyan
Profession
Retired football Player
Position
Running back football Player
Jersey number
#5(USC Trojans), #25 (New Orleans Saints), #21(Detroit Lions), #22(Miami Dolphins), #23(San Frnacisco49ers),#22(Buffalo Bills)
Net Worth
$25 Million
Children
Three; Briseis, Uriah, Agyemang
Social Media
Instagram, Twitter, Facebook
Merch
Red Jersey, Football Card, Posters, Autographs
Last Update
February, 2023
Early Life, Family, & Education
Reggie Bush was born on March 2, 1985, in Spring Valley, California, and was named after his biological father Reginald Alfred Bush, Sr.
His mother's name is Denise Griffin. Not to mention, he also has a stepfather named Lamar Griffin.
Reggie is an American national and belongs to the African-American ethnic group. His zodiac sign is Pisces, and he follows Christianity.
Since he was a child, Bush wanted to be a football player. His parents were very supportive of him as they believed in him. This is why they were all very close and shared a special family bond.
Reggie's parents backed him financially until he was stable enough to do it himself. The former NFL star grew up alongside his step-brother, Javon Griffin.
On the other hand, Reggie Bush completed schooling at Helix High School in La Mesa, California, and played for his high school football team.
After graduating high school, Reggie got an athletic scholarship to attend the University of Southern California. He played for the USC Trojans from 2003 to 2005 under head coach Pete Carroll.
Football Career & Achievements
Reggie got elected for his senior season at USC on January 12, 2006, and declared himself eligible for the NFL Draft. Later, the Saints picked him as the second overall pick in the 2006 NFL Draft.
In his debut game, Reggie Bush accumulated 141 yards against the Cleveland Browns. After the game, Bush was fined $5K by the NFL for taunting middle linebacker Brian Urlacher.
In the season-opening of 2007, Bush and the Saints lost to the defending Super Bowl champion Indianapolis Colts by 41-10. Bush tied for the team-best 38 rushing yards on 12 carries.
Reggie sprained the medial collateral ligament of his left knee on December 11, 2008. Later in January 2009, the Saints confirmed that Reggie had surgery on his left knee.
Due to a calf injury and to rest his surgically repaired knee, Bush missed the final three games of the 2009 preseason.
Reggie completed the 2010 season with 150 rushing yards and 34 receptions for 208 yards and a receiving touchdown.
The running back switched to Miami Dolphins on July 28, 2011. In his first season with the Dolphins, he ended with 1,086 rushing yards, six rushing touchdowns, 43 receptions, 296 receiving yards, and one receiving touchdown.
Reggie had 986 rushing yards, six rushing touchdowns, 35 receptions, 292 receiving yards, and two receiving touchdowns in his 2012 season.
Further
On March 13, 2013, the former running back signed a 4-year deal worth $16 million with the Detroit Lions. He did very well with the team, but the Lions released him on February 25, 2015.
The San Francisco 49ers signed him on March 18, 2015, for a 1-year contract worth $2.5 million, with $500k guaranteed and a $500k signing bonus.
In his opener against the Minnesota Vikings, Reggie had to leave the game with a leg injury. Despite his limited action, Bush had eight carries for 28 rushing yards and four receptions for 19 receiving yards.
Reggie Bush signed a 1-year deal with the Buffalo Bills on August 1, 2016, where he played along with NFL star Glenn Gronkowski.
He ended the season with seven catches for 90 yards and 12 carries for -3 yards, and a rushing touchdown. With this, he listed himself as the first player in NFL history, other than quarterbacks, to carry the ball a minimum of ten times.
After the season, Reggie announced his retirement from the NFL on December 15, 2017.
Bush earned a lot of achievements and awards throughout his career. He was awarded the 2005 Doak Walker and the 2005 Walter Camp awards. In 2005, Reggie was named the Pigskin Club of Washington D.C. Offensive Player of the Year.
He is the 17th player in NCAA history to achieve over 2,000 all-purpose yards twice (2,330 yards in 2004 and 2,890 yards in 2005).
Reggie was featured on the cover of NCAA Football 2007, released on July 18, 2006. He was also ranked No. 24 on ESPN's 25 Greatest Players in College Football listing.
Summary Career Stats
| | | | | | | | |
| --- | --- | --- | --- | --- | --- | --- | --- |
| Summary | G | AV | Rush | Yds | AVG | TD | FantPt |
| Career | 134 | 72 | 1286 | 5490 | 4.3 | 18 | 1226.8 |
Wife & Kids
The former Bills running back got married to Lilit Avagyan in 2014. Lilit is an Armenian dancer and dance teacher. She won the Rising Star Dance Competition in 2010.
The couple shares three children, a daughter and two younger boys.
Riggie's wife, Avagyan, gave birth to their first child, a daughter, Briseis Bush, on May 6, 2013. After giving birth to a daughter, the couple decided to get married on July 12, 2014, in San Diego, California.
The younger son, Uriah, was born on July 12, 2015, and the other one, Agyemang, was born on September 2, 2017.
Before getting married, Reggie dated WWE Diva Eve Torres while he was still at USC. He then started dating Kim Kardashian. The relationship started after Matt Leinart introduced them at the 2007 ESPY Awards.
Kim and Reggie separated on July 27, 2009, and got back together on September 28, 2009. Bush was also adoringly linked with country singer Jessie James in 2010.
Net Worth & Salary
Reggie Bush earned a fair amount of money before he retired from his football career.
In 2006, he signed contracts with Pepsi, General Motors, Adidas, Pizza Hut, and the Subway restaurant chain. Bush must have earned a fair amount with these contracts.
He donated $50k to lend a hand in keeping Holy Rosary High School from closing on May 15, 2006. The school was a Catholic school for students with learning disabilities.
The American former football running back signed a deal with the skincare Company Barc and also served as the spokesperson in 2012. As reported by some online sites, he has a net worth of $25 million as of 2023.
Apart from this, Reggie also possesses several assets; he has several properties around the country. He has a house worth over $5 million in Oakland County.
Reggie also donated half of the amount he got from selling his jersey to Hurricane Katrina victims. Besides these, he loves luxuries and sporty cars like Bentley, Lamborghini Aventador, and Ferrari.
Moreover, he was the second-highest-paid player after Peyton Manning in earning endorsement deals, amounting to nearly US $5 million per annum.
Age, Height & Body Measurements
The former professional football player is 37 years old as of 2023.
Reggie has an athletic body. He is a handsome man with a tall height of 6'0″/1.83 m and weighs around 93 kg/205 lb.
However, his other body measurements, such as chest, waist, and biceps, are unknown.
On the whole, Reggie Bush has a charming personality with a robust body. Furthermore, his eyes are dark brown, and he has black hair.
Social Media Presence
Reggie Bush is active on various social media platforms like Instagram, Twitter, and Facebook.
Instagram: 694k followers
View this post on Instagram
Twitter: 2.6 million followers
Facebook: 1.9 million followers
Furthermore, his social media post primarily includes golfing, traveling with his children, and analyst works.
Popularity Graph
The former running back is well-renowned for his NFL career. He is also popular for his appearance as a football analyst for Fox Sports.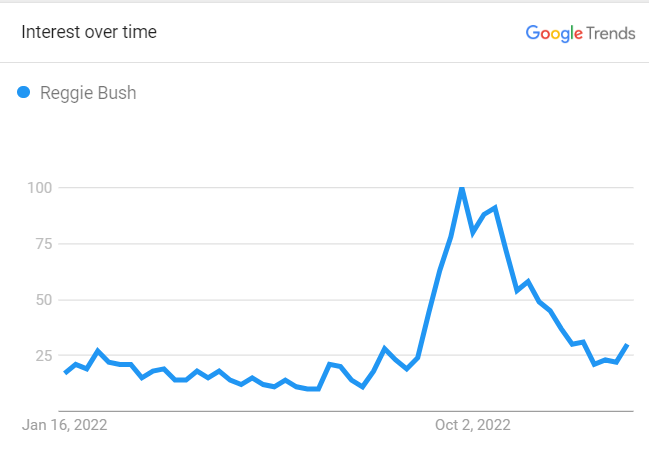 The graph shows his search for 12 months.
Favorite Quotes
"My life is parallel to a horse race. They have blinders to keep them from being distracted in the race and keep them focused on winning the race. That's kind of like my life. Focus on the goal, not the things coming at me from the side."
"The more money you get, the bigger target you become. That's true. It's sad, but you must be aware of every person who comes to you with the next most excellent deal. You have to look at every single person with a good lens. That's how my life will be from here on out."
Highlights
Here are some of the highlights of Reggie Bush's career:
Super Bowl champion (XLIV)
First-team All-Pro (2008)
NFL PFWA All-Rookie Team (2006)
New Orleans Saints Hall of Frame
2X AP National champion (2003, 2004)
AP college Football Player of the year (2005)
2X Consensus All-American (2004, 2005)
3 Strong Lessons From Reggie Bush
Now that you know all about Reggie Bush's net worth and how he achieved success let's take a look at some of the lessons we can learn from him:
The harder you work for something, the greater you'll feel when you achieve it.
To live a creative life, we must lose our fear of being wrong.
Trust because you are willing to accept the risk, not because it's safe or confident.
Frequently Asked Questions (FAQS)
Is Reggie Bush retired?
Reggie Bush retired from his long football career in 2017.
How long was Reggie Bush's NFL career?
Reggie Bush played 11 seasons in the National Football League (NFL).
How much is a Reggie Bush rookie card worth?
Reggie Bush's rookie card price ranges from basic to as high as $20 approximate.
What was Reggie Bush's 40-yard dash time?
According to the calculation, the time record of Reggie Bush's 40-yard dash was 4.33 seconds.
Who is Reggie Bush's agent?
Joel Segal is the agent of Reggie Bush.
Is Reggie Bush a Hall of Famer?
Reggie Bush was inducted into the New Orleans Saints Hall of Fame on June 5, 2019.
What is Reggie Bush's New Orleans Saints jersey number?
Reggie wore jersey number #25 while playing for New Orleans Saints.