A thrilling life is a life worth living. There are only memories to cherish and reflect on at your old age. Rico Petrocelli, a former American professional baseball player, is one such person who has lived an incredible and remarkable life.
The former baseball has played for the Boston Red Sox and has won many matches.
Along with winning numerous matches and the hearts of many, Rico has worked as a minor league manager, broadcaster and even wrote books.
Today, we dive into the life of Rico Petrocelli. Here, we are willing to discuss his early life, career, personal life, and many more.
But first, let's proceed with quick facts about him.
Quick Facts
Full Name
Americo Peter "Rico" Petrocelli
Date of Birth
June 27, 1943
Birth Place
Brooklyn, New York, United States
Nick Name
Rico Petrocelli
Religion
Christianity
Nationality
American
Ethnicity
White
Education
Sheepshead Bay High School
Horoscope
Cancer
Father's Name
Attilio Petrocelli
Mother's Name
Louise Petrocelli
Siblings
Vinny Petrocelli
Dave Petrocelli
Age
79 Years Old
Height
6 ft (1.83m)
Weight
84 kg (185 pounds)
Hair Color
Black
Eye Color
Brown
Jersey Number
6
Profession
Professional Baseball Player
Position

Baseball shortstop
Third baseman

Affiliation
MLB
Active Years
1963-1976
Marital Status
Married
Wife
Elsie Petrocelli
Kids

Michael Petrocelli
James Petrocelli
Bill Petrocelli
Danny Petrocelli

Net Worth
$8 Million
Awards and Recognition

Two Times All-Star (1967, 1969)
Boston Red Sox Hall of Fame

Merch
1973 Topps
Last Update
June, 2023
Rico Petrocelli | Early Life, Childhood & Family
Americo Peter "Rico" Petrocelli, or Rico Petrocelli, is a former professional baseball player. Rico Petrocelli played Major League Baseball (MLB) with the team Boston Red Sox.
On June 27, 1943, Rico Petrocelli was born in Brooklyn, New York, United States. Among all his six siblings, Rico is the youngest child of his parents.
Rico had a reasonably peaceful and comfortable childhood as his four brothers used to earn and look after Rico's finances. Rico's father, a native of the Brooklyn area, operated a shop specializing in sharpening tools used in New York's Garment District. His mother, Louise Petrocelli was a housewife.
Petrocelli started playing basketball at six, but he didn't play organized baseball until twelve. However, by the time he joined high school, he excelled in basketball and baseball. It is evident that Rico developed a love for baseball from an early age.
As a youngster, he was a faithful Yankees fan; his father took him to Yankee Stadium to see Mickey Mantle, Bronx Bombers, and Ebbets Field so that Rico could see the Brooklyn Dodgers.
You can also read about: Joe Altobelli: Family, Stats, Baseball & Cause of Death.
Further, Rico completed his education at Sheepshead Bay High School. During his school days, he even used to play for his school team.
Moreover, Rico's family has always supported his career; they believed in him and even motivated him to pursue his career in baseball.
Rico Petrocelli: Career, MLB, and Retirement
Rico Petrocelli loathed the idea of continuing in his father's steps and working on the family business. Instead, Rico wanted to make an identity of his own in which his family supported him both morally and financially.
In 1962 Petrocelli started his professional career in the Class B Carolina League, with Winston-Salem batting .277 with 17 home runs and 80 RBIs. Still, he struggled in the field at his new shortstop position, committing a league-high 48 errors.
Later, in 1963 Petrocelli was promoted to reading in the Eastern League, where he batted only .239 but hit 19 homers and drove in 78 runs.
Similarly, after reading's season, the Red Sox reached up to Petrocelli. Finally, Rico made his major-league debut on September 21 in the first game against the Minnesota Twins at Fenway Park.
Petrocelli with Boston spent all of the 1965 season and played in 103 games; he even made 93 starts at shortstop. For that season, he batted .232 with 13 home runs and 33 RBIs. In 1966, Petrocelli batted .238 with 59 RBIs in 139 games with 18 home runs.
After-Effects of Injury
Undoubtedly, Rico was doing good in his career, and his career graph was only going up. But sadly, in 1973, Rico couldn't play 47 games as his previous injury gave him problems playing the game.
Similarly, at the start of the 1975 season, it was evident that Rico was still suffering from the after-effects. In addition, many of you might not be aware but, he also had a severe inner-ear imbalance that caused him trouble with his sense of balance.
Yet he continued to perform at a high level in the field, but he had difficulty measuring the ball as it left the pitcher's hand, plus his batting average dropped significantly. However, Rico wouldn't let his ear imbalance ruin his career, so he found a way to treat it.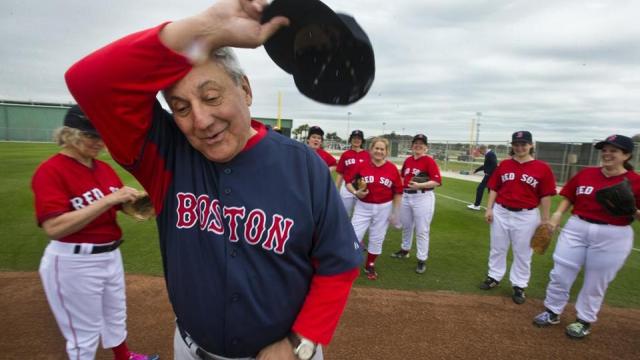 While Petrocelli was finally coming back in form, his lack of productivity at the plate again became an issue in 1976.
Sadly, the medications he was taking to correct his inner-ear problems were causing abnormal reactions; as a result, he was forced to discontinue their use. As a result, the problems with his balance returned and severely hampered his ability at the plate.
With all the ups and downs, victories, and losses, Rico finally decided to retire in 1976. Undoubtedly, Rico was one of the best players in the history of MLB, he is still underrated.
Rico worked as a broadcaster and a minor league manager even after retirement. He has also written a book sharing his MLB experiences, "Rico Petrocelli's Tales from the Impossible Dream Red Sox."
Rico Petrocelli: Age, Height & Physical Appearance
Petrocelli is currently 79 years old. As Parker was born on June 27, his zodiac sign is Cancer.
You can also read about: Christian Hackenberg's Bio: Career, College, NFL, Baseball & Net Worth.
As their Zodiac sign, people with Cancer are characterized by a strong will, sharpness, and affectionate nature.
Despite being 78 years old, Rico maintains his health and lives a healthy life. Apart from that, Rico is American by nationality and white by ethnicity.
Rico stands 6 ft tall, which is a great height and weighs around 84 kg. And his beautiful black hair and fascinating brown eyes complement his look.
Rico Petrocelli | Net Worth and Income
The estimated net worth of this legendary baseball player and broadcaster is about $8 million.
Rico's primary source of earnings was playing and coaching. In his times, the Merch and fan graphs were not as popular as now. Otherwise, it would have allocated him some amount as well.
Besides, Rics leads a very secret life, so it isn't easy to estimate if he had done any brand endorsements or not.
We will update you about his assets as soon as we get information about it. But for sure, Rico has earned enough to lead a very successful and happy life for his wife and children in his entire career.
Rico Petrocelli | Personal Life and Kids
Petrocelli lives a happy and luxurious life with his wife Elsie in their Nashua, New Hampshire home. The most amazing fact is that Rico and Elsie have been married for the past fifty years, and they are still together and still madly in love with each other.
Similarly, Rico loves vacationing with his family, and his favorite destination is Sarasota, Florida.
Further, Rico believes his wife has dramatically contributed to his success. While he was busy in his career, Elsie took care of his family. Elise has always been with Rico through thick and thin.
This amazing couple is blessed with four kids; Michael Petrocelli is their oldest son; after him, Elsie gave birth to twins named James Petrocelli and Bill Petrocelli. And the name of their youngest son is Danny Petrocelli.
You can also read about: Great Baseball Player, Gary Pettis!
It is evident that Rico is happy with his life; he has achieved whatever he has always wanted to achieve. But indeed, it wouldn't have been possible without his hard work and dedication. Indeed, Rico is an inspiration to many youths and aspiring baseball players.
Rico Petrocelli: Social Media Presence
Rico has almost nil social media presence. Sadly, he doesn't have an account on any platform: Twitter, Instagram, or Facebook.
It may be because he is from a generation that doesn't require people's attention to keep going. Petrocelli believed in living in the present and real moment instead of being flashy and showcasing everything to the public.
However, his fans would want to see more of him, and we hope he opens a social media site soon. If you want to know more about Rico Petrocelli, you can find various information from different sites.
Frequently Asked Questions (FAQs)
What is Rico Petrocelli doing these days?
These days, Rico enjoys his private time with family, away from fans and media attention.
Has Rico been inducted into the Hall of Fame?
Yes, in 1997, he was inducted into the Boston Red Sox Hall of Fame.