Rockwell Wirtz, who served as the chairman of the NHL's Chicago Blackhawks, passed away at the age of 70 on Tuesday.
The Blackhawks confirmed the news of Wirtz's demise through their official Twitter account.
In a statement, Danny Wirtz, Rocky's son, and the team's chief executive, expressed profound sorrow, stating that their hearts were weighed down by the loss.
He described his father as a dedicated businessman who was deeply committed to enhancing the quality of life in Chicago, both for its residents and visitors.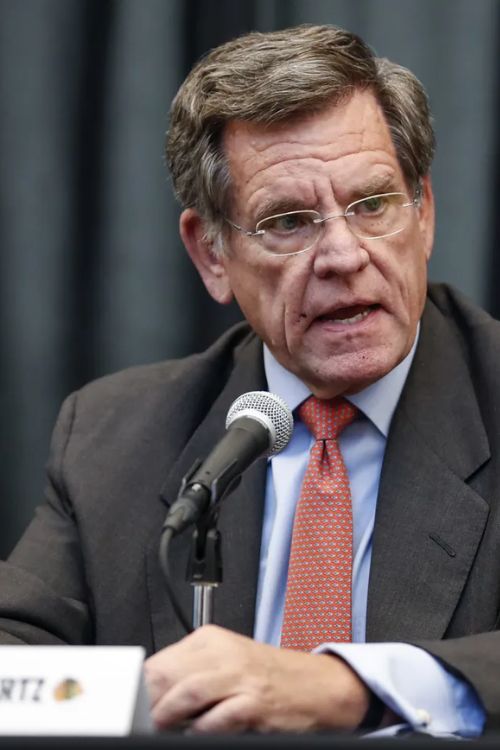 Nevertheless, Rocky's utmost affection was reserved for his family and close friends.
Apart from his involvement in hockey and the family's enterprises, Wirtz was actively engaged in philanthropic endeavors.
Furthermore, he also held a position on the board of trustees at Northwestern University, his alma mater located in Evanston, Illinois.
Rocky Wirtz Obituary And Cause Of Death Linked To Illness
Rocky Wirtz, the accomplished chairman of the Blackhawks and a highly successful figure in Chicago sports history passed away unexpectedly on Tuesday at the age of 70 years old.
He was survived by his wife, Marilyn, three kids named Kendall, Hillary, and a stepdaughter, Elizabeth, as well as six grandchildren, who were present with him at his final moment.
Wirtz passed away at NorthShore Evanston Hospital following a short period of illness, as stated in the Blackhawks' official announcement.
However, the exact detail of his illness is not revealed yet.
As the third successive leader of the Hawks' franchise within his family, Wirtz maintained not only the team's dynastic legacy but also created a remarkable transformation in its popularity and brand.
Despite facing challenges in his legacy, such as the Hawks' sexual-assault scandal and a notable outburst during a town-hall meeting in 2022 while discussing the issue, Rocky Wirtz remained a prominent and influential figure.
He will be fondly remembered as one of the most significant individuals in the city's hockey history.