Late Rollie Massimino died on August 30, 2017, after serving as the head men's basketball coach at Stony Brook University from 1969 to 1971. He was named the two times Eastern 8 Coach of the Year (1977, 1979).
Before his flourishing coaching career, he played collegiate basketball for the Vermont Catamounts men's basketball team.
"No matter how impossible or unattainable something might seem, it will be if it is meant to be." which applies to the life of a legendary basketball coach, Rollie Massimino.
Massimino was always skeptical about serving as a basketball coach, but how things have changed. He began his coaching career at Stony Brook University from player to coach.
He also coached teams like Villanova Wildcats and UNLV Runnin' Rebels. Currently, Massimino is considered "One of the Most Memorable Basketball Coaches in NCAA History."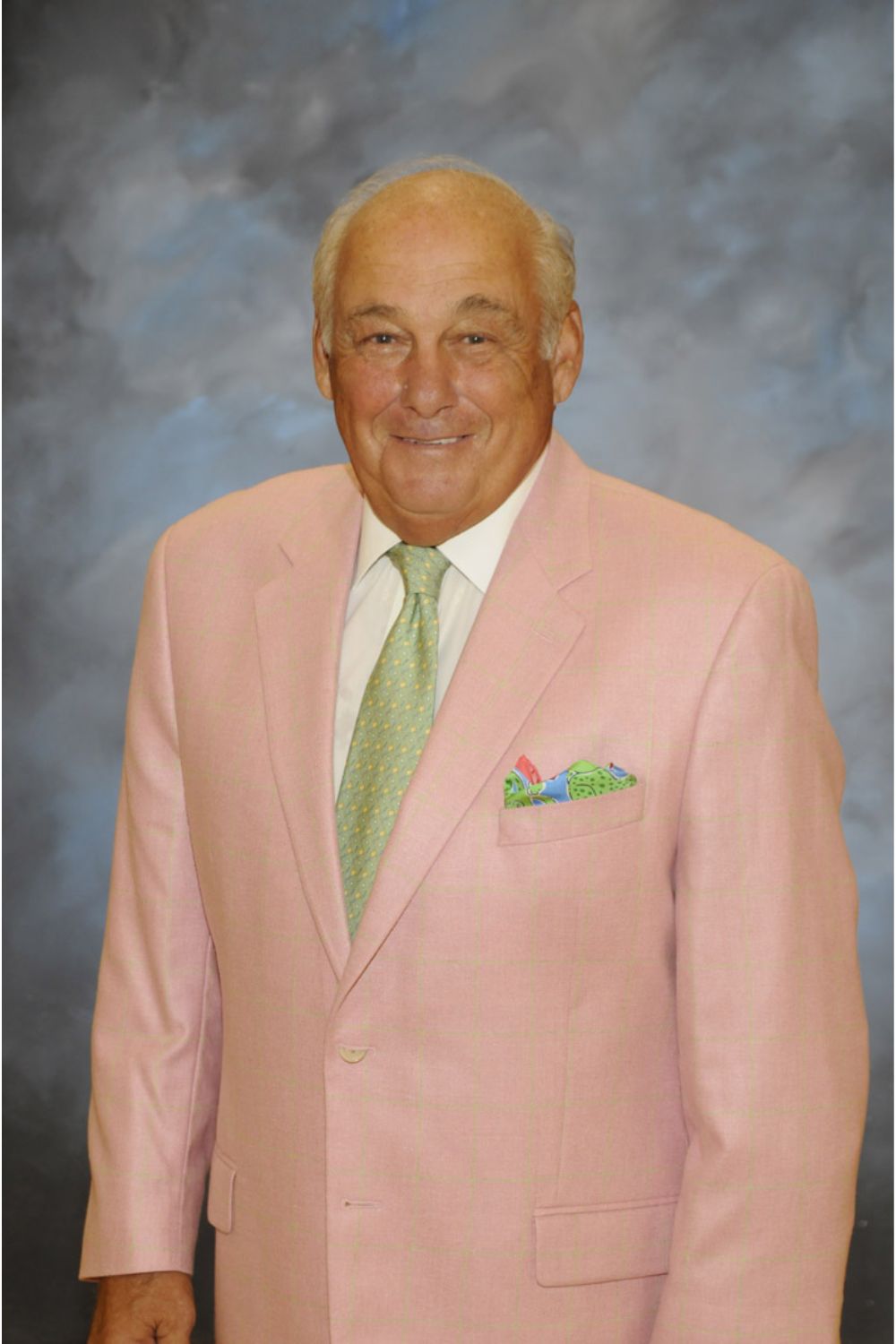 He went through many ups and downs while competing in several tournaments. However, he also earned honors, critical acclaim, and awards.
Unfortunately, Massimino, a legendary basketball coach, passed away at 82 in 2017. Moreover, his contribution to the Vermont Catamounts is unforgettable.
If you would love to know more about the late basketball coach Rollie, then glimpse his quick facts below.
Quick Facts
Full Name
Roland Vincent Massimino
Known as
Rollie Massimino
Nickname
"Rollie"
Birth Date
November 13, 1934
Birth Place
Hill Side, New Jersey, USA
Residence
West Palm Beach, Florida, USA
Religion
Christianity
Nationality
American
Ethnicity
Italian-American
Education
Hillside High School (Class of 1952), Rutgers University – Bachelor in Education (1956), Rutgers University – Master In Health & Physical Education (1959)
Father's Name
Salvatore Massimino
Mother's Name
Grace Massimino
Siblings
N/A
Died
August 30, 2017 (Aged 82)
Death Place
West Palm Beach, Florida, USA
Eye Color
Brown
Hair Color
Blond
Body Type
Endomorph
Profession
Basketball Coach
Marital Status
Married
Spouse
Mary Jane Massimino (Died In 2020)
Children
5 – Tom, Lee An, Michele, Roland (R.C.), and Andrew Massimino
Beginning Of Professional Career
1952
Retirement
2017
Sports Team
Villanova Wildcats, UNLV Running Rebels, Cleveland State Vikings, Keiser Hawks, etc.
Honors

Two-Times Eastern 8 Coach Of The Year (1977 And 1979)
Big East Coach Of The Year (1982)
College Basketball Hall Of Fame (2013)

Victory

Three Times Eastern 8 Regular Season (1978-1980)
NCAA Division I (1985)
Two Times Eastern 8 Tournament (1978 and 1980)
Two Times Big East Regular Season (1982 and 1983)
Seven Times Sun Conference Regular Season (2007-2009, 2011-2013, and 2016)
Three Times Sun Conference Tournament (2010, 2012 & 2014)

Net Worth
$5 Million (At The Time Of Death)
Merch
Trading Card
Last Update
June 2023
Meet Rollie Massimino's Family
Rollie Massimino was the only son of Mr. Salvator and Mrs. Grace Massimino. He opened his eyes for the first time on November 13, 1934, in Hillside, New Jersey.
Rollie's full biological name is Roland Vincent Massimino, given by his beloved parents. The meaning of "Roland" is "From the renowned land," derived from Germanic origin.
Massimino's father, Salvator, was a shoemaker by profession. He immigrated to the USA from Italy in the 90's period. Meanwhile, his mother, Grace, was a native American by her family roots.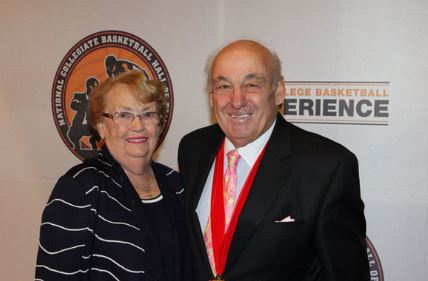 Rollie committed to Mary Jane Massimino after sharing the "I dos" in 1958. They settled in Florida following the wedding ceremony after he was fired by Cleveland State in 2003, but his wife supported him.
Proud Parents To Five Adorable Children!
The couple welcomed five children, including three sons, Tom, Roland, Andrew, and two daughters, Lee Ann and Michele.
They got a bundle of joys after having seventeen grandchildren, including Kayla Sleece.
Most of Mr. Massimino's children followed in their footsteps and became sportspersons. Likewise, his daughter Lee Ann was a coach for Villanova Lacrosse in 1986. Later, she became a certified physical therapist.
Rollie's son Tom Massimino volunteered as an assistant coach for UNLV Runnin' Rebels during his tenure. He serves as Harman Fitness, LLC's chief executive officer (CEO).
Unfortunately, Rollie and Mary's marriage ended after his demise in 2017 at 82. Moreover, she passed away at 84 on July 22, 2020.
With Condolences, Jay Wright, the head coach of Villanova, delivered the death news via Twitter.
Education
Rollie Massimino graduated from Hillside High School in the class of 1952. Later, he earned a Bachelor in Education degree from the University of Vermont in 1956.
Massimino played for the Vermont Catamounts Men's Basketball team for three years as a student-athlete. He also became an honorary member of the Alpha-Lambda chapter of the Kappa Sigma fraternity at UVM.
Three years later, he pursued and earned a master's degree in health and physical education from Rutgers University in 1959. He then moved to New Jersey to pursue a career in basketball coaching.
Rollie Massimino Basketball Coaching Career
Rollie Massimino joined the coaching ranks following his graduation. Furthermore, he became an assistant coach to the Cranford Boys Varsity Basketball team.
He served as a varsity basketball coach at Hillside Comets boys' basketball team in 1959.
Massimino led the Hillside Comets to the State Group III Championship finals in his second season. However, the Newark Central Blue Devils defeated his team.
He also had a competitive game versus Burlington Red Devils in the finals.
Rollie led the Comets to the state Group IV finals with All-American Bill Schutsky's team in 1963. However, he and his team lost the final playoff game despite reaching the 1963 Championship Final.
Massimino moved to Lexington High School in Massachusetts for the 1963–64 season. He led his squad to a state championship, making a 20-1 record in 1965. Besides, he was laying the foundation for an elite scholastic program.
Later, Rollie won three Middlesex Basketball League titles in 1971, 1972, and 1978. In addition, he set a 160-61 record in ten seasons during his high school coaching career.
Coaching Record
Rollie Massimino debuted as his collegiate head coach at Stony Brook University in 1969. They won the conference championship for the first season with a 19-6 record. He also earned a berth in the NCAA small college tournament.
Massimino coached in an assistant position under Chuck Daly at the University of Pennsylvania. Later, he changed his team to the Wildcats team, succeeding Jack Kraft as the head coach.
Massimino leads his team to achieve one of the greatest upsets in NCAA tournament history. They previously knocked Georgetown Hoyas out of the 1985 NCAA Tournament Championship final.
Rollie's team faced many challenges to reach the finals, kicking off with a win against Dayton's home court.
They also competed against Michigan, Maryland, and North Carolina until the final four victories over Memphis State.
Resigned From UNLV Runnin' Rebels Heach Coach Position
After getting all kinds of guts to be head coach, Massimino left Villanova in 1992. He then applied at UNLV, hoping to lift the team with success and credibility after UNLV 1991-92 probation.
Reportedly from Nevada state, UNLV president Robert Maxson had to cut a side deal to lift Massimino's salary. He was collecting $375,000 in off-the-books payments on top of his $511,000 salary.
After its revelation, it violated state ethics law and UNLV rules, so he had to resign forcefully.
In 1996, Massimino was on Cleveland State University's team. Furthermore, they recorded a 90-113 record for his 7th season as coach.
On the contrary, his student's situation brought his contract to the off-court issues because players caught with alcohol and drug problems were arrested for serious crimes and academic fraud allegations.
Coaching With Villanova Wildcats And Keiser Seahawks
Rollie Massimino joined as the head coach of the Keiser Seahawks men's basketball team. Additionally, he became a member of the National Association of Intercollegiate Athletics (NAIA).
Massimino even got to coach the Florida campus that Northwood University sold to Keiser University.
He was the one to lead Northwood to four FSC regular-season titles and appearances in the NAIA National tournament.
Later, Northwood bids all of the Massimino's eight-season, finishing a place in the national semifinals in 2011 and runner-up for the 2012 season.
Therefore, Rollie recorded the total standing Northwood/Keiser at 298–75.
Keiser was the final stop in Massimino's long career, but he has served the Villanova men's team for about 19 years with an 816–462 record.
He was famous for being a fiery sideline tactician, giving inspirational speeches Drewing Italian heritage.
In conclusion, Villanova is considered a good team starting from a powerful Big East Conference. Despite their 10 regular-season losses, they were fortunate to be selected for the N.C.A.A tournament.
Tournaments
0-2 (NCAA College Division)
21-10 (NCAA Division I)
4-5 (NIT)
11-7 (NAIA Division II)
Awards & Achievements
2 Times Eastern 8 Coach of the Year (1977, 1979)
Big East Coach of the Year (1982)
College Basketball Hall of Fame (2013)
What Is Rollie Massimino's Cause Of Death?
Rollie Massimino discovered he had terminal lung and brain cancer in April 2016. Likewise, the medical officials said the legendary coach has one year to live.
Despite struggling with cancer, Massimino attended the NCAA tournament at NRG Stadium in Houston. Then, he saw the Villanova Wildcats winning the prestigious title in late 2016.
In the end, Massimino survived for sixteen months overall. Sadly, he took his last breath at home on August 30, 2017. He was 82 years old at the time of his demise.
Rollie was not there to see Villanova win the NCAA championship in 2018. But, all Villanova players gave tribute by wearing throwback uniforms in the 2017/18 season.
They also did the 1984/85 championship season's 30th anniversary to victory in honor of his memory.
On the same note, many notable celebrities, legendary basketball players, and NBA fans gave heartfelt condolences to Massimino's family.
Social media was full of Massimino's death, sad reactions, and sympathy messages to Rollie's family. Some people twisted #rolliemassimino #legendarycoach on Twitter.
Villanova Wildcats Became Strong After Massimino's Demise
A year after Massimino's death, fans believed to see something more than extra. They wanted to see the mystical and spiritual Villanova Wildcats in the 2018 season.
So, they tied the Final Four record by hitting 13 three-pointers at halftime. The Villanova Wildcats scored four in a row in 2 minutes and 38 seconds. They also made 6/8 in a 5:32 time span.
Many viewers supposed that Rollie Massimino was there, seeing all players with blessings. Moreover, the Villanova Wildcats have become an unstoppable and the best team in the nation.
Rollie Massimino Was Not Inducted To The NCAA Hall Of Fame
Rollie Massimino was not inducted into the NCAA Hall of Fame despite being dubbed as one of the coaches of all time.
His close friend and the legendary Georgetown Hoyas basketball coach, John Thompson, raised his finger against the injustice, saying,
"If his [Rollie Massimino] win is the greatest upset ever, why isn't he in the Hall of Fame?"
Johnson further added how his late friend was robbed of this title. While doing so, he even mentioned how they both used to talk about getting the title someday.
Mr. Thompson further gave a mesmerizing statement:
"That was something I used to kid him about. But this is still something I know he wanted, he deserved it, and I think it hurt him because it didn't happen."
Although Massimino did not list in the Hall of Fame, fans still remember him as a legendary college basketball coach.
Net Worth
Rollie Massimino served as a varsity basketball coach for almost 40 years. So, he probably earned impressive earnings throughout his coaching career.
Massimino maintained a fruitful net worth of $5 million before his demise. Besides, he garnered a handsome paycheque from his commentary works.
Rollie Massimino's Net Worth In Different Currencies
Look into Rollie Massimino's net worth in different currencies, including the Euro and Pound.
| | |
| --- | --- |
| Currency | Net Worth |
| Euro | €4,387,575 |
| Pound Sterling | £3,669,575 |
| Australian Dollar | A$6,949,030 |
| Canadian Dollar | C$6,257,125 |
| Indian Rupee | ₹372,868,500 |
| BitCoin | ฿119 |
Search Graph
Late Rollie Massimino died after a long fight with terminal lung cancer and brain cancer; he died at 82 on December 14, 2016, after a flourishing coaching career.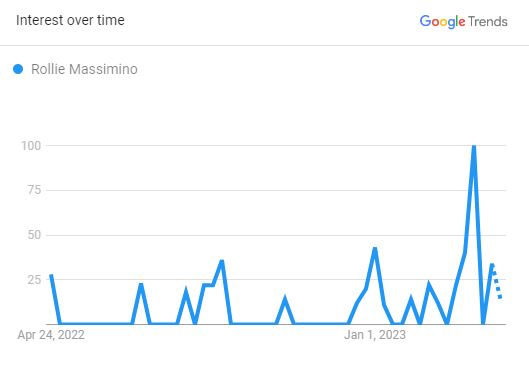 Even after his death, he has the applicable amount of search rate according to his popularity graph.
Frequently Asked Questions (FAQS)
Is Lee Ann Massimino Sleece familiar to Rollie Massimino?
Lee Ann Massimino Sleece is a former Villanova Lacrosse Coach, Rollie Massimino's daughter.
Is any family member of Rollie Massimino involved in basketball or any other sports?
To sum up, we can say the Massimino family is pretty athletic. Starting from the daughter Lee Ann Massimino Sleece, the former Villanova Lacrosse coach, and son Tom Massimino, an assistant coach at UNLV. Additionally, grandson Roland Massimino, a Hofstra and Johns Hopkins University football player, and granddaughter Kayla Sleece, a Lacrosse at the University of Louisville.
Where did Massimino's funeral take place?
Massimino's funeral was organized at St. Thomas of Villanova Church from 4 to 8 p.m.
Did Massimino die of a heart attack?
Rumors were on the media that the former American coach died of a heart attack, which is untrue. Instead, Massimino died after suffering from lung cancer and brain cancer.
Did Rollie Massimino play in documentary series?
During his career, Rollie didn't play for any documentary series. However, after his death, Fox Sports released a television documentary titled The Maestro: The Rollie Massimino Story. Bill Raftery directed the documentary, showcasing Massimino's final season (2016-17) at Keiser University.
What is the secret contract controversy of Massimino?
The professional basketball coach was removed from the University of Nevada-Las Vegas. He was removed because of the secret contract with former UNLV president Robert Maxson. The contract was to pay the coach $375,000 a year and his $511,000 base salary.