Romeo Lavia, Belgium's defensive midfielder's parents, has been a hot topic in the media since Lavia's link to Chelsea.
Romeo Lavia is a Belgian professional soccer player who plays for Belgium's national team and the Premier League giants, Chelsea.
Lavia is the academy product of the Belgian 'Big Three' Anderlecht. He first came into the limelight in the 2019 KDB Cup.
The coaching mastermind, Pep Guardiola, was among the special guests watching the game. Lavia was at the heart of Anderlecht's midfield, and they won the tournament. Pep noticed him and was thrilled by his performance.
It was evident that Pep wanted Lavia, and in 2021 he signed with Manchester City, leaving the club after eight years of service.
With Man City, he was promoted to the U23 team after only 11 appearances with the U18 team. Lavia won the Premier League 2 championship in April 2021, being voted the player of the season.
On July 6, 2022, Lavia joined Southampton senior team on a five-year contract.
He scored his first goal against Southampton's 2-1 win over Chelsea, becoming the first player born in 2004 to score in the Premier League- the most competitive domestic league in World Soccer.
Romeo Lavia Parents: Where Are They From? Brother Joakim
Romeo Lavia was born in Brussels, Belgium, on January 6, 2004. His family likes to stay out of the paparazzi lens.
So, the name of Romeo Lavia's parents hasn't surfaced in the online world. Despite this, we've come to know that he is of Belgian Ghanaian-Congolese descent through his father and mother.
Many Ghanaian families immigrated to Belgium, but only a few got the opportunity to pursue education and make a good career out of it.
However, Romeo was fortunate enough as his parents provided him with education, including career prospects. Today his parent's investment in him has enabled the family to achieve financial stability and security.
Similarly, according to reports, Romeo has two brothers- Joakim and Henri.
Joakim Lavia, the younger brother, is recently making headlines in the media. Joakim is equally competent as his brother Romeo.
He is the captain of Anderlecth's Under-14s. Anderlecht's academy manager has high hopes for Joakim and says, "We are going to focus now on his brother. Joakim is totally different but as talented. But don't worry, I'm sure all the big teams in Britain know him already."
Moreover, Henri Stanic is a professional soccer player who plays for FK Liepaja. He was born on June 18, 2002, and started his career with Anderlecht U18.
Henri was pictured together with Romeo's mother on his 18th birthday, so many have speculated him to be Romeo's brother.
Lavia: A Thrilling Transfer Saga
Southampton got relegated last season, finishing bottom of the table in the Premier League. So, it was evident that a talent like Romeo wouldn't be left in the Championship.
On August 16, Italian sports journalist Fabrizio Romano announced the most awaited 'HERE WE GO' of the summer.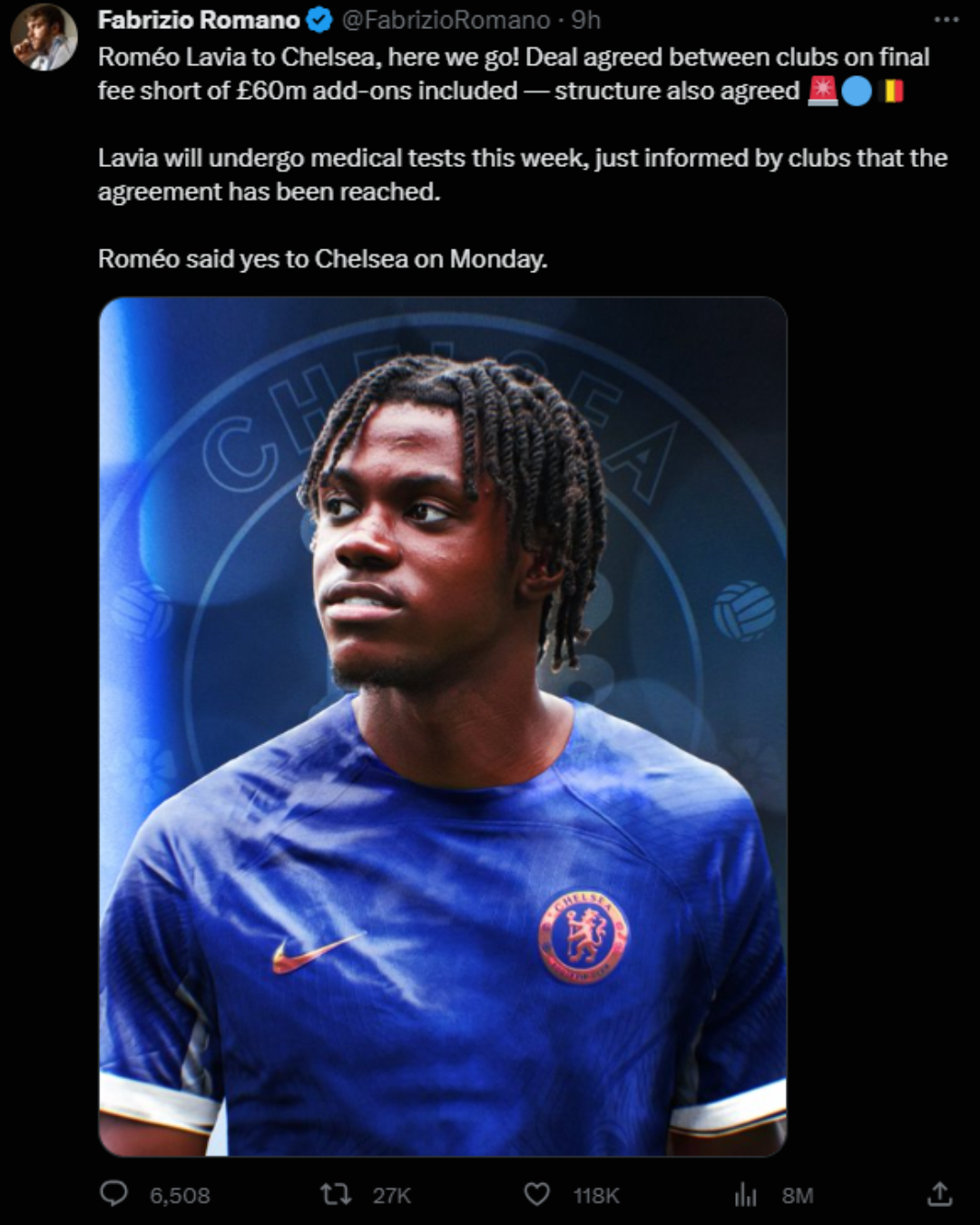 Romeo Lavia joins Chelsea on a £60m fee, including add-ons. Furthermore, Lavia will undergo medical tests this week.
Lavia's transfer saga had it all; suspense, the deal falling off multiple times, club rivalry, everything, you name it.
Moreover, the London Blues came on and hijacked Lavia's move to Liverpool.
Liverpool and Southampton had already agreed on a fee, but personal terms with the player weren't agreed, which led the deal to fall off.
Lastly, Chelsea came to the table with an improvised bid & both the club and the player agreed terms.