Rumeal Robinson is a former professional basketball player who played in the National Basketball Association. He served as a point guard to many prominent NBA teams.
Moreover, the Atlanta Hawks drafted him in the first round of the 1990 NBA Draft. Besides that, he played for the New Jersey Nets, Charlotte Hornets, Portland Trail Blazers, Los Angeles Lakers, etc.
Not to mention, the athlete played collegiate basketball for the University of Michigan. He was an exceptional player for the Michigan Wolverines and even led them to an NCAA championship title in 1989.
Similarly, he was named to the Consensus second-team All-American in 1990. Aside from that, Robinson also represented the US National Team at the 1995 Mar del Plata.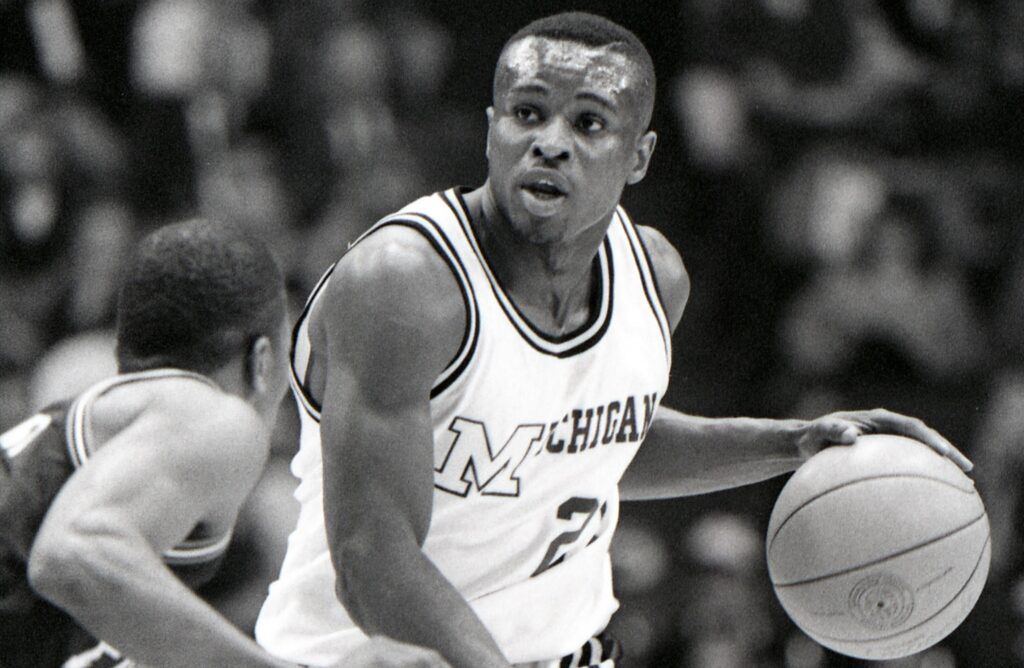 Likewise, he won a silver medal with the team after leading the US Team in points. Eventually, they lost the gold medal to Argentina.
Furthermore, the former NBA player has quite a criminal record. In 2010, he was convicted on eleven counts of bank bribery, wire fraud, conspiracy to commit bank fraud, and making false statements to a financial institution.
As a result, Junior spent some time in prison and also paid restitution. The point guard was released from prison in 2016.
Here are some quick facts about him before getting into details about the fallen NBA player's life and career.
Quick Facts
| | |
| --- | --- |
| Full Name | Rumeal Junior Robinson |
| Birth Date | November 13, 1966 |
| Birth Place | Mandeville, Jamaica |
| Nick Name | Not Available |
| Religion | Not Available |
| Nationality | American |
| Ethnicity | Jamaican American |
| Education | University of Michigan |
| Horoscope | Scorpio |
| Father's Name | Lou Ford |
| Mother's Name | Helen Ford |
| Siblings | Not Available |
| Age | 56 years old |
| Height | 6'2″ (1.88 m) |
| Weight | 195 lb (88 kg) |
| Hair Color | Black |
| Eye Color | Brown |
| Build | Athletic |
| Profession | Former NBA Player |
| Drafting Team | Atlanta Hawks |
| Position | Point Guard |
| Active Years | 1990–2002 |
| Marital Status | Unmarried |
| Ex-Girlfriend | Stephanie Hodge |
| Kids | Not Available |
| Net Worth | -$1 Million |
| Social Media | Instagram |
| Merchandise | Jersey, Rookie Card, Autographed Card |
| Jersey Number | 22, 24, 21, 20 |
| Last Updated | April, 2023 |
Rumeal Robinson | Early Life, Family, And Education
Rumeal Robinson was born in Mandeville, Jamaica. His biological mother moved to Boston, America when he was only a toddler.
Hence, for most of his childhood, he grew up in his grandparents' house. Under their care, he was usually allowed to roam around, and he often went to the beach alone.
When he turned ten years old, his grandparents sent him to Boston and hoped to reunite Robinson with his mother. However, the experience was anything but beautiful.
The NBA player's biological mother did want anything to do with him and considered him a burden.
So, the then 10-year-old started sleeping in the halls of an apartment and got by on leftover school lunch.
Adoptive Parents and Upbringing
Soon, Rumeal caught the attention of his future-adoptive parents, Helen and Lou Ford. Since Helen knew what it was like to have an unstable childhood, she took him in with open arms.
The basketballer lived in the same room as the couple's oldest son, Donald. They had two biological sons of their own, including Donald.
Besides that, Helen was a cheerleading coach and a school security guard while her husband was a letter carrier and owned a bar.
Hence, the pair were very well known around their neighborhood. Moreover, they were known for their kindness, humanity, and generosity.
Lou and Helen loved having Robinson around and later adopted him. Furthermore, they opened their home to many kids in need and also became foster parents.
They provided a sense of normality and support to many kids with no care and love in their life. Likewise, they treated Rumeal as their own child and did their best to provide him with all his needs.
Similarly, the two supported his career choice and encouraged him to progress in basketball. They showed up to all of the point guard's games and cheered him all the way to college and eventually NBA.
Learn More About Hawks' Shooting Guard, Kevin Huerter: Career, Net Worth, Family & Personal Life >>
Education
Rumeal was a very hard-working kid and put a lot of effort into training and basketball. Everybody, including his high school head coach, appreciated his work ethic and aspiration to be better.
He attended the Cambridge Rindge and Latin School in Massachusetts. With intense and consistent training, the NBA player had become a star at his high school as he performed exceptionally well in games.
He used to identify his weaknesses and worked on them till they became his strength. Furthermore, the basketballer even led the school to a state championship in 1986
By the time he graduated high school, the University of Michigan had offered him a basketball scholarship that he accepted.
During his collegiate career, Rumeal's popularity grew a lot while playing for the Michigan Wolverines.
Rumeal Robinson | Age, Height, And Weight
The former athlete was born on November 13, 1966. He is 56 years old as of April, 2023. The NBA player used to take great care of his health and diet.
Similarly, he worked out daily and ran five miles while strapping on a 40-pound high schooler. Likewise, Robinson did 500 push-ups and sit-ups each day.
However, after being in the NBA and eventually prison, the former basketballer is not as fit and toned as he used to be. Besides that, he is 6 ft 2 in (1.88 m) tall and weighs 195 lb (88 kg).
Don't Forget To Check Out Nets' Power Forward, Blake Griffin Bio: Wife, Kids, Net Worth & Career >>
Rumeal Robinson | Basketball Career
Collegiate Career
Robinson attended the University of Michigan, becoming a huge success story. He brought the same dedication, effort, and work ethic that he had in his high school career to the Michigan Wolverines.
The point guard is especially remembered for his two free throws that made the Wolverines the 1989 NCAA Champions.
During the finals against the Seton Hall Pirates, he received two free throws when there were only 3 seconds left to the game.
The Wolverines needed one shot to tie and another one to win. Rumeal made both shots and won the 1989 NCAA Men's Division I Basketball Championship.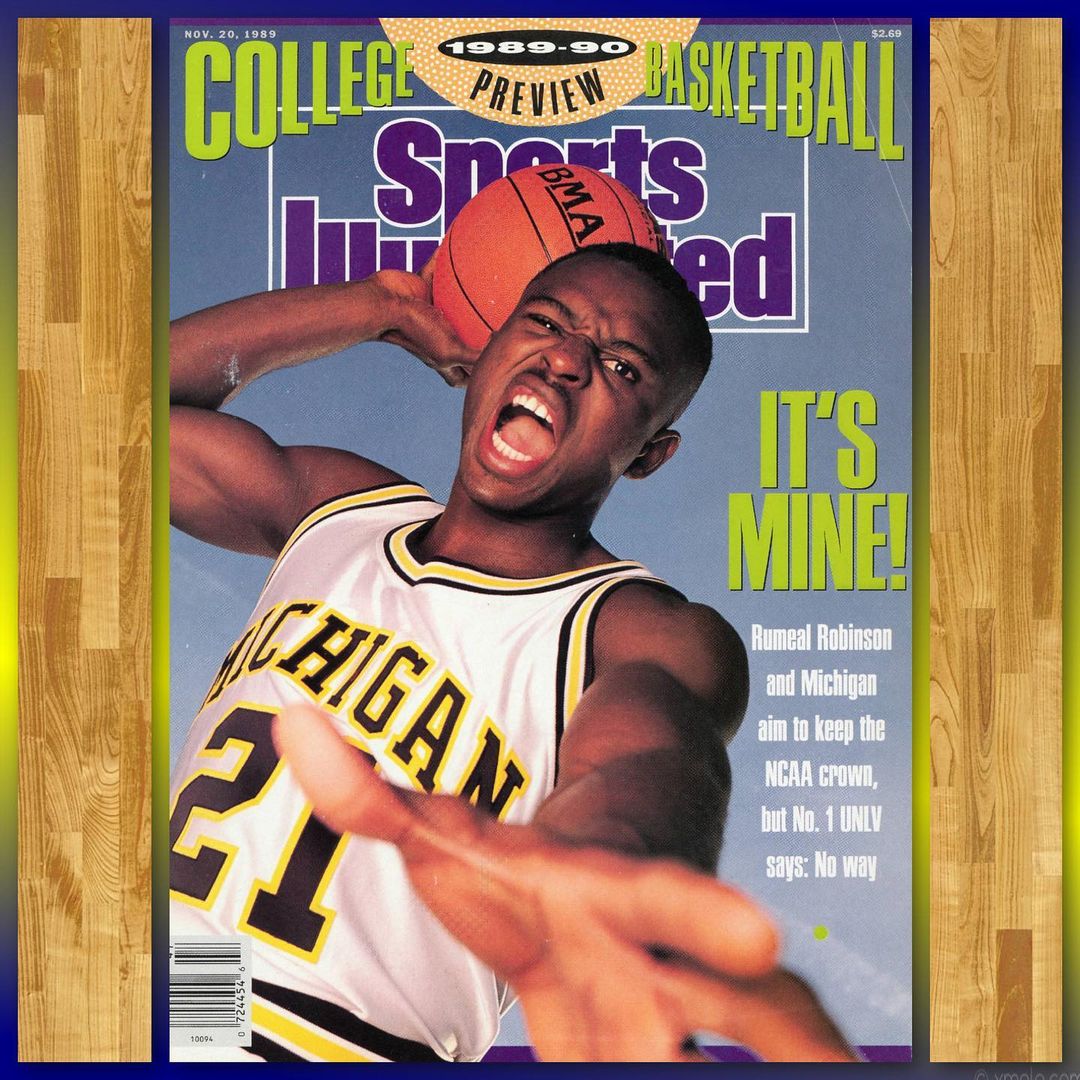 The basketballer was well celebrated, and his popularity in the sports world skyrocketed since that moment. Furthermore, Cambridge organized a parade for him that the mayor named the Rumeal Robinson Day.
Moreover, his high school jersey was hanging from the rafters, and his parents rode in the mayor's convertible during the parade. Hundreds of people showed up at the parade that led to the City Hall, where a small ceremony was held.
Not to mention, the former athlete even met the former US President George H.W. Bush during their customary visit to the White House.
So, likewise, he got a chance to say "C'mon man, you can take a shot" to the 41st president of the United States.
Similarly, the basketballer recreated his game-winning free throws at the White House Rose Garden. Besides that, he was also featured on the cover of Sports Illustrated.
NBA Career & Others
After a successful high school and collegiate career, the Atlanta Hawks drafted him in the first round of the 1990 NBA Draft. He was the 10th pick overall.
He signed a four-year contract worth $4.3 million with the team. However, the point guard was traded to the New Jersey Nets in 1992, who traded him to the Charlotte Hornets in 1993.
Likewise, he played for the Portland Trail Blazers, Phoenix Suns, and Los Angeles Lakers. Nevertheless, Robinson did not give any team enough to keep him around.
Besides that, he served some Continental Basketball Association and Euroleague teams before eventually retiring in 2002.
His inconsistency and a lack of a good relationship with his finances were some of the main reasons for his frequent trade and below-average NBA career.
Following the basketballer's splendid spending problems, he started gaining weight and missing practices.
As a result, the player's game suffered a lot, due to which he was able to play only four seasons in the NBA and did not last long anywhere.
You Might Be Interested In Hornets' Center, Bismack Biyombo Bio: Career, Stats, Contract & Net Worth >>
Highlights and Achievements
1989 NCAA champion
1990 Consensus second-team All-American
First-team Parade All-American in 1986
State Championship with CRLS in 1986
Silver medal at the 12th Pan American Games held in Mar del Plata
Stats
| | | | | | | | | | | |
| --- | --- | --- | --- | --- | --- | --- | --- | --- | --- | --- |
| Year | GP | PTS | TRB | AST | FG% | FG3% | FT% | eFG% | PER | WS |
| Career | 336 | 7.6 | 1.8 | 3.5 | 43.2 | 33.4 | 61.1 | 45.6 | 12.9 | 5.2 |
Rash Spending
Since the beginning of his professional career, the former Wolverine developed a concerning spending problem. He used his money recklessly and spent over $11 thousand a month.
According to Helen's son, Randy, whom she asked to move in with Rumeal to help him with his irresponsible expenditure, said he hadn't paid electricity bills but had a mansion with two Porsches, two Mercedes, and a few motorcycles.
He flew his friends around and paid for their expensive dinners while visiting strip clubs every other day.
Moreover, the point guard hired a fashion consultant and an interior designer to live out his lavish life.
Likewise, he made deals for Atlanta real estate, music instruments, and designer dogs. Not to mention, Robinson used to hand out blank checks to his employees and had absolutely no regard for money.
Furthermore, the former NBA player had parties and went out very often. Once, he flew to Brazil unannounced after buying a ticket out of impulse.
Fall Down In Post NBA Career & Criminal Charges
As a result of his irresponsible spending, Rumeal went bankrupt in 1998. His NBA career was almost non-existent following his inconsistent plays and lack of training.
After retiring from basketball in 2002, he lived in a condo in Miami and decided to dive into real estate. So, he started a development company to lure investors and build a luxurious resort in Jamaica called the Harmony Cove.
Although his company was quite successful in attracting investors, he eventually spent all of the money on anything but building the resort. Instead, the point guard used to spend money until he was in debt and take out loans to pay that debt.
So, he decided to take out a loan to build the five-star lavish resort in his hometown. However, banks were unwilling to give out a loan to the former NBA player because of his credit.
Nevertheless, he managed to get out a bridge loan of $377,000 from Iowa's Community State Bank.
Robinson bribed the bank's senior loan officer, Brian Williams, and paid him $100,000 from the loan after it was approved.
In the span of 18 months, the former athlete gained $1.2 million from the bank, but rarely any money went towards his project. Likewise, he never paid any of the money back and instead spent it on maintaining his lavish life.
Soon enough, the bank fraud was discovered, and Williams' employees reported him to the bank officials. As a result, Brian was fired, and the bank sued Robinson's company Megaladon and won $535,000.
Moreover, the legal proceedings revealed that he hadn't paid taxes since his playing career. By that time, the once millionaire basketballer was completely broke and survived on $20.
Indictment
As a result of his actions, a grand jury indicted him on bank fraud, conspiracy to commit bank fraud, bank bribery, wire fraud, and making false statements to a financial institution charges.
The NBA player received a penalty of six and a half years in federal prison, $1.2 million in restitution, and five years of supervised release. After serving his sentence, he got out in 2016 and lives in South Florida at the moment.
Betraying His Mother
Aside from all the criminal charges, Helen accused Robinson of cheating her out of her house. Rumeal requested his mother to take a new loan against the house to invest it into the resort.
Moreover, he promised to make her an investor and give back $5 million for the house. Instead, he sold the house to a foreclosure specialist named Rick Preston for $250,000 without Helen's knowledge.
Preston then sold Rumeal's childhood home to a business partner, Jorge Rodriguez, for $600,000, who in turn sold it to Robinson's girlfriend's brother Stephen Hodge for $1 million.
All this time, Helen believed she had taken out a $250,000 loan to help her son build Harmony Cove but had actually sold it.
Furthermore, she handed all the money to her beloved son, who did not invest a penny into the project.
As for his reputation, the basketballer spent it all recklessly and covered a few of his debts. Although Rumeal tried to make payments to his mother's house by borrowing money from others, he eventually was unsuccessful.
Hence, the bank took possession of Helen's house, and she was forced to move out of her home in 2009. Her husband had bought the home in 1951 with his own money.
Rumeal Robinson | Girlfriend, Wife, And Kids
As of now, details regarding his dating life are kept private. However, Robinson used to date a lot during the peak of his career.
He had a girlfriend when he bought his mansion after signing a deal with the Atlanta Hawks. Nevertheless, her name and other details are not available yet.
Besides that, he dated several other women before being in a relationship with a stripper named Stephanie Hodge. She was also indicted on several charges along with Rumeal.
After their indictment, the couple most likely separated and lost touch by the time they were released.
As there is minimal information on his personal life, he might not have a wife or kids as there is no news regarding his marriage or offspring.
Rumeal Robinson | Net Worth, Salary & Career Earnings
The former basketballer earned most of his wealth from his career in the National Basketball Association.
However, because of his reckless spending habit, bankruptcy, and criminal charges, Rumeal's net worth is estimated at -$1 Million.
Besides that, his career earnings amount to $4,809,750.
During the 1990-91 season, he earned over $1 million in salary from the Atlanta Hawks. Similarly, he made over $1.2 million with the Charlotte Hornets and Brooklyn Nets.
Although he had launched a record label and real-estate development company, they made him little to no money.
Currently, Robinson lives in Miami, Florida, and is mostly pictured around luxurious yachts.
>> Isaiah Briscoe Bio: Net Worth, NBA, Education & Father <<
Rumeal Robinson | Social Media Presence
The former NBA player is not active on several social media platforms. However, he is on Instagram with 459 followers.
Rumeal rarely poses for a photo but has posted several pictures of luxurious yachts and water in his handle.
Moreover, some of his photos also feature a swimming pool on a beautiful back porch right above the dock.
Besides yachts and water, the point guard has shared a few of his NBA moments. Furthermore, he has a few inspirational messages that he frequently shares with his followers and tries to live by.
Rumeal Robinson | FAQs
Did Helen Ford get her house back?
Yes, Helen eventually got her house back in 2013.
Is Helen Ford still alive?
Yes, she is still alive and well. However, her husband Lou died from dementia in 2001. Helen lives with some of her kids and grandkids.
Is Rumeal Robinson out of jail?
Yes, the former basketball player got out of jail in 2016 after completing his six-year sentence.