MBL player Nick Castellanos brother Ryan Castellanos is also a baseball player who played college baseball for Nova Southeastern University.
Philadelphia Phillies' right fielder Nick Castellanos was born on March 4, 1992, in Davie, Florida.
The player was selected by Detroit Tigers in the second round of the 2010 Major League Baseball draft with the 44th overall pick.
Prior to the draft, he was ranked by Baseball America as the third-best power-hitting prospect and the 14th-best overall prospect.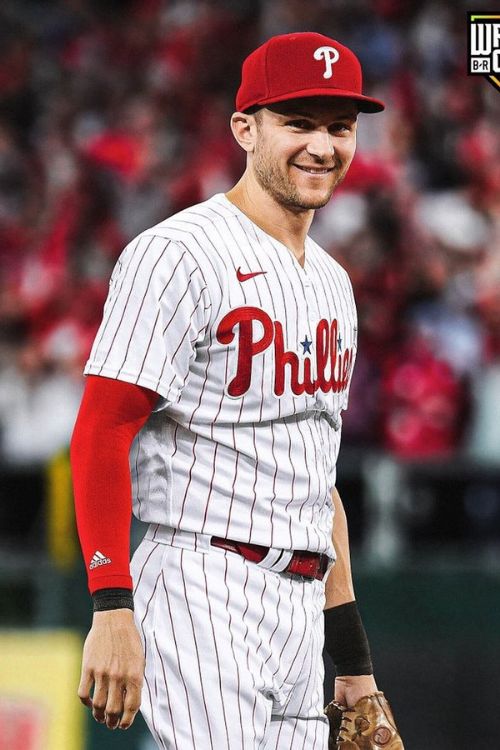 However, he was not selected earlier due to his commitment to the University of Miami.
In 2012, Castellanos started playing for Class-A Lakeland. He was named the Tigers' minor league player of the month in May of that year.
He spent almost three years in Minor League Baseball before being promoted to Major League in 2013.
In addition, he debuted as a left fielder for Detroit Tigers. Castellanos ended the 2013 season with a .278 batting average after going 5-for-18 with the Tigers.
Likewise, on July 31, 2019, the Tigers traded Castellanos to the Chicago Cubs in exchange for Alex Lange and Paul Richan.
During a single season, Nick hit 58, which was the tenth-highest total in the history of Major League Baseball and the highest since Todd Helton's 59 doubles in 2000.
As a result, he was given the nickname "Nicky Two Bags."
Nick Castellanos Brother Ryan Castellanos
The younger brother of Nick, Ryan, was born on April 15, 1994.
Like his older brother, Ryan is also a baseball player and attended Archbishop McCarthy High School in Southwest Ranches, Florida, where he helped the team win three state championships.
Eventually, he got selected by the Chicago White Sox in the 34th round of the 2012 MLB Draft but chose to attend the University of Illinois.
After two seasons, he transferred to Nova Southeastern University in Florida, where he played for one year.
Later in 2015, the Detroit Tigers selected Ryan in the 25th round of the MLB draft.
Nick Castellanos announced the Tigers' draft pick of his brother Ryan and stated that "It was freakin' awesome."
Nick and Ryan Castellanos have played together in various leagues, including high school and college, but they have not faced each other in professional baseball.
Parents Of Two Amazing Baseball Players
Nick was born to his parents, Michelle and Jorge Castellanos, in South Florida, along with two siblings, brother Ryan, and sister Jacqueline.
Nick's mother, Michelle, is a teacher, while his father a Jorge E. Castellanos, a doctor based in Hialeah, Florida, who has been in the medical field for more than forty years.
Moreover, he specializes in Internal Medicine, Pulmonology, and Critical Care Respiratory Therapy and primarily treats patients with respiratory issues such as asthma and COPD.
He currently works at Hialeah Hospital, Palmetto General Hospital, and Larkin Community Hospital – Palm Springs Campus.
Nick's parents divorced in 2017, and that same year Jorge was diagnosed with brain cancer.
After the diagnosis, it was a difficult time for the Castellanos family.
He was suffering from symptoms like fatigue and sleepiness, which were initially attributed to aging, but later sought medical attention when his condition worsened.
His father condition got better after surgery and had gone into remission.
Nick shared that gamma knife radiation therapy had proven to be incredibly effective in treating his condition.