The former American football quarterback Ryan Fitzpatrick was drafted in the seventh round of the 2005 NFL Draft by the St. Louis Rams and eventually played with nine different teams in the league over the course of 17 seasons.
Fitzpatrick last played for the Washington Football Team, but because of his brief tenure with the team and a series of injuries, he did not throw any touchdowns or interceptions.
He announced his retirement from the sport during the 2022 offseason
The only player to have rushing and passing touchdowns with eight different NFL teams, Ryan received the nicknames 'Fitztragic' and 'Fitzmagic' because of his competitive but inconsistent performance.
He set tons of franchise as well as league records throughout his playing career, and besides, playing for nine teams over the course of 17 seasons is a record in itself that only a few have attained.
Fitzpatrick's longest time with one team was with the Buffalo Bills, for which he played for four seasons from 2009 to 2012.
For more intriguing details about the former quarterback, please read the whole article, and also do not forget to go through the facts table below.
Ryan Fitzpatrick | Quick Facts
Birth Name
Ryan Joseph Fitzpatrick
Known As
Ryan Fitzpatrick
Nickname
Fitztragic and Fitzmagic
Date of Birth
November 24, 1982
Birthplace
Gilbert, Arizona, United States
Religion
Catholic
Sexual Orientation
Straight
Father Name
Michael Stevens Fitzpatrick
Mother Name
Lori Sue Fitzpatrick
Gender
Male
Age When Died
41 Years Old
Profession
Former Professional NFL Player
Nationality
American
Education
Highland High School, Harvard University
Height
6 ft. 2 in/1.88 m/188 cm
Weight
228 lb./103 kg
Eye Color
Black
Hair Color
Brown
Build
Medium
Marital Status
Married
Wife
Liza Barber (m. 2006-Present)
Children
Seven (Rudy, Maizy, Zoey, Lucy, Tate, Brady, and Jake)
Siblings
Three (Jason Stevens, Brandon Michael, Shaun Bernard
Zodiac Sign
Sagittarius
Team
St. Louis Rams (2005-2006), Cincinnati Bengals (2007-2008), Buffalo Bills (2009-2012), Tennessee Titans (2013), Houston Texans (2014), New York Jets (2015-2016), Tampa Bay Buccaneers (2017-2018), Miami Dolphins (2019-2020), Washington Football Team (2021)
Position
Quarterback
NFL Stats
Passing Yards: 34,990

Passer Rating: 82.3

Completion Percentage: 60.7

TD-INT: 223-169

Rushing Yards: 2,625

Rushing Touchdowns: 21

NFL Draft
2005 / Round: 7 / Pick: 250
Career Highlights
Ivy League Player of the Year 2004

Ivy League Champion 2004

First-team All-Ivy League 2004

Jersey Number
12, 11, 14, 4
Net Worth
$30 Million
Social Media
Not Active
Merch
Signed Jersey, Signed Football Card
Last Update
November 2023
Ryan Fitzpatrick | Early Life & Education
The fifth smartest athlete in sports, Ryan Joseph Fitzpatrick, was born to his father Michael Stevens Fitzpatrick and his mother, Lori Sue Fitzpatrick on November 24, 1982, in Gilbert, Arizona, United States.
Ryan has done his best not to reveal his family background to the media, but he sure talks about his brothers Jason, Brandon, and Shaun and how special their bonding is.
He attended a public school in Gilbert, Arizona, Highland High School, and upon graduation, enrolled at Harvard University.
As a high schooler, he excelled in several sports and was one of the top athletes on his school's basketball, football and track teams.
However, over time he chose football to pursue further.
He played colligate football for the Harvard Crimson football team from 2001 to 2004.
As a senior at Harvard, Ryan received the Ivy League Player of the Year in 2004. Similarly, his 1,986 yards with 13 touchdowns and six interceptions earned him the George H. Bulger Lowe Award.
Also, Read About The 17 Starting Quarterbacks in the NFL 2022
Ryan Fitzpatrick | Age, Height, Weight & Beard
Born in 1982, Ryan is 41 years old as of 2023. And as a November 24 born, he falls under the Sagittarius sun sign known for being optimistic, hilarious, and fair-minded.
Ryan has a large build and stands 1.88 meters, and weighs around 228 lbs.
'FitzMagic,' aka 'FitzTragic,' aka Ryan, follows a strict workout regime even after his retirement.
Back in 2019, during his time with the Dolphins, he was severely trolled for his dad bod. But now it seems everything is under control.
Moreover, it is impossible to talk about Ryan, not about his bushy beard.
Ryan has arguably the best beard game in football which he began growing out in the 2010s during his time with the Bills.
So how does he maintain that long and thick beard so well?
Well, when NBCSports asked the question, Ryan said he has the best barber and always combs through it every morning.
Barber and a comb, huh? Who knew?
Ryan Fitzpatrick | Wonderlic Test
In 2010, Sporting News named Ryan, the fifth-smartest athlete in sports.
Like most NFL rookies, Ryan took the Wonderlic test and completed it within nine minutes.
Fitzpatrick reportedly scored a 48 out of a possible 50 on the test at the NFL Draft combine in 2005.
Because of the timed difficulty of the test, a score higher than 40 in 12 minutes is considered exceptional, and only a few can do it.
Ryan's nine minutes time to complete the test put him in a distinctive category of high test scores over the last 30 years of pre-draft test taking.
There were rumors that Fitzpatrick scored the perfect 50, but his actual score is still unknown.
Ryan has acknowledged leaving at least one question black, which means he perhaps scored 49 out of 50.
Also Read About Aaron Rodgers: Net Worth, Girlfriend, Stats & Contract
Ryan Fitzpatrick | Career
The last of 14 quarterbacks drafted in the 2005 NFL Draft, Ryan was picked by the St. Louis Rams 250th overall in the seventh round.
In July of the same year, he signed a three-year rookie contract with the team.
He made his regular season debut in a match against Houston Texans, replacing injured veteran Jamie Martin on November 27, 2005.
The following season, he only appeared in just one game against the Vikings.
Ryan was traded to the Cincinnati Bengals on September 1, 2007.
He signed a one-year tender with the team on April 17. For the Bengals, Ryan made his debut against the Cleveland Browns on September 28, 2008.
After the Bengals released him, he signed a three-year contract with the Bills on February 27, 2009, for whom he made his first appearance on October 18 in a match against the New York Jets.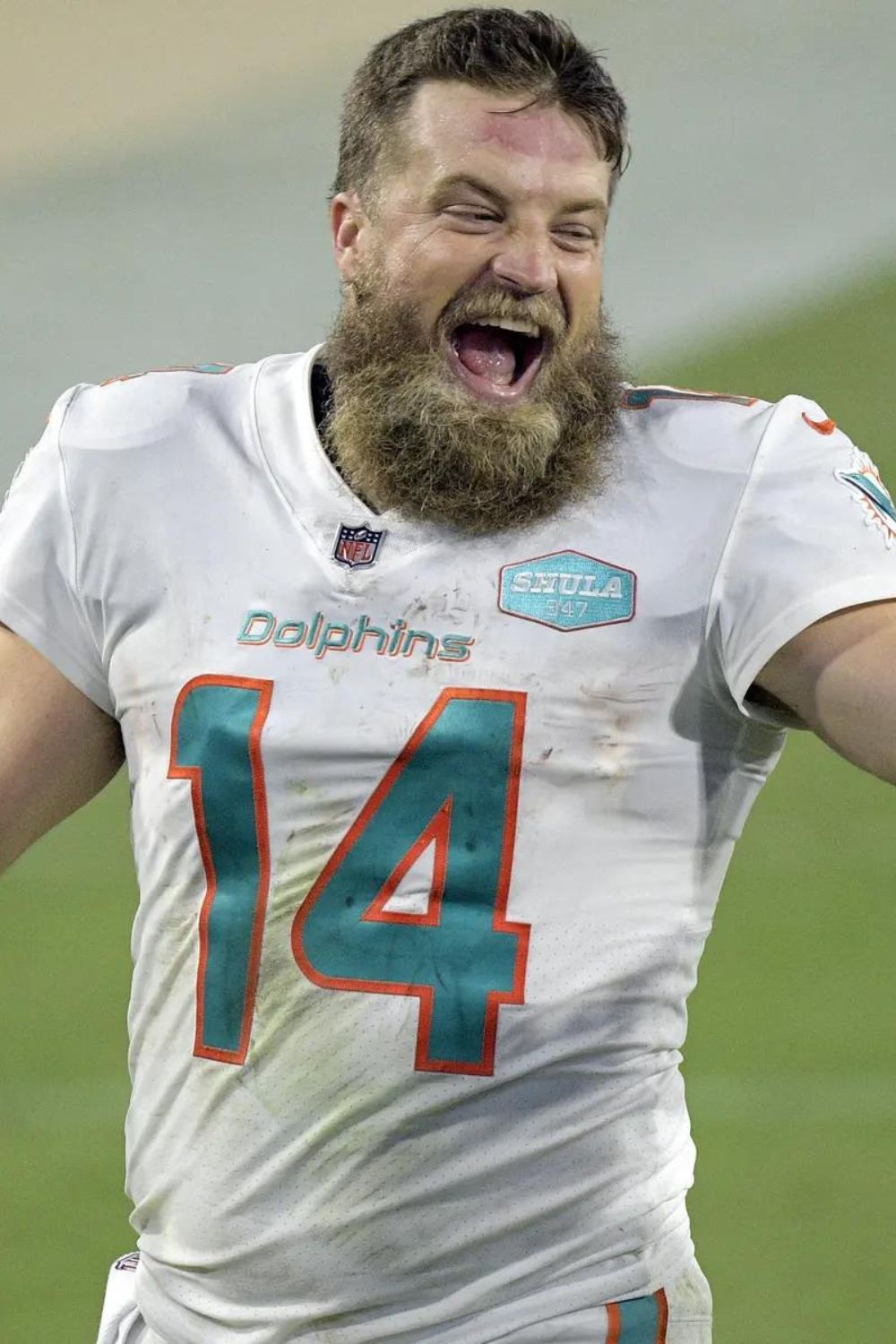 Ryan spent four seasons with the Bills until they released him on March 2013.
He then bounced to several other teams, including the Tennessee Titans, Houston Texans, New York Jets, Tampa Bay Buccaneers, Miami Dolphins, and finally to the Washington Football Team.
Fitzpatrick signed a one-year deal with Washington on March 18, 2021.
And because of a hip subluxation during the second quarter, he was placed in injured reserve.
In 2022, off-season quarterback Ryan Fitzpatrick announced his retirement.
Moreover, in June 2022, it was announced that Ryan would become a pre and postgame analyst for Amazon.
Ryan Fitzpatrick | Awards & Achievements
Even though Ryan bounced with different teams throughout his career, he won numerous awards for his contribution to the sport of football.
Some of his most notable awards include:
NFL Rookie of the Year (2005)
Ed Block Courage Award (2015)
AFC Offensive Player of the Month (September 2011)
3X NFC Offensive Player of the Week
5X AFC Offensive Player of the Week
Miami Dolphins Dan Marino Most Valuable Player Award (2019)
Ryan Fitzpatrick | Wife & Children
Ryan has been married to his wife, Liza Barber, since 2006. The couple first met back in college. They both graduated the same year in 2005 and tied the knot the following year.
Liza was born in West Des Moines, Iowa, on October 2, 1976.
She attended Valley High School and received a scholarship at Harvard University. She played soccer for the Crimson for four years at the university.
Liza was not an ordinary soccer player, though. She was named the captain of the team in 2004 as a senior. Also, she was named the All-American player before the 2005 season went through.
The couple actually has an interesting engagement story that everybody keeps talking about.
Ryan bought the engagement ring to propose to Liza from the joint account he shared with her.
He wanted to plan a big surprise but ended up proposing to her at McDonald's.
The two love birds have been together for 17 years and seem to be going strong.
They share seven children together; three sons and four daughters.
Interestingly, Ryan never takes off his wedding ring. He even wore the ring during his NFL days.
You Might Be Interested In Learning About Peyton Manning's Bio: Early Life, Career & Net Worth
Ryan Fitzpatrick | Net Worth
As of 2023, Ryan Fitzpatrick has a net worth of a staggering $30 million.
Even though he bounced with a number of teams, he pocketed a sizable fortune for himself to spend a quality life.
In total, Ryan earned $82,118,420 from NFL alone.
The largest contract of his career was with the Buffalo Bills, which he signed on October 28, 2011.
The six-year $59 million deal came with a $10 million signing bonus, a $9.83 million average annual salary, and a $15 million total guaranteed.
Likewise, he signed one year $12 million deal with the New York Jets on July 27, 2016.
This contract paid Ryan a $10 million signing bonus.
His last contract with Washington was worth $10 million. The 1-year contract came with a $6 million signing bonus, a $10 million average annual salary, and a $6 million total guaranteed.
Ryan Fitzpatrick Fun Facts
Fitzpatrick is one of only six quarterbacks in the history of the NFL with 34,000 plus yards and 2,600 plus yards in their career.
Similarly, 61 different receivers have caught a touchdown from Ryan.
He was flagged 29 times in his career for a penalty, of which 27 were accepted and 2 were delays of games.
Frequently Asked Questions (FAQS)
Is Ryan a Hall of Famer?
Unfortunately, Ryan Fitzpatrick is not a future Hall of Famer. He ended his career with a 59-87-1 record as a quarterback. Ryan never played in the postseason. And his record as a starter in any given year was a mark of 10-6 in 2015 with the Jets.
Where does Ryan rank all time?
Ryan ranks 85th in the all-time passer rating with 76.85.
Does Ryan have a degree?
Yes. One of the smartest players to ever walk the football field, Ryan Fitzpatrick, has a degree in Economics. He graduated in 2005 from Harvard University.
You Might Want To Read About Fellow Quarterback Tom Brady's Net Worth: Lifestyle, Charity & Endorsement