The talented basketball player Sabrina Ionescu was born in Walnut Creek, California, to Romanian-American parents.
Her father, Dan Ionescu, fled from communist Romania during the historic 1989 revolution in pursuit of political asylum in the United States.
After seeking political asylum in the States, her father had hoped that his then-wife, Liliana Blaj, and their son Andrei would be able to join him in a few months.
However, it wasn't until 1995 that they were finally able to move to the US.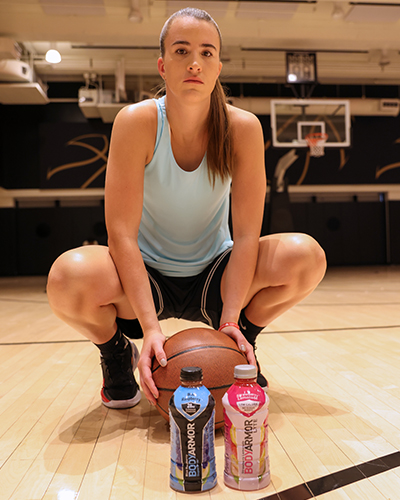 During that time, Dan had established a successful limousine service in Northern California, choosing to settle there due to the presence of extended family members in the area.
Sabrina, at the tender age of around three years old, discovered her passion for basketball.
Growing up in a Romanian-speaking household, she had a twin brother named Edward, often referred to as "Eddy," who arrived just 18 minutes after her birth.
While Eddy pursued basketball at the City College of San Francisco before transferring to Oregon, Sabrina's journey primarily focused on academics during the 2018–19 school year.
However, she later joined the Ducks men's basketball team as a walk-on in 2019–20, showcasing her exceptional talent and dedication to the sport.
Breaking The 3-Point Contest Record For WNBA And NBA
In a remarkable display of precision, Sabrina Ionescu, the New York Liberty guard, delivered an electrifying performance during the WNBA All-Star weekend.
The crowd was left in awe as she went on an incredible streak, hitting an astonishing 20 consecutive shots and amassing a record-breaking 37 points out of a possible 40 in the three-point shooting contest.
Her remarkable feat set a new standard not only for the WNBA but also for the NBA.
RIDICULOUS! @sabrina_i20 https://t.co/djeRmwh3UO

— Stephen Curry (@StephenCurry30) July 14, 2023
In the event held in Las Vegas, Ionescu showcased her exceptional shooting prowess by making an impressive 25 out of 27 shots, surpassing the previous records.
However, being the perfectionist that she is, she lamented missing two shots in the final round, acknowledging her own high standards.
The Warrior's guard and the greatest shooter of all time, Stephen Curry, shared his thoughts on Sabrina's achievement with a tweet that read, "RIDICULOUS! @sabrina_i20".
Sabrina Ionescu Ethnicity- Nationality, Age & Instagram Revealed
Born on December 6, 1997, Sabrina Ionescu is currently 26 years old.
She embraces and cherishes her Romanian and American heritage equally, as she was born to Romanian-American parents.
This mixed heritage has had a significant impact on her upbringing, shaping her identity and providing a diverse cultural background.
Sabrina's background represents a rich blend of these two distinct ethnic groups. Her dual heritage has allowed her to develop a deep connection with and appreciation for the cultural values and experiences of both Romania and the United States.
This unique perspective enhances her personal and professional journey.
It is reasonable to assume that Sabrina Ionescu holds both Romanian and American nationalities, benefiting from dual citizenship.
Sabrina actively engages with her fans and followers on Instagram, where she can be found under the handle @sabrina_i.
Her Instagram provides glimpses into her professional career, personal life, and more. She frequently shares pictures with her fiancé, Hroniss Grasu, giving fans a glimpse into their lives together.