This is a tight slap for those who believed Women couldn't do well in basketball. Sabrina Ionescu, an American basketball player, is breaking stereotypes with her fantastic performance.
She plays for the New York Liberty of the Women's National Basketball Association (WNBA). She played college basketball for the Oregon Ducks.
Ionescu is also the Pac-12 Conference all-time leader in assists. Further, she happens to be the only player in NCAA Division I basketball to have recorded 2,000 points, 1,000 assists, and 1,000 rebounds.
The professional basketball player made it into the sports category's Forbes 30 Under 30 List 2022. Forbes announced the news on November 29, 2022.
The world might not always be equal for both genders. Females like Sabrina Ionescu prove that women can shine bright despite a lack of privileges.
Now, we will discuss this incredible woman's personal and professional life. Let's get started!
Sabrina Ionescu | Quick Facts
Full name

Sabrina Elaine Ionescu

Known as

Sabrina Ionescu

Birthdate

December 6, 1997

Birthplace

Walnut Creek, California

Religion

Christian

Nationality

American

Descent

Romanian

Horoscope

Sagittarius

Father's name

Dan Ionescu

Mother's name

Liliana Blaj

Siblings

Two

Brother's name

Edward Ionescu "Eddy" (Twin)

Andrei Ionescu

Age
25 Years Old
Education

Miramonte High School

University of Oregon

Height

5'11″/1.80 m/180 cm

Weight

75 kg/165 lbs.

Eye Color

Dark Brown

Hair Color

Brownish Blonde

Marital Status

Unmarried

Relationship Status

Mingle

Boyfriend

Hroniss Grasu

Profession

Basketball player

Current Affiliation

Women's National Basketball Association (WNBA)

Plays for

New York Liberty

WNBA draft

2020 / Round:1/Pick: 1st Overall

WNBA debut

July 25, 2020

Awards and Honors

USBWA Player of the Year (2020)

Senior CLASS Award (2020)

Honda Sports Award (2020)

Thrice – Nancy Lieberman Award (2018–2020)

USBWA National Freshman of the Year (2017) etc.

Net worth
$1 million
Social Media Handles
Instagram Twitter
Merch
Autographed Photos, Jersey & Autographed Basketball
Last Update
June, 2023
Sabrina Ionescu | Early Life And Family
Sabrina Ionescu was born on December 6, 1997, in Walnut Creek, Contra Costa County, California, United States. She was born to proud and supportive parents, Dan Ionescu and Liliana Blaj.
Her father, Dan, once met Luka Dukich, an Executive director for Chicago Bulls, while he was driving Uber in San Francisco. During their Journey talk, he said his daughter was going to play college basketball, to which Luke replied, "She must be good."
Later, Duke shared the incident on Twitter which gained 2369 retweets and 27.5k likes. Sabrina even shared a tweet and wrote, "Yep, sounds like my dad… haha."
The family is Romanian-American. Her parents, Dan and Liliana, got divorced and parted their ways.
She grew up with his two brothers, Edward Ionescu and Andrei Ionescu.
In an interview with ESPN, Sabrina revealed that she and her twin brother Eddy used to challenge older men at the basketball court for surplus money.
The Family Thing
Sabrina's father, Dan Ionescu, ran away from Communist Romania during the 1989 revolution. He came to the United States seeking political asylum.
He left his then-wife, Liliana, and their son, Andrei, back in Romania. Dan hoped that he could reunite with them in a few months.
However, things didn't go as per Dan's expectations. His wife and son could not move to the United States until 1995. The family was separated for almost six years.
Dan had settled down in the United States by 1995. He served as a limousine service in Northern California.
Later, Isonescu settled in Northern California because he had a few extended family members living in that region for quite some time.
The Motivation For Little Sabrina
Sabrina started playing basketball at the age of 3. She did not understand the game then but enjoyed throwing the balls and collected a lot of experience.
Andrei Ionescu is his little sister's inspiration. He was tough to play with, which later sharpened Sabrina's skills.
Growing up with two boys who loved basketball, Sabrina found joy in every point and rebounded. The family always knew that their girl would make it to the WNBA.
S/O to my bestest friend for making the USA U18 team! Love ya baby gurrrl❤️🏀🇺🇸 @Riyabelikeee pic.twitter.com/CwTt1Ckw7Q

— Sabrina Ionescu (@sabrina_i20) May 27, 2014
Sabrina remembers playing with guys when she was young and having to find ways to get the ball. The boys never wanted to pass it to her. She discovered that if she could rebound, she could get the ball herself.
Sabrina remembers being shorter, skinnier, and small than her teammates because she played with an eighth-grade team when she was in sixth.
Eddy And Sabs
The Ionescu twins did everything together. They competed every day in everything, from doing chores and going to bed to racing and basketball.
Eddy was no less when it came to stubbornness and competitiveness. They would play and fight, getting severely intense resulting Bruises and wounds.
Sabrina believes that the idea of fighting for every rebound with Eddy and the other Party's reluctance to give her the ball, helped her a lot in the long term.
Eddy: The Other Gem
Edward Ionescu also plays college basketball for Oregon Ducks, like his sister. He first got associated with City College of San Francisco, as per Oregon's team site.
Eddy recorded 6 points per game in his freshman year. Similarly, he registered 9.9 as a college sophomore. Eddy then joined Oregon Ducks.
He played his first game with the Oregon Ducks on December 7, 2019, against Hawaii, where he managed to provide one assist in Oregon 2019-2020 season.
The rising player has an estimated net worth of over $100k. He earns $43,103 annually and makes $3,591 per month.
Sabrina Ionescu | Education And Early Career
Ionescu attended a middle school that lacked enough girl players to form a basketball team so she even considered playing with the boys, but her school refused the idea.
The school told her that she should be playing with dolls. She remembers recruiting enough girls to enable her school to have a female team as a response.
Sabrina Ionescu | High School Basketball Career
Ionescu went to Miramonte High School in Orinda, California. She trained under Coach Kelly Sopak in high school.
As a freshman, she started in 14 out of 29 games and earned 13.8 points, 3.9 assists, and 2.9 steals per game which helped the team to a 27-3 record and finished as a runner-up team at Northern California Section Division II.
Sabrina has been honored with the USA Today Girls Basketball Player of the Year. She also received the Max Preps Player of the Year award.
During her senior year, she led Miramonte to the CIF open with 25.3 points, 8.8 assists, 7.6 rebounds, 4.5 steals, and 1.3 blocks per game.
She ended her journey with Miramonte with a career win-loss record of 119–9. She also set a school record of 2,606 points scored.
Similarly, she earned a Gatorade State Player of the Year award. Sabrina then became a McDonald's All-American and Jordan Brand All-American selection.
The talented player chose Oregon University over all the other universities that made an offer. It is said that Sabrina wanted to be all-American, specifically at Oregon, not just an all-American in some other college.
Sabrina stood up as the highest-ranked recruit that has ever committed to play for Oregon Ducks. However, she faced difficulties in deciding on a college for herself as she had not signed a National Letter of Intent with any school.
She missed the early signing period in November 2015 and the late period in April 2016. Sabrina got associated with them just before the school's 2016 summer term began.
Ionescu finally made the final commitment to join Oregon. She got associated with them just before the school's 2016 summer term began.
Sabrina Ionescu | College Basketball Career
Freshman Year
Sabrina made her college debut for Oregon on November 13, 2016, making 11 points in an 84-67 win over Lamar. She averaged 14.6 points, 6.6 rebounds, and 5.5 assists per game.
Ionescu was named the 2017 Pac-12 Freshman of the Year. The award was decided based on votes made by league coaches.
The talented player was named Pac-12 Freshman of Week four times. She was also named United States Basketball Writers Association (USBWA) National Player of the Week.
Likewise, she won the USBWA National Freshman of the Year, presented by the United States Basketball Writers Association.
Sophomore Year
Sabrina shone more in her sophomore year as she led the Ducks to the third consecutive crown in the Pac-12 Women's Basketball Tournament. She was also named ESPNW's college basketball player of the week.
The basketball player led the pack in scoring (19.2) and dishing out 7.8 assists per game which is fifth most in the country.
She was named Pac-12 Conference Women's Basketball Player of the Year. She also became the first team All-American by ESPN.
Oregon Ducks also won the Pac-12 championship for the first time since 2000 with Ionescu's contribution. Ionescu then won the Nancy Lieberman Award as the top Division I women's point guard.
Similarly, she was a finalist for the Naismith Award. She was also named NCAA women's all-time leader in triple-doubles.
You Might Want To Read: Dante Cunningham's Bio: NBA, CBA, Controversies & Wiki
Junior Year
Ionescu had her 11th triple-double in a victory on November 6, 2018, against Alaska-Fairbanks. She then made an NCAA triple-double record.
Similarly, she had her 12th triple-double in a win against Buffalo. Ionescu registered her 13th triple-double on December 20, 2018, against Air Force, breaking the NCAA triple-double record for both men's and women's basketball.
Sabrina also contributed to leading the Oregon Ducks to their first Final Four appearance after their 88–84 win over Mississippi State.
She won the 2019 John R. Wooden Award along with Duke's Zion Williamson after the season ended. The award is provided annually to the most outstanding man and woman collegiate basketball player.
Ionescu became eligible for the 2019 WNBA draft in terms of age. However, she had only played three seasons at college at this time.
She was about to receive her bachelor's degree in June of that year. She returned for her senior year in Oregon to work on her "unfinished business."
Ionescu had also accepted a place in a newly-launched one-year master's degree program in brand creation at UO's School of Journalism and Communications.
Senior Year
Ionescu stood up as the first NCAA player to have recorded 2,000 points, 1,000 assists, and 1,000 rebounds in her college career with a 109-52 win over Utah.
She recorded her 1000th assist in the game against #7 UCLA and joined Courtney Vandersloot as the only NCCA men and women player in history with 2,000 points and 1000 plus assists.
The basketball player was invited as a featured speaker at the memorial service for Kobe Bryant in her senior season. Bryant had become a close personal friend of Sabrina during her senior year.
Ionescu won the Honda Sports Award on April 14, 2020. She won the award as the best collegiate female basketball player in the United States.
Impact At Oregon
Ionescu is a gifted and supremely talented player. She carries the potential to leave a part at every place that she goes to.
The Oregon Ducks Coach Kelly Graves believes Ionescu could be a player like Marcus Mariota. He referred to her as an esteemed Oregon Duck.
Graves also said that Ionescu's presence at the University has drastically elevated the women's attendance in Oregon games.
Oregon had the average announced home attendance of 1,501 before Ionescu's admission. The number increased to 4,200 by her sophomore year.
Similarly, it elevated to 7,100 when she was in her junior year. The number became a whopping 10,000 in her senior year.
She was lucky to Oregon, and Oregon was lucky to her. With the increase in number, Oregon started getting fame and recognition.
When the Oregon Ducks visited Washington during Ionescu's junior season, more than 3,000 people gathered to watch them play.
The number is more than what the Huskies gathered two nights earlier against Oregon State.
Influence
People in Oregon knew that Sabrina had a long way to go. Graves' commented on Ionescu, telling how the iconic status she would hold proved prophetic.
Oregon State University created a poll for fans on social media when Ionescu was in her senior year. The poll asked them to name the four Oregon alums they would put on a notional Mount Rushmore for the University.
Ionescu was on the four top choices, along with Mariota, Steve Prefontaine, and Phil Knight.
Sabrina's presence alongside the legends in the list might be a little too hard to digest for some. But she went beyond expectations and conventional standards. Ionescu is a legend in the making.
Sabrina Ionescu | Professional Basketball Career
Ionescu turned 22 in December 2019, becoming eligible to declare for the 2019 WNBA Draft.
She was considered a top pick in ESPN's January 2019 mock draft. The mock draft incorporated input from WNBA personnel and ESPN women's basketball analysts.
But Ionescu chose to resume at Oregon as a senior. An open letter was published in The Players' Tribune on April 6, 2019, regarding her continuing decision.
Women's National Basketball Association (WNBA)
Sabrina finally joined the WNBA tribe. The New York Liberty of the WNBA drafted her with the first overall pick in the 2020 WNBA Draft on April 17, 2020.
She made her WNBA debut on July 25, 2020. She then recorded 33 points, seven assists, and seven rebounds in 34 minutes of play in her second WNBA game on July 29 against the Dallas Wings.
Unfortunately, Ionescu injured her left ankle on August 1, 2020. The injury happened in the second quarter against the Atlanta Dream.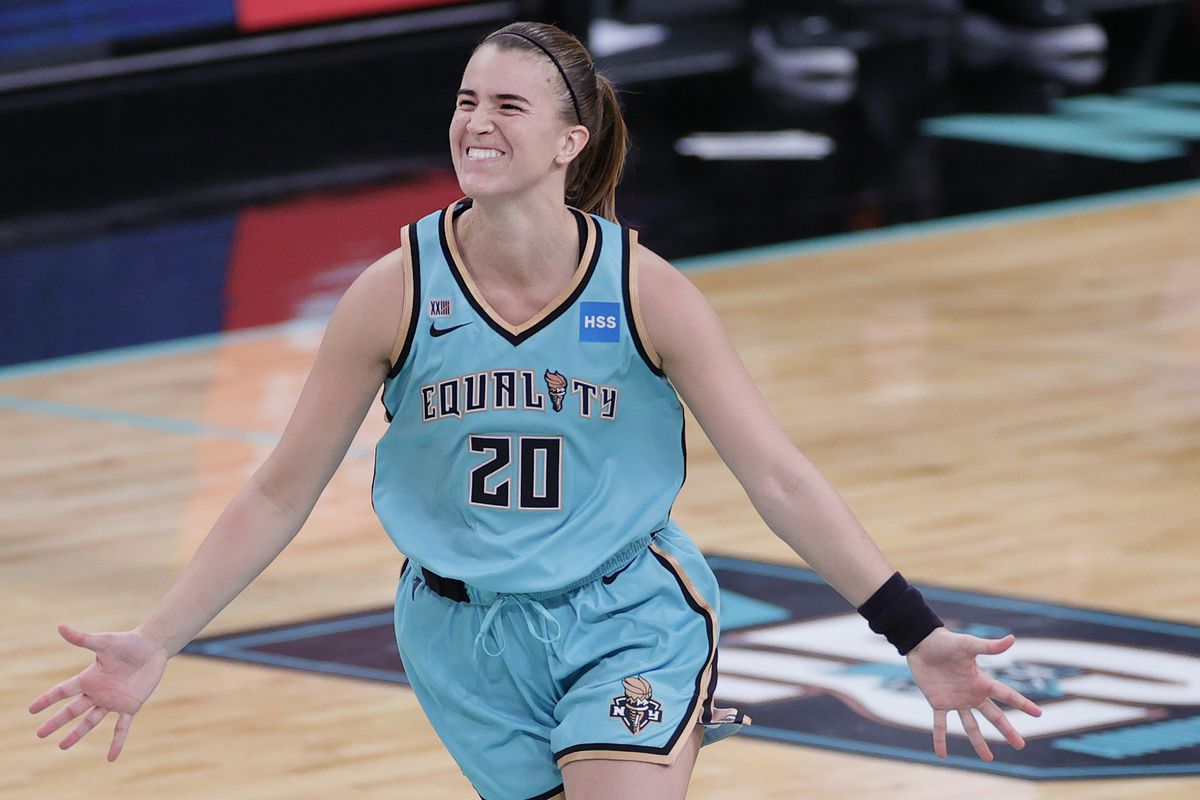 The doctors diagnosed her with a grade 3 sprain the next day. She was expected to miss one month while working on recovering.
She returned on May 18, 2021, when Sabrina recorded her first professional triple-double, scoring 26 points, 12 assists, and ten rebounds.
Sabrina Ionescu | National Team Career
Ionescu has represented the United States in various basketball tournaments. She made her debut in the USA Basketball women's national 3×3 championship tournament at the United States Olympic Training Center in late April 2018.
Her Oregon teammates Erin Boley, Otiona Gildon, and Ruthy Hebard also accompanied her. She admitted to asking about FIBA 3*3 rules to her friends as she had never played in that rule.
The incredibly gifted Sabrina adjusted quickly to the new format. She then contributed to leading her team to the championship.
She was unbeaten throughout the game. Ionescu was also named the tournament's Most Valued Player (MVP).
Ionescu and her Oregon teammates also got picked for the United States team for the 2018 3×3 World Cup in June in the Philippines.
They were the youngest team on the field at the world cup. But they managed to shine, defeating Cup holders Russia.
Sabrina Ionescu | Net Worth
Ionescu has amassed a net worth of $1 million. The primary source of her income is from Basketball. However, she also has some sponsorships and endorsement deals to add some fortune.
Sabrina signed a three-year deal, $213,597 worth of contracts, with New York Liberty which includes an annual salary of $71,199.
The WNBA player is expected to earn $86,701 while carrying the cap hit of $86,701 in 2023.
Read More: Jayson Tatum Bio: Basketball Career, Son & Net Worth>>
Sabrina Ionescu | Social Media Presence
Ionescu is very active on her social media handles. She communicates With her followers via Instagram and Twitter.
Instagram:701k followers
Twitter: 135.4k followers
View this post on Instagram
Her social media post includes pictures and clips from WNBA games. Apart from that, She loves to share her traveling moments with her boyfriend, Hroniss Grasu.
Sabrina Ionescu | Popularity
Ionescu's popularity graph starts on December 19, 2021, and keeps fluctuating for a maximum period of time.
The graph shows its search chart for a period of 12 months.
Sabrina Ionescu |
Frequently Asked Questions (FAQ)
Who is Sabrina Ionescu?
Sabrina Ionescu is a young basketball player from the United States. She has represented the United States in inter-nation tournaments. She currently plays for the New York Liberty of the WNBA.
Similarly, she played college basketball for the Oregon Ducks.
Ionescu is a name that is certain to spread and live in people's hearts. This girl is charming and has the potential that would make her nation's favorite someday.
Which nationality is Sabrina Ionescu? Where is she from?
Sabrina Ionescu holds American nationality. She was born to Romanian-American parents.
Her father immigrated to the United States in 1989, followed by her mother and elder brother in 1995.
Ionescu is American-born with Romanian roots. Also, she was born in Orinda, California.
Why did Sabrina Ionescu choose Oregon?
Sabrina chose Oregon because she wanted to be an all-American at Oregon, not just an all-American somewhere else but only at Oregon.
You May Also Like: B.J.Armstrong: Early Life, Family, Basketball Career & Wife>>