Sabrina Ionescu, the point guard for the New York Liberty, is currently engaged to Hroniss Grasu. The couple has not yet married but has taken the significant step of becoming engaged.
In a heartwarming announcement on Instagram, Ionescu shared the news of her engagement to her boyfriend, Hroniss Grasu, who is a reserve center for the Raiders.
The announcement came on January 21, 2023, accompanied by a heartfelt caption.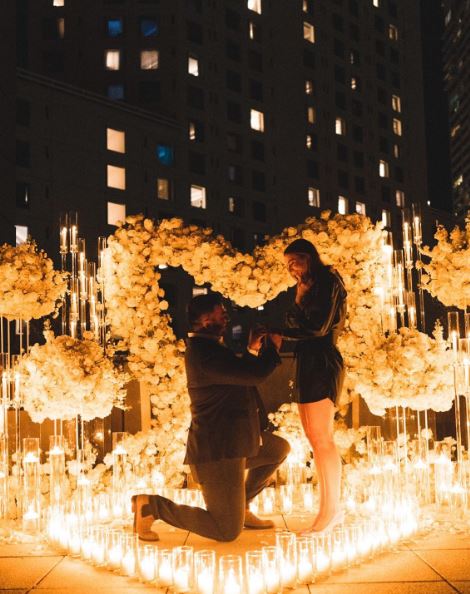 They beautifully set the engagement scene with a backdrop of flowers and elevated candles, creating a romantic atmosphere.
Grasu eagerly awaited Ionescu's arrival, and it was there that he got down on one knee and proposed, creating a magical moment for the couple.
Sabrina Ionescu Husband- Is She Married To Hroniss Grasu?
Interestingly, both Ionescu and Grasu attended the University of Oregon, although their athletic careers at the university did not overlap.
Grasu later played for the Baltimore Ravens and San Francisco 49ers before joining the Las Vegas Raiders last offseason.
After Grasu was drafted into the NFL, Ionescu began her remarkable collegiate basketball career at the University of Oregon.
She achieved extraordinary success with the Ducks, ultimately becoming the No. 1 pick in the 2020 WNBA Draft by the New York Liberty.
Unfortunately, her debut professional season was cut short due to an ankle injury, limiting her to just three games.
A Brief On Hroniss Grasu
Hroniss Grasu, was born on August 12, 1991. He is an American football center who currently plays for the Las Vegas Raiders in the National Football League (NFL).
Before being selected in the 2015 NFL Draft, Hroniss Grasu had a notable college football career at the University of Oregon.
Originally from Los Angeles, California, Grasu attended Crespi Carmelite High School, where he excelled as an All-State offensive lineman.
His outstanding performances caught the attention of college recruiters, and he was regarded as a three-star recruit by Rivals.com. In his recruiting class, he was ranked as the No. 12 center prospect.
Grasu's college career at the University of Oregon showcased his talent and versatility on the football field.
The Chicago Bears drafted Hroniss Grasu in the third round of the 2015 NFL Draft due to his exceptional skills and contributions.
Since then, he has continued his professional football journey, currently playing for the Las Vegas Raiders.