Paralluelo, whose full name is Salma Paralluelo, was born on 13th November 2003 to parents with diverse ethnic backgrounds. Her father, Jaime Paralluelo, hails from Spain, while her mother, Diosdada Ayingono, is of Equatorial Guinean Fang descent.
Growing up in Zaragoza, Spain, Paralluelo was raised by her hardworking parents.
Her father, Jaime, worked tirelessly, holding various jobs, such as an electrician and a truck driver, to provide for the family. Despite facing economic challenges, the family persevered.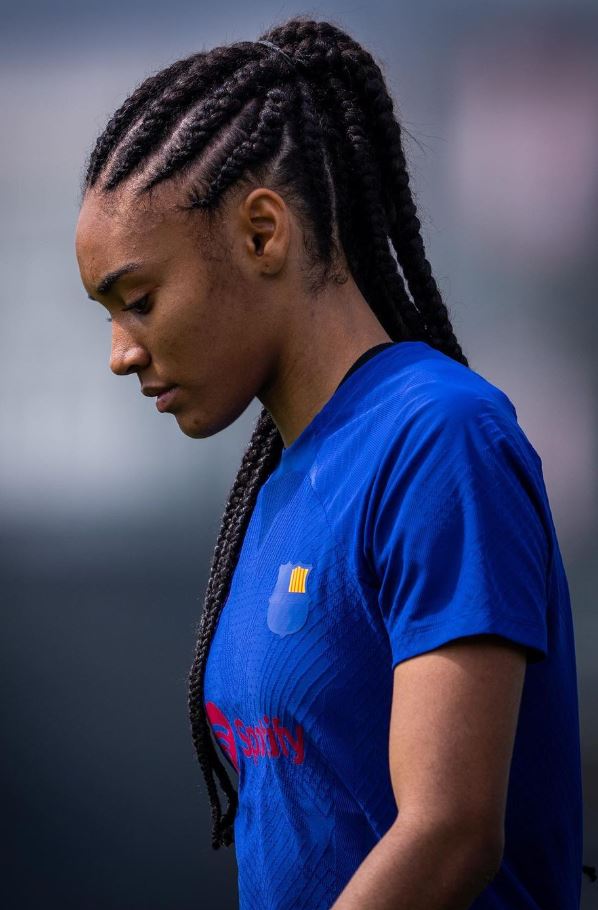 To help improve the family's financial situation, Salma's mother, Diosdada, had to make the difficult decision to seek employment in Switzerland.
This separation brought about its own set of challenges, but it demonstrated her mother's determination to support the family from afar.
Salma is the second of three children. Her elder brother, José Jaime, and younger brother, Lorenzo Paralluelo, are both involved in soccer and have found their passion in the sport.
Throughout her upbringing, Salma Paralluelo showed exceptional talent and dedication in athletics, particularly in track and field. Her relentless efforts and commitment to her passion have led her to become a prominent athlete in Spain.
FC Barcelona
As of this writing, Salma Paralluwlo plays as a left winger for Liga F club FC Barcelona.
She has made a significant impact in the sports world through her incredible journey.
She rose to prominence in her hometown club, Zaragoza CF, at the young age of 15, showcasing her prodigious talent on the football field.
Her impressive performances caught the attention of Villareal CF, who signed her in the summer of 2022 after she made her debut in the Second Division.
What sets Salma apart is her unique ability to combine both athletics and soccer, which greatly contributes to her exceptional physical development.
Her dedication and skill have earned her international recognition in athletics, where she has secured numerous medals and championships. She even shattered sprint records, a testament to her extraordinary speed and agility.
Salma Paralluelo's talent shines brightly on the soccer front as she continues to achieve remarkable feats while representing Spain.
International Career
Paralluelo is a remarkable young talent with unique eligibility to play for either Spain or Equatorial Guinea.
Having chosen to represent Spain, she has been an integral part of the national women's football team, leaving an indelible mark on the sport.
Her journey to success began with her outstanding performance in the 2018 UEFA Women's Under-17 Championship, where she showcased her skills, leading Spain to victory and earning recognition as one of the most promising players in her age group.
Continuing her impressive form, she played a pivotal role in the 2018 FIFA U-17 Women's World Cup, where she once again demonstrated her prowess on the field.
Her leadership and exceptional talent propelled Spain to lift the coveted trophy, solidifying her status as a rising star in women's football.
As she progressed in her career, Paralluelo's dedication and commitment paid off once more, as she played a vital role in Spain's triumph at the 2022 FIFA U-20 Women's World Cup.