Sammy Sosa is a former baseball player who played in Major League Baseball. He played for 19 seasons in the MLB and was regarded as one of the best hitters while playing for the Chicago Cubs.
Moreover, he was also the League's Most Valuable Player in 1998. The Dominican American is a seven-time All-Star and consecutively from 1998 to 2002.
Furthermore, he and his teammate gathered massive media and fans' attention for their home run in 1998.
The right fielder has played for five major baseball teams in his career.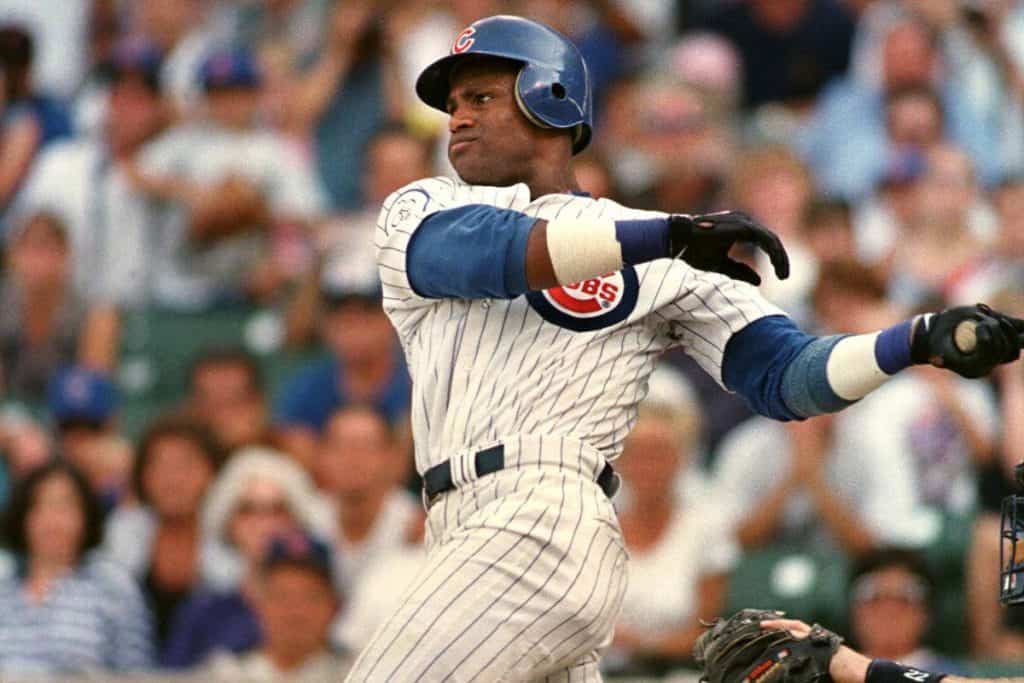 Also, he received a lot of bad press when accusations of drugs used to enhance his performance were flying around. He was called upon to testify in front of Congress.
Nevertheless, he denied all those accusations and maintained his innocence in baseball's Steroids Scandal.
In recent pictures of the athlete, he appears to have a lighter skin tone than he had on the field.
Many suspected he might be ill or have the Michael Jackson disease, but he denied such rumors. Also, several people accused him of hating his race and betraying his community.
Before getting into details about the baseball player's life, here are some quick facts.
Quick Facts:
| | |
| --- | --- |
| Full Name | Samuel Peralta Sosa |
| Birth Date | November 12, 1968 |
| Birth Place | San Pedro de Macorís, Dominican Republic |
| Nick Name | Mikey or Slammin' Sammy |
| Religion | Christian |
| Nationality | American |
| Ethnicity | Dominican American |
| Education | Not Available |
| Horoscope | Scorpio |
| Father's Name | Juan Bautista Montero |
| Mother's Name | Lucrecia Sosa |
| Siblings | Six |
| Age | 53 years old |
| Height | 6 feet; 1.83 m |
| Weight | 225lbs |
| Hair Color | Black |
| Eye Color | Brown |
| Build | Athletic |
| Profession | MLB player |
| Current Team | Retired |
| Position | Right Fielder |
| Active Years | 1989-2009 |
| Marital Status | Married |
| Wife | Sonia Rodríguez |
| Kids | Six |
| Net Worth | $70 million |
| Social Media | Facebook |
| Merch | Jersey, Rookie Cards, Signed baseball, Posters |
| Last Update | July, 2022 |
Sammy Sosa | Early Life, Family, And Education
Samuel was born in San Pedro de Macorís, the Dominican Republic, to Juan Bautista Montero and Lucrecia Sosa.
His father was a farmer and passed away when he was just eight years old. The athlete's mother raised him and his four brothers and two sisters on her own.
On top of that, he used to polish shoes, sell oranges, and work as a janitor in a shoe factory to contribute financially and help his mother run the household.
The right fielder was a hardworking kid, and his talent and sheer determination were soon recognized.
A Texas Rangers scout invited the then 16-year-old Sosa to a tryout five hours away from where he lived. Convinced by the frail little boy's determination, Omar Minaya offered him a $3,500 signing bonus.
He used some of the rewards to buy a bike and gave the rest to his mother.
If you are searching for Sammy Sosa's error card, click to follow!
Sammy Sosa | Age, Height, And Weight
The former MLB player just turned 53 this November 12, 2021. The athlete weighs about 225lbs, which is roughly about 102 kgs, and stands 6 feet tall.
Sammy Sosa | Baseball Career
Samuel played in the MLB for almost 18 years of his life. He started his career with the Texas Rangers and ended with them too.
Early Career With The Texas Rangers And Chicago White Sox
The athlete made his MLB career debut with the Rangers on June 16, 1989. He was jersey number 17 and had an overall promising career with the Texas team.
After that, the Rangers traded him to the Chicago White Sox, where he played a few seasons before being traded to the Chicago Cubs.
The businessman played well initially with the Sox, but later on, he subsided a little.
You might also like read:<<Barry Bonds Bio: Age, Career, Net Worth, MLB, Insta Wiki>>
Playing Career With Chicago Cubs
In 1992, Sox traded the 51-year-old into the Cubs, where he had the most notable moments of his career.
He improved as an overall baseball player when he played for the Cubs. Also, he was named to his first All-star team in the 1995 season.
It was with Cubs and opposing teammate Mark McGwire when he broke the long-lived record of Roger Maris's 61 home runs with 66 of his own.
McGwire broke the record with 70 home runs. They received a lot of media and fans' attention for that home run record chase.
In the 1998 season, the now millionaire made 20 home runs and 47 runs, which was the most significant offense in MLB's history.
Moreover, he also received the Most Valuable Player Award in the National League after leading the Cubs into the playoffs.
Furthermore, he also shared the Sportsman of the Year award by Sports Illustrated along with McGwire.
He was also honored in the Ticker-Tape parade and was invited by President Bill Clinton to join the State of the Union Address. He was also the recipient of the Babe Ruth Home Run Award.
After making 64 home runs in 2001, he was the first baseballer to hit over 60 home runs three times.
Following that, he was voted and won the Silver Slugger Award for his offensive output.
In the 2003 season, Sosa was thrown out of the game and later on suspended for seven games after playing with a corked bat.
The incident led to inspections of 76 of his other bats and 5 Hall of Fame bats, which were clean and cork-free.
The baseballer apologized and insisted that it was an honest mistake, and he only used the bat while practicing.
Playing Career With Baltimore Orioles
After the 2004 season, when he suffered back spasms due to violent sneezing and was placed on the disabled list, Cubs traded him to the Baltimore Orioles in the next season.
The former player did not have much of a spectacular career with the Orioles.
On top of that, he did not play very well in the 2005 season, either that led the Baltimore team not to offer him a contract.
As a result of which, he served as a free agent, and the Texas Rangers acquired him, but for a minor league.
Sammy Sosa | Retirement
Sammy played in the minor league for the near end of his career and competed against newbies for a spot.
The player initially declined the contract but accepted it later. Nonetheless, he played in the 2007 season and took a year off in 2008 amid retirement rumors.
However, he chose not to retire and wanted to test the waters of being a free agent. The Dominican player expressed his desire to play in the World Baseball Classic, but he did not make it to the roster.
Finally, on June 3, 2009, he announced his retirement from the baseball world.
Why did Sammy Sosa retire?
Sosa didn't have many offers to play for a significant team and didn't get to play in the World Baseball Classic. On top of that, the steroids scandal also contributed to the cause.
Sammy has continuously emphasized that he does not want his legacy to be remembered as drug use or scandal because it wasn't.
The father of six stated that his love and respect for the game kept him going and not the drugs. He also performed his best because he worked hard and didn't focus too much on the bad days.
You might be interested in buying Sammy Sosa's baseball cards; click the link to follow!
Sammy Sosa | Career Highlights, Awards, and Interesting Facts
All along his career journey, Sammy Sosa has maintained several titles to date; some of them are listed below.
7× All-Star (1995, 1998–2002, and 2004)
NL MVP (1998)
6× Silver Slugger Award (1995 and 1998–2002)
NL Hank Aaron Award (1999)
Roberto Clemente Award (1998)
2× NL home run leader (2000 and 2002)
2× NL RBI leader (1998 and 2001)
Some interesting facts about Sammy Sosa
Sammy Sosa is the youngest player to record 15 HR and 15 SB in a season in White Sox history.
He is one of two players in Major League Baseball history with at least 25 career home runs for both the White Sox and Cubs.
In 1991, Sammy became the second player in White Sox history to hit 2 home runs in a season-opening game.
Sammy was 20 years old when he broke into the big leagues with the Texas Rangers in 1989.
Sammy Sosa | Marriage And Kids
The former Cubs was previously married to Karen Lee Bright. However, they separated two years into the marriage.
There were rumors that the union might've ended due to Sammy's domestic violence inflicted on Karen.
In 1992, Samuel dated and later married a famous dancer and child artist in the Dominican Republic, Sonia Rodriguez.
They have six kids, namely Keysha, Kenia, Sammy Jr., Michael, Kalexy, and Rolando.
Furthermore, their eldest daughter is majoring in the arts. The former athlete is very involved in his children's lives and is a loving and caring father to all six children.
Growing up poor and in the absence of a fatherly figure, he puts a lot of effort into giving his kids the best life they deserve and being exemplary fathers.
Sammy Sosa | Net Worth And Salary
The former baseball player is worth $70 million. In his career in the MLB, he earned around $120 million solely in salary. Moreover, he made over $10 million from his endorsements alone.
He had dozens of endorsement deals, of which some were million-dollar deals like PepsiCo, Montgomery Ward, Latin American telco TriCom, etc. As of 2022, he is a businessman and entrepreneur.
Also, check out fellow baseball player: <<Charlie Morton Age, Rays, Injury, Wife, Net Worth>>
Social Media Presence:
The father of six is not so well acquainted with social media like Instagram and Twitter. However, he is on Facebook but is not much active on it either.
Nevertheless, he shares a lot of adorable pictures of his children and wife.
Recently, Sosa's old video of him sprinting to his position while holding an American Flag was trending on Twitter, the Cubs' first home game following the 9/11 attack.
Some FAQs:
How much is Sammy Sosa's rookie card worth?
Sammy Sosa's rookie card price ranges from $4.42-$200.
How much is a signed Sammy Sosa baseball card worth?
Sammy Sosa single signed baseball card is worth about $125- $150.
What disease does Sammy Sosa Have?
The former right fielder does not have any disease, as per his words.
However, he does appear significantly lighter than his MLB days which left a lot of fans worried that he might have the Michael Jackson disease, i.e., vitiligo.
He denied such rumors and said that he wears a bleaching cream every night that whitens him combined with the bright light surrounding him. After that statement, he has been on the receiving end of constant criticism and scrutiny.
Fans and media accused him of hating his race, undergoing a skin bleaching process, having side effects of steroid use, and disrespecting his ethnicity.
Regardless, he stands by what he says and tries not to focus on the haters who do not pay his bills or put food on his table.
What happened with Sammy Sosa?
The 51-year-old was accused of using performance-enhancing drugs during his MLB career when his name popped up in the 2003 Steroids Scandal.
However, the athlete denied all allegations and insisted that he had never taken any drugs in the entirety of his career.
In a Congressional hearing regarding the matter, his attorney testified on behalf of him and maintained his innocence that he did not use drugs or break MLB's anti-drug rules.
In 2004, his test results came back negative, suggesting he had not used performance-enhancing drugs for that year.
Despite that, many fans, media, players, and clubs, including the BaseballWriters' Association of America (BBWAA), had difficulty trusting his words.
Moreover, he still awaits his induction into Baseball's Hall of Fame despite his eligibility in 2013.
You can find Sammy Sosa's Gastonia Rangers card; follow the link!