Santonio Holmes Jr. is a retired American professional football player who made a name for himself as a wide receiver in the National Football League (NFL).
Holmes was a first-round draft pick for the Pittsburgh Steelers in 2006 after showcasing his talents in college football at Ohio State University.
With an impressive career spanning from 2006 to 2014, Holmes is famous for his game-winning performances.
For instance, Santonio was the most valuable player (MVP) of Super Bowl XLIII, where he helped lead the Steelers to victory over the Arizona Cardinals in 2009.
This blog article looks closer at Santonio HoHolmes'ife, career, and legacy in the NFL. But, before that, look at some of the quick facts about him.
Quick Facts
Full Name
Santonio Holmes Jr.
Date of Birth
March 3, 1984
Age
39 Years Old
Birth Place
Belle Glade, Florida
Nationality
American
Ethnicity
Black
Zodiac Sign
Pisces
Height
5 feet 11 inches
Weight
192 pounds
High School
Glades Central High School in Belle Glade, Florida
University
Ohio State University
Father'sName
Patricia Brown
Mother'sName
Santonio Holmes
Siblings
Not known
Wife
Lauren Estes
Children
Five
Profession
NFL player
Position
Wide receiver
League
NFL
Retired in
2014
Jersey Number
10, 14
Active Years
2006-2014
NFL Draft
Round: 1, Pick: 25, 2006
Highlights & Awards

Super Bowl champion (XLIII)
Super Bowl MVP (XLIII), etc.

Net Worth
$25 Million
Social Media
Instagram
Last Update
June, 2023
Early Life, Family & Education
The former American football player Santonio Holmes was born on March 3, 1984, in Belle Glade, Florida. Further, his parents are Patricia Brown and Santonio Holmes Sr.
Born in a poor neighborhood, Holmes had to navigate the hardships of living in poverty.
The player's talent in sports was evident from a young age, and he excelled in football, basketball, and track at Glades Central High School.
After graduating with an impressive 3.4 GPA, Santonio continued his football career at Ohio State University, where he played from 2002 to 2005. The player college a year early without completing his degree.
Professional Career
Santonio Holmes had an impressive 10-year career as a wide receiver in the National Football League (NFL). His journey began in 2006 when the Pittsburgh Steelers drafted him in the first round.
The player was instrumental in helping the team win Super Bowl XLIII in 2009, catching the game-winning touchdown with only 35 seconds left on the clock. This catch also earned him the title of Super Bowl MVP, a rare achievement for a wide receiver.
In 2009, Santonio had a career-high 1,248 receiving yards and five touchdowns, establishing himself as one of the premier wide receivers in the league.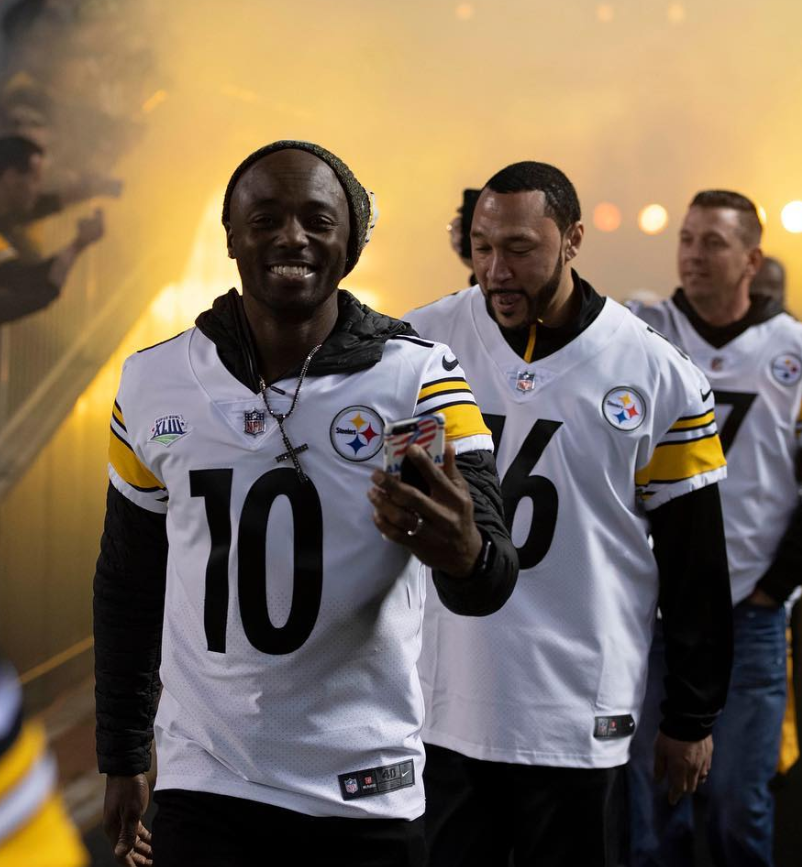 However, he was traded to the New York Jets in 2010, where he continued to play at a high level, scoring a career-high eight touchdowns that season.
After his time with the Jets in 2013, Santonio signed with the Chicago Bears in 2014 but was released after just nine games.
Despite the brief stint with the Bearsplayer'sayer's career, statistics were still impressive. He finished his career with 389 receptions, 6,030 receiving yards, and 36 touchdowns.
Highlights & Awards
Super Bowl champion (XLIII)
Super Bowl MVP (XLIII)
BCS national champion (2002)
Age, Body Measurements & More!
Santonio Holmes was born in the year 1984. Hence, he is 39 years old.
Talking about his physical appearance, the player is 5 feet 11 inches tall, weighs 192 pounds, and has a muscular and athletic build. Likewise, the player has brown eyes and black hair.
Father Of Four Kids With Wife
Santonio Holmes is married to Lauren Estes. They also met in 2006 and dated for eight years before getting married in a luxurious wedding in 2015.
SantonLauren's wedding was grand over three days at The Breakers Palm Beach. Moreover, they treated their guest to a welcome dinner on Thursday, followed by the main event on Friday evening.
The wedding ceremony was in Breakers'eakers' Mediterranean Ballroom, decorated with over half a million flowers in coral, gold, champagne, and cream hues.
They have four children together; two daughters named Savannah and Saniya and two sons named Santonio III and Nicori.
Controversies & Arrest
There are a lot of Santonio Holmes controversies during and after his NFL career. Some of them are:
In 2006, Santonio was arrested for domestic violence and assault after allegedly choking and threatening to hit the mother of his daughter. He also received a traffic ticket for driving with expired license plates.
In 2008, the player was arrested for possession of marijuana and was suspended for one game by the NFL.
In 2010, Santonio was accused of throwing a glass at a woman in a nightclub and was sued for assault and battery.
In 2011, he was fined $10,000 by the NFL for using the ball as a prop after scoring a touchdown.
In 2012, Santonio was criticized by his teammates and coaches for quitting on his team during a game and getting into a verbal altercation with his quarterback.
In 2014, he was arrested for disorderly conduct at an airport after refusing to turn off his iPod.
Net Worth & Earnings
SaHolmes'Holmes' net worth is estimated to be around $25 million, primarily earned through his successful football career in the NFL.
During his time with the Pittsburgh Steelers, New York Jets, and Chicago Bears, he earned substantial salaries, with his highest being $7.75 million in 2012 and 2013 with the Jets.
In addition to his base salary, he also received bonuses, incentives, and endorsements.Holmes'Holmes' off-field issues and injuries may have prevented him from securing more lucrative deals; he did appear in a few notable commercials.
Nike advertisement Featured him with fellow football player Troy Polamalu in 2009. Likewise, he also appeared in a Reebok ad alongside Chad Ochocinco in 2010.
Frequently Asked Questions
What number did Santonio Holmes wear?
Santonio wore number 10 for the Pittsburgh Steelers (2006–2009) and the New York Jets (2010–2013). Likewise, the player wore number 14 when he played for the Chicago Bears in 2014.
What are SaHolmes'Holmes' interests besides football?
Santonio enjoys fishing and golfing in his spare time. Similarly, he also likes to travel and spend time with his family.
How did Santonio win the Super Bown MVP award?
Santonio Holmes won the Super Bowl MVP award by making a spectacular catch in the back corner of the end zone with 35 seconds left, giving the Steelers a 27-23 victory over the Cardinals. NFL.com later voted the catch as the greatest in Super Bowl history.