After struggling through a long injury, Satou Sabally sister Nyara Sabally is finally making her WNBA debut.
Isatou "Satou" Sabally was born on April 25, 1998, in New York City, New York.
Sabally is a German-American professional basketball player for the Dallas Wings of the Women's National Basketball Association (WNBA).
She also plays in the Fenerbahçe of the Turkish Super League (KBSL). During her time in college basketball, she was a member of the Oregon Ducks.
Despite having one season of collegiate eligibility remaining, Sabally declared in February 2020 that she will join the 2020 WNBA draft.
She was draft-eligible because she attained the league's minimum age of 22 shortly after the April draft.
On top of being a basketball player, Sabally is also a makeup enthusiast, fashionista, and sneakerhead.
She absolutely loves sneakers and has a huge collection of the ones she likes.
Like any other person of her age, she loves to travel, go to the beaches, and party with her friends whenever she can find the chance.
In terms of music, she likes rap, especially Tupac Shakur, and she also loves baseball.
Satou Sabally Sister Nyara Sabally Will Debut In WNBA
Nyara Sabally is the younger sister of Satou Sabally. Just like her elder sister, Nyara also happens to be a basketball player.
Sabally had attended Oregon, where she played college basketball. She has yet to make her WNBA debut.
She was due to debut in 2022, but she missed the season due to a right knee injury and subsequent surgery.
It was said that former Oregon forward signed a rookie scale contract with the New York Liberty, securing the fifth overall pick in 2022 and a 2023 salary of $71,300 if she makes the final squad.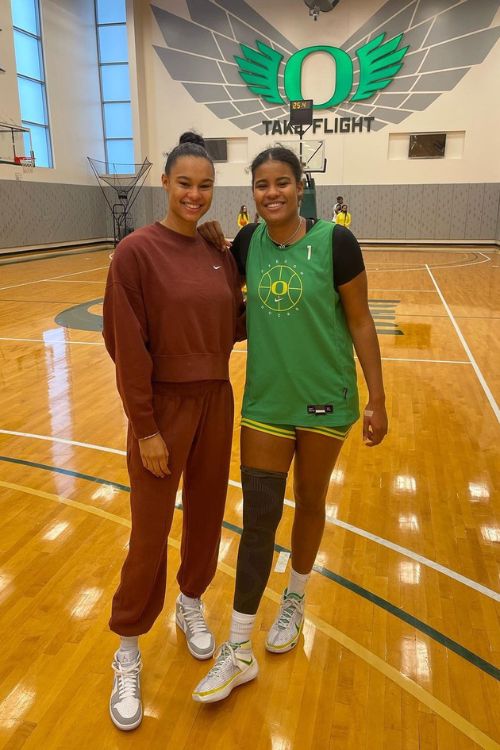 Since she had to end up on the bench the entire season, she accepted a position as an assistant coach at Sacramento State.
She recovered and got ready to play in her first WNBA game in 2023.
Sabally will now make her WNBA debut if she makes New York's final roster after May 18, which is the last roster cutdown date before the start of the regular season.
She has an Instagram following of almost 23.7K followers.
Satou Sabally Sister Injury
Injuries are nothing new to basketball players, but Satou Sabally's sister Nyara has been very much troubled by her injuries.
As has already been mentioned, she had to miss her WNBA debut because of her injuries.
Sabally tore her right ACL twice, once in 2018 and again before the 2019-20 season. Many observers had raised concerns about her health before the draft.
She missed eight games due to injury during the 2021-22 season due to her injuries.
Still today, analysts say that the biggest question is her health. Many people are questioning how healthy she is.
The player is very skilled; she has the size, the technique, the ability to face up, head out to three, and the movements inside.
The New York Liberty has been monitoring her progress after the surgery.
Sabally's rehabilitation has gone as planned, and she has met all of the goals that the New York Liberty medical and training personnel have set for her.
We would like to express our best wishes for her in her debut and her entire career. She is a very talented personality with a lot of potential.