Annick Chabal is the wife of Sebastien Chabal, a former French rugby union player known for his beard and long hair.
The rugby player has been married to Annick for more than 15 years now. The duo share a special bond and have a daughter together.
This article will delve into Sebastian Chabal's married life and family.
Sebastian started playing rugby at 16 and joined the professional club Bourgoin in 1998.
Chabal earned the nickname "Caveman" due to his distinctive full beard, long hair, and ferocious tackling.
He represented the French national team from 2000 to 2011, winning 62 caps.
Chabal retired from rugby in 2014 and became a businessman and a media personality.
Moreover, in 2019, he studied at EM Lyon Business School.
Sebastien Chabal Wife: Who Is Annick Chabal?
Annick Chabal is the discreet wife of the former rugby player Sébastien Chabal.
They have been in a loving relationship since 2000 when Chabal was playing for the Bourgoin-Jallieu rugby club. They welcomed their daughter, Lily-Rose, in 2005.
Along with a biological daughter, Sebastian also has a stepdaughter named Maud.
His stepdaughter is his wife Annick's daughter from a previous relationship. She was born in 1994.
Annick is reportedly an "amateur painter" and a fashion fan. However, she doesn't have a presence on social media, and she generally avoids public appearances.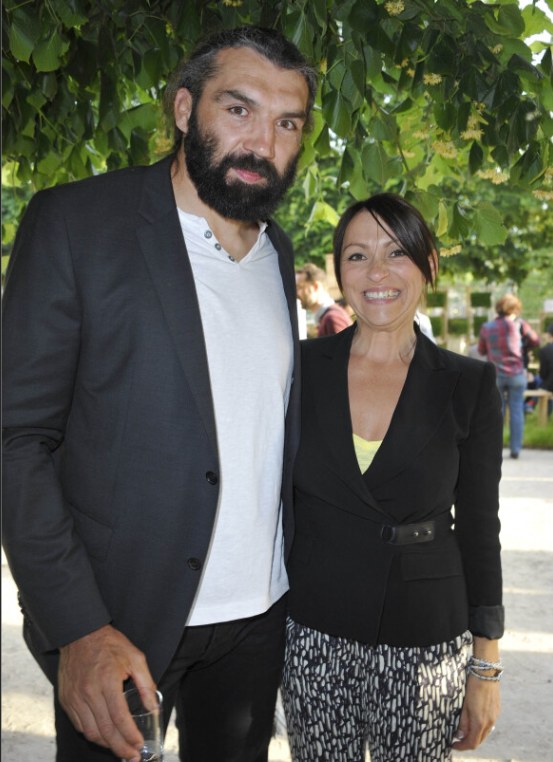 While Annick maintains a low profile, there was a rare public appearance in May 2012 when she attended the inauguration of the Jardins salon at the Jardin des Tuileries in Paris.
Likewise, Annick shows immense support for her husband's career and has been seen attending her husband's games.
For instance, observers spotted Annick in the stands at 'Stade de France' in Paris, France, on October 13th, 2007, as she watched the semi-final of the Rugby World Cup between France and England.
Brief on Sebastian's Family and Personal Life
Sebastien Chabal was born on December 8, 1977, in Valence, France, and grew up in Beaumont-lès-Valence.
His family originally came from Ardeche. Moreover, his mother worked in a jewelry store, and his father worked in a garage.
Sebastien had a passion for mechanics and attended a technical high school where he earned a professional degree in mechanics.
He started his career as a milling machine operator in a factory in Crest but eventually left that job to become a professional rugby player when he joined Valence Sportif.
Sébastien Chabal is also known for his involvement in the 'Champions for Peace' club, which comprises 54 well-known athletes dedicated to promoting peace through sports.
Frequently Asked Questions (FAQs)
1. Who Is The Wife Of Sebastien Chabal?
Sebastien Chabal tied the knot with Annick during his time with CS Bourgoin-Jallieu.