Kenneth Dest and his mother are Sergiño Dest's parents. Sergiño is a professional soccer player renowned for his contributions as a full-back.
In his early years, Dest showcased his talent within the youth academy of Almere City until 2012, when he transitioned to the Ajax youth academy.
Originating as a forward, he later evolved into a full-back, a position where he demonstrated exceptional skills and versatility.
Dest significantly impacted his time with Ajax, debuting for Jong Ajax on October 15, 2018.
His notable performances in the Dutch Eerste Divisie and the UEFA Youth League underscored his potential.
Dest swiftly ascended to the Ajax first team, debuting on July 27, 2019, in the 2019 Johan Cruyff Shield match against PSV Eindhoven.
Dest's Barcelona debut on October 4, 2020, marked a historic moment as he became the first American to play for the club in La Liga.
Subsequently, he further etched his name in the records as the first American to feature in a UEFA Champions League match for Barcelona.
He made his senior debut for the United States on September 6, 2019, and played a crucial role in the 2022 FIFA World Cup.
Sergiño Dest Parents
Sergiño Gianni Dest was born on November 3, 2000. Kenneth Dest, Sergiño's father, is a native of Suriname, a former Dutch colony in South America.
According to The Athletic, his life journey took him to Brooklyn, New York, at a young age, where he eventually became part of the U.S. Army during the Vietnam War.
Kenneth dedicated approximately 25 years to military service, stationed in various locations, including Germany.
During his assignment in Germany, he crossed paths with Sergiño's mother, a Dutchwoman of Surinamese origin.
The fusion of their backgrounds—Surinamese, American, and Dutch—adds a distinct layer to Sergiño's cultural identity.
On the other hand, Sergiño's mother is recognized as a Dutchwoman with roots in Surinam.
Her meeting with Kenneth in Germany laid the foundation for their family's journey, eventually leading to their settlement in Almere, where Sergiño was born and raised.
Sergiño Dest's Red Card Fallout: Controversy Swirls Amidst Concerns Over USMNT Future
According to Yahoo Sports, Sergiño Dest's recent red card during a match against Trinidad and Tobago has stirred intense debate.
This raised questions about his future with the United States Men's National Soccer Team (USMNT).
Despite leading 1-0, Dest's erratic behavior resulted in a red card, causing dismay among teammates and coach Gregg Berhalter.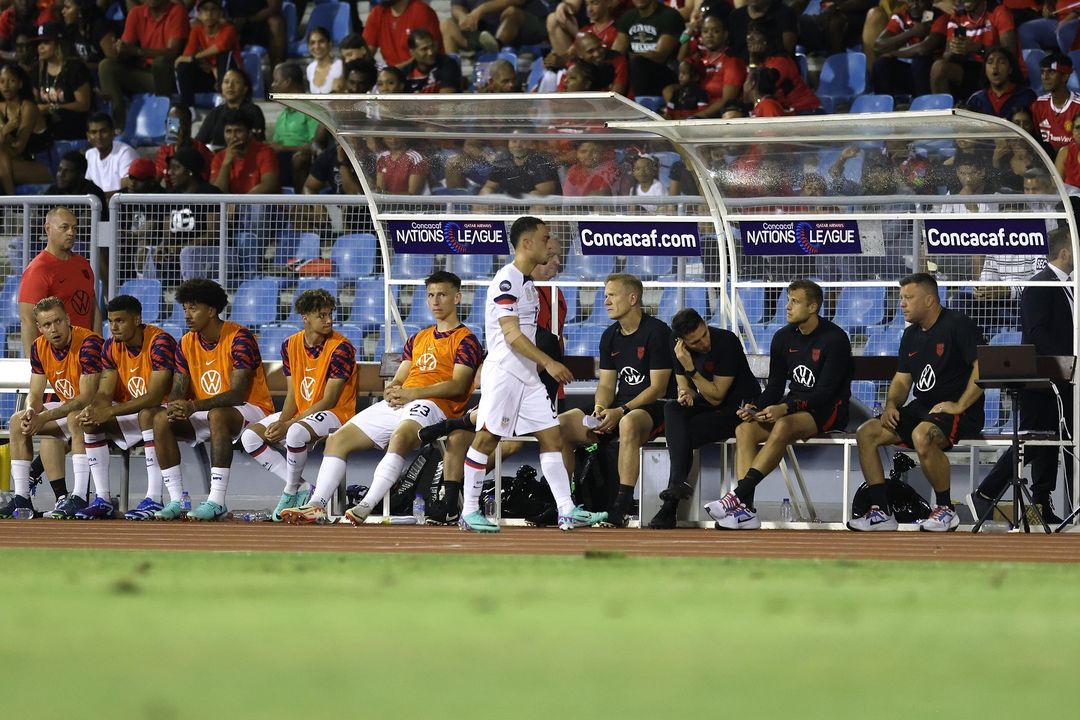 This marked Dest's second red card in seven USMNT games, prompting concerns about a pattern of behavior.
Berhalter emphasized holding Dest accountable while cautioning against a potential witch hunt.
Former players expressed strong criticism, with some labeling Dest's actions as "baby behavior."
The incident jeopardized the team's planned substitutions, forcing them to adapt to the unexpected disadvantage.
Although the red card did not affect the overall qualification for Copa America, it has ignited discussions about Dest's discipline and potential consequences for his role within the team.
The coaching staff and team leaders are expected to be pivotal in guiding Dest through this challenging period.