Shannon Brown is a former NBA player. Before playing for NBA, Brown was a college basketball star.
Brown was one of the most athletic players in his career. A diligent shooting guard would assist in the game and lead the team to victory.
He had a key role in his team, and the teammates always appreciated his sky-high jump during the games.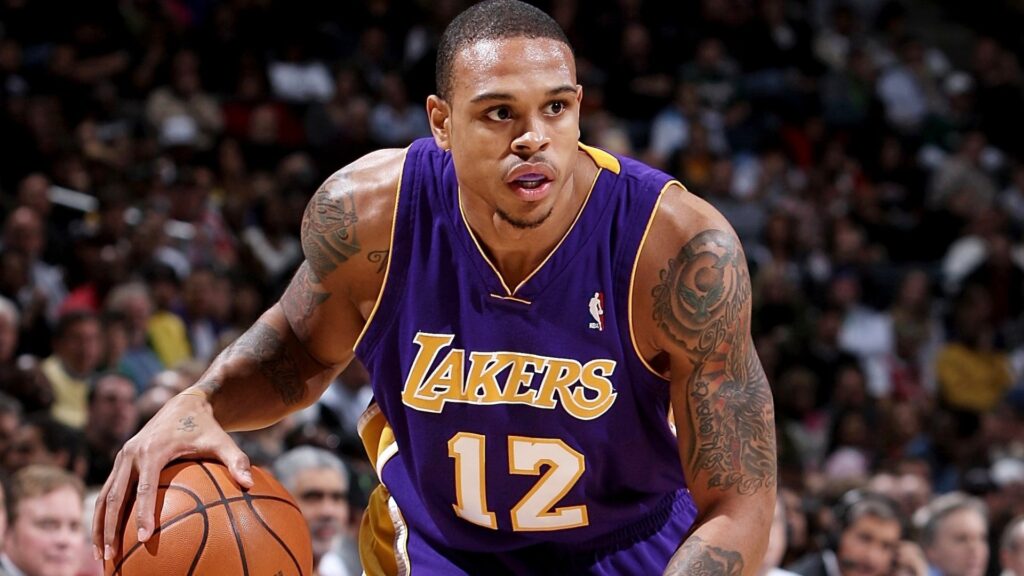 To know more about Shannon Brown, read the following points. In addition, this article discusses his early life, family, career, and many more.
Now, let's look through some of the quick facts.
Quick Facts
Full Name
Shannon Brown
Nick Name
N/A
Birthdate
November 29, 1985
Birthplace
Maywood, Illinois
Nationality
American
Religion
Christianity

Horoscope
Sagittarius
Age

37 years old

Father's Name
Chris Brown
Mother's Name
Sandra Brown
Sibling
One brother
Sibling's Name
Sterling Brown
Education
Michigan State
Relationship Status
Divorced
Spouse
Monica
Children
Two
Height
6ft 4in (1.93m)
Weight
210 lb (95 kg)
Build
Athletic

Eye Color
Brown
Hair Color
Black

Profession
Professional Basketball Player

Position
Shooting Guard
Playing Career
2006-2018
NBA Draft
2006 Round: 1 / Pick: 25th Overall
Shoe size
15 U.S.
Sexual Orientation
Straight
Highlights and Awards

2 time NBA champion (2009, 2010)
First-team Parade All-American (2003)
McDonald's All-American (2003)
Illinois Mr. Basketball (2003)

Net Worth
$14 million
Social Media Handles
N/A
Last Updated

June, 2023
Shannon Brown: Early Life, Family & Education
On November 29, 1985, Shannon Brown was born in Maywood, Illinois. Brown's Father's name is Chris Brown, and his mother is Sandra Brown. He has a brother Sterling Brown, an NBA player for Dallas Mavericks.
Brown was very passionate about basketball. He began playing basketball in his school days.
Brown was a college basketball star. He went to Michigan State and started his basketball career.
Read Malik Beasley's Bio: Career, Family, NBA & Net Worth.
Shannon Brown: Age, Height & Weight
Brown is 37 years old as of January 2022. He has an amazing height of 6 ft 4 in (1.93m), which is great for basketball players.
Brown weighs 210 lb (95 kg). With the balance of height and weight, Brown took a high leap in his game.
Shannon Brown: Career
High School and College Career
Brown went to Proviso East High School. He earned Illinois Mr. Basketball and a McDonald's All-American in 2003.
He was also ranked the 1 shooting guard and the 3 player in the nation.
Brown represented Michigan State University in Michigan State Spartans and eventually became the college basketball star. He was in the All-big Ten and an All-Big Ten as a junior.
Professional Career
Initial Years in NBA (2006-2009)
Cleveland Cavaliers signed Brown in the 2006 NBA draft. He was chosen in the first round as the 25th pick.
Brown played 23 games and showcased terrific gameplay. Unfortunately, he suffered an injury to his shin.
On March 2, 2007, Brown played for Albuquerque Thunderbirds and recorded 14 points, 4 rebounds, and 6 assists.
On January 11, 2008, Brown played for Rio Grande Valley Vipers in the NBA Development League. He played 4 games for the team. He returned to the Cavaliers on January 17.
During the 2007-08 season, Brown played 15 games with an average of 7 points per game.
On February 21, 2008, Brown was sent to Chicago Bulls. There was a deal between three teams the Bulls, the Cavaliers, and the Sonics.
Brown was selected by Charlotte Bobcats on August 6, 2008, for a year. His salary was $800,000. He averaged 4.8 points during his one-year tenure for the Bobcats.
Los Angeles Lakers (2009–2011)
On February 7, 2009, Brown was sent to Los Angeles by Bobcats. He did not have many starts initially, but Brown was highlighted in the last five games.
And he showed his brilliant game with an average of 7.2 points, 2.4 rebounds, and 1.6 assists.
In the playoffs, Brown scored 9 points, 3 assists, 2 rebounds, and 1 steal against the Jazz. He concluded the series with an average of 7.2 points, 1.2 rebounds, 1.8 assists, and 1 steal per game.
On July 6, 2009, Brown returned to the Lakers with a two-year contract of $4.2 million.
On January 18, 2010, Brown was selected by the Lakers for the Sprite Slam Dunk Competition to compete in the 2010 All-Star weekend.
Adding to the joy, Brown scored 22 points against the Orlando Magic and led the Lakers to victory on the same day.
On February 13, 2010, Brown played in the first round of the dunk contest but could not move forward in the competition.
On February 16, 2010, Brown recorded his career-high 27 points and 10 rebounds against the Golden State Warriors. He got the title of the second championship in that season.
On August 8, 2010, Brown joined the Lakers with a two-year contract of $4.6 million. He scored 21 points in two games which was the highest. After the season, he had an average of 7 points per game.
In the concluding games of the Lakers, Brown recorded 10 and 15 points, respectively. They were against the Dallas Mavericks.
On June 30, 2011, Brown terminated his contract with the Lakers.
Phoenix Suns (2011-2013)
In 2011, Brown signed with the Phoenix Suns for a year. Brown scored 21 points against the Los Angeles Clippers and led the team to victory on March 15, 2012.
On March 27, 2012, Brown recorded his career-high of 32 points but lost the match to the San Antonio Spurs.
Phoenix Suns were up against Los Angeles Lakers on April 7, 2012. With the help of Brown's 20 points, the Phoenix Suns got their win. Brown got 7 rebounds for the Suns in the 114-90 victory against the Minnesota Timberwolves.
On July 25, 2012, Brown extended his contract with Phoenix Suns for the next two years. The deal was worth $7 million.
The same year on November 7, Brown scored 24 points and led the team to victory against Charlotte Bobcats. He got three straight points.
Brown scored 22 points in the match against the Cleveland Cavaliers, leading to victory two days later. He scored more than 20 points in two consecutive games.
On October 25, 2013, Brown was exchanged to the Washington Wizard. After three days, he was relinquished by the Wizards.