Sharife Cooper's brother, Omar Cooper, is his twin and currently plays for Clarendon College. Sharife also has two sisters, a WNBA player in Te'a and a former basketball player in Mia.
The four kids of the Cooper family were raised in a strict household by their parents, Omar Sr and Kindall Cooper. With Omar and Sharife being twins, they were highly competitive towards each other.
Previously in an interview, Sharife revealed he considers his sister to be the better basketball player in the family. Sibling rivalry might exist, but love and support for each other also exist between them in a big way.
Recently, all three siblings shared IG stories to celebrate their brother winning the 2023 Summer League. Cooper came fourth in the most points per game and third in assists.
Sharife Cooper Brother, Omar Cooper
Sharife Cooper has a twin brother in Omar Jr Cooper. Basketball has always been in their blood. The two brothers grew up seeing their sisters win titles as basketball players.
Since birth, the twins competed against each other in every field. Whether it was playing PlayStation or basketball or getting into the car's front seat, the two brothers would fight to be No.1.
But as they grew older, it started to be clear that when it came to basketball, Sharife had the upper hand. If Sharie attended McEachern High School and helped them win their first state title, then Omar played for Walker High School.
Both the brothers stand at 6ft, and Omar plays guard for his basketball team. After graduating from Walker High School, Omar joined Clarendon College. In the 2021 season, Omar played 29 games and averaged 8.66 points, 2.59 assists, and 1.59 rebounds.
In 2022, Omar played one more game compared to last season and averaged 5.33 points, 3.5 assists, and 1.7 rebounds. One of the reasons for Omar's late development compared to his brother has been his series of injuries.
In an interview with Theo Visuals in 2021, Omar talked about how injuries had derailed his career. In one of the segments, Omar also gave insight into his relationship with his siblings.
He said all three have always supported him and his basketball career and know where he should be in his career. Omar also added they make sure he doesn't lose focus.
Omar is available on Instagram with the username @omar.cooper, where he has shared pictures of him training and his collaboration with apparel brand FashionNova.
Sharife Cooper Sisters, Mia, And Te'a Cooper
Sharife Cooper's sisters, Mia and Te'a Cooper have won national titles with McEachern High School.
And if Te'a continued her basketball career, Mia decided to take a different route. After graduating from McEachern, Mia enrolled at Gulf Coast State College and is currently her sister, Te'a's manager.
Mia is available on Instagram with the username @imani.cooper and has gained a following of 52.5k.
Te'a Cooper Played In The WNBA
The second oldest in the Cooper household, Te'a Cooper, was born on April 16, 1997. A graduate of McEachern High School, Te'a was named Miss Basketball in Georgia in her last two seasons.
She helped McEachern earn three state titles in freshman, junior, and senior seasons. Te'a was also named twice in the 6A First-Team All-State.
Ti'a then enrolled at the University of Tennessee and started in 15 out of 36 games. In her freshman year, she averaged 8.6 points and reached double figures 15 times.
She sat out her second season due to a left knee injury and joined the University of South Carolina in her junior year. In her 30 appearances, Te'a scored double figures in 17 games and was part of the second-team All-SEC honors.
Te'a joined Baylor University as a graduate transfer in the 2019 season. She led the side with 408 points and was named Big 12 co-Newcomer of the Year and Newcomer of the Year.
She was selected by the WNBA team Phoenix Mercury in the 2020 season as a second-round pick. But was later snapped by Los Angeles Sparks.
Te'a played two seasons with Sparks, starting in 14 games, and averaged 7.6 points, 1.7 assists, and 1.4 rebounds. Sparks released her last year in May after making her sign a new contract in January. She is currently a free agent.
Life Away From Basketball Court
Though Te'a might not have achieved the desired success with Sparks, life away from the basketball court for Ti'a has been blessed.
She is one of the most followed WNBA athletes on Instagram, with a following of 1.4 million. She was featured in the 2022 SI Swimsuit Issue alongside Breanna Stewart, Sue Bird, Nneka Ogwumike, and DiDi Richards.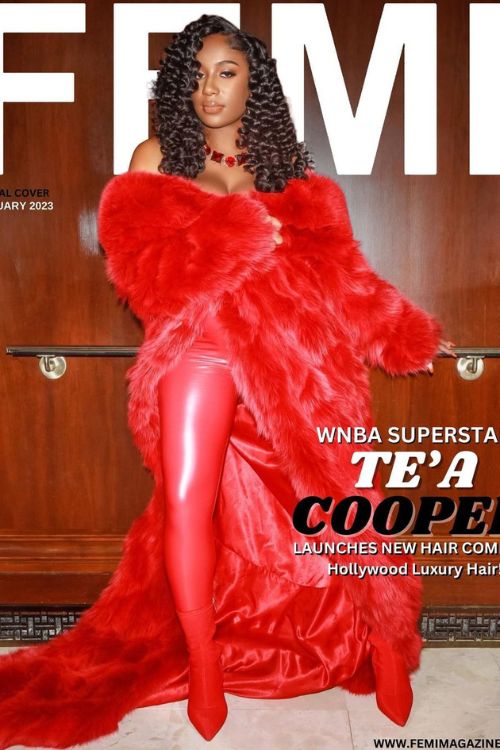 In November 2022, Te'a also began her journey as an entrepreneur, launching the hair extensions service company Hollywood Luxury Hair. Recently, she had LSU star Angel Reese collaborate with her on the hair extension project.
Te'a previously dated NBA star Dwight Howard but broke up with him to get with the NFL player Alvin Kamara. The two went Instagram official in 2021, and Te'a even penned a sweet message for him on his 27th birthday last year.
But it seems the athletic duo has broken up, as the post has been deleted. For now, Ti'a might be focused on growing her business and probably thinking of returning to the court someday.