Stere Halep and Tania Halep are the parents of the Romanian professional tennis player Simona Halep.
Simona's biggest inspiration and motivation are her father and mother since childhood.
From providing basic needs during childhood to supporting her in achieving huge milestones in her tennis career, Simona Halep parents have always been there.
In the tennis world, Simona is the biggest and most decorated women's player. She became worldwide famous after defeating the Champion, Serena Williams, in 2019 Wimbledon.
She has been able to create many records since her professional debut on June 26, 2006. In particular, the tennis player has won two Grand Slams (single) in the French Open (2018) and Wimbledon (2019).
Moreover, Simona has received numerous awards and recognition in her profession. In 2014 and 2015, she was honored with the WTA Most Popular Player of the Year.
Likewise, she is also the receiver of the WTA Fan Favorite Singles Player of the Year (2017,2018 and 2019). She was also ranked "Number One" in singles on October 9, 2017.
For being Romania's pride, Simona is the recipient of the Patriarchal Cross of Romania.
Simona Halep Parents: Who Are Stere And Tania Halep?
Simona was born to her father, Stere Halep, and her mother, Tania Halep, on September 27, 1991 in Constanta, Romania.
Stere and Tania raised Simona without any financial trouble; they provided her with each and everything.
Talking about Stere's profession, he owns a dairy business in his hometown. Before this, he worked as a zootechnics technician.
Interestingly, he also played a lower-division football for the AS Săgeata Stejaru. However, Stere could not level up his football career as his parents could not provide him with financial aid.
Because of his unfulfilled dream and circumstances, he never stopped encouraging Simona to go after the tennis.
Mother And Brother Also Inspired Her
Simona's mother, Tania, is a homemaker. She is one of the reasons that led Simona to develop an interest in playing tennis.
Simona used to watch her older brother, Nicole, playing tennis along with her mother, Tania. This routine activity urged the two-time Grand Slam winner to touch the racket for the first time at four.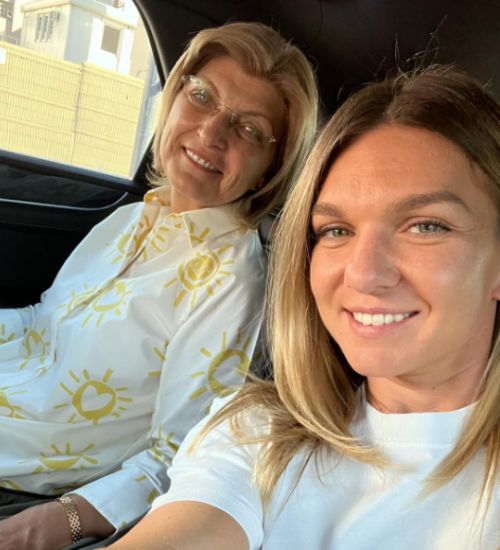 By the time she turned six, Simona began playing tennis regularly. And the rest is history.
Simona credits her parents and her brother for inspiring her to see and achieve the dream of tennis.
She Is Banned For Four Years From Playing
Back in October 2022, Simona tested positive for doping during the US Open. She was under the banned medical substance called Roxadustat.
Due to this, the responsible authority suspended her from the remaining competition at the 2022 US Open.
After a year, in September 2023, the suspension turned into four years banned from playing in the competition. The athlete will be eligible to return to the US Open in 2026.
Simona had been providing updates on her case through her Instagram. She made a post on September 14, 2023, stating that she refused to accept the decision.
She also stated that she would appeal the decision to The Court of Arbitration for Sport (CAS) and pursue all legal remedies against the supplement company in question.
Simona Halep Husband And Relationship
Halep married Gabriel Apostol Iuruc, famously known by the nickname Toni Iuruc, in September 2021. Gabriel is a businessman of Macedonian origin.
After four years of dating and a year of marriage, the couple decided to part ways and announced in 2022 that they were filing for divorce. Toni said to the media that their split is amicable.
Time and again, Simona's name is linked to various personalities. In 2023, she was rumored to be dating Portuguese former tennis player Joao Monteiro. But she denied the news.
Frequently Asked Questions
Who are Simona Halep parents?
Simona Halep parents are Stere Halep and Tania Halep.