Gerrod Chadwell, the husband of golfing sensation Stacy Lewis, is a respected and accomplished golf coach.
Chadwell started his journey as a young golfer in El Reno, Oklahoma. He now holds the celebrated position of head coach of Texas A&M's women's golf team.
He married Stacy Lewis, a two-time major champion and former world number one golfer, in 2016. They are both avid supporters of each other's careers and share a love for golf.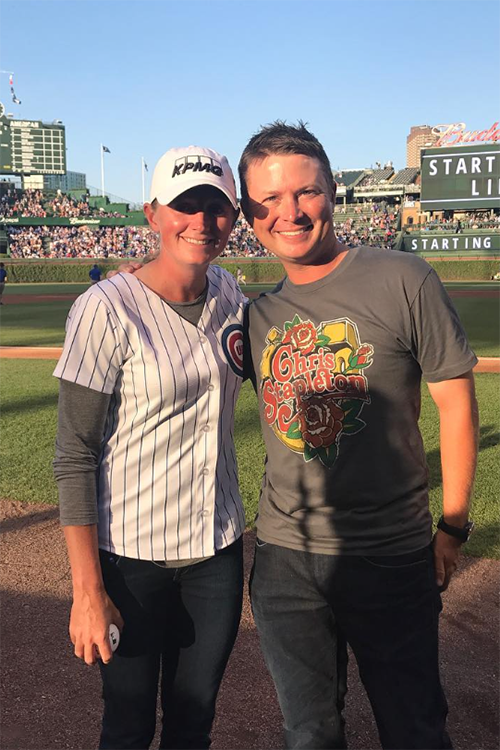 Stacy Lewis is a professional golfer who plays on the LPGA Tour. She was born on February 16, 1985, in Toledo, Ohio, and grew up in Texas.
Stacy turned professional in 2008 and joined the LPGA Tour in 2009.
She has won 13 LPGA titles, including two major championships: the Kraft Nabisco Championship in 2011 and the Women's British Open in 2013.
Similarly, Stacy won the LPGA Player of the Year award twice, in 2012 and 2014.
Moreover, she became the world number one in the Women's World Golf Rankings for four weeks in 2013. She reclaimed the position for another 21 weeks in 2014.
Stacy is also known for her philanthropy and generosity and has donated to various causes.
Stacy Lewis Husband Gerrod Chadwell
The professional golfer Stacy Lewis, is married to Gerrod Chadwell.
Gerrod was born in El Reno, Oklahoma, and he pursued his academic and golfing dreams by graduating from El Reno High School in 1997.
Following that, he attended East Central University, where he played collegiate golf and earned All-America honors in 2001.
Furthermore, he also pursued his education, obtaining a bachelor's degree in exercise science in 2002 and a master's degree in sports administration in 2003.
Stacy and Gerrod met in 2014 at a charity golf event and got married in 2016.
They have a daughter named Chesnee Lynn, who was born in 2018. They are both passionate about golf and support each other's careers.
Details On Gerrod Chadwell's Coaching Career
Gerrod Chadwell's coaching career took off in 2002 when he served as an assistant coach at Redlands Community College.
His contributions were instrumental in the team's victory at the NJCAA Region II Championship.
From 2005 to 2007, Chadwell honed his teaching skills at David Pelz Golf. In 2008, Gerrod returned to Redlands Community College, but this time as the head coach of the women's golf team.
Under his guidance, the team achieved remarkable success, securing two NJCAA National Championships and two NJCAA Individual National Championships.
His accomplishments were recognized with the NJCAA Coach of the Year award, not once but twice, underscoring his exceptional coaching abilities.
Chadwell joined the University of Oklahoma as an assistant women's golf team coach from 2010 to 2013.
Likewise, he also coached Chirapat Jao-Javanil, who won the NCAA Individual National Championship in 2012.
He became the first head coach of the University of Houston women's golf team in 2013. Moreover, he also won the American Athletic Conference Coach of the Year award three times.
Gerrod left Houston to become the head coach of the Texas A&M women's golf team in 2021.
He has led the team to two NCAA Semifinals and one SEC Championship so far. He has also coached two All-Americans and three All-SEC players at Texas A&M.
Frequently Asked Questions (FAQs)
Who is Stacy Lewis Husband?
Stacy Lewis husband is Gerrod Chadwell, who is a golf team head coach. He is currently the head coach of the women's golf team at Texas A&M University, which he joined in June 2021.