Enos Stanley Kroenke, better known as Stan Kroenke, is an American billionaire who owns numerous famous sports clubs across the United States. A very prominent businessman, Stan is the father of two adult children with billionaire wife Ann Walton, both successful in their fields.
Born in Columbia, Missouri, Kroenke was the son of a wealthy businessman who owned the Mora Lumber Company.
When he did not have classes, he often visited his dad's factory and helped him do various tasks, including sweeping the floor.
Interested in trade and commerce since a young age, Stan eventually founded the Kroenke Group in 1983, building shopping centers and apartment buildings nationwide.
As his company grew bigger and more successful, Stan founded the Kroenke Sports and Entertainment Company in 1999, which invested in several sports franchises.
Currently, the company owns several clubs like Arsenal FC of the EPL, NBA's Denver Nuggets, NHL's Colorado Avalance, and NFL's LA Rams, among many others.
Generally referred to as a sports-loving billionaire, Kroenke has often said he wanted to have his own sports franchises. While at high school, he played baseball, basketball, and all kind of games.
However, his sports company has not always been free from controversies.
Kroenke was part of the profit group that tried to challenge UEFA by proposing the widely debated European Super League in 2021. After receiving a huge backlash, they eventually withdrew.
Nuggets Owner Stan Kroenke Wife: Ann Walton Kroenke
Ann Walton Kroenke was born on December 20, 1948, to her parents, Bud and Audrey Walton.
Her dad, James Walton, better known as Bud, co-founded Walmart, a multi-national company, with his brother Sam Walton in 1962.
Besides, she has a sister named Nancy, with whom she inherited the stake at Walmart worth $9.1 billion.
Like her husband Stan, she was born and raised in Missouri and attended Lincoln University, where she graduated with a bachelor's degree in nursing.
She is also a registered nurse. However, she has always been a businesswoman.
Walton married American real estate billionaire Stan Kroenke in 1974. Aside from Walmart, Ann owns the Colorado Avalanche of the NHL and the Denver Nuggets of the NBA.
Apart from being an heiress to Walmart, Whitney is an established film producer and philanthropist.
Similarly, in 2014, she co-founded a whiskey brand named Nine Banded Whiskey in Austin, Texas.
Although born and raised in Missouri, she later attended Northwestern University in Illinois. Kroenke has a bachelor's degree in Speech with Theatre Major.
Ann Has Two Kids From Her Marriage With Stan
Although often told that Stan has four kids from his marriage with Ann, it probably is not true. According to her Forbes profile, Ann has two kids together with Kroenke.
Ann gave birth to their first child, a daughter named Whitney Ann Kroenke, on September 29, 1977, in Columbia, Missouri.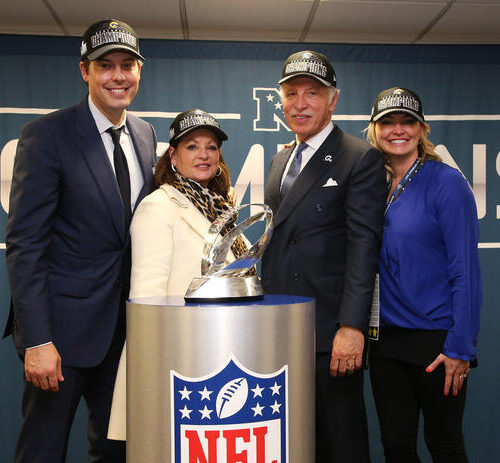 Likewise, Ann and Stan's second child, Josh Kroenke, was born on May 7, 1980, in Missouri, United States.
A true sports fanatic since childhood, Josh attended the University of Missouri for undergraduate studies, receiving a full basketball scholarship.
Jose primarily looks after his dad's companies' various sports franchises, including Denver Nuggets.