The world is filled with remarkable talent and personality. Among such is former NFL player Roderick F. Gardner aka Rod Gardner. He played for six seasons in the NFL and retired in 2006, and started other ventures.
Rod Gardner is among the fewest celebrity players who maintained life confidentially. Moreover, starting in the sports world, Rod had a pretty transition in his career as a fitness trainer.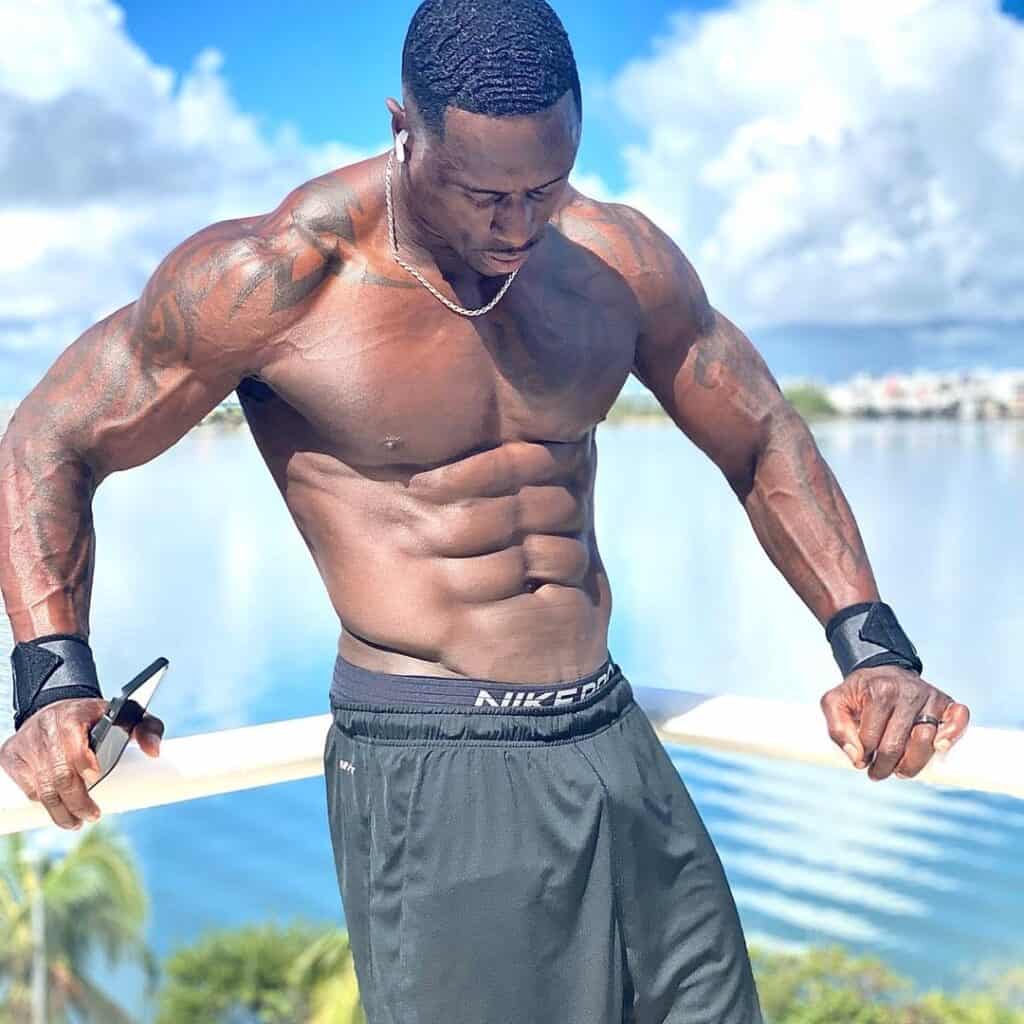 Born in 1977 in Florida, Rob Gardner is a family man and greatly values his fans and ethics.
Maybe that's exactly why everybody is enthusiastic to know more about Rob Gardner's net worth, career, and family life.
Therefore, here, we have summed up pretty much everything about former NFL player Rob Gardner and his whereabouts.
But before we jump onto details about Rob Gardner's life, here are a few quick facts about him.
Rob Gardner | Quick Facts
Full Name
Roderick F. Gardner
Date of Birth
October 26, 1977
Birth Place
Jacksonville, Florida
Nick Name
Rod
Religion
Not Available
Nationality
American
Ethnicity
Afro-American
Zodiac Sign
Scorpio
Age
45 years old
Height
6'2″ (1.88 m)
Weight
99 kg (219 lbs)
Hair Color
Black
Eye Color
Dark Brown
Build
Athletic
Father's Name
Not Available
Mother's Name
Not Available
Siblings
Not Available
College
Clemson University
Marital Status
Married
Wife
Leticia Gardner
Children
Two Daughters: Nyasia Gardner and Layla Gardner
Profession
Retired NFL Player, Current certified Fitness Coach
Active Years
2001-2006
Jersey Number
87, 82, 85
Position
Wide receiver
NFL Statistics
Receptions: 242
Touchdowns: 23
Net Worth
$1 million – $5 million
Social Media
Instagram
Kansas City Chiefs' Merch
Hat, Hoodie
Last Update
May, 2023
Rob Gardner | Early Life, Family, & Education
The former NFL player Rob Gardner is a private man keeping most of his life to himself.
Furthermore, there isn't much to talk about his early life, but Gardner surely had a fun childhood surrounded by friends and families.
Although Rob Gardner's parents are away from the limelight, he uploaded pictures of his parents, crediting them as they helped him raise his kids.
Moreover, Rob spends most of his holidays with his family. Despite the very minimal information on Gardner's family life, he s a terrific and responsible son and brother.
Age, Height & Weight
As remarkable as Rob Gardner's career as a former NFL player was, his appearance is spectacular as well.
Standing tall at 6 ft 2 inches, Rob Gardner has an athletic body. The poise composure with charcoal black hair and black eyes compliments his chocolate complexion perfectly.
Not to mention Gardner's pleasant personality and perfect wardrobe choices, he presents himself with confidence.
Weighing 99 kgs (218.26 lbs), Gardner's composure or presence can dominate any profession he chooses, like he's slaying as a certified fitness coach currently.
Apart from a good posture and CEO personality, Rob Gardner's career as an athlete is just another asset to boast about.
Rob Gardner's Career As A Footballer
To chase one's dream and achieve grand success, one needs to work hard and have dedication.
Thus, Rob Gardner's commitment to accomplish as a footballer led him to reckon with his passion in the fitness world, and he owned both worlds instantly.
College Career
Born on October 26, 1977, in Florida, Gardner played college football at Clemson University. As a freshman, he started as a quarterback and safety on the practice squad.
Likewise, Rob switched to wide receiver during his sophomore year and was eventually selected as a second-team All-ACC in his junior year after setting the school record for catches, receptions, and yards per game.
Gardner eventually became one of the ten finalists for the Biletnikoff Award in 2000 after posting six touchdowns on fifty-one receptions and 95 yards.
Moreover, Rob Gardner's impressive college career won him the first-round pick in the 2001 NFL draft.
NFL Career
As stated above, Rob Gardner's college career was impressive, which got him chosen by the Washington Redskins as the first-round draft pick of the 2001 NFL Draft.
Furthermore, Gardner was selected as NFC Offensive Player of the Week after a 208-yard and one touchdown against Carolina Panthers during his rookie year.
Likewise, Redskins later used him on trick plays during games.
After four glorious seasons in Washington, Rod was traded to the Carolina Panthers. He spent most of the fourth on the Panther's depth chart.
It was a short trip at Carolina Panthers and was waived on December 16, 2005, and signed by Green By on March 2006. However, his stay with the Green Bay Packers was short as well.
Rob Gardner went on to sign a three-year contract with Kansas City Chiefs in September 2006. Unfortunately, he only had two receptions for 17 yards. As a result, he was released before the 2007 season.
Although Rob Gardners NFL career was short-lived, he did find his passion in fitness and started his new venture as a fitness coach.
Gardner's Career As A Fitness Coach
Aforementioned, Rob Gardner's career in NFL was not exactly plausible. In fact, low performance caused his early release.
However, Gardner found his gym and fitness appetite as he pursued his career as a fitness coach and a certified nutritionist. Moreover, he also built a family brand named G-Strong.
According to the G-Strong site, Rod mentions that these professional abilities have made him want to focus on everyday health and determination to help others reach their fitness goal.
G-Strong further helps clients master basic movements to improve their strength and fitness to build a foundation for further gains.
Thus, Rod Gardner's career as a former NFL player and fitness coach has significantly helped raise his net worth.
Rod Gardner's Net Worth
Rod Gardner's net worth has seen a significant raise after rubbing shoulders for years as a footballer and fitness coach.
As mentioned earlier, Gardner was first drafted by the Washington Redskins with the 15th overall selection in the first-round pick of the 2001 NFL Draft.
Rod played six seasons, and in his newfound career as a fitness coach, his earnings have proliferated significantly. Therefore, here are some breakdowns of his wages as an NFL player and in other ventures.
Earnings From NFL
In the 2001 NFL Draft, Rod Gardner signed a five-year $7.7 million contract with Washington Redskins.
The contract supposedly includes a $5.1 million signing bonus which escalated up to $3 million in incentives that could make the total value about a $10.7 million deal.
Although Garder and Redskins haggled over the incentive package, they finally settled on the earnings mentioned above.
After four beautiful seasons with Redskins, Gardner was traded to Carolina Panthers, which put the Redskins about $3.75 million under the cap.
Although Gardner's contract with the Panthers was not exclusive, and he spent most of the season behind on Panther's depth charge, his earnings must have aided in doubling his net worth.
Likewise, Gardner was waived by the Panthers in December and re-signed b Green Bay Packers in 2006, only to be waived the same season.
Furthermore, Gardner later signed a three-year contract with the Kansas City Chiefs in September 2006. Unfortunately, he was released before the second season.
Nevertheless, Rod Gardner's net worth witnessed massive growth since his NFL career.
Earnings As The CEO Of Strong Fitness
After retiring from NFL, Rod Gardner's interest in fitness sparked. Thus, he started G-Strong, a fitness company that provides personalized fitness guidance.
Thus, it wouldn't be a ruse to say Rod Gardner's primary source of earnings comes from his company. Some of the services and products G-Strong provides are listed below with their respective prices.
Testo Booster-Natural Testosterone Support Supplement: $20.76
Nitric Oxide Booster: $21.56
Brain Food: $20.76
Total Body Optimization Bundle + Free Shaker: $63.96
Collagen & Greens: $35.96
Plant Protein with Nitric Oxide Booster-Banana: $31.96
EAA -peach Mango: $3.96
Hair Growth Supplement For men: $23.16
Detox: $15.96
BHB Keto Burn: $17.56
Cardio Health Bundle with Free Shaker: $47.96
Magnesium Complex With Versa-Min: $15.96
High-Potency Olive Leaf Extract Oleuropein: $23.96
Apple Cider Vinegar Gummies: $17.56
Sleep Complex with Melatonin: $15.96
Besides the exciting supplements, Rod Gardner's fitness company also has its own apparel and accessories. Likewise, the customized fitness program also allows Gardner to add some zeros to his bank account.
Therefore, Rod Gardner's net worth is pretty impressive and sees significant curves annually.
Earnings From Other Sources
Rod Gardner is not your typical retired NFL athlete. Besides his interest in fitness and game, he holds a BEd degree in Human Resources Management and Services from Clemson University.
Likewise, Gardner also studied Economics at William M Raines High School.
Thus, he worked at Atlanta Luxury Imports as a sales consultant for five years and served as President for Gardner Enterprise from 2003 to 2009.
The average earnings of a sales consultant are $55,768 per year. Thus, Gardner might have enjoyed luxury by then. Furthermore, he also worked as the business development/account executive for Cumberland Group for two years.
An account executive's average salary is $60,260 per year, which might have aided in his fortune massively.
Along with G-Strong, Rod also serves as the executive of ZRT Technologies. Thus, his earnings from several ventures are aiding in increasing his net worth significantly.
Rod Gardner's Wife, Girlfriend, & Family
Even if a man loses all his dollars, the true wealth he withholds is his family. Thus, retired NFL player Rod Gardner can be named among the richest man alive as he built a sweet family of four.
Furthermore, Rod Gardner's wife, Leticia Gardner, is also a fitness trainer and owner of Total Body 21. Again, Leticia is a certified fitness instructor and the initiator of the Total Body 21 Challenge.
While talking to the Voyage ATL, Gardner's spouse, Leticia, revealed that the pair first met in 2009, and it was her who introduced her to the fitness world.
As a result, she initiated the 21 Challenge, which comes with meal prep.
She posted, saying, "No Gym, No problem! If you have 21 minutes for 21 days, then check out @totalbody21. It's all Home-based workouts in video form", started by this certified instructor.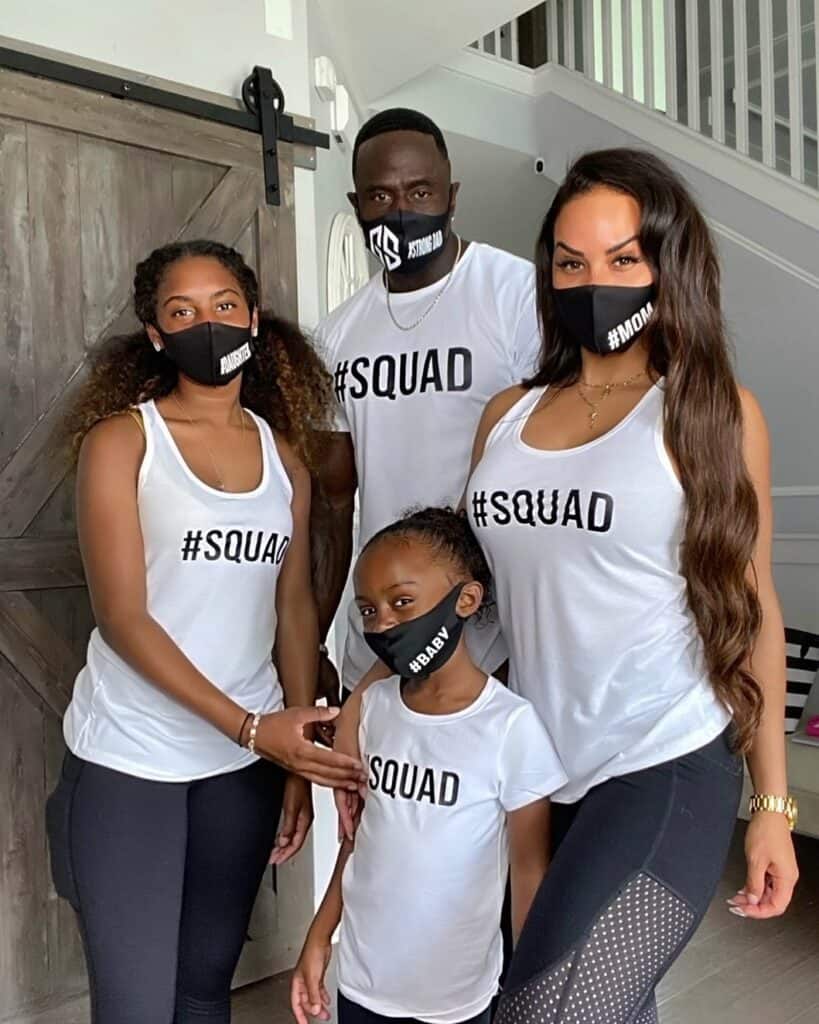 The couple first met in 2009, and after several dates and courtship, the Gardner couple exchanged vows in 2014. Since then, they have never once looked back and lived with love and passion for one another.
Likewise, the pair also started a marriage matters movement that shows their efforts to maintain a bond in a relationship.
The couple also shares the secret of their lasting marriage via their YouTube channel, The Gardner Show.
Thus, Rod Gardner's wife, Leticia Gardner, is a beautiful person with a fantastic soul and a fitness enthusiast. But most importantly, she is a loving wife and a doting mother of three kids.
Former NFL Player Rod Loves His Daughters
As mentioned earlier, Rod Gardner's wife, Leticia, is a wonderful mother of three kids. Leticia has a child from her previous relationship, which she has kept confidential.
Furthermore, Leticia revealed that she was only 19 when she gave birth to her first child, a daughter whom Rod loves as his own. Rod Gardner's eldest daughter, Nyasia, also happens to be a fitness enthusiast like her parents.
Likewise, Rod and Leticia welcomed their first child, Lyla Gardner, when Mrs. Gardner was 28.
In an Instagram post, she said that they conceived Layla right after their wedding, and 40 weeks later, she had a baby.
As of now, Rod Gardner's daughters are growing up into a beautiful family. Both Nyasia and Layla are active on Instagram.
Furthermore, the girl's dad, Rod Gardner, constantly shares his family portrait on his Instagram and often uploads TikTok with his baby girls.
Rod seems astonished and overwhelmed by the speed his kids are growing but is looking forward to their future at the same time. It sounds like some typical parenting dilemma, but Rod and Leticia do their best to provide their kids with the best.
Social Media Presence
As mentioned earlier, Rod Gardner is exceptionally active on his Instagram. Although he retired from NFL very soon, he never stopped working out.
Rod also shares glimpses of his family and shares pictures of his daughters. However, he links most of his posts professionally.
Thus, if you wish to follow Rod Gardner on Instagram, Facebook, or other social media platforms, follow the links below.
Instagram: 148k Followers
FAQs
How old is Rod Gardner's wife, Leticia Gardner?
Former athlete Rod Gardner's wife, Leticia Gardner, was born in 1986. That makes her 36 years old.