A Belgium boy who grew up with two-wheelers got his first bike when he was four. On November 25, 1972, Stefan Everts was born in Bree, Belgium.
Stefan Everts is a former professional motocross racer who has won 101 motocross Grand Prix race victories and a record 10 FIM motocross world championships.
At 17, Stefan Everts first debuted in the 125cc World Championship, and two years later, he notched the title in that category.
He started his journey in 1988 and retired at the end of 2006.
Stefan's racing is so unique and different from others' styles. He rides his bike in a very smooth manner making his ride seem effortless.
While riding, Stefan maintains his standing position on the bike, almost always in tight corners. He controls cornering despite running his engine in a higher gear to torque his way around the track.
Before diving into his details, let's look at some quick facts about Stefan.
Quick Facts
| | |
| --- | --- |
| Full Name | Stefan Everts |
| Birth Date | November 25, 1972 |
| Birth Place | Neeroeteren, Belgium |
| Nick Name | Not known |
| Religion | Christianity |
| Nationality | Belgian |
| Ethnicity | Caucasian |
| Education | Not Available |
| Horoscope | Sagittarius |
| Father's Name | Harry Everts |
| Mother's Name | Not Available |
| Siblings | Not Available |
| Age | 50 |
| Height | 5 feet and 9 inches |
| Weight | 78 kg |
| Body Measurement | Not Available |
| Hair | White (Bald in recent years) |
| Eye Color | Brown |
| Body Type | Athletic |
| Profession | Motocross racer |
| Teams | Suzuki, Kawasaki, Honda, and Yamaha |
| Years Active | 1988 – 2006 |
| Sexual Orientation | Straight |
| Marital Status | Married |
| Wife | Kelly Tureluren |
| Kids | Liam Everts |
| Net Worth | $1.5 million |
| Salary | Not Available |
| Social Media | Twitter, Instagram |
| Merch | Stefan Everts the Biography (Paperback), Vintage Photo, Framed Postage Stamp Art |
| Last Update | February,2023 |
Stefan Everts: Physical Appearance
The Belgian biker is 5 feet 9 inches tall and weighs 78 kg. Stefan has an athletic fit body despite his age.
To maintain his body, he regularly visits the gym and does exercises. In addition, Stefan is more conscious about a healthy diet.
Stefan used to have white hair but was spotted bald in the past few years. His exact body measurements have not been revealed due to some reason.
He has a fair skin complexion with brown eyes.
Read about Eli Tomac Bio | Marriage & Net Worth>>
Stefan Everts: Personal Life
Stefan is a Belgian citizen who follows Christianity. He was born in November. Thus, his zodiac sign is Sagittarius.
People with this zodiac sign are aggressive, introverted, passionate, loyal, and humble.
Stefan said, "Winning any competition does not come from a stroke of luck but rather the amount the energy that goes into controlling yourself."
He calls himself a control freak who can control any situation. He never takes his step back and fears anything.
Stefan was so dedicated and focused on his work from an early age. He was fearless and never put a step back to take risks.
Moreover, he never gave up and worked hard to create appreciable history.
Stefan Everts was the only son of Harry Everts, a motocross racer and four-time world champion.
His mother's details are still unknown. His Father never revealed his relationship.
Marriage and Relationship
Stefan is the perfect example of Sagittarius's hardworking side, as he puts all his efforts into something he is passionate about. In addition, he showed his loyalty by being committed to only one woman.
Stefan is very kind and has a heart of flowers. He is very loyal and has had his heart set on a single woman for his entire life.
After dating for more than two decades, he married Kelly Tureluren. They didn't tie the knot sooner, making their marital life a mystery.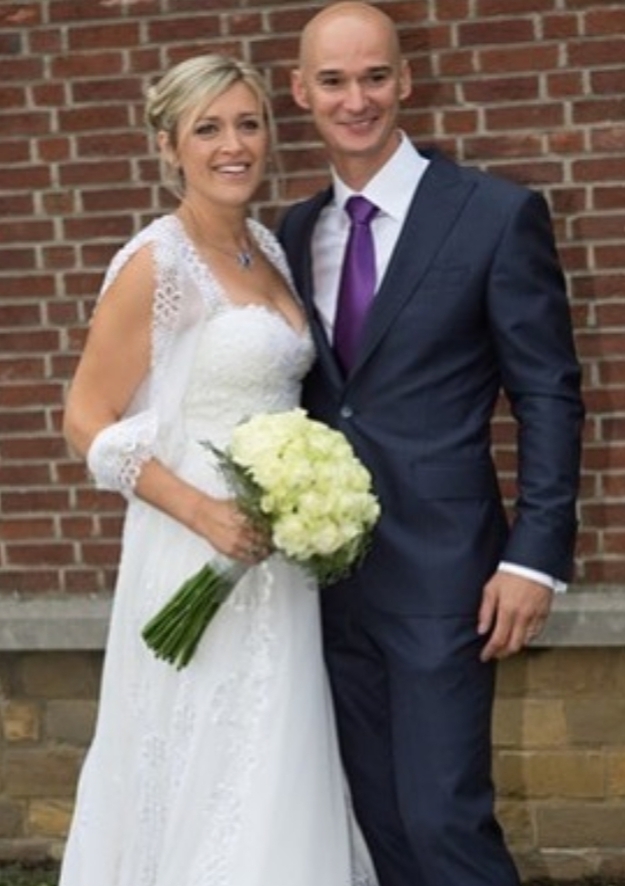 They exchanged the vows in 2013 in a private ceremony where they exchanged rings before friends and parents knew about it.
Stefan and Kelly are a happily married couple; we don't hear any rumors of cheating or conflict between them. They had a baby and named him Liam Everts.
Liam Everts was born on August 6, 2004. Liam is a teenager and is already following in his Father's footsteps. He has shown interest in racing and is focused on the trail and himself.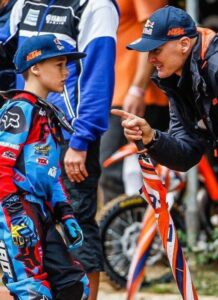 He mostly lives in Monaco with his son Liam and wife Kelly.
Read about Jolene Van Vugt: Early Life, Career, Achievements & Net worth>>
Stefan Everts: Professional Career
Stefan started his career at the early age of seventeen. In 1990 he got his first title as Belgian Champion under the 125cc category with Suzuki.
In 1991, he took part in 125cc World Championship, where he grabbed his first title.
Stefan was the youngest Champion when he was with the Suzuki team. After that, he stepped into the 250cc category and won the first title of Belgian Champion 250cc category in 1993 with Suzuki and later with Honda in 1997 and 1998.
In the same 250cc category, he became World Champion in 1993, 1995, and 1997 with teams Kawasaki and Honda.
Later, Stefan entered to 500cc category and won the World Champion 500cc category for two consecutive years in 2001 and 2002 with team Yamaha.
He became the first rider to win a world championship on all four Japanese Bike (Suzuki, Kawasaki, Honda, and Yamaha).
Stefan consecutively became the World Champion from 2001 to 2006 (including MX1-GP), making him ten times the World Champion.
In 2003, he won the International Six Days Enduro Brasil with Yamaha.
Stefan Everts: Records and Awards
He has won 101 GP victories in total. His track record is winning 14 out of 15 GPs in the 2006 season.
Stefan is the second man, after Eric Geboers, to become "Mr.875cc" by winning world titles in 125/250/500cc.
He won 3 GPs (125cc, MXGP, and 650cc) on the same day in Ernee, France, in 2003.
Stefan also owns a lifetime achievement award.
Stefan Everts: Life After Retirement
In 2006, Stefan ended his active riding career. However, he soon became the director of the KTM factory team, where he was responsible for coaching the top racers on the technical, mental, and physical levels.
In 2007, Stefan signed a two-year deal with Austrian manufacture in the contract.
Later in 2007, Stefan decided to return to his riding career and participated in the biggest Enduro competition in the world, which was organized at Gotland Grand National in Sweden.
But he could not finish because of the overheating problem caused due to mud in the radiator of a bike.
Then, in 2008, he made 2nd attempt at the Gotland Grand Nationals, but accidentally he crashed at the end of the race and didn't finish.
Stefan Everts: Malaria Case
In 2018, he was in central Africa (The Democratic Republic of the Congo) to participate in a motocross charity event to benefit local children.
Unfortunately, he was bitten by the malaria mosquito in Lubumbashi.
He got admitted to the ICU (intensive care unit) of UZ Leuven in critical condition at the beginning of December. On December 25, he woke up from an induced coma.
By the end of December 2018, Stefan was allowed to begin his physical rehabilitation as the treatment team expected that his brain and other organ were not damaged by the effects of malaria he had suffered with.
When the managing team brought him to UZ Leuven, the professor said Stefan's life had been hanging by a thread. Anything can happen. But by the grace of Zeus, he considered being alive at Christmas as a present of Christmas.
After a series of surgeries, the Champion partially recovered from the disease. Unfortunately, as a result of surgery, he lost his eight toes. But he did not give up and managed to walk again. He was a brave man.
All You Need to Know About BMX Star Maris Strombergs!
Stefan Everts: Net Worth
He was from a stable family. So when he entered the sports industry, he earned good wealth.
Not only wealth, he was also able to set up such a legacy to his name.
Stefan Everts has an approximate net worth of $ 1.5 million as of 2022.
Stefan earned his primary source of income from winning the races. However, he has also made brand endorsement deals as he was the ambassador of different brands like Suzuki and Yamahas.
After his retirement, he made money from his coaching career. And he was also earning as director of the KTM factory team. However, his total income after retirement has not been determined.
But when he was on track, he earned lots of money which we can assume from his banking transaction, which was in thousands of dollars. He is living a comfortable life, and he frequently goes on vacation.
Social Media Presence
Stefan has verified Twitter and Instagram accounts. He shares his professional activities through social media. Click the link given to check out his posts.
Frequently Asked Questions (FAQ)
When did Stefan Everts retire?
Everts retired in 2006.