Sonya Curry is an American educator who was born into extreme poverty. Today, she is the proud mother of one of the greatest shooters in NBA History, Stephen Curry.
Despite experiencing difficulties in life because of racism in America, she pursued her dreams, married a wonderful man, and raised three athletically gifted kids.
Sonya is often seen attending her children's basketball games. It shows how happy she is to celebrate their success and be there for them in their failures.
So who is Stephen Curry's mother? Let us find out more about Sonya Curry in this article.
Sonya Curry | Quick Facts
| | |
| --- | --- |
| Full Name | Sonya Alicia Adams Curry |
| Nick Name | Sonya |
| Birth Date | May 30, 1966 |
| Birth Place | Radford, Virginia |
| Residence | Charlotte, North Carolina |
| High School | Radford High School |
| University | Virginia Tech |
| Nationality | American |
| Ethnicity | African-American |
| Religion | Christianity |
| Zodiac Sign | Gemini |
| Mother's Name | Candy Adams |
| Father's Name | Cleive Adams |
| Siblings | Unknown |
| Age | 34 |
| Height | 5'3″ (1.60 m) |
| Weight | 119 lb (54 kg) |
| Hair Color | Light Brown |
| Eye Color | Blue |
| Marital Status | Divorced |
| Formed Partner | Dell Curry |
| Children | Three (Stephen, Seth, Sydel) |
| Profession | Educator |
| Net Worth | $6 million |
| Salary | $100 k |
| Social Media | Instagram |
| Stephen Curry Merch | Jersey, Basketball Card |
| Last Update | February, 2023 |
Sonya Curry: Early Life, Family, Education
Sonya Curry, the mother of Stephen Curry was born on May 30, 1966, in Radford, Virginia. Her parents were Candy and Cleive Adams.
In high school, mother Curry played volleyball, track and field, and basketball. Then, she went to Virginia Tech and graduated with a degree in Education. Sonya also met her former husband, Dell Curry, at her college.
Growing up, Curry faced a lot of racism in her hometown, especially with the rise of the Ku Klux Klan (KKK) members. They did anything they could to intimidate the black people in the community.
However, she did not let it stop her from getting her education because she knew she was as good as the white people in her class. Instead, she used the anger and frustration she felt to motivate herself and become the first person in her family to go to college.
Sonya is very religious, and her faith in God also helped her navigate through her life fearlessly.
She made sure her kids knew about the hardships she had to go through so they could live comfortable life. She wanted them to be grateful for what they had, so she often took them to her hometown.
You may also like: LeBron James Mother, Gloria: Husband & Net Worth >>
Sonya Curry: Husband and Kids
Sonya's former husband, Dell Curry, is a former professional basketball player in the NBA. She has three children, Stephen, Seth, and Sydel.
Stephen and Seth are both professional basketball players, while Sydel was a college volleyball player at Elon University. Stephen plays for the Golden State Warriors and Seth for the Philadelphia 76ers.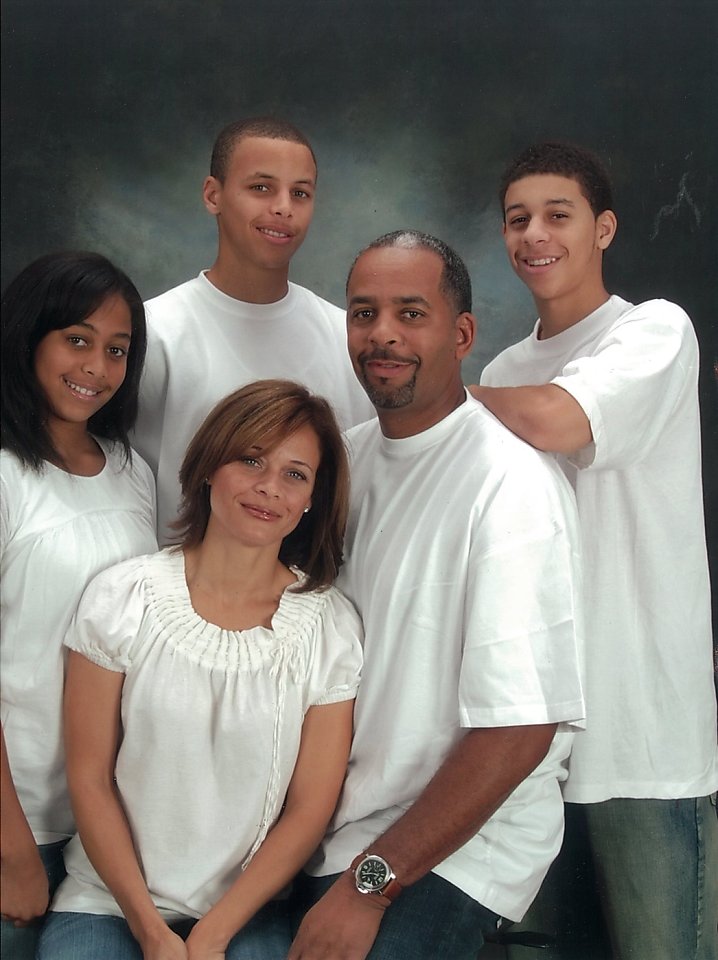 The Curry family had to move from one place to another because of Dell's profession. When Dell's contract with the Cleveland Cavaliers ended, he signed with the Charlotte Hornets, and they moved from Ohio to North Carolina.
After Dell joined the Raptors, they lived in Toronto for a short while, but they decided to return to Charlotte after his retirement.
Sonya Curry: Career
Sonya Curry is the founder of the Christian Montessori School of Lake Norman, located in Huntersville, North Carolina. The preschool was founded in 1995.
From a very young age, Curry was interested in becoming a teacher. She even gathered children from her neighborhood in her bedroom and helped them with their studies.
So, as a parent and the Head of the Christian Montessori School of Lake Norman, she wanted to create a fun educational environment where students could learn to become God-honoring adults.
Sonya Curry: Divorce
After 33 years of marriage, Sonya and Dell announced their divorce on August 23, 2021. It was a huge shock to basketball fans, as the two were always seen attending their children's games together.
The media considered them a "power couple," so the decision to split up made many people question its reasoning.
At first, the divorce was portrayed as a mutual decision, but it soon took a turn when they started to accuse each other of infidelity. They both blamed the other for being unfaithful, and Sonya took most of the heat for it.
Because of her alleged affair with Steven Johnson, a former New England Patriots player, Dell refused to provide alimony to her.
However, Sonya denied the allegations and explained that she was living on her own after the separation.
Sonya faced a lot of criticism from fans who expressed their disappointment in her. But, she clarified numerous times that she did not begin dating Johnson until her separation from Dell.
Mike Trout's Son, Aaron Trout: Birth & Pre-delivery >>
Stephen Curry's Mother: Net Worth
As the President of the Christian Montessori School of Lake Norman, Sonya Curry makes a good income on her own. Her annual salary is around $100k, which allows her to live a comfortable lifestyle.
Sonya curry's Estimated net worth is $6 Million.
Stephen Curry's Mother: Social Media
The mother of two NBA players, Sonya Curry, is on social media, and she is pretty popular. However, her Instagram account is private, so you must send her a request to follow her content.
Sonya doesn't use Twitter or any other form of Social Media. So if you want to get to know the mother of three better, you can only find her on Instagram.
Instagram: 207k followers
Who is Stephen Curry?
Stephen Curry is an American professional basketball player born on March 14, 1988, in Akron, Ohio, United States. He is the eldest son of Dell Curry and Sonya Curry.
Curry spent most of his childhood in North Carolina. He went to Charlotte Christian School, and he is a faithful Christian because of his religious upbringing.
Curry often quotes Bible verses and openly talks about his beliefs.
He had the opportunity to watch his father's basketball games many times, and they would even let him and his brother play during the warmups. Therefore, his father had a significant influence on his journey to become an NBA All-Star.
Curry went to Davidson College in Davidson, North Carolina, and played for the Davidson Wildcats basketball team. He won the title of Southern Conference's Player of the Year twice in a row (2008, 2009).
In 2009, Stephen Curry was selected by the Golden State Warriors as the seventh overall pick in the NBA draft.
Stephen Curry: Career
Stephen Curry plays the position of point guard for the Golden State Warriors of the NBA. He has remained with the Warriors ever since his NBA draft in 2009.
During his rookie years (2009-2010), he played 80 games and became the first runner-up for the NBA Rookie of the Year Award.
In the 2014-2015 season, he was voted the NBA Most Valuable Player for the first time, and then he received the title again in 2016. Young Stephen became the first player since Michael Jordan (1989-1990) to score 118 points in the first three games.
Curry is well known for using the three-point shot to his advantage during games. He has single-handedly changed the perspective people had about shooting behind the three-point line.
Many players have tried to copy his technique, but his range and form are difficult to imitate.
In short, Stephen Curry is a three-time NBA Champion, seven-time NBA All-Star, and four-time All-NBA First Team player.
Stephen Curry: Wife and Kids
Stephen Curry is married to the Canadian-American actress and television personality Ayesha Curry. They shared their wedding vows on July 30, 2011.
Stephen and Ayesha met for the first time in a church youth group in Charlotte, North Carolina. They were only 15 and 14 back then, so they did not immediately hit it off.
The two started dating years later when they met each other again in Hollywood, California. Ayesha was pursuing acting, and Stephen was attending an awards show. He was still playing college basketball at the time.
The couple has three kids together, Riley, Ryan, and Canon. Like Stephen, Ayesha is also a Christian and a firm believer in God. They have also instilled their beliefs in their children.
Erica Sherman: Aaron Donald's Girlfriend & Future Wife >>
Stephen Curry: Net Worth, Salary, Career Earnings
Stephen Curry is ranked #11 on the Forbes list of the Highest-Paid Athletes in 2021. He makes $34.5 million as his salary and around $40 million from endorsements.
Stephen curry's estimated net worth is $74.5 Million.
He has his own production company called Unanimous Media and several brand deals, including Under Armour, Callaway Golf, and CarMax.
The Warrior's point guard has a $31 million mansion in Atherton, California.
Stephen Curry: Social Media
Curry is a bright and charismatic face to look forward to on Social Media, especially since he uses it to encourage other athletes and talk about his charity organizations.
He shares pictures of his lovely children, his beautiful wife, and his golfing trips!
Instagram: 36 million followers
Twitter: 15.5 million followers
Facebook: 11 million followers
Stephen Curry's Mother: FAQs
Is Sonya Curry still married to Dell Curry?
Stephen Curry's parents, Sonya Curry and Dell Curry decided to separate after being married for 33 years. The two filed for divorce on August 23, 2021.
Is Sonya Curry having an affair?
Despite the rumors, Sonya denied having an affair during her marriage with Dell Curry.
Instead, she admitted she is in a relationship with Steven Johnson, but it didn't begin until she separated from Dell in March 2021.
Is Sonya Curry a teacher?
Curry is the Founder and Head of a preschool in North Carolina called the Christian Montessori School of Lake Norman. It is a school that aims to guide students on their path to living God-honoring lives.