Stephen Curry's son, Canon Curry, is the only son of Golden State Warriors star Stephen Curry. The 5 year old is not only loved by their parents but also by the whole world.
There is no harm in saying that the little munchkin has been giving smiles and spreading happiness to all fans.
While Canon was in the womb, Ayesha Curry had five hospitalizations throughout her pregnancy!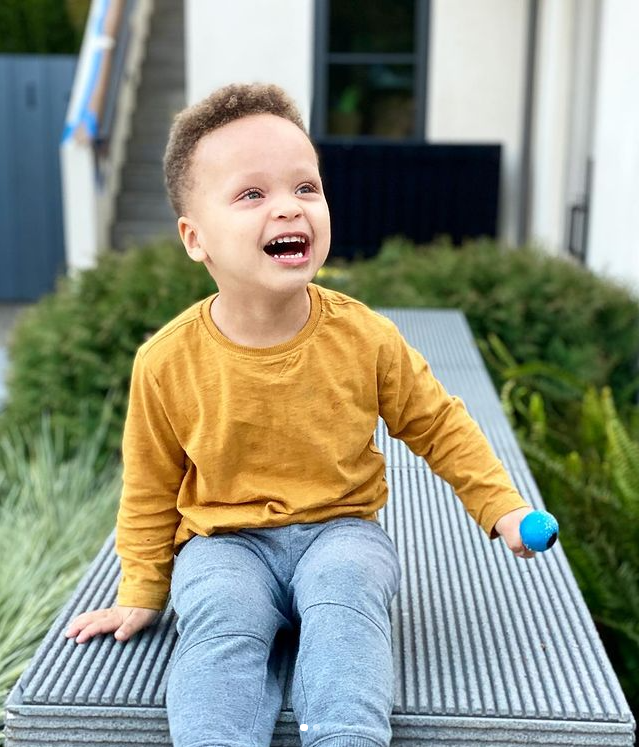 Today we will talk about the cutest baby, Canon, of the adorable NBA couple, Steph and Ayesha.
We guarantee that Stephen Curry's son will have you smiling ear to ear. But before that, here are some quick facts.
Quick Facts
| | |
| --- | --- |
| Full Name | Canon Wardell Jack Curry |
| Birth Date | July 2, 2018 |
| Birth Place | Oakland, California |
| Nick Name | Young Wolf |
| Religion | Christian |
| Nationality | American |
| Ethnicity | Mixed |
| Zodiac Sign | Cancer |
| Father's Name | Stephen Curry |
| Mother's Name | Ayesha Curry |
| Siblings | Two (Riley Curry and Ryan Curry) |
| Age | 5 Years Old |
| Height | N/A |
| Weight | N/A |
| Hair Color | Blonde |
| Eye Color | Blue-Green |
| Education | N/A |
| Social Media | None |
| Net Worth | N/A |
| Maternal Grandfather | John Alexander |
| Maternal Grandmother | Carol Alexander |
| Paternal Grandmother | Dell Curry |
| Maternal Grandfather | Sonya Curry |
| Uncles | Seth Curry, Jaz Alexander, Chad Alexander |
| Aunts | Sydel Alicia Curry, Janice Alexander, Maria Alexander |
| Stephen Curry Merch | Signed Card, Signed Shoe |
| Last Update | November 2023 |
Who is Canon Curry?
Canon Curry is Ayesha Curry and Stephen Curry's son. On July 2, 2018, the baby boy was born as the third child to Steph and Ayesha.
The child is also the grandson of the former NBA player Dell Curry and nephew of 76ers guard Seth Curry.
Ayesha explains her third pregnancy to be ROUGH.
"My third pregnancy was ROUGH. I had hyperemesis and had to have a PICC line, major thyroid issues, anxiety… you name it," said Ayesha in her post.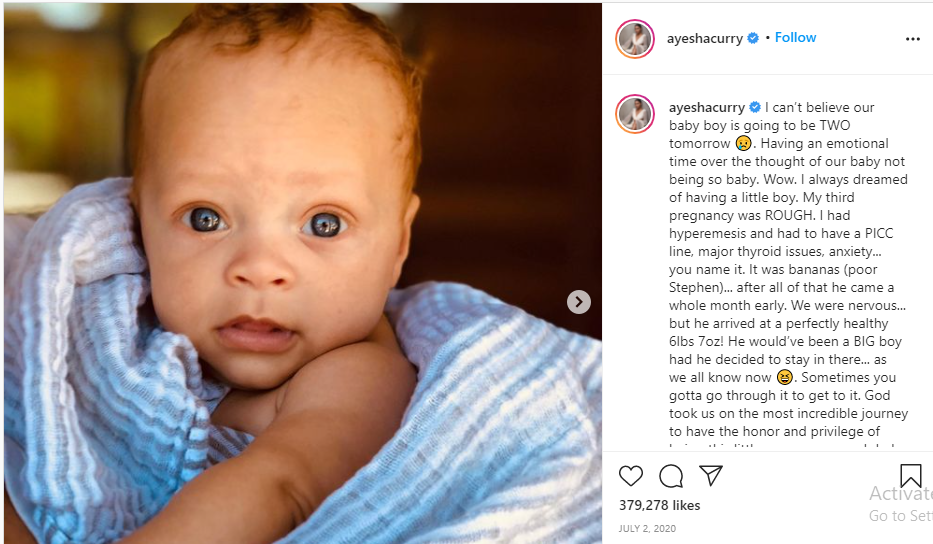 Additionally, Canon's birth was premature. As revealed by Ayesha in her post, Canon was born a month early.
Whatsoever, Canon came out into the World perfectly healthy and weighing 6lbs 7oz.
On Canon's fourth birthday, Curry wrote: "To my son- the World is yours 🙌🏽 you light up the room and already bring joy to everyone you meet. @ayeshacurry and I got you forever. Happy 4th birthday, #youngwolf."
Brief Wiki About Stephen Curry And Ayesha Curry
Before going into the details about Cannon, here is a brief wiki about Stephen and Ayesha for those who do not know about them.
Stephen Curry is an American professional basketball player who plays for the Golden State Warriors of the NBA.
Steph is, without a doubt, one of the greatest shooters in the NBA's history. He is also famous for being a three-time NBA champion and two-time MVP.
Steph is one of the World's highest-paid athletes. He ranked no. 9 on the 2019 edition of the Forbes highest-paid athlete list.
As a result, Steph has a net worth of approximately $160 million as of November 2023. He earns around $50 million annually.
Steph was born on March 14, 1988, which makes him 25 years old. He is 6 feet 3 inches tall and weighs about 86 kg.
As an athlete, he has a healthy and fit body.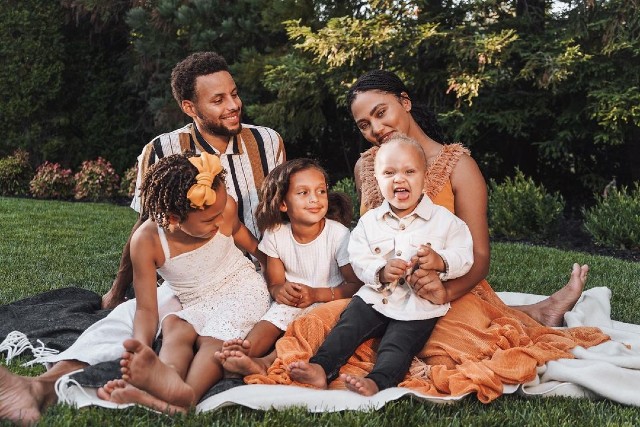 Steph and Ayesha got married in 2012 and have three children together.
The couple is the cutest in the NBA, and they are also one of the most talked-about couples.
Talking about Ayesha's professional life, she is an entrepreneur, host, and The New York Times, bestselling author. She is also an actor and has acted in various short films.
Regarding her wealth accumulation, Ayesha has a net worth of about $16 million as of November 2023.
Both Stephen and Ayesha believe in giving back to the community.
As a result, they have established their foundation called "Eat. Learn. Play." The foundation is committed to unlocking the potential of every child.
You can learn more about their foundation at www.eatlearnplay.org.
Now, let's learn more about Stephen Curry and Ayesha Curry's third child, Canon Curry.
The Story Behind The Name Of Stephen Curry's Son?
Steph and Ayesha had picked Canon's name when they were pregnant with their first child.
However, their first child was a girl, so they went on with the name Riley. Their second child was also a girl, and they named her Ryan.
Finally, Ayesha was pregnant for the third time.
They learned that this time they were going to have a son. As a result, the name 'Canon' slipped their brain again.
However, they also had other names for their son in their mind. For instance, the pair had also considered naming their child 'Wardell Stephen Curry III.'
The rationale behind the name was that the little boy was born to Stephen, and his grandfather's name was Dell. Also, he was the third Wardell in the family.
The name 'Wardell Stephen Curry III' would carry the family tradition. Steph and Ayesha had also decided to give their son the nickname 'Trey.'
However, the couple could not let go of the name Canon. The name felt right to them. So, they ultimately decided to name their baby boy Canon, the name they had picked 9 years ago.
Likewise, to keep the family ties in the name, they put the word 'Jack' in the middle as a tribute to his grandfather.
Canon's full name is Canon Wardell Jack Curry.
Ayesha and Steph did not know the meaning of the name when they had first chosen it.
However, after some research, the couple found that 'Canon' meant a young wolf and an official of the church.
So, they decided to keep calling the 5 years old boy, Canon.
Does Stephen Curry's Son Look Like Him?
Canon Curry looks just like his father, Steph Curry, which is proven by the photos he posts on the internet.
Steph and Canon both had wide grins, and we must admit that they resembled each other.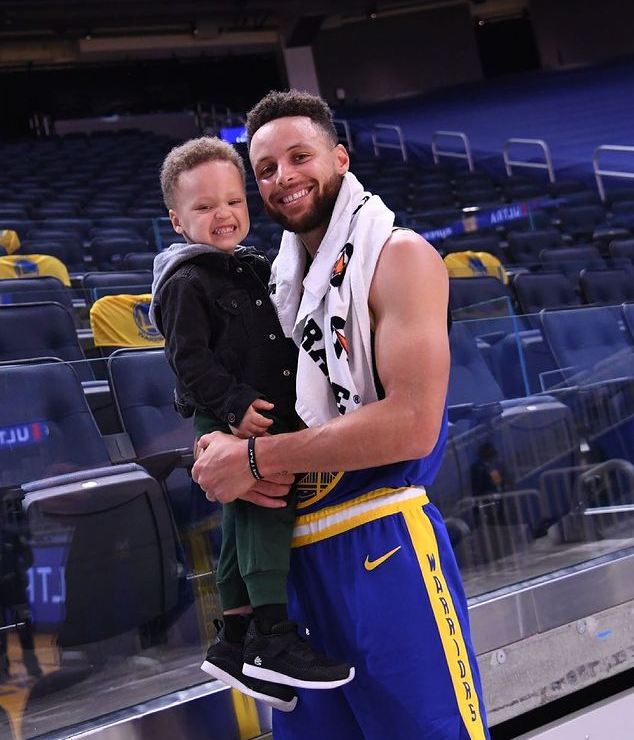 Like father, like son. What more can we say?
Cannon Curry: Siblings
Cannon Curry has two sisters, Riley Elizabeth Curry, and Ryan Carson Curry.
On July 19, 2012, Riley was born in Charlotte, North Carolina, to Steph and Ayesha. She is famous as an American child model.
She is currently 11 years old, and is the eldest among all of Steph's children.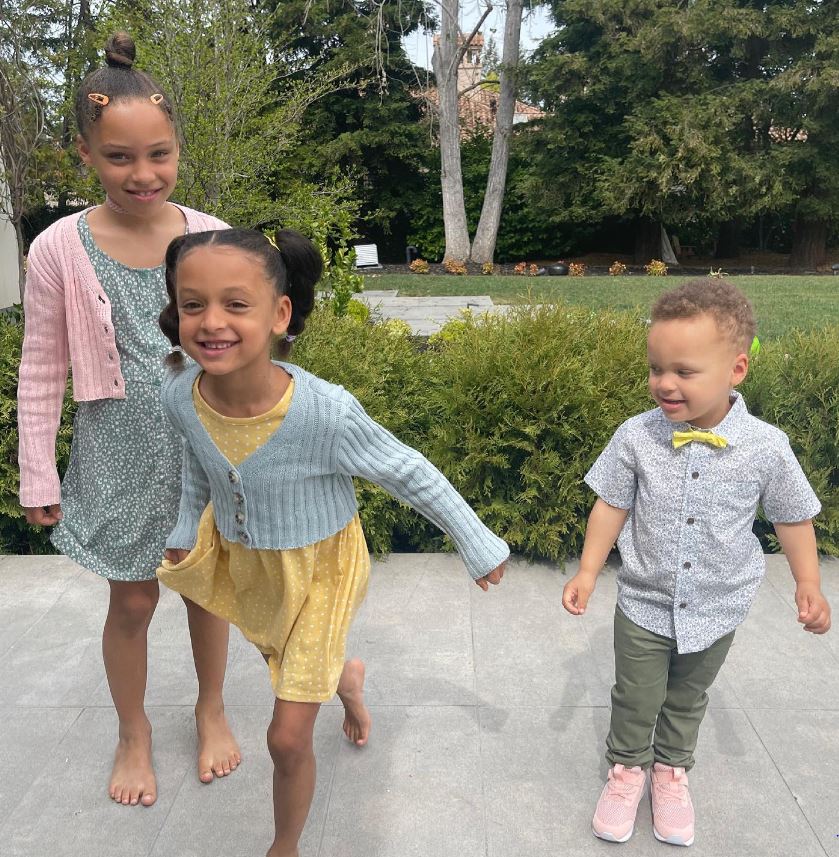 Likewise, Ryan was born on July 10, 2015, which makes her only 8 years old. She is the second-born child of Steph and Ayesha.
Some Cannon Curry Moments That Will Melt Your Heart
Canon curry is a little munchkin who undoubtedly makes everyone's heart go Aww, every once in a while.
On Canon's 3rd birthday, Ayesha posted an adorable picture of Canon on Instagram.
According to Ayesha, "Canon is kind, sweet, extremely smart, athletic, strong-willed, and certainly opinionated."
She further added that the baby boy is not so baby anymore.
Fitness And Exercise
Well, born into an athletic family, Canon, too, is passionate about fitness and exercise.
'The wolf is the hardest worker in the room,' mentioned Steph when posting a video of Canon working out.
Religious Beliefs
Stephen Curry's son, Canon, lifts his hands for worship before bedtime every night.
Yes, you heard that right. His mother revealed the three-year-old's faith in God.
"We listen to this almost every night before bed. Canon says he's worshipping and makes whoever is in the room do it as well. It's the sweetest."
Ayesha wrote, sharing a video of Canon raising his hands as Dayton's song "So Will I" played in the background.
Canon Curry Thought That His Dad, Steph Curry, Was A Golfer
Another adorable moment of Canon is when he thought his dad, an NBA MVP, was a professional golfer.
"For the longest time, he thought his dad was a golfer because of the pandemic, and there was no basketball in season," revealed Ayesha on the Ellen DeGeneres Show.
She added, "So he's just now realizing his dad and uncle play basketball. That's been exciting for us."
Cannon Curry Recreating Stephen's Baron Davis – Inspired Celebration
On May 16, 2021, Golden State Warriors had a big win against Memphis Grizzlies.
After claiming the scoring title, Steph celebrated in Baron Davis' style, that is, by lifting his shirt off.
The little Canon was swift to follow the footprints of his father. The young wolf also celebrated similarly after scoring his mini basket at home.
Ayesha Curry first posted the video on her social media. Soon after, the video went viral.
Social Media Presence
Steph's son Canon is only 5 years old. As a result, he is still not at the age where he can handle his own social media account on his own.
Therefore, Canon does not have any social media of its own.
However, don't be disappointed; Canon's mom, Ayesha, and his Dad, Steph, share Canon's many adorable pictures and videos on social media.
So, you can check their social media and always follow them instead.
Stephen Curry
Instagram: @stephencurry30, 50M Followers
Twitter: @StephenCurry30, 17.3K Followers
Ayesha Curry
Instagram: @ayeshacurry, 7.9M Followers
Twitter: @ayeshacurry, 936.8K Followers
Frequently Asked Questions (FAQs)
Are all Stephen Curry's Children born in July?
Yes, all of Stephen Curry's children are July Kids. His first kid, Riley, was born on July 19, 2012. Likewise, his second daughter was born on July 10, 2015. Similarly, Canon was also born on July 2, 2018.
Does Stephen Curry's son, Canon Curry, play basketball?
Yes, at an early age, Canon has already set his hands on the basketball. His mother, Ayesha, recently shared a video of Canon showing off his dribbling skills. Canon is still very small and has yet to choose a career. However, we can say that the little one might follow his Dad's footprint in the future. Moreover, we know that playing basketball is in the blood of the Curry family.
Are Canon Curry and Dell Curry related?
The American former professional basketball player Dell Curry is Stephen Curry's father. Therefore, Canon Curry is the grandchild of Dell Curry.