Steve Nash is a veteran Canadian professional basketball player who played for eighteen seasons in the NBA. He is currently serving as the head coach of the Brooklyn Nets since 2020.
Nash had entered the NBA when the Phoenix Suns picked him in the 1996 draft. He did not win any championship ring throughout his playing career.
However, he was part of the team when the Golden State Warriors won the NBA championship consecutively in 2017 and 2018.
Despite his average height, Steve was easily dominant over his relatively larger opponents and always played an aggressive game on the court.
Moreover, people praise him widely for his amazing ball-handling skills and playmaking abilities.
Besides his playing career, Nash has involved himself in several philanthropic and charitable activities. Moreover, he served as the GM of the Canadian men's national basketball team for around seven years.
Let's discover more about this basketball legend's life and career in this article below. But before we get into the details, here are some quick facts about him.
Quick Facts
Full Name
Stephen John Nash
Known As
Steve Nash
Date of Birth
February 7, 1974
Birth Place
Johannesburg, South Africa
Religion
Christianity
Nationality
Canadian
Zodiac Sign
Aquarius
Age

49

years old
Height
1.91 m (6 feet 3 inches)
Weight
178 lb (81 kg)
Hair Color
Light brown
Eye Color
Grey
Build
Athletic
Father's Name
John Nash
Mother's Name
Jean Nash
Siblings
Martin Nash, Joann Nash
Education

Mount Douglas Secondary School (Saanich, British Columbia)
St. Michaels University School (Victoria, British Columbia)
Santa Clara University (Santa Clara, California)

Marital Status
Married
Sexual Orientation
Straight
Wife's name
Lilla Frederick
Kids
Matteo Joel, Bella, Lola, Luca Sun, and Ruby Jean
Former Profession
Basketball Player
Current Profession
NBA Head Coach for the Brooklyn Nets
NBA Draft
1996 / Round: 1 / 15th pick overall
Position
Point guard
League
National Basketball Association (NBA)
Active Years
(1996 – 2015)
Net Worth
$95 million
Currently Plays For
None / retired
Jersey Numbers
10, 13
Social Media
Instagram, Twitter, Facebook
Merch
Steve Nash: The Inspiring Story of One of Basketball's Greatest Point guards (Paperback)
Last Update

September 2023
Steve Nash | Early Life, Family & Education
Stephen John Nash, famous as Steve Nash, was born on February 7, 1974, in Johannesburg, South Africa. His father, John, was an Englishman, while his mother, Jean, was from Wales.
Their family relocated to Regina, Canada, when he was around eighteen months old. Later on, his parents gave birth to his two siblings, Joann (Sister) and Martin (brother).
Steve initially attended the Mount Douglas Secondary School in British Columbia for his schooling.
Even though Nash was pretty lean and thin as a kid, his athletic abilities were clearly superior. His father, John, was a professional soccer player, so his children started playing soccer early.
When he did not go to school, he often played ice hockey and soccer with his brother.
His brother, Martin, later became a professional soccer player. Similarly, his sister played soccer until her college days were over.
He only started playing basketball at age 12. Even though the game was not quite popular in their area, he later committed to playing basketball leaving aside all other sports.
Nash later transferred to St. Michaels University School in Victoria. He initially intended to graduate his high school at Mount Douglas Secondary School, but he did not stay there because of his low grades.
He eventually moved to the United States and joined Santa Clara University (SCU) in California for his higher education after graduating high school in 1992. Nash holds a Bachelor's degree in Sociology from SCU.
Steve Nash | Basketball Career
High School & College Career
Steve Nash played high school basketball for two different teams in Victoria, British Columbia.
He led St. Michaels to the 1992 British Columbia AAA provincial championship victory in his final year, for which he received Best Player of the Year honors in that province. Steve finished his senior season with an average of 21.3 points and 11.2 assists per game.
After trying to secure scholarships in various American universities, Nash eventually got an offer from Santa Clara University in California. The then Broncos coach Dick Davey praised him for his game, but he had an impression that he was very weak in defense.
Steve played exceptionally well from his freshman season and led the Broncos to the WCC tournament title that season. Consequently, they made it to the NCAA tournament, but they could not win.
The Santa Clara team progressed so much under the leadership of Nash over the years and won two more WCC tournament titles. In addition, Nash was named the Conference Player of the Year two times until 1996.
Even though Nash failed in helping them win the NCAA title, his overall college campaign was a massive success for him individually. He is the all-time best in assists in the college's history.
Click here to read about LA Lakers' short but indomitable point guard, D.J. Augustine!
Professional Career
The Phoenix Suns selected Nash as the first-round fifteenth overall pick in the 1996 NBA draft. However, the Suns fans were disappointed with their club's choice.
So, probably to appease them, the team management gave Nash very little playtime in his rookie season.
He stayed one more season with the Phoenix Suns, in which he had better stats than the previous season.
While with the Mavericks, Nash got enough chances to experiment, and consequently, he returned to his natural game.
Nash returned to the Phoenix Suns in 2004 as a better player, and he remained with them until 2012 as their key player.
He gave many of his career-best performances playing for the Suns over the years and achieved fame as one of the most promising point guards of all time.
Steve was with the Los Angeles Lakers when he announced his retirement in 2015. He had wanted to spend some more seasons as a player in the NBA, but after overviewing his health conditions, he eventually decided to take a rest.
The Phoenix Suns eventually bestowed him with the Ring of Honor on October 30, 2015.
Post-Retirement
Steve Nash associated himself with the Golden State Warriors as a part-time consultant on September 25, 2015. The club won the championship rings twice when he was in the office with the Warriors.
Moreover, Nash has been working as the head coach of the NBA club, Brooklyn Nets, since September 3, 2020.
Awards & Achievements
Some of his awards and achievements include:
NBA All-Star (2002, 2003, 2005-08, 2010, 2012)
NBA 75th Anniversary Team
Phoenix Suns Ring of Honor
NBA Most Valuable Player (2005, 2006)
Lou Marsh Trophy (2005)
No.11 was retired by the Broncos
WCC Player of the Year (1995, 1996)
J. Walter Kennedy Citizenship Award (2007)
Lionel Conacher Award (2002, 2005, 2006)
As a part of the Canadian national team:
Bronze medal at the FIBA AmeriCup (2001)
Silver medal at the FIBA AmeriCup (1999)
Steve Nash | Net Worth
The net worth of a Canadian-born athlete, Steve Nash, is around $95 million. Some websites on the internet have mentioned it to be up to $110 million.
In any case, Nash was one of the best-paid basketball players of his time. So, he has earned a massive amount of money through league games.
The Phoenix Suns had offered him around $2 million for his first two seasons with them.
Following that, he started making more money as his performance peaked in his later seasons. He earned around $30 million for playing six seasons with the Dallas Mavericks.
Moreover, he earned over $110 million more playing for Phoenix Suns and LA Lakers until his retirement in 2014. As a head coach of the Brooklyn Nets, he makes a decent amount.
In addition, he has earned brand endorsements of products from various companies such as Nike, Vitamin Water, MDG Computers, Raymond Well watches, etc.
You may also like to read about the San Antonio Spurs' aggressive forward, Josh Richardson!
Involvement in Philanthropy
Nash established the Steve Nash Foundation in 2001, which works toward providing various kinds of services to the poverty-stricken and underprivileged children around the globe.
The organization works directly in British Columbia and Canada and has extended its helping hands to different corners worldwide through funds and partnerships with local non-profit organizations.
Furthermore, he founded the Jim Jennings Memorial Endowment Fund to assist hard-working volunteer staff members of Santa Clara University.
For his tireless efforts and commitment to charities and philanthropic activities, he and his foundation has received several honors and awards, including Steve Patterson Award for Excellence in Sports Philanthropy in 2008.
Filmmaking & Other Interests
Nash founded a filmmaking company named Meathawk Productions with his filmmaker Ezra Holland around 2007. It mainly invests in independent films, commercials, and series.
Its first work was creating an advertisement for Nike's eco-friendly shoe in 2008. The commercial was titled The Sixty Million Dollar Man and was released on Earth Day, which went viral.
Moreover, Steve has been involved in a few other creative works such as Into the Wind (documentary), a music video named City of Angels, etc.
Similarly, he is the owner of Vancouver-based football club Vancouver Whitecaps FC which participates in the Canadian Major League named USL-1.
He had also invested in Women's Professional Soccer (WPS) in the United States around the same time. He was also among the group of buyers that purchased the Spanish football club RCD Mallorca for around $21 million in 2016.
Furthermore, he has opened Steve Nash Fitness and Sports Clubs across several cities in America and Canada. The first club of that kind was founded in Vancouver in 2007 in partnership with Montreal-based businessman Leonard Schlemm.
Steve Nash | Personal Life
Steve Nash is married to a beautiful woman named Lilla Frederick. Nash had first met her in 2016, and their relationship reached new heights sooner than expected.
He got engaged to her in March 2016 and married in September of that same year. Steve proposed to her just after four days of dating during their trip to Spain.
Lilla is an American citizen and is a graduate of Pepperdine University in California. She was actively involved in playing volleyball during her college days.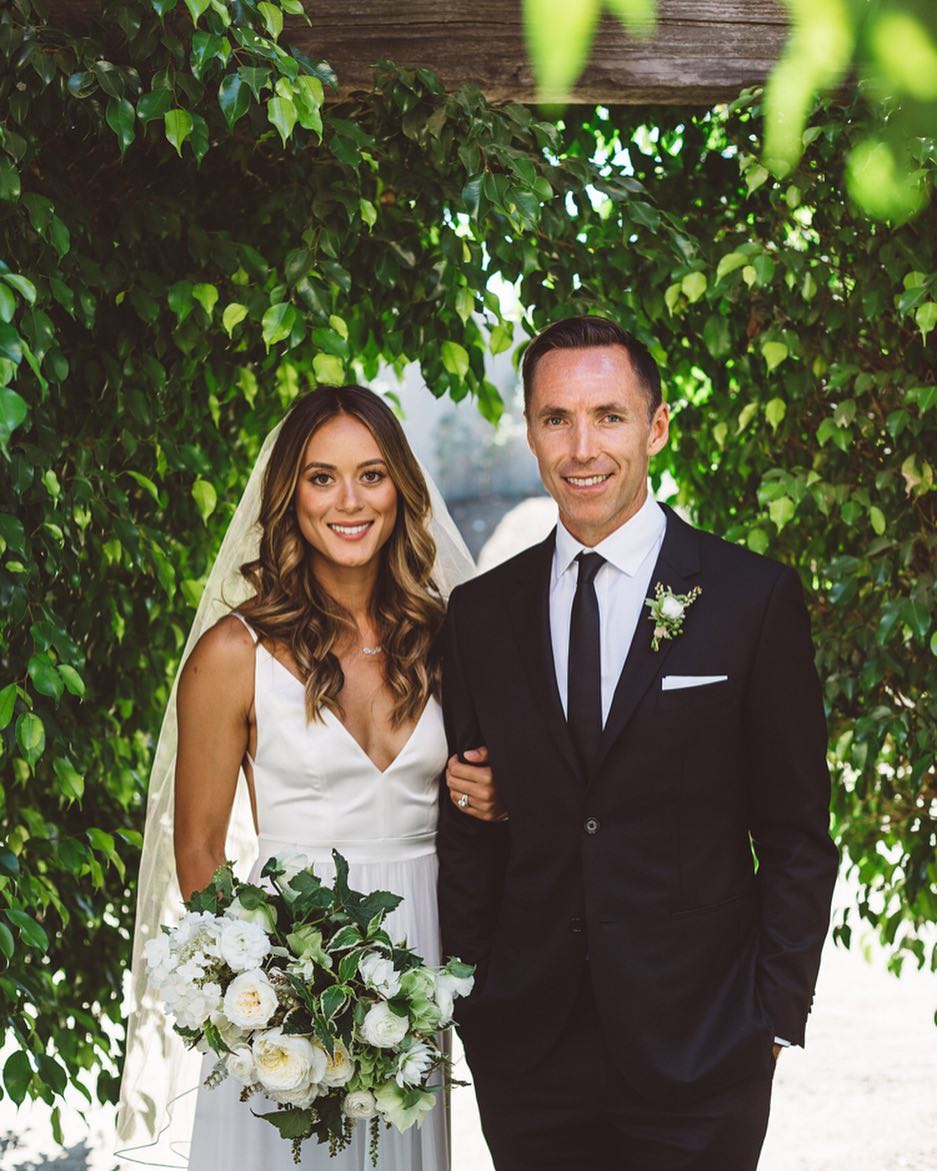 Although Frederick is fourteen years younger than Nash, they have great bonding and understand each other very well. The couple is blessed with a son named Luca Sun and a daughter named Ruby Jean.
Nash also has twin daughters and a son from his previous marriage with Alejandra Amarilla. However, they separated around the birth of their son in 2011.
Besides, there was a widespread rumor that Nash was dating singer Nelly Furtado in 2006, but they both denied it.
Age, Weight & Height
As of 2023, Steve Nash is 49 years old.
About his physical stats, he stands 1.91 meters (6 feet 3 inches) tall and weighs around 178 lb (81 kg).
Social Media
Instagram: @stevenash
Twitter: @SteveNash
Facebook: Steve Nash
Also, read about the one-time CBA champion Mike Harris here!
Some Facts About Steve Nash
Steve Nash is the godfather to the New York Knicks player RJ Barrett.
Nash is suffering from a medical condition known as spondylolisthesis.
He was one of the very few NBA stars who spoke out against the American involvement in the Iraq war in 2003.
He dislikes conservative politics and was a vocal critic of former US President Donald Trump.
FAQs
Can Steve Nash dunk?
No, Steve Nash can't dunk, probably because of his short height. He did not dunk even once in his 19 years long NBA career.
How many rings does Steve Nash have as a coach?
Steve Nash does not have any rings as a coach.