The former basketball player Rebecca Lobo and her husband, Steve Rushin, have been together for over two decades.
The couple has welcomed four children in 20 years of their conjugal life.
Let's take a deeper look at their personal life.
Steve Rushin is a 57-year-old journalist, sportswriter and novelist. He was born in Elmhurst, Illinois, but grew up in Bloomington, Minnesota.
Rushin grew up alongside his four siblings in a sporting environment. His father played football for the University of Tennessee while his brother was on the Providence college hockey team.
He attended John F Kennedy High School and graduated from Marquette University.
Since he was already deeply into sports, Steve began processing the thought of making it his living. Just two weeks after his college graduation, he joined Sports Illustrated.
Furthermore, three years into his professional career, he became the youngest senior writer for SI. He is the writer of famous sports stories and essays, covering stories like the World Series, World Cup, and Wimbledon.
Aside from Sports Illustrated, he also has featured in Time magazine, New York Times, and Golf Digest.
Steve Rushin: As The Husband Of Rebecca Lobo
The sportswriter eventually went on to marry an athlete. What are the odds?
The couple have been happily together for a long time, tied the knot in 2003, and have not looked back since.
The Story Of Rushin And Lobo: Match Made In Heaven
The eventual meeting of the love birds took place in a bar. Although the circumstances were not special, it is a moment they'll never forget.
Moreover, the two did not hit it off straight away. Steve had written some pieces mocking women's basketball, and Rebecca had taken offense to that.
However, she invited the unaware writer to watch her game instead of being salty about it. This short meeting was enough for Steve; from his side, it was love at first sight.
After attending her game, he asked her for dinner, showing slight interest. Lobo was a sensation back then; she was the ace of New York Liberty and a legend in the making, whereas Steve was a simple writer and not a famous personality compared to the athletes.
Rushin shared a funny instance in one of his pieces: how the photographers often asked him to step aside from the pictures when the two were taking pictures.
Together For A Decade
They met under unfamiliar circumstances and had a relatively strange relationship. But their bond has been stronger than ever.
The love birds put a ring on it on April 12, 2003, so they have completed two decades of togetherness. During this time, they have also become parents of 4 wonderful kids.
The Rushin-Lobo family now comprises three daughters, Siobhan, Meave, and Rose, and a son, Thomas Rushin.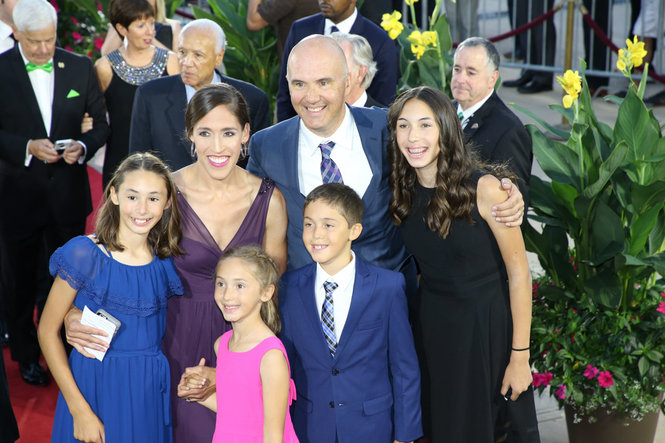 Moreover, the sweethearts also complement each other in their careers equally.
Steve was the National Sportswriter of the Year in 2005 and continues writing exciting stories. At the same time, Rebecca has turned her focus to basketball analysis after her retirement.
The couple also hosts their podcast, Ball & Chain Podcast, discussing sports, family, and world events.