Regarded as the highest-paid assistant coach of the NBA right now, Kevin Young is a father of three with his wife Melissa Bailey. But the Phoenix Suns coach tends to keep his personal life low-key.
The American basketball coach Kevin Young was born on November 17, 1981. He currently works as an associate coach for the NBA's Phoenix Suns previously under head coach Monty Williams.
He formerly played collegiate basketball and was the head coach of the Shamrock Rovers Hoops in Ireland's Super League.
Furthermore, he has also made his presence felt in the Utah Flash, Iowa Energy, and Delaware 87ers in the NBA Development League.
Young also worked as an assistant coach for Utah Valley State University, Oxford College, and the Philadelphia 76ers of the National Basketball Association.
Young's basketball career began in Marietta, Georgia, where he attended Sprayberry High School and played for Coach Roger Kvam.
Later, he went to Middle Georgia College, an NJCAA school.
After that, he, transferred to Clayton State University, a Division II school, after two years and was regarded as a standout guard there.
He remains Clayton State's all-time leader in field goals, assists, and three-point shooting.
Meet Kevin Young Wife Melissa Bailey And Kids
Melissa Bailey is the beautiful wife of Coach Young. She hails from Omaha, Nebraska.
The couple got married on July 2, 2011, in the Salt Lake Temple of the Church of Jesus Christ of Latter-day Saints in the reception of friends and family.
The couple is blessed with three children. Two sons and one daughter.
Despite the limelight he receives in his professional life, Coach Young has built high walls around his private life.
There isn't much information regarding his family, especially the wife and children in public.
But he has a second family who he loves and respects very dearly. His team the Phoenix Suns with whom he shares a significant amount of his time.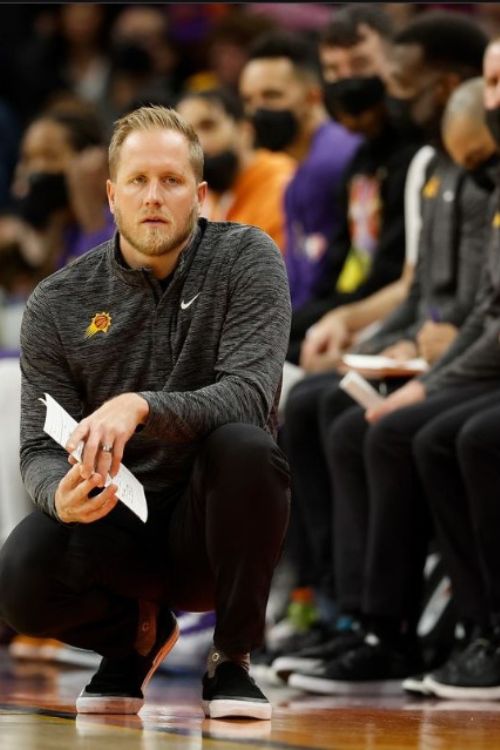 The feeling however is mutual, he has won the respect of Devin Booker and Chris Paul. Booker lauded his basketball intelligence and growth abilities.
Paul described Young as "one of the most competitive guys in the locker room," a trait that has powered most of his career.
Those who have played for and coached with Young admire his ability to work with and develop athletes.
Kevin Young Salary
It's the talk of the "NBA Town", Young is now reportedly set to be the highest-paid coach in the NBA.
Young was allegedly a finalist for the Suns' head coaching position after the previous head coach Monty Williams had to part ways with the Suns.
But in a turn of events, the Suns hired Frank Vogel, who most recently coached the Los Angeles Lakers.
Initially, Young was hesitant to report to Vogel next season. Also, he would have absolutely no problem landing better opportunities elsewhere.
Rod Baker who is a former head coach with the Delaware 87ers who previously had Young on his staff said, "If the Suns don't make him the head coach, I think they're making a mistake. But someone is going to capitalize on the expertise that Kevin has."
So, it is reported that the Sun's owner Mat Ishbia personally persuaded him to stay in Phoenix after many rounds of talks.
However, it was not easy, and it seems like it will not be cheap. Ishiba is making Young the highest-paid assistant coach in the NBA.
According to sources, Young is set to receive $2 million per year.