Have you ever heard about Tad Dennis? If yes, read the article to ensure you have not missed anything about the versatile world-class athlete.
If not, don't worry because we are here for you!
Starting at 7, Tad began his journey in the water; the rest has now become history. Currently, Tad Dennis is a USA Canoe/Kayak National Team member.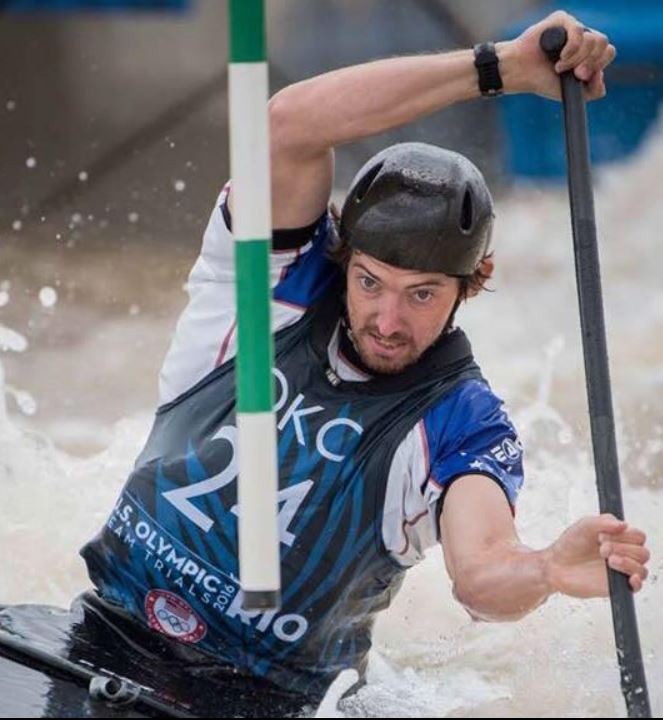 This article will discuss Tad Dennis and his journey in the water. Further, we will also talk about his romantic relationship.
Before looking at the athlete's personal and professional life, let us sneak a peek into the quick facts about him.
Quick Facts
| | |
| --- | --- |
| Full Name | Timothy Alan Dennis |
| Nick Name | Tad Dennis |
| Birth Date | May 28, 1984 |
| Birth Place | Riverdale, Georgia |
| Nationality | American |
| Education | Mclntosh High School |
| Hobbies | Adventurous sports, Travel |
| Tattoos | None |
| Sponsors | Glassport, House Rock Kitchen, Jackson Kayak, Immersion Research |
| Zodiac Sign | Gemini |
| Father's Name | Not available |
| Mother's Name | Debby Dennis |
| Siblings | Katy Dennis |
| Age | 39 years old |
| Hair Color | Brown |
| Eye Color | Blue |
| Height | 6 feet 2 inches |
| Weight | Not known |
| Profession | Kayaker |
| Marital Status | Married |
| Wife/Spouse | Lisa Marie Dennis |
| Children | None |
| Social Media | Facebook, Instagram |
| Net Worth | $1 – $3 million approximately |
| Merch | Paddles, Dry Bag |
| Last Update | June 2023 |
Tad Dennis: Early Life and Family
Timothy Alan Dennis, better known as Tad Dennis, was born on May 5, 1984, in Riversdale, Georgia, USA. He is a world-class athlete in the USA's Men's Single Slalom Canoe Division.
Tad grew up in the Peachtree City of, Georgia. He attended McIntosh High School and graduated from there in 2002.
Tad has a very intimate relationship with his parents. It was his Father who inspired him to canoe.
His adventure with boats began when he was still very young. He used to go to the riverside with his Father and spend time with him.
Eventually, his Father became the coach of his life. He learned everything from his Father, including kayaking, swimming, and flying planes.
Paddling was his favorite among all the skills taught to him by his Father. It didn't take him long to discover his love for paddling.
When Tad became old enough, he started learning to paddle on his own. He used to take his mother's kayak onto the lake and learn to swim.
Read about Eric Jackson's Bio: Kayaking & Net Worth >>
Tad Dennis: Age and Body Measurements
The canoeist, Tad Dennis, was born in the year 1984. So, he is currently 39 years old.
He was born in the Rat year, according to the Chinese calendar.
Talking about Tad's physique, he has an athletic build. He maintains his body with healthy nutrition and daily exercise.
Tad has a height of 6 feet 2 inches. However, his weight is not known.
He wears shoes of size 13(U.S.). Likewise, Tad does not have any tattoos on his body. Further, Tad has brown hair and blue. His nationality is American, and his ethnicity is White.
Further, Tad's zodiac is Gemini. Sapiens with the Gemini sign are competitive, extroverted, and versatile. They are also incredibly attractive and charismatic.
Tad Dennis: Marriage
Tad is married to his long-time girlfriend, Lisa Marie Dennis. The wedding took place in October 2015, and the couple has stayed happily married.
Lisa has been a support system for Tad. She has throughout his ups and downs; she has been his rock.
An interesting thing about the couple is that they both attended McIntosh High School. However, they didn't know each other until they were 25.
Despite attending the same high school, they met each other for the first time in 2011.
Soon, they fell in love and started dating. Now, seven years into their marriage, their love is stronger than ever.
Lisa is a freelance makeup artist. She is on Instagram as @lisamariedennis. Lisa mostly posts pictures related to makeup. However, she never hesitates to showcase her love for her husband.
On March 2, 2021, Lisa posted a beautiful picture on Instagram with Tad and captioned it:
"The hubby has been out of town training a bunch lately, so I've taken a little time off of IG recently to spend some quality time ❤️ I have been filming some content that I cannot wait to show y'all, though!"
The couple is truly an example of love and is adored by many.
Tad Dennis: Career
Tad entered the world of the canoe at the early age of seven. Soon he got passionate about the sport.
He began competing in whitewater slalom at the age of eleven. It didn't take him long to pursue canoeing as a career.
Tad spent two months of his school year in New Zealand with an organization called Adventure Quest when he was 13 years old.
At this point, Tad began to succeed in the sport exceptionally because he could do two workouts every day.
Timothy then enrolled in the Atlanta Center for Excellence's slalom kayak training program without further ado.
From 11 to 13, the US-born canoeist was a U.S. Cadet National Team member. He did it by racing in the K1 class for men's single kayaks.
Timothy moved on to the solo canoe (C1) class. As a result, he was a member of the U.S. Junior National Team from the age of 14 to 17.
In addition, in 2001, he finished fourth in a Junior World Cup event in Prague, Czech Republic.
Follow up on, Freya Hoffmeister: Circumnavigation & Bio>>
Accident
Tad had to take a four-year break due to injuries. In the August of 2004, Tad got into a severe accident. His truck collided with a mountain, resulting in this accident.
The accident left Tad shattered. He broke his left hand and crushed his left leg. The misfortune took his passion away from him. He could not walk for five months, so canoeing was a far cry.
Following the accident, Tad did not canoe for seven months. Slowly he recovered and started getting back to the river.
However, Timothy's struggles did not end there. While running the Potomac River's Great Falls, Tad shattered his L1 vertebra. Consequently, the canoer could not walk for three months.
Looking back at the accidents, Tad considers himself lucky and blessed to have survived them. Most of the accidents that Tad faced were severe ones. However, the canoer was able to fight through them all.
Accidents also provided Tad with some time to rest. Further, all those times away from water also made him realize how much he loved paddling. Rather than scaring him away, the accidents brought Tad even closer to his passion.
Comeback
He returned in the summer of 2006 after a four-year break. In August of the same year, he competed in the U.S. National Championship and finished seventh.
The following spring, Tad placed third in the 2007 USA Canoe/Kayak National Team Trials.
As a result, he also secured a spot on the U.S. National Team in the men's C1 level for the third and last time.
In 2008, Tad finished third in the U.S. Olympic Team Trials at the U.S. National Whitewater Center, earning him his third position on the U.S. National Team.
Tad finished second in the North Fork Championship in 2016. Further, in 2019, he earned bronze medals at the NorthFolk Championships and a silver medal at the Freestyle World Championships in C-1.
Likewise, in 2021, Tad finished fourth in the North Fork Championship. The championship was delayed because of the Covid 19 pandemic.
Tad Dennis: Net Worth
We can say that Tad Dennis has had a remarkable life and career. Tad chose a challenging path for himself.
Along with the satisfaction and other achievements, Tad's path has also provided him an opportunity to earn massive fortunes.
The exact net worth of Tad Dennis is not made public. However, we can say that he earns enough to live a life of luxury and travel the world, following his passion.
Judging from his successful career, the kayaker's net worth is estimated to be around $1-$3 Million.
Tad owns a truck and a few Subaru cars, as revealed in his Instagram. The details of his salary and other assets are still under review.
Likewise, he works at the Charlotte International Airport as an Air Traffic Controller. The job also pays him a hefty amount of salary.
Likewise, Tad also does various endorsements and sponsorships, which add to his net worth.
Social Media Presence
Tad Dennis is a role model for those who want to pursue their career paddling. Further, many people also follow him due to his unending enthusiasm for nature and adventure.
He is admired widely for his courageous personality. He interacts with his fans and followers through his social media platform.
The Kayaker is available on Facebook and Instagram. He has over 2.3k followers on Instagram.
Tad follows other Kayakers like Emily Jackson, Dane Jackson, Sage Donnelly, Kimberley Woods, Rici Funk, Evy Leibfarth, and Adrian Mattern.
Likewise, Tad has over 2.6k followers on Facebook.
His Facebook bio describes him as a "C-1 and Kayak Slalom, Freestyle, and Creek boater. U.S. Slalom Team Member for 10+ years. Silver medalist in C-1 at the Freestyle World Champs and World Cup Winner. Bronze medal at the North Fork World Champs in 2019."
If you wish to learn more about the lifestyle and adventures of Tad Dennis, follow him on his social media pages. The canoeist usually posts kayaking and canoeing clips on his social media.
Apart from Facebook and Instagram, the kayaker is also on Youtube. However, he is not active on YouTube now. However, you can still access Tad's old kayaking videos via his YouTube channel.
You might be interested in Brad Ludden's Bio: Kayaking & Net Worth>>
Frequently Asked Question
What does Tad do to maintain his
peak performance shape?
Tad Dennis works out daily with a unique combination of weightlifting, mountain biking, jogging, physio balls, and flat-water paddling to stay in peak performance shape.