Freya Hoffmeister is Fearless. The lady has no terror and is set to navigate the world all by herself. That's correct! Freya is the only woman who has circumnavigated Australia, solo and unassisted.
However, her stories of circumnavigations do not end there. As already mentioned, Freya is set to navigate the world, and well, she is known to be someone who always sticks by her words.
So, where has Freya already reached? And what are her upcoming plans? Today we are here with all the information you need to know about Freya Hoffmeister.
Just stick with us until the end and know all about this fearless German Kayaker. But, before that, some quick facts.
Quick Facts
Full Name
Freya Hoffmeister
Nick Name
Freya Shakti, Goddess of Love to the Seas
Birth Date
May 10, 1964
Birth Place
Heikendorf, Germany
Residence
Not Available
Nationality
German
Education
Not Available
Hobbies
Travelling, Adventurous Sports
Tattoos
None
Awards

National Geographic "Adventurer of the Year"
World Paddle Award" Sportswoman of the Year"
KANU Magazin "Paddlers Pick" 2015
Outdoor" European Adventurer of the Year
LKV S-H "Ehrenmitglied"
DKV "Botschafterin des Kanusports"

Zodiac Sign
Taurus
Father's Name
Not available
Mother's Name
Not available
Siblings
Edda Hoffmeister
Age
59 years old
Hair Color
Black
Eye Color
Light Brown
Height
5 feet 10 inches
Profession
Professional Kayaker, Businesswoman
Marital Status
Unavailable
Husband
Not known
Social Media
Facebook, Instagram, YouTube
Net Worth
$1million – $5million
Merch
Books
Last Update
September 2023
Who is Freya Hoffmeister?
Freya is a renowned German sea kayaker. Further, she is also an ex-gymnast, multi-sport woman, and experienced skydiver.
Additionally, she is a businesswoman and runs a chain of seven franchise ice-cream cafes and a Christmas shop in Germany. She also owns a salad bistro.
Freya was born on May 10, 1964, in Heikendorf, Germany. Her father was a government official. More information about her parents is currently unknown. She has a sibling named Edda Hoffmeister.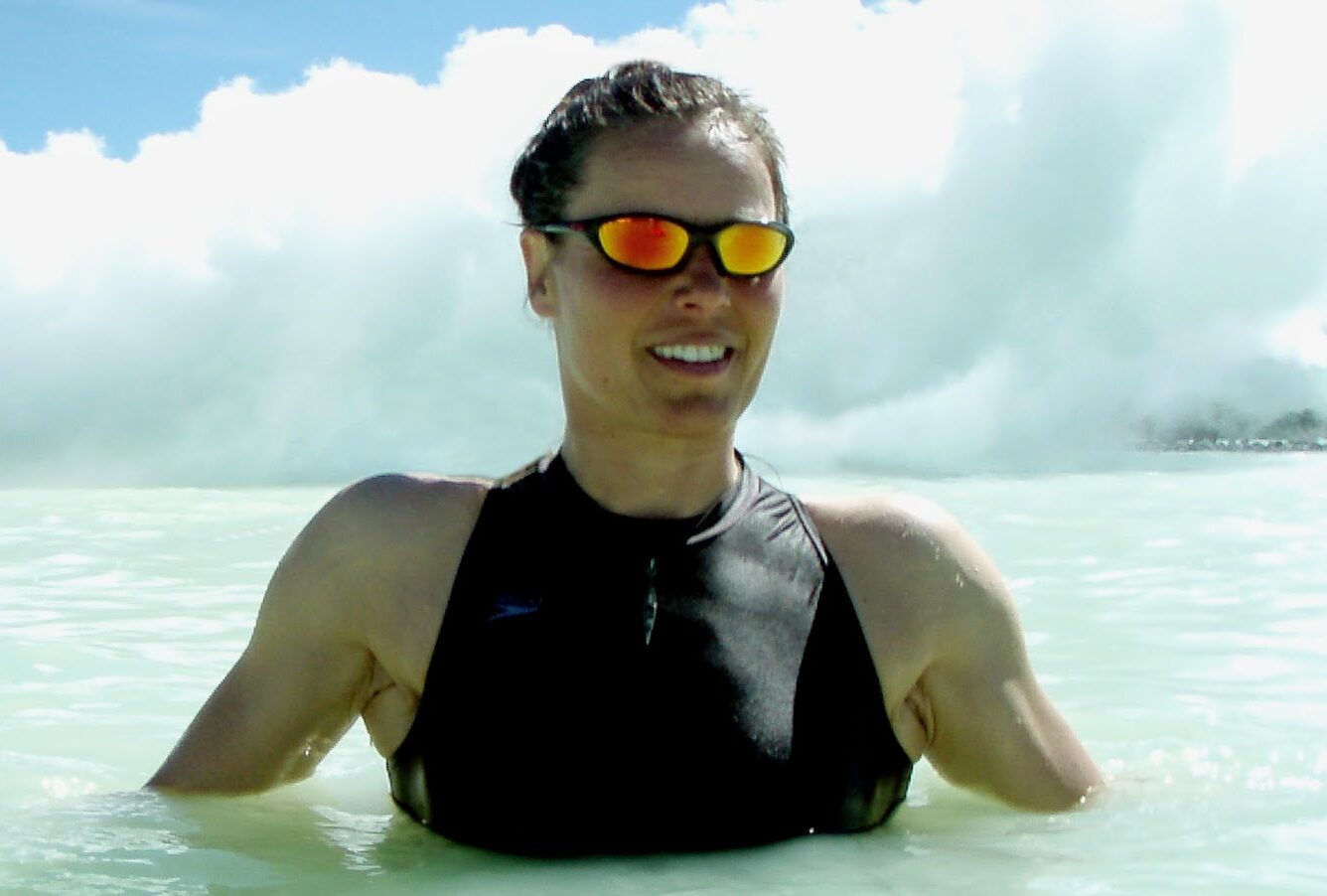 Freya also took part in the Miss German Beauty Pageant earlier in life. At that time, she was a gymnast, so she competed as a bodybuilder. The German Kayaker stood sixth in the Beauty Contest.
Interestingly, Freya has participated in 1500 sky diving jumps, including tandem jumps onto the North Pole.
Explore the Top 10 Sports Cities in the World>>
Freya Hoffmeister: Age and Body Measurements
Freya was born in 1964, which makes her 59 years old. She was born in the Dragon year, according to the Chinese calendar.
Freya stands 5 feet 10 inches tall. The exact body measurements and weight of the Kayaker are still under review. We will update the facts about the German Kayaker as early as possible.
Further, the zodiac sign of Freya is Taurus. The Taurus people have a strong desire for extravagance, great things, and contentment.
As a result, they always dream big and pursue the unthinkable. Freya is no different from that.
Freya Hoffmeister's Circumnavigation around Iceland
One fine morning in June 2007, Freya Hoffmeister and Greg Stammler set out to circumnavigate Iceland. The plan was made on very short notice.
After only two days of planning in Germany and a week of preparation at home, the two started their exciting journey together at 10:30 am on June 9, 2007.
On the first day, Freya and Greg started with a 90km crossing of Faxafloi Bay. The Bay expedition was followed by another 100km day with a 65km crossing.
On their second day, the two kayakers had to stay in the water for 22 hours because of some early arriving headwinds.
Their trip was directed by going from one headland to the other. The weather was quite calm on the West and the North Coast.
However, Freya and Greg had to face some challenging conditions on the East coast and the dreaded South Coast.
Circumnavigating the island was not a competition. However, the team completed the journey in record time. Freya and Greg also successfully kayaked two long open water crossing that none of the kayakers had ever attempted to kayak.
The trip was not an easy one. However, both Freya and Greg exclaimed that they had an amazing experience.
The two sea-kayakers witnessed lots of whales, dolphins, and giant seals on the voyage.
Further, they were also overwhelmed by gigantic mountains, glaciers, waterfalls, and cliffs.
Freya and Greg completed their overall journey (1620-km circumnavigation) in 33 days. In doing so, they paddled for 25 days with an average of 65 kilometers per day.
Freya Hoffmeister's First Solo Circumnavigation
Freya again set out for another expedition in 2007. This time, her goal was to circumnavigate New Zealand.
Freya became the first woman to carry a successful circumnavigation of New Zealand's South Island.
Unlike her navigation of Iceland, Freya went for a solo trip this time. On October 25, 2007, the German Kayaker started at Okiwi Bay in the north.
She paddled in the clockwise direction and completed the navigation on January 2, 2008.
It took Freya 70 days to complete the journey. However, if we only count the days she paddled, it took 47 days to complete the trip.
Freya paddled for 47 days to achieve her goal, with an average of 50km per day.
The expedition was a huge challenge. First, the West Coast was categorized with huge seas and swells. Further, there was no road for more than 500km, and there were only a few sheltered landing spots.
During the journey, Freya and her equipment were battered by the unforgiving Tasman Sea, which broke the stern of her kayak and swallowed her beloved paddle.
However, the beautiful scenery of nature, the dolphins, and the seals brought her heart to ease. It also gave her the confidence and motivation she needed for completing the journey.
You might be interested to Know Tyler Bradt's Passion for Kayaking>>
The First Woman to Circumnavigate Australia
The most significant part of Freya's career is her successful record-breaking circumnavigation of Australia.
In 2009, Freya became the first woman and the second person to circumnavigate the southern continent. It takes enormous courage to even dream about making a trip around Australia. However, Freya made it a successful reality.
She started her solo trip around Australia on January 18, 2009. She paddled in the anti-clockwise direction this time, commencing her journey from the Queenscliff, Victoria.
It took Freya a total of 322 days to complete the journey. Among 322 total days, she paddled for 245 days.
While circumnavigating Australia, she faced many challenges, including the saltwater crocodiles, the deadly jellyfish, sea snakes, and sharks. Finally, however, Freya achieved victory and forever carved her name in history.
Joe Glickman, a well-known journalist, has documented Freya Hoffmeister's journey around the Southern Continent in his book "Fearless: One Woman, One Kayak, One Continent."
The First Person to Circumnavigate South America
Freya did not stop after achieving the feat of becoming the first woman to circumnavigate Australia.
After Australia, the German sea-kayaker launched another solo expedition around South America. Henceforth, she became the first woman to circumnavigate South America in the history of kayaking.
She started her journey from Buenos Aires and paddled south in the harsh, windy waves and high tides along the Argentine coast.
Freya survived the perilous journey in more than 60 knots of wind. But, unfortunately, she also had an emergency crash landing on a barren rocky coast.
After all ups and downs, Freya ultimately conquered the world's most famed windy and rough cape on January 3, 2012, without any assistance.
Her first stage of navigation ended in Chile. By that time, Freya had paddled 7641km for eight months.
The Kayaker again started over on August 25, 2012. She was not alone this time but was accompanied by Peter Unold. The two kayaked for a few months and then took a Christmas break for a short time.
After the break, Freya again continued her solo journey. Finally, after years of struggle and new challenges, Freya completed her expedition journey on May 1, 2015.
She had paddled 27000 km through 13 countries with an average of 45 km per day. With this, she set a record that perhaps will not be broken anytime soon.
Circumnavigation of Ireland
Freya doesn't rest. Well, the German Kayaker is so in love with navigation that she barely takes a break from it.
In 2016, she again set for another kayaking journey. This time, Freya chose Ireland.
She completed her trip in 43 days, starting at Stradbally Cove, moving in a clockwise direction, and ending her trip at the Graigue Little.
Freya Hoffmeister: Marriage
The German Kayaker, Freya, was married twice. Her first husband was a pilot who ran away with an employee from her ice cream shop.
And, her second husband was a German navy commando who was eighteen years senior to her. They have parted ways now. She and her later husband had a son together, named Helge Hoffmeister.
Currently, Freya is a single parent. When not traveling, Freya spends time with her son
Freya Hoffmeister: Social Media Presence
The German Sea kayaker can be found on various social media platforms. She is admired widely for her courageous personality.
The German Kayaker has over ten thousand followers on Facebook. She uses Facebook as her daily journal. While on trips to various places, Freya makes an entry on Facebook and keeps her followers and well-wishers updated.
She follows four people on Instagram and has over1.8k followers. However, she is not much active on Instagram.
Further, Freya has her website called freyahoffmeister.com. Additionally, she also has a YouTube channel by her name. She has 25 videos uploaded there and has 441 subscribers.
Freya Hoffmeister: Net Worth
We can say that Freya has had a remarkable life and career. Freya chose a challenging path for herself.
Along with the satisfaction and other achievements, the path she chose has also provided her an opportunity to earn fortunes.
At present, Freya Hoffmeister has a net worth of approximately $1-$5 million as per networthmask.com. However, the details of her earnings and other assets are still under review.
Withal, we can say that she earns enough to live a life of luxury and travel the world, following her passion.
Learn more about the Top 10 Craziest Extreme Sports in the world>>
Frequently Asked Questions
Is Freya the only person to circumnavigate Australia?
Freya is the second person and first woman to circumnavigate Australia.
Apart from Freya, Paul Caffyn from New Zealand has also circumnavigated the southern continent. It took him 361 days to complete the journey.
Paul carried out the expedition in 1981, 26 years before Freya.
What is Freya Hoffmeister doing now?
Currently, Freya is on her journey of circumnavigating the third continent in her list, North America. She started her journey in 2017.
The estimated time for her to complete her North American circumnavigation is around 8-10 years. The trip is supposed to be more challenging and prolonged than all of her previous travels.