Morgan Riddle is the girlfriend of Taylor Fritz, a professional tennis player. Though her relationship with Fritz may have put her in the spotlight, she was already famous as a content creator on TikTok.
With her engaging travel, lifestyle, and fashion videos, Morgan quickly gained a massive following on social media, earning her the status of a social media influencer.
Now, as for how the famous couple met, it may be a surprise that they met via a dating app! Despite their different backgrounds and interests, their connection was instant, and they quickly fell in love.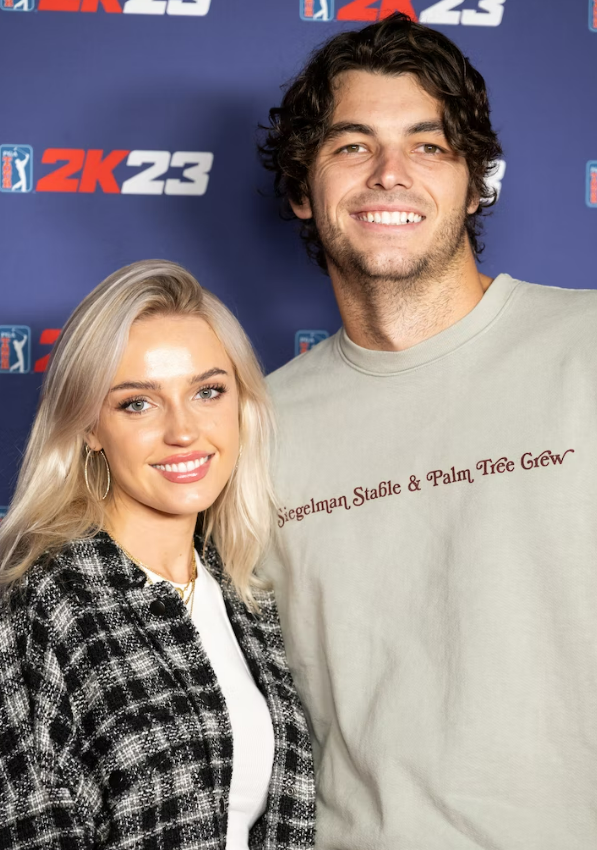 But there's more to Morgan Riddle than just her relationship with Taylor Fritz. So, let's dive deeper into the life of this beautiful and talented influencer.
From her education to her career, we'll uncover all there is to know about Morgan Riddle.
But, before that, let's quickly learn about her quick facts.
Quick Facts
| | |
| --- | --- |
| Full Name | Morgan Riddle |
| Nick Name | Morgan |
| Date of Birth | July 31, 1997 |
| Age | 25 Years Old |
| Birth Place | Minneapolis, Minnesota |
| Current Address | Los Angeles, California |
| Nationality | American |
| Ethnicity | Caucasian |
| Zodiac Sign | Leo |
| Height | 5 ft 8 inch /1.78 m/173 cm |
| Weight | 52 kg/115 lbs |
| Hair Color | Blonde |
| Eye Color | Hazel Brown |
| Father's Name | Robert Kimm |
| Mother's Name | Heather Riddle |
| Siblings | Not Available |
| High School | Not Available |
| Education | Bachelor's degree in English Language and Literature |
| University | Wagner College |
| Marital Status | Unmarried |
| Boyfriend | Taylor Fritz |
| Profession | Content Creator, Social Media Star |
| Net Worth | $1 – $5 million |
| Social Media | TikTok, Instagram, LinkedIn |
| Last Update | June 2023 |
Early Life & Education
On July 31, 1997, Morgan Riddle was born to Robert Kimm and Heather Riddle. She was born and grew up in Minneapolis, Minnesota.
Her family was a big hockey fan, so she grew up watching hockey. But, she says she was not athletic at all in her childhood and was more into theaters and debates.
Riddle was bright and intelligent in her childhood, which is reflected in her educational achievements. She was an A-grade student who was best at academics and extra circular activities.
In 2019, she graduated with a bachelor's degree in English language and literature from Wagner College with an impressive GPA of 3.7 out of 4.0.
In college, she was president of the student alum association, Vice president of communications in the student professional association, and the public relations chair for the Alpha Delta Pi sorority.
But that's not where her achievements end. Morgan completed a whopping eight internships while she was in college.
Furthermore, she also enrolled in an abroad study program and studied at the American College of Greece in the Spring of 2017.
Notably, Morgan was determined to gain as much experience as possible and took advantage of every opportunity that came her way.
Age, Height & Weight
As of 2023, Morgan Riddle is 25 years old and identifies as a proud American of Caucasian descent and currently lives in Los Angeles, California.
Also, she has a model-like physique with a height of 5 ft 8 inches (1.76 meters) and a weight of about 114 pounds.
Career
Morgan Riddle is a popular content creator and social media star. As a content creator, she has proved to be a full-stack media master with a talent for creating, writing, shooting, editing, and producing video content across various social channels.
With a massive fan following and likes on her social channels, it's clear that her content showcasing travel, fashion, and lifestyle appeals to a broad audience.
But Morgan's talents extend far beyond content creation alone. She has served as a Media Director at Gamers Outreach and Influencer Campaign Manager at MuteSix.
Not stopping there, she also worked as an On-Air Host at Hollywire and Media Director at Love Your Melon.
Morgan Riddle's Famous Boyfriend, Taylor Fritz
Taylor Fritz is a well-known name in the tennis world. He was born and raised in Rancho Santa Fe, California. His parents were both professional tennis players and coaches.
Thus, from a very young age, Fritz showed a natural talent for the sport and quickly made a name for himself in the junior circuit.
In 2015, Fritz won the US Open Boys' Singles title and reached the final of the Wimbledon Boys' Singles event, signaling that he was a force to be reckoned with.
He turned pro later that year and hasn't looked back since. With his powerful serve and aggressive baseline game, Fritz has won multiple ATP titles and climbed to a career-high ranking of No. 24 globally.
Morgan Riddle And Taylor Fritz's Relationship
The couple has been dating for more than two years now. They apparently met on a dating app, Raya. On June 3, 2022, the tennis star took to social media to celebrate the special occasion with a heartfelt post dedicated to his beloved girlfriend.
In the Instagram post, Taylor shared a sweet photo of himself and Morgan, accompanied by a touching caption,
"2 years have flown by with @moorrgs ❤️ I love you, and I can't wait for all the fun times still ahead for us 🎉."
The couple has been living together and can be seen traveling together on their social media. They are planning to tie the knot very soon.
The Netflix Show
Netflix is working on a new series called BreakPoint, which focuses on the world of competitive tennis. Taylor Fritz and Morgan Riddle will be featured in the show, giving viewers a behind-the-scenes look at their lives.
The series is being produced by the same team who produced the famous Formula 1: Drive to Survive show, which gained a massive following among sports fans.
In an interview, Morgan expressed her hopes that the show will have the same success and impact on the tennis world.
She also shared a glimpse of the filming process with her followers on TikTok. In Jan 2023, Netflix released the trailer for the show.
Morgan Riddle's Previous Relationship
Morgan Riddle's love life has certainly had its share of twists and turns. Before she started dating Taylor Fritz, she was in a relationship with Thomas Petrou, the founder of the famous TikTok collective Hype House.
The two seemed to be in a secret relationship until their relationship was unexpectedly revealed through online images.
Unfortunately, there's no information available about what led to the breakup between Morgan and Thomas. However, it's clear that she has moved on and found love with Taylor Fritz.
Social Media Presence
Morgan Riddle's stunning looks and charismatic personality have made her a popular figure on social media. She first gained attention after going viral on TikTok, where she has amassed over 327.3k followers and received more than 10.6 million likes on her videos.
Morgan's popularity on TikTok has also helped her gain a significant following on Instagram, where she currently has nearly 131k followers.
As an influencer, she uses her platforms to share her love for fashion, beauty, and travel, often collaborating with brands to promote their products to her audience.
Morgan Riddle's Net Worth
Morgan Riddle's net worth can be anywhere between $1 – $5 million as of June 2023 as a content creator and popular public figure.
Her net worth is derived from her paid partnerships, Tiktok revenue, and sponsorship.
Similarly, her boyfriend Taylor Fritz's net is around $4 million.
Interesting Facts About Morgan Riddle
Morgan speaks French and Greek.
Morgan has volunteered at St. Paul Childrens Hospital, the Church of the Holy Apostles, and the Mid-Continent Oceanographic Institute.
She interned in 8 different companies after graduating from her college.
Frequently Asked Questions (FAQS)
What does Morgan Riddle do for a living?
Morgan Riddle is a self-employed content creator. She creates Tiktok and Insta videos about fashion, travel, and fashion, earning from the views, partnerships, and sponsorship.
Is Morgan Riddle the wife of Taylor Fritz?
No, Morgan is not the wife of Taylor Fritz, as they haven't officially tied the knot yet. However, they have been dating for over two years and plan to marry soon.
Does Taylor Fritz have a child?
Yes, Taylor Fritz has a son from his ex-wife Raquel Pedraza, who is also a professional tennis player. His son's name is Jordan Fritz.