Taylor Heise hasn't given any hints that she has a boyfriend. The University of Minnesota graduate has made her hockey career the center of attention.
Taylor's name went down in history as she became the first overall pick of the inaugural PWHL Draft. A kid who grew up in a basketball family, Taylor has come a long way in her journey.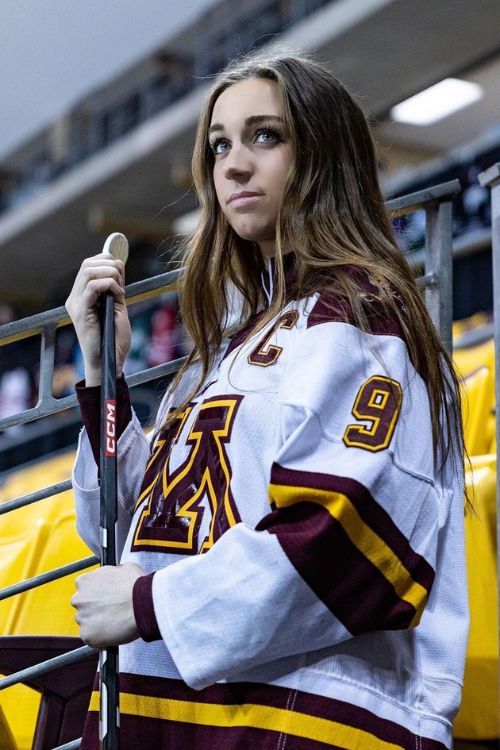 The 23-year-old has kept the details of her personal life tucked away from the limelight. She has briefly talked about her family and parents but not about her dating life.
The former Gophers center talked to the media after the historic day and said she couldn't wait to get started. The PWHL season begins in early January, with the training camp beginning on November 13.
Taylor HeIse Boyfriend: Who Is She Dating?
Taylor Heise hasn't revealed the identity of her boyfriend if she has one on social media. The hockey player's Instagram handle is filled with snaps of her playing with her teammates for the University of Minnesota.
Heise has kept any details of her dating life away from the public eye. There's a good chance that the 23-year-old could be dating, but Taylor might not just be ready to show the world her partner.
But there's also a good chance Taylor is currently single and was trying to balance her student life and her athletic life at Minnesota.
A Red Wing Senior High School graduate, Taylor joined Minnesota in 2018 and graduated with a kinesiology and sports marketing degree in 2022.
The forward was already a star playing during high school, having won the title of All-USA Girls Hockey Player of the Year in 2018. She also won gold medals with the US Women's National Under-18 team in 2018, 2017, and 2016.
In 2021, in her senior season, Taylor won the Patty Kazmaier Memorial Award and was named WCHA Player of the Year. She pursued her sports career in Minnesota even after graduation and won WCHA Forward of the Year last season.
Earlier this year, she became the ninth Gopher to reach 2000 career points landmark. And in February, Heise skated in her 169th career game, a new program record.
So, the woman has been extremely busy since her late teenage years, winning medals and trophies left and right. Heise might not have mentioned her boyfriend's name currently, but we might one day, get to see her with her partner.
Taylor Heise Parents, Amy, And Tony Heise
Taylor Heise's parents, Amy and Tony Heise, are former collegiate basketball players. The couple Tony and Amy Heise played basketball at UW-River Falls, with Tony graduating in 1991.
The couple was taken aback when their only daughter showed interest in hockey rather than basketball. Taylor was only a first grader when she told her parents she wanted to become a hockey player.
At first, they might have thought the love for the sport might fade away, but it only grew stronger. The family was located in Lake City, Minnesota, and it didn't have its own hockey program.
So, for Amy and Tony, it meant long car rides to Red Wing for Taylor's youth hockey, and when she enrolled there, it meant driving to and from the Twin Cities four days a week during the off-season.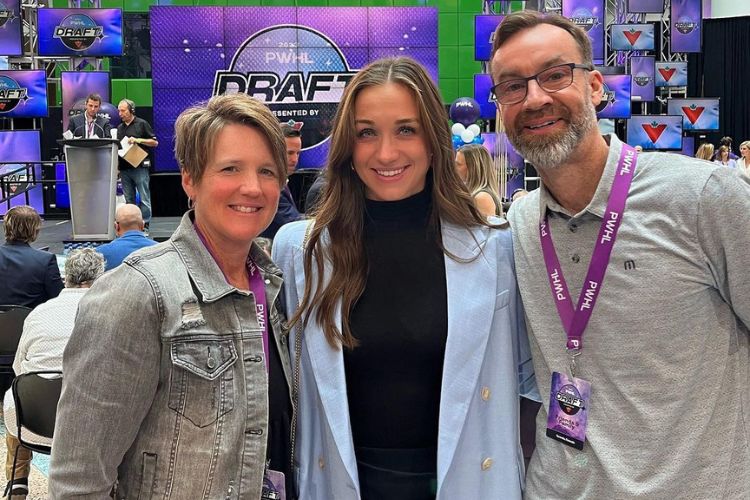 In an interview, Heise admitted it was difficult to stay away from her family, as she had always been a homebody.
During her conversation with CBS News, Heise said she would cry when she would be gone during the training camp with USA Hockey.
Taylor has two younger brothers, Nathan and Ryan. Both her brothers followed their parents' footsteps and are playing basketball.
Standing at 6'4, Nathan plays guard at the University of Northern Iowa. In his first year, Nate made it to the MVC Commissioner's Academic Excellence Award and Honor Roll list.
He played 32 games and scored 276 points, an average of 8.1 points per game. Nathan could only play two games in his second year after a season-ending hand injury. He is available on Instagram with the username @nateheise0.
Taylor's youngest brother, Ryan Heise, recently committed to Upper Iowa University. The youngest of the family, Ryan is blessed with an incredible height of 6'9 and plays as a forward.
He graduated from Lake City High School, and in his senior year, Ryan averaged 9.6 points per game, making it to the HVL All-Conference team.