Former American professional football player Tiki Barber is one of the three sons of his parents, James and Geraldine. Named Atiim Kiambu at his birth, he and his identical twin brother were born five weeks before the due date.
His dad, James, was also a well-known football player, but he had no contribution to shaping Tiki's football career. Growing up, his dad never showed up to care for them, so their mother brought up the Barber brothers alone.
Nevertheless, Geraldine did an excellent job raising her kids. Aside from doing well in their studies, all her sons showed athletic prowess, and two of them even succeeded in making it big, entering the NFL.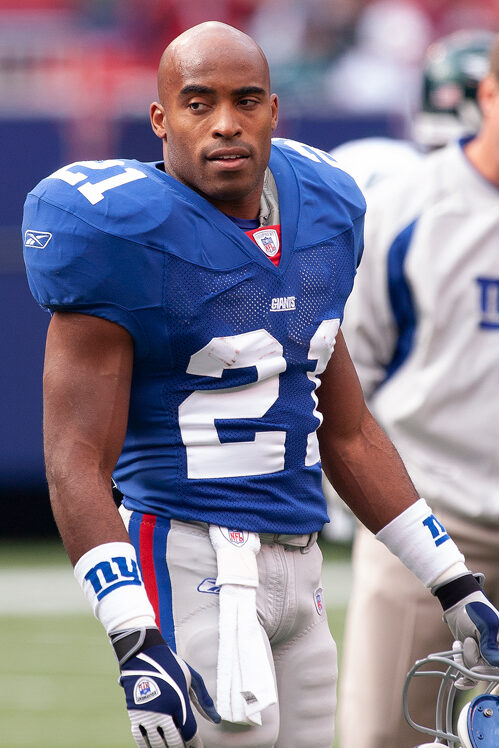 Tiki Barber and his brothers began playing football at a young age, initially in their backyard, but they soon became an essential part of their high school team.
Tiki, the former NFL player, attended Cave Spring High School and excelled in academics and football.
Playing for the Virginia Cavaliers throughout his stay at the University of Virginia, he won several honors, including the ACC Player of the Year in 1996. In addition, he studied commerce there.
Tiki debuted in the NFL after the New York Giants chose him as the 36th overall pick in the second round of the 1997 NFL draft. He stayed with the Giants until his retirement in 2006.
Tiki Barber's Parents, James, And Geraldine Barber
Tiki Barber was born on April 7, 1975, to his parents, James and Geraldine, in Virginia, United States. He had an elder brother named Tarik; his other brother, Ronde Barber, is his twin brother.
His dad, James, played as a running back for Virginia Tech during the 1970s. After graduating with a bachelor's degree in Sociology, he coached football at his university sometime in his mid-seventies.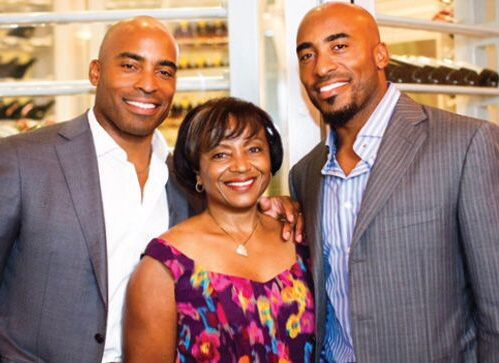 Around the same time, he married Geraldine, with whom he had three kids. Although it was going well initially, everything went downhill around 1982. He had already left coaching then and did some odd jobs like working at a restaurant and later worked as a pastor.
He later divorced Geraldine, leaving her with their kids. After remarrying, he settled with his new wife in Tulsa, Oklahoma. He later did a master's in Theology and worked as an assistant professor at Oral Roberts University.
After their separation, Geraldine raised her kids independently, working multiple jobs to provide for them. Fortunately, she was well-educated and did not take much longer before she made everything right.
While Ronde and Tiki were collegiate players, Geraldine was diagnosed with Cancer. However, she recovered after undergoing intense treatment for almost a year until 1997.
Geraldine earned a bachelor's degree in Education from Virginia Tech and her MBA from Averett University.
Tiki Barber's Twin Brother Is A Super Bowl Champion
Barber's twin brother, Ronde Barber, won his first and only Super Bowl with the Tampa Bay Buccaneers in 2003.
He began playing in the NFL the same year his brother Tiki debuted and played for the Buccaneers throughout his professional football career.
Ronde was born almost seven minutes earlier than Tiki and grew up playing football alongside his brother in Roanoke, Virginia.
After graduating, he enrolled at the University of Virginia, where he played as a cornerback for the Cavaliers.
After spending sixteen years with the Buccaneers in the NFL, Ronde announced his retirement on May 8, 2013.
Following his retirement, Ronde has been involved in various activities, including being an NFL color analyst for Fox Sports.
Similarly, he has co-written children's books with his brother, Tiki.